As a streaming service, Spotify has cached data, including the music you have listened to, in order to reduce the Internet data usage and provide better experience.
That is why users discovered the internal memory is consumed quickly after installing the app. When you want to uninstall Spotify on Mac, you should remove all the files completely.
How do I uninstall Spotify on Mac?
It is a simple question for all Mac users. Even if you are a newbie for Mac, you can find multiple solutions from Internet, but how to completely clean Spotify with the cache files?
The article shares the ultimate guide about how to uninstall Spotify app on Mac. Just read on the article to get the desired information now.

Part 1

. I cannot uninstall Spotify from MacBook Pro, why?

In fact, the Spotify app for Mac is completely safe to use. It does not contain malware or unwanted third-party software. Nevertheless, it may conflict with antivirus or firewall on your MacBook Pro. If you want to uninstall Spotify app on MacBook Pro, you can try to disable the antivirus software. When it comes to uninstall Spotify app on Mac, some factors could cause the failure:
1. When the Spotify app is running in the background, you cannot uninstall it.
2. Even though you have deleted Spotify on your Mac, the cache data and Spotify components are still available.
3. The manual method to uninstall Spotify app is a little complicated. If there is some problems for this, the process may be failed and trigger more errors.
In this way, you can easily uninstall apps like Office, Safai, Chrome, etc., from Mac.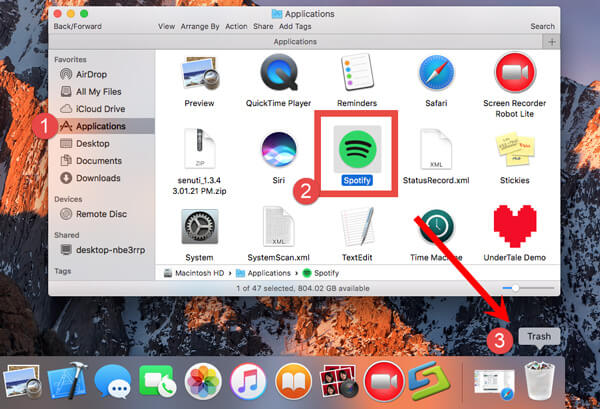 Part 2

. How to uninstall Spotify on Mac manually

As mentioned previously, when you simply delete Spotify on Mac, there will be a large size of cache files. Just learn more detailed information about how to remove the applications and the cache files manually as below.

Step 1. Quit Spotify from MacBook Pro

Before uninstalling Spotify from Mac, you have to close the app. Locate the menu bar, hit "Spotify" and the select "Quit Spotify". Plus, you also need to close the processes related to Spotify in the "Activity Monitor" dialog. You can find it in the "Utilities" folder.

Tip: If Spotify does not respond, press "Cmd" + "Opt" + "Esc" to open the "Force Quit Applications" dialog. Then select Spotify and click "Force Quit".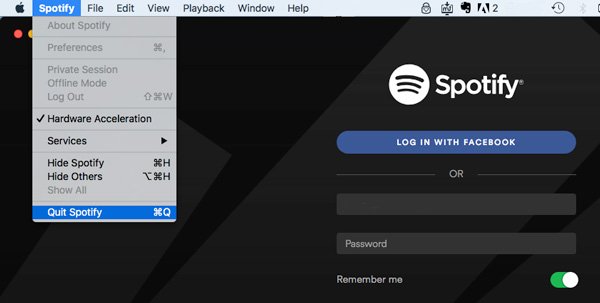 Step 2. Remove Spotify app to the Trash
Go to the "Applications" folder in the "Finder". Highlight the "Spotify" app and drag and drop it onto the "Trash" icon in the dock. Alternatively, you can right-click on the "Spotify" app and select "Move to Trash".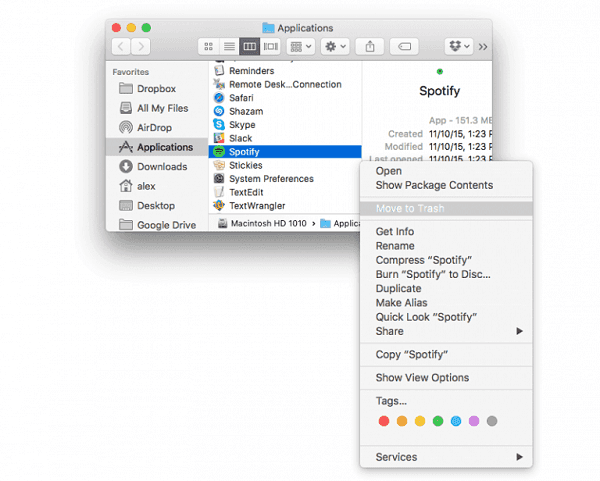 Step 3. Delete all components of Spotify on Mac
Open "Finder" and hold "Shift" + "Cmd" + "G" to activate the "Go to the folder" window. Access the folders below:
~/Library/Application Support/
~/Library/Caches/
~/Library/Cookies/
~/Library/Preferences/
~/Library/Saved Application State/
Then search Spotify in each folder, right-click on each item and choose "Move to Trash".
Moreover, if you do not want the Spotify music downloads, just delete downloads from Mac here.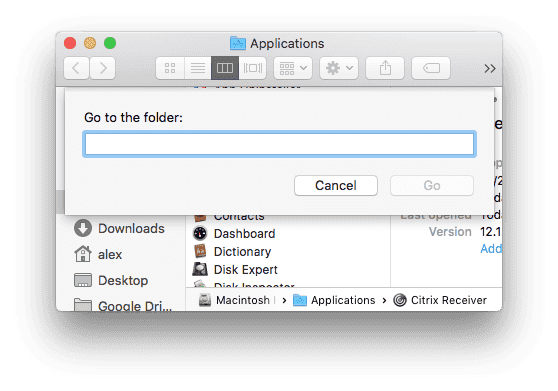 Step 4. Uninstall Spotify on Mac by emptying the Trash
Now, the Spotify app and components go to your Trash. To completely uninstall it, you need to empty the Trash folder. Right-click on the "Trash" icon in the dock, and choose "Empty Trash".
Note: That will completely remove Spotify app on Mac, cache data and your account from your Mac computer. Finally, you need to restart your computer to complete the process.
If you regret your decision, just try to recover trash on Mac with third-party tools.
Part 3

. How to uninstall Spotify on Mac within one click

To be honest, the process of manually uninstalling Spotify on Mac is a bit complicated, especially for non-technicians. Is there a simple method to get rid of Spotify app on Mac?

Apeaksoft Mac Cleaner is able to clean, optimize and maintain Mac in the best status. You can always clean and manage your Mac data with ease.
Clean and manage Spotify app and other software in a single click.
Preview and remove Spotify caches and other junk files.
Find items related to Spotify app by name, time, size and more.
Available to MacOS 11, OS X 10.15, 10.14, 10.13, 10.12, 10.11.
Download for Mac
How to uninstall Spotify on Mac simply
Step 1: Download and install Spotify cleaner
Just download and install Spotify Cleaner to your computer. After that, you can launch the program on MacBook Pro to clean up Spotify and optimize your Mac computer accordingly.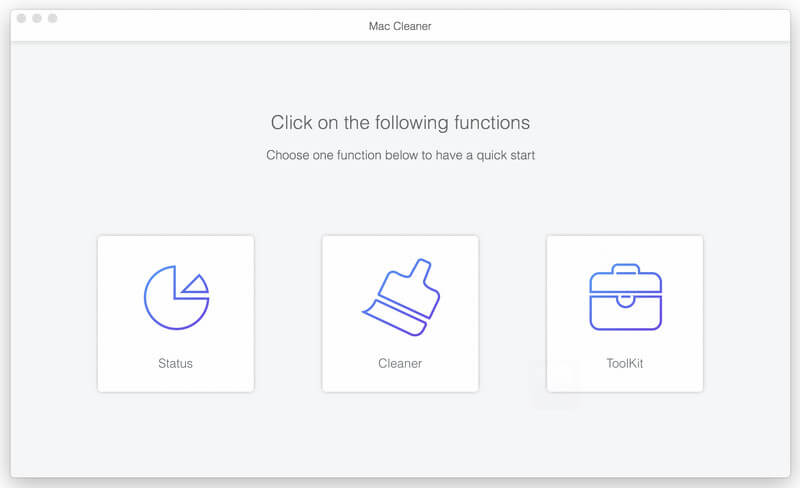 Step 2: Clean up Spotify components
Before removing Spotify app from Mac, you can scan the items related to it first. Head to the "Large & Old Files" tab from left sidebar, and click the "Scan" button. When it is done, enter "Spotify" in the "Search bar" on the upper right corner. Then select all items and click the "Clean" button.
In this way, you can find the large, duplicated, old and other unwanted data from Mac.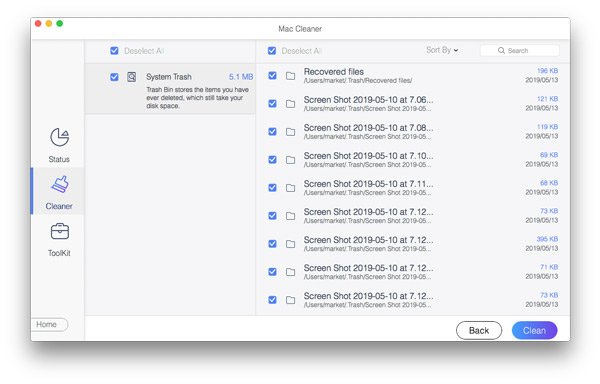 Step 3: Uninstall Spotify on Mac
Now, you can feel free to uninstall the Spotify app on your Mac computer. Select the "Uninstaller" tab on the left hand column. Mac Cleaner will scan all apps on your machine automatically. Then scroll down and find the Spotify app. Tick the checkbox next to it and the select all components on the right side. Once click on the "Clean" button, Mac Cleaner will do the rest work. When it finishes, you will get the notification.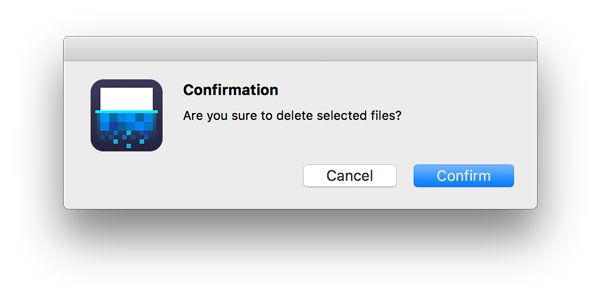 Note: Mac Cleaner has the capacity to permanently uninstall the Spotify app from your Mac. You do not need to clean your Trash or delete the files manually.
Conclusion
The article shares 2 methods about how to uninstall Spotify from iMac or MacBook. Actually, the steps are available to remove other third-party apps on macOS 11. Of course, you can delete Spotify from your Mac manually, if you have enough patience and caution. Of course, you can try the all-in-one solution, Apeaksoft Mac Cleaner to clean Spotify within one click. If you have any other questions related to uninstalling Spotify on Mac, welcome to leave your comment below this post. Find the guide helpful? Please share it to Facebook, Twitter or other social platforms.