"Apple Music not downloading to my iPhone! Anyone else got this problem? Won't let any music download so I can listen to it offline."
Recently, many Apple Music users complaint that Apple Music is unable to download songs to iPhone or Android for offline playback.

Why is music not downloading on Apple Music?
Network connection is not available to download songs from Apple Music.
Wrong settings on Apple Music lead to the download failed.
iOS system errors.
How to get out of trouble?
Here, we have got you covered in 10 solutions to fix the problem that Apple Music won't download songs on iPhone (iOS 14/13/12 included) and Android.
Way 1: Restart Apple Music App
The easiest way to fix Apple Music not downloading's songs is to exit the Apple Music app and open it again.
1. iPhone 8 and before: Double-click the Home button to show the most recently used apps, including the Music app.
iPhone X or later: From the Home screen, swipe up from the bottom of the screen and pause slightly in the middle.
2. Swipe left or right to find Music app and swipe up on the Music's preview to close it.
3. Then open the Music app and go to Apple Music to download songs.
This solution also works when Apple Music does not play on iPhone.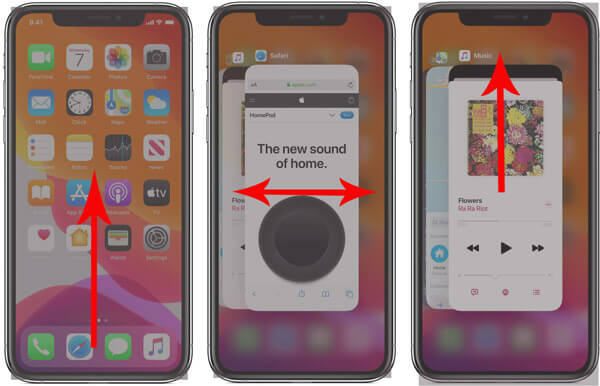 Way 2: Restart an iPhone
If restarting the Music app is not working, then another one easy way you should try is to restart iPhone.
1. Press and hold either volume button and the side button until the power off slider appears.
2. Drag the slider, and then wait 30 seconds for your iPhone to turn off.
3. Press and hold the side button until you see the Apple logo and your iPhone will restart.
The steps of restarting an iPhone vary based on the different models, and the above steps are based on iPhone X and later. For other models, just check this post: How to Restart iPhone.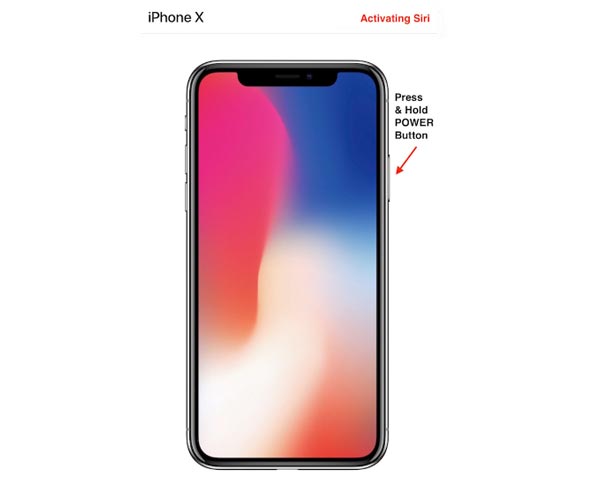 Way 3: Check Your Network Connection
As mentioned above, network is the reason why you cannot download songs from Apple Music. Unstable or disabled Network connection will lead to music not downloading from Apple Music. Here, there are 3 options for you to fix it.
1. Allow Music to use both WLAN and cellular data.
Go to Settings app, tap WLAN, then Scroll down to find Apps Using WLAN & Cellular, find Music option and enable WLAN & Cellular Data.
2. Switch from WLAN to cellular data.
Go to Settings app, hit Cellular, toggle on Cellular Data and then return to WLAN option to toggle off WLAN.
Or repeat the similar steps to switch WLAN to cellular data.
3. Reset network settings.
Resetting network settings on iPhone has been talked before to fix Apple Music not downloading.
Android users should also follow the fixes to get songs download from Apple Music normally.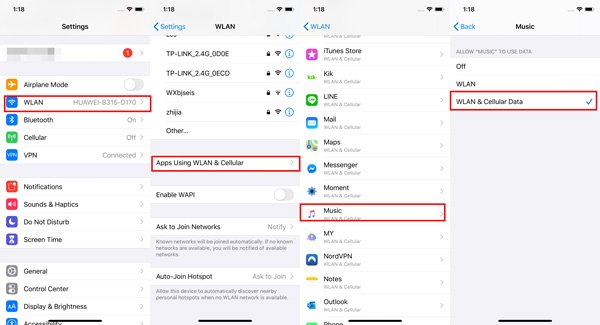 Way 4: Turn off/on iCloud Music Library
iCloud music lets you access your music library and songs that you downloaded from Apple Music on all of your devices. If you find the songs that you want to download is greyed out and cannot download, just try to turn off and turn on iCloud music on iPhone.
Go to Settings app, scroll down to find Music and then toggle off iCloud Music Library.
After later, just follow the steps above to toggle on iCloud Music Library.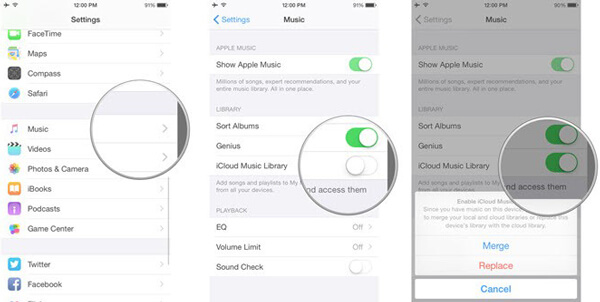 Way 5: Sign Out and in Apple ID
Apple ID is used to sign in to the Apple Music subscription. If you just finished the subscription renewal or the first subscription of Apple Music, you had better sign out and sign Apple ID to refresh the service, when you find songs cannot download from Apple Music.
1. Open Settings app on iPhone, tap [your iCloud name], scroll down to hit Sign Out at the bottom, then confirm that by typing your Apple ID password and hit Turn Off.
Note: You will see an option to keep a copy of your data (Calendars and Keychain) on this iPhone or not. You can view iCloud backup in details if you are not sure you will toggle it on or off.
2. After 30 seconds, find your iCloud name (now it is blank) again, enter your Apple ID and password and tap Sign in to re-sign in it.
This solution works especially when you add the family member into Apple Music for sharing the songs.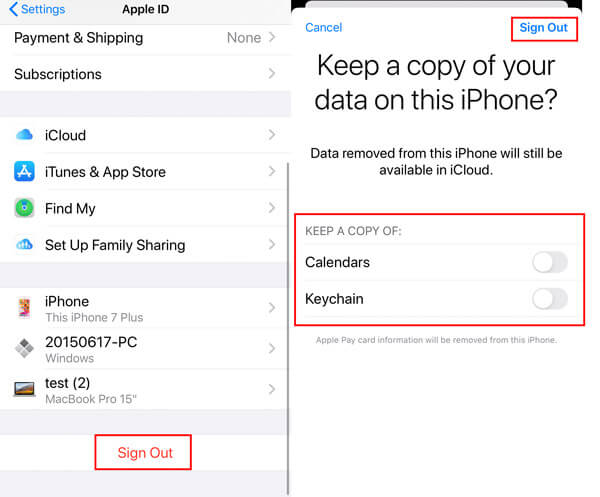 Way 6: Disable and Enable Show Apple Music
Apple Music is one of the modules of the Music app on iPhone. Only you let it show, it will appear in the main page in the Music app as For You and Browse.
When you will not download songs from Apple Music, you can relaunch the module to fix the problem.
Go to Settings app on iPhone, scroll down to find Music and toggle off Show Apple Music.
After 30 seconds, repeat the steps to toggle on Show Apple Music.
This way works markably when you add songs to Apple Music, and sync the songs on other device with the same Apple ID.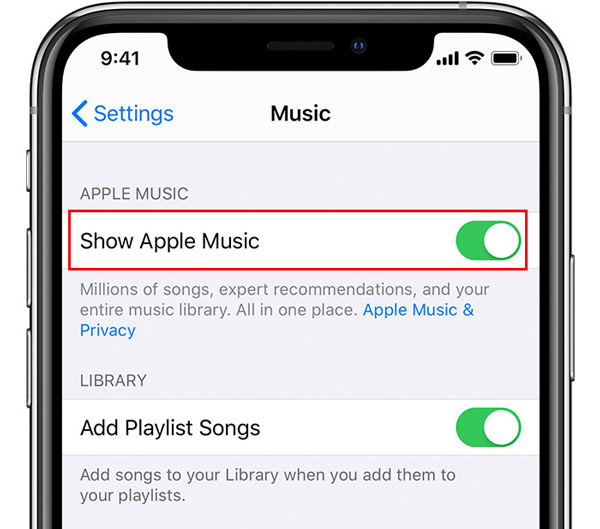 Way 7: Update Apple Music App
Every iOS update will refresh the features on iPhone and iPad. Similarly, the application update will also bring you better experience and more features. If your Music app is obsolete, you should update it to fix the songs not downloading.
1. Open the App Store app on iPhone, and go to Search tab.
2. Type Apple Music in the search bar, and find it.
3. Hit the Update option next to the app to upgrade it to the latest version.
Then open the Music app and see if it can download songs normally from Apple Music.
For Android users, the steps are similar.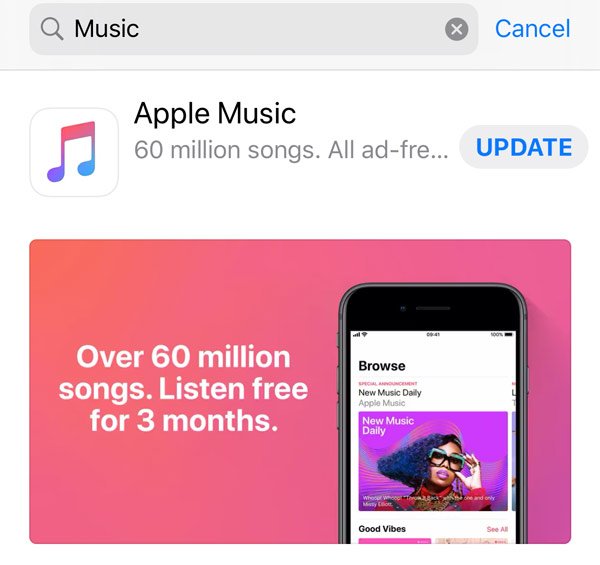 Way 8: Update iPhone Software
Again, when the refreshed Apple Music runs an old iOS version, some features may be out of order, including the song's download failure from Apple Music. The key to it is updating your outdated iOS system.
1. On iPhone, go to Settings app, hit the General option to find Software Update.
2. Tap Download and install if there is a new iOS version and it will start downloading the iOS and installing it automatically.
If your iPhone up-to-date, the phrase "Your iPhone is up to date." Will appear.
Note: It is easy to follow the on-screen instructions to update iOS from Apple, but it comes to be tough to downgrade iOS. Check the guide here to downgrade iOS.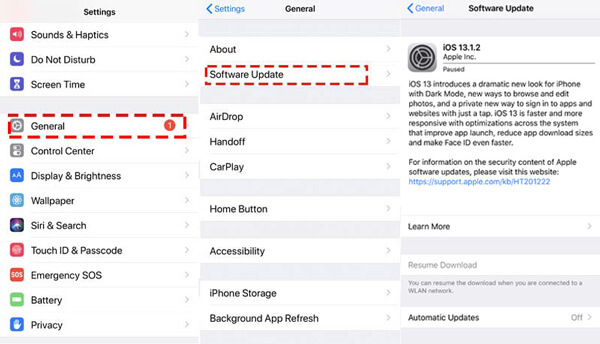 Way 9: Repair iPhone System without Data Loss Quickly
If none of the above solutions work to fix the issue, then the potential cause of the problem may be the iPhone system error.
For repairing iPhone system, you will need the professional iOS system fix program,
Apeaksoft iOS System Recovery
. It can fix the various situations where iPhone or iPad get stuck, like DFU mode, Recovery mode, headphone mode, Apple logo, white screen, etc.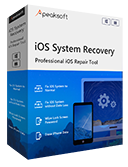 4,000,000+ Downloads
Repair iPhone system error caused by various situations.
Quick fix to solve Apple Music not downloading automatically.
Advanced repair mode will reset iPhone/iPad without password.
Downgrade or upgrade iOS to its compatible version.
Now, let's use the iOS repair software to fix your iPhone.
Step 1
Select iOS System Recovery
Free download this software into your computer, install and run it immediately. From the main interface, you should select iOS System Recovery.
This software lets you fix the iPhone that won't download the songs from Apple Music on Windows and Mac computer freely. Get the correct version that you will need.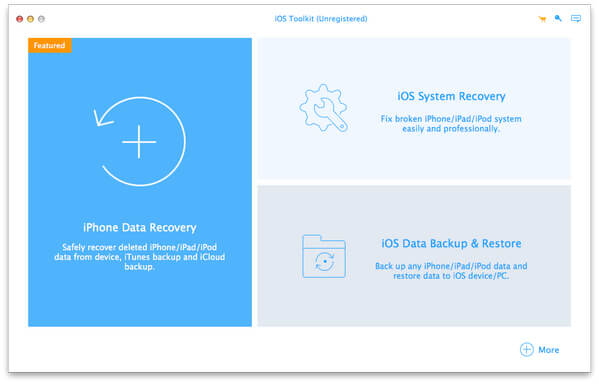 Step 2
Connect iPhone
Get the USB cable plug your computer with iPhone. In the popup interface, you will see the various issues that this software can fix. Ignore it and click Start.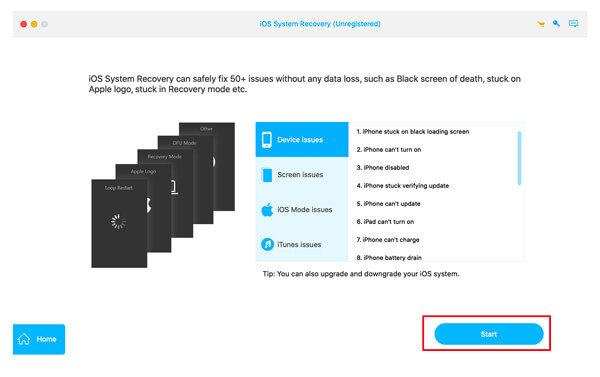 Step 3
Fix iPhone automatically
Here, you will see the detected status of your iPhone as Normal.
Click Free Quick Fix, and this software will fix your iPhone system and refresh it automatically.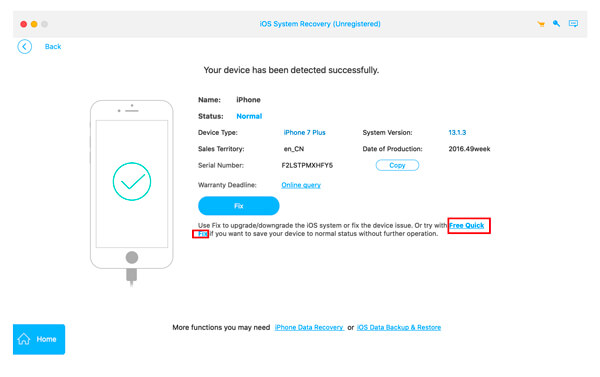 During this process, your iPhone will restart, and after that, unplug your iPhone.
Then, try to download the songs from Apple Music to see if the problem has been solved.
Note If your iPhone is detected as other abnormal mode, then you should click the Fix button to fix your iPhone thoroughly.
Way 10: Delete and Reinstall Apple Music
It seems not to uninstall the pre-manufactured apps on iPhone and Android. However, iPhone users who are running in iOS 12, 13, 14 and later get more controls from Apple to uninstall the pre-installed apps from iOS device. Surely, it is not the permanent un-installation, but the temporary hide and you can reinstall the pre-installed apps from App Store later.
Here, you can also uninstall the Apple Music app and reinstall it.
1. On your iPhone, touch and hold the Music app.
2. Tap the small cross icon in the upper-left corner to delete Music.
Note: iPhone users that are running in iOS 12 and before, an extra step is needed to tap Rearrange Apps before the small cross icon appears.
3. After the deletion, go to the App Store, go to the Search tab to type and find the Apple Music app and tap the download button to reinstall it.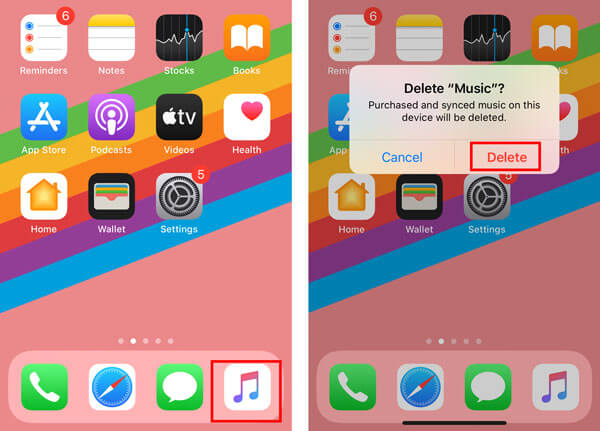 Way 11: Contact Apple for Help
Apple Music is not limited by the song downloads, but only by the amount of storage on your iPhone. If you are sure your iPhone has the enough space, and none of the solutions above work, then only the last solution can help you.
The last solution to fix Apple Music not downloading the songs on iPhone is contacting Apple support, from which, you can get more professional suggestions to fix the problem.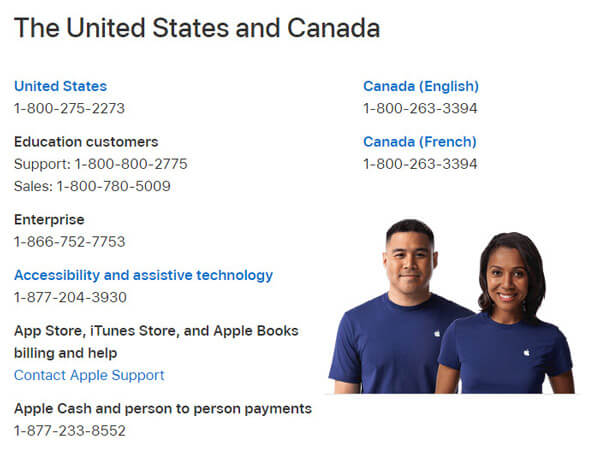 Conclusion
Apple Music lets you listen to music online and download the songs for offline playback on iPhone and Android. However, once you find it won't download songs from Apple Music, you can try the above solutions. All the solutions are easy to follow without any skills, and most importantly, they do not spend a single penny to fix the problem.
Have your questions been solved?
Any good solutions from you?
Let me know by leaving your comments.