Install& Register& Settings
Part 1. Install and register
Step 1. Launch and install
Download the .exe file to your computer. Double click the exe file and follow the instructions step by step to finish the installation.
Step 2. Register
After installation, launch the program. You will see the following window before your become a registered user.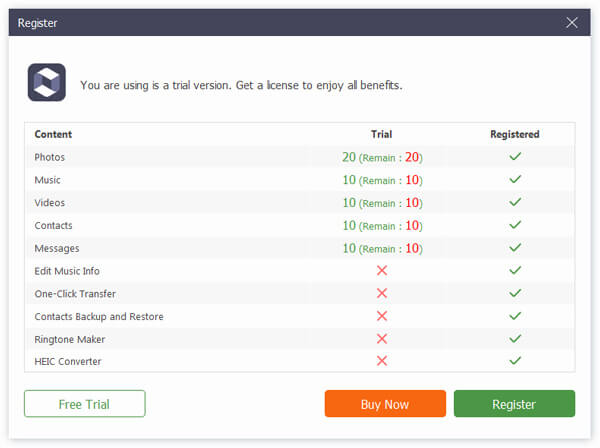 For purchased users, please fill out the Email Address and Registration Code. The Email Address is the email you used when you bought the program, the Registration Code lies in the confirm mail after you purchased the program successfully. We suggest you copy the Registration Code from the mail to ensure there's no space or wrong letters.
For non-purchased users, click Order Later and you can free try the program for 30 days. If you are satisfied and want to purchase, click Purchase and you will be led to the purchase page.
If you need this window after closing it, click the

on the top right of the program.
Part 2. How to change Profile Settings
Step 1.Choose Preferences
Click the menu icon on the top right. Here you can switch language, check online help, contact our support, check for updates, go to our official site, etc. To change settings, click Preferences.
Step 2. Change settings
Under General, you are allowed to change Output path where the files will be saved after being transferred to your computer. You can also choose whether Open folder after one-click transfer. Other setting options can be previewed in the following screenshot.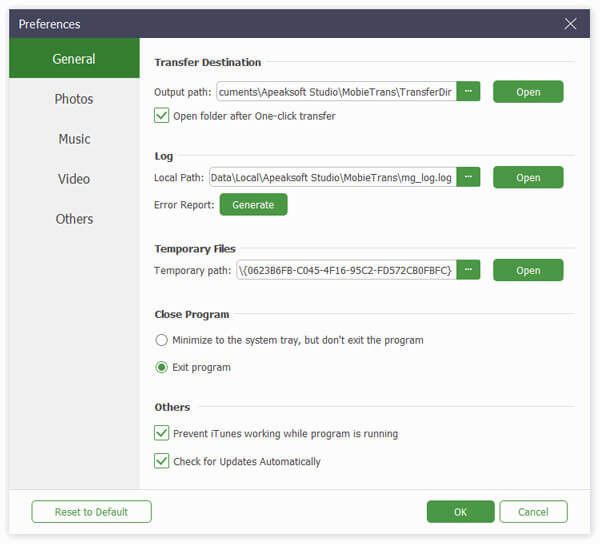 Step 3. Change other settings
Click Photos, Music, Video and Others, you can change settings for any file formats.
Transfer Files between iPhone/iPad/iPod touch and PC
Step 1. Scan your iPhone
Connect your iOS device to PC via an USB cable. Tap Trust on your iPhone and enter your iPhone passcode. Then the program will start to scan your iOS device.
After scanning, the detailed info will be shown to you. Click More Info and you will get more.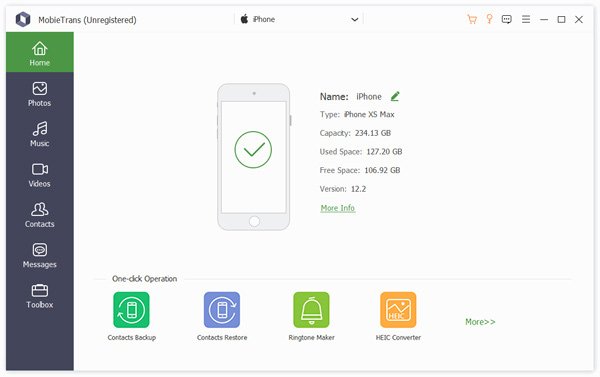 Step 2. Import files from computer to iPhone
On the left of the window, you will find all supported formats, including Photos, Music, Video, etc. Find the category you need. Here we take Photos as example. Click Photos on the left of the main interface. You need to wait for seconds if there are so many photos on your device. Then all photos will be shown up on MobieTrans. If you want to import files from computer to iOS device, just click the "+" button to add files.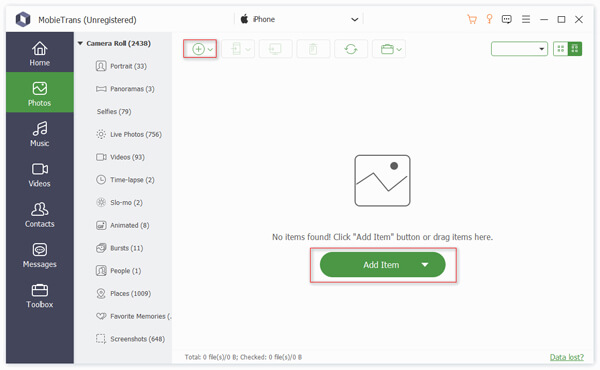 Step 3. Transfer files from iPhone to computer
Click the computer button, there will be a popup to ask you which format your photos will be saved in. Select the format you want.
Click OK to choose the location you want to save those selected photos to. Then wait for seconds until it finishes transferring.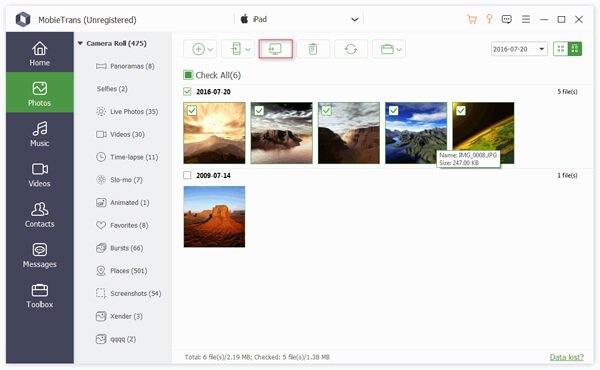 Transfer Data from iPhone to iPhone
Step 1. Connect your iPhones to computer
Download and install MobieTrans on your computer. Connect your iOS devices with the same computer via USB cables.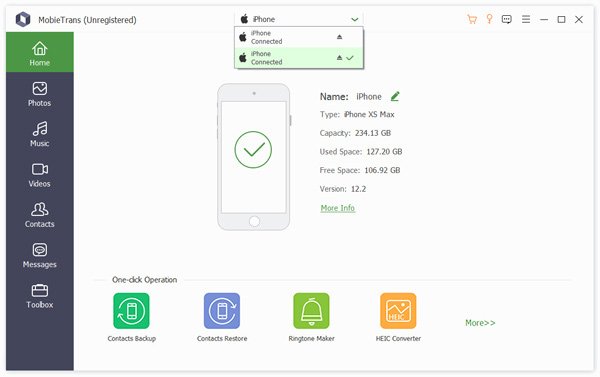 Step 2. Find the files to transfer
Here we take photos as an example. Click Photos on the left of the main interface. Just wait for a moment as it needs to scan all your photos. Then you will see the photos in the preview window.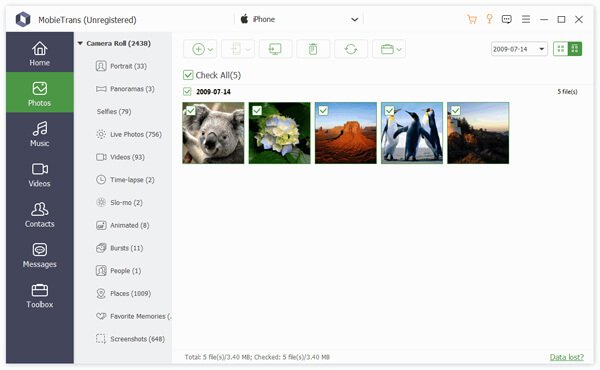 Select the photos you want by clicking the photos one by one. If you want to transfer all photos, just check Check All.
Step 3. Transfer files between iPhones
Click the phone button and select which device you want to transfer the photos to.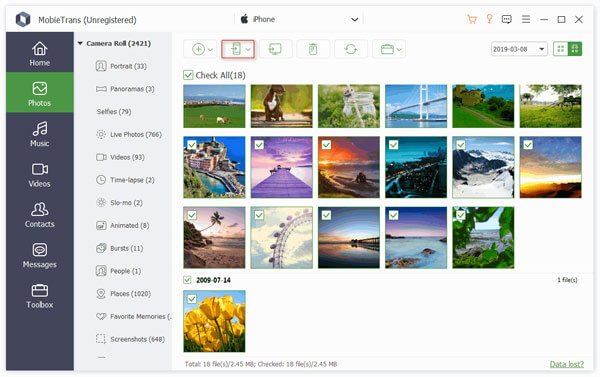 Wait for seconds and the transfer will be finished.
How to Manage the Data on Your iPhone/iPad/iPod touch
Part 1. Manage contacts (edit, add to group, delete and duplicate).
Step 1. Scan your iPhone contacts
Download and install MobieTrans on your computer. Connect your iPhone with computer via USB cable.
Then click Contacts on the left of the main interface. You need to wait for it to scan the contacts on your device.
Step 2. Merge duplaicate contacts
If you want to de-duplicate contacts, click the duplicate button after all contacts show up on MobieTrans, there will be a popup named Merge Duplicate Contacts.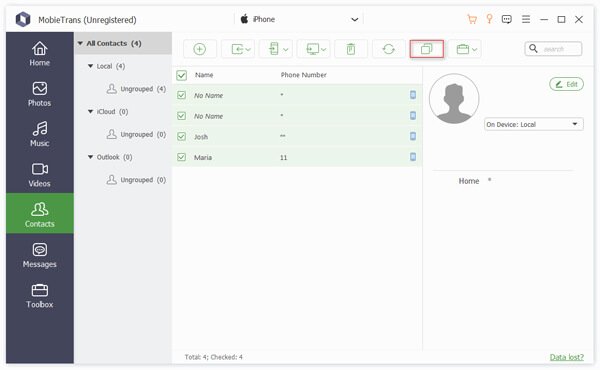 In the Merge Duplicate Contacts window, the duplicate contacts on your phone will be showed in groups, you can select one or more contacts to merge.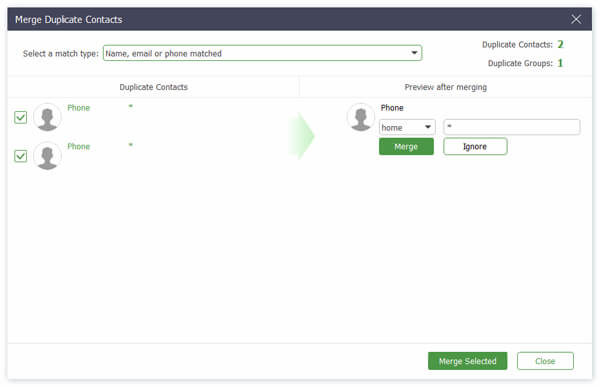 Step 3.Edit your contacts
Close the merge window. If you want to delete one or more contacts, check them and click the delete button on the top. If you want to edit the detailed info of each contact, check each contact and click the Edit button on the top right, then you can edit it in detail.
Part 2. Make ringtone with your local music.
Step 1. Find the ringtone maker entry
Launch Mobietrans on your computer. Connect your iPhone with computer via USB cable. After the iPhone is recognized and scanned, there are two ways to find iPhone Ringtone Maker. First is to click Toolbox – Ringtone Maker, the other way is to click Music – Ringtones. Here we take the first way as an example.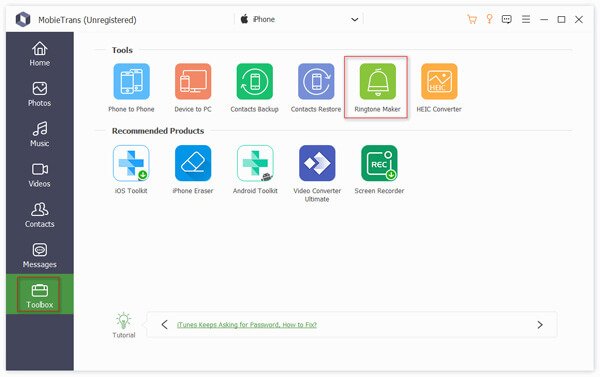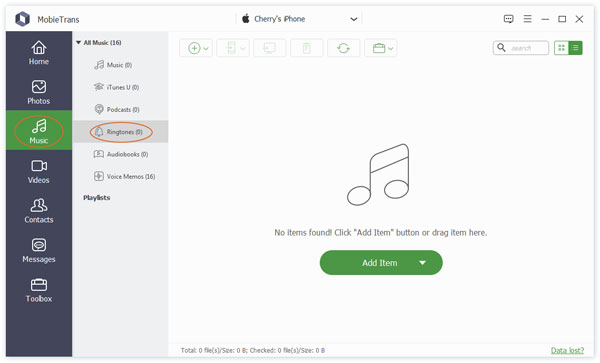 Step 2. Import music/video to convert
Click the Add Item button or the Add icon on the top left. You will be allowed to import music from your computer to your iPhone as your ringtone, or add a video and extract the background music as the ringtone.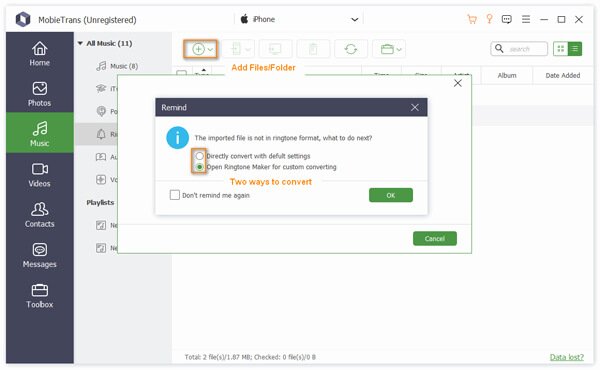 Step 3. Make ringtones for your iPhone
It will provide you two ways to make a ringtone, directly convert or open Ringtone Maker for custom converting. If you choose the first option, the music you added will be converted to ringtone format (.m4r) and imported to your iPhone automatically. This way is quick and convenient.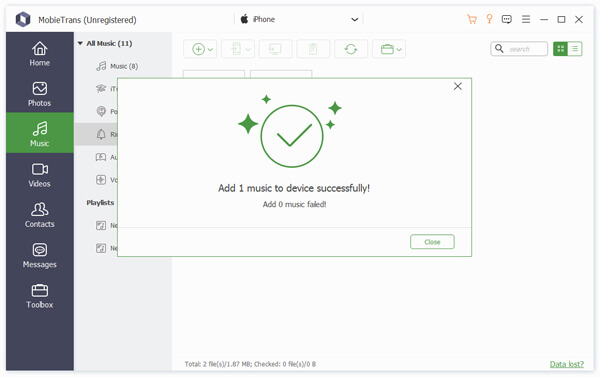 But if you have more advanced requirement, you can try the second way. It will lead you to the iPhone Ringtone Maker program. It allows you to add files from your device and PC, set the start time/end time/time length of the ringtone, change the volume, audition before generating, etc.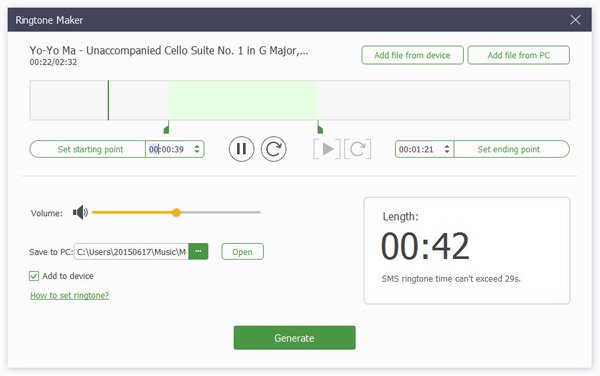 For detailed instruction, please check: https://www.apeaksoft.com/tips/make-a-ringtone.html
Introduction to One-Click Tools
You can find these One-Click Tools in Toolbox. Here we will give you short introductions.
Part 1. Device to Device
Connect your iOS devices with computer. Make sure all of them are successfully recognized. Click Toolbox – Device to Device. You will enter the following interface.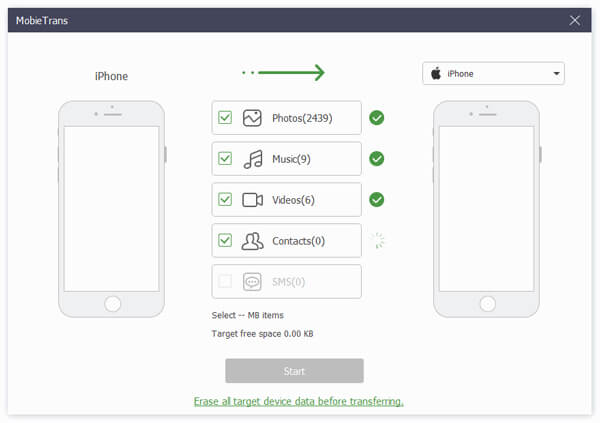 Uncheck the files you don't want to transfer, and wait for seconds until all the files are scanned out. Now click Start and the transfer will begin.
Part 2. Transfer Data to Folder
The operation is similar with the above function. Just connect your iPhone with computer. Click Toolbox – Transfer Data to Folder. Then Uncheck unwanted files and wait for the scanning. Choose a destination and click Start.
Part 3. Contacts Backup and Restore
These tools have opposite functions. Click Contacts Backup and your iPhone contacts will be backed up to your computer, while click Contacts Restore and the backed up contacts will be restored to your iOS device.
Part 4. Ringtone Maker
Click Toolbox – Ringtone Maker, you will quickly enter the ringtone maker interface, which has been mentioned in previous part. We won't describe the steps in detail in this part.
Part 5. HEIC Converter
Step 1. Click Toolbox – HEIC Converter and you will enter the HEIC converting interface. Add file(s) from your iOS device or your PC.
Step 2. Check the HEIC photo you want to convert, then choose the Format and Quality. If you want to save the converted photo to your iPhone and PC, you can check both options below.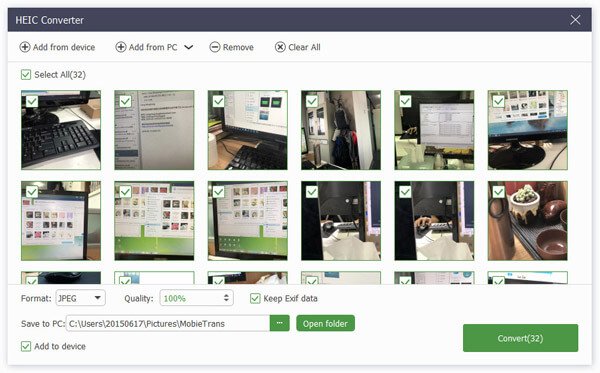 Step 3. Click Convert and the conversion will start and complete in seconds.