If you are a member of Amazon Prime, do not miss the benefits of getting the free audio books from Amazon for free.
Many Prime subscribers are not clear enough on how to listen to free audio books from Amazon to get all the benefits, and they may end up paying extra money for the audio books. Actually, Prime members can download free audio books from Audible Channel and Prime audiobook.
Here, you can find the detailed guide to download free audio books from Amazon.

Download Amazon Audio Books
Part 1. How to Download Free Audio Books from Amazon Prime List
Amazon created the Whispersync service to allow the users to switch between reading and listening seamlessly. While you search an ebook, it will display the counterpart audiobook which is available.
Step 1 Go to Amazon on your computer, and select Audible Books & Originals section in the searching bar.
Step 2 Search the audio book that you want to get, and click the book form the search result.
Step 3 Find the audiobook with a Prime logo and the Whispersync option and you will see the price $0.00. Click the Get Audible Free and sign in with your Prime membership to borrow the audiobook.
Step 4 After borrowing the audiobook, you can start listen to it in full-length. For downloading the audiobook, you need to install the Audible app. Then find the title from the library and click the three-dot icon to choose Download.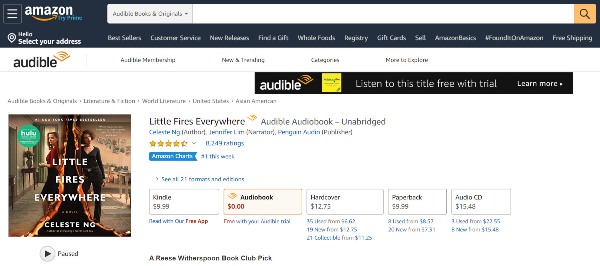 Note : Only some titles are available on Amazon Prime. For see all the available audiobooks, just find Audible narration to check it.
Part 2. How to Download Free Audio Books from Amazon Audible App
Audible app is another option to get free audiobooks with Amazon Prime. You can get audio podcasts and programs from this app. Surely; Prime membership can access all the content for free with this app. If you are not Prime membership, you can get the separate subscription fee at the cost of $4.95/month to accessing the audiobooks.
Step 1 Open the Audible app from computer.
Step 2 Find the menu of Channels for Prime and open it.
Step 3 A list of featured contents will appear, including Audible originals, comedy, editor's playlists and so on.
Step 4 Open and follow the audiobook you want, and click Play to listen to it for free.
Step 5 For downloading the audiobook, you should find the title from the library, and click the three-dot icon to choose Download to download the audiobooks to your computer.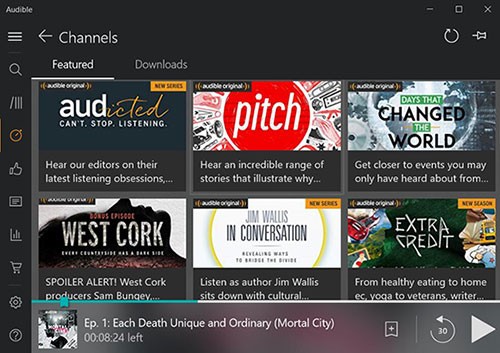 Note : There is one problem that some old models of mobile phone or MP3 player cannot install the Audible app. What's worse, you are allowed to borrow one audiobook at a time for free and have to return it to borrow a new one.
Part 3. How to Download Unlimited Free Audio Books from Amazon
Apart from the one-time download limit and old model non-support, the downloaded AA or AAX audiobooks are copy-right, and cannot play on other non-Amazon devices.
For getting out of all the limits, you will need the Amazon audiobooks downloader.
Apeaksoft Screen Recorder is the free Amazon audiobooks capture software, which can save any audiobook from Amazon by removing the DRM protection.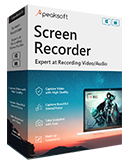 4,000,000+ Downloads
Save Amazon audiobooks as MP3, WMA, AAC and M4A.
Remove DRM restriction to keep all Amazon audiobooks for offline playback.
Split large audiobook files into small chapters for listening in a short time.
Set schedule task to record the audiobooks automatically.
Step 1 Free download Amazon audiobook grasper
Free download the Amazon audiobooks capture software on your computer. Run it and you can see three tabs, and here you should click Audio Recorder.

Step 2 Make audio recording settings
Turn on System Audio, and turn off Microphone to avoid any noise.

Click the output settings above the microphone image to customize the audiobooks' output settings for the audio formats and quality.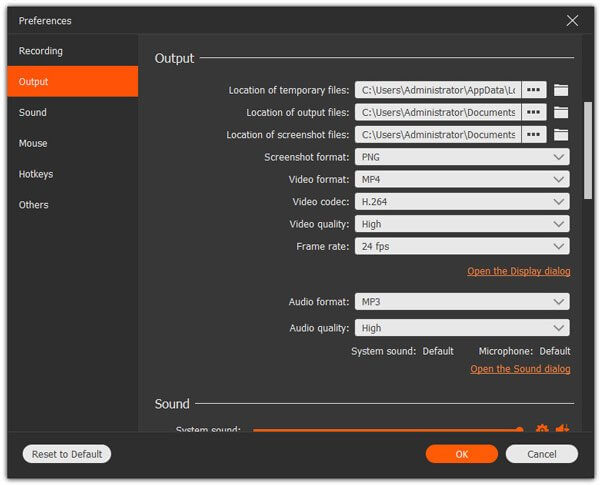 Step 3 Save Amazon audiobooks
While all the settings are made well, just open the Amazon audiobook and play it. Meanwhile, click REC button on this software to capture the audiobook.

Click the stop button and you can preview and play the audiobook recording. The clip feature lets you cut the unwanted parts of the audiobook.
Click Save to export the Amazon audiobook on your computer for offline playback.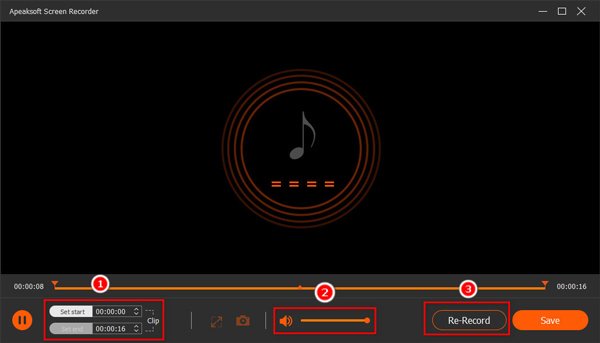 In this way, you can download any Amazon audiobooks unlimitedly.
Part 4. FAQs of Downloading Amazon Free Audio Books
What is Amazon Prime?
Amazon Prime is a subscriptions service where members receive benefits which include FREE fast shipping for eligible purchases, streaming of movies, TV shows and music, exclusive shopping deals and selection, unlimited reading, and more. It is similar to Apple Music in a way. Check Amazon Music VS Apple Music here.
How can I start an Audible trial membership?
Go to the Free Trial page on the Audible desktop site, sign in to Audible using your Amazon account, then click TRY AUDIBLE FREE to add the free trial to the shopping cart. After that, a credit card needs to be on file to avoid any interruptions of service after your 30-day free trial. The membership will receive it's first monthly charge 30 days after enrollment.
Does Amazon Prime have free audio books?
Yes. You can find the free audio books from the Audible Books & Originals section. Or find the free audiobooks and podcasts from the Audible app with the Prime membership.
Conclusion
Amazon Prime has free audiobooks that you can listen online or download to your device. However, you are only allowed to download an audiobook at a time. Moreover, the downloaded audiobook is DRM protection and cannot play on other devices. For removing the limits, you can use Apeaksoft Screen Recorder to grasp all the audiobooks on Amazon for offline playback portably.
Any suggestion from you are welcome to leave below.