Podcast can be thought as an Internet Radio On-Demand. And you are able to subscribe or watch a radio or TV shows. However, have you ever wanted to download an individual episode of a podcast into your computer or other portable devices so that you can listen or view the shows offline?

To be honest, it is not so complicated as you thought. This tutorial is focusing on telling you three different methods to download podcast from iTunes. If you are interested with this topic, read on and learn more details.
Part 1

: How to download all episodes of podcast in iTunes

If you want to download all the episodes of a podcast from iTunes, you can right-click on the icon of your selected podcast in the middle column, and then choose "Download All" button. Or you can set up auto-downloads in iTunes, which will download any new episode when it is released. In order to enable iTunes to download new podcast episodes in iTunes automatically, follow the steps below:

Step 1: Configure podcast settings

Open Settings in Podcast, and subscribe to a certain podcast if you are not already.

Step 2: Locate the subscribed podcast

Then open iTunes, choose Library section and find the podcast you subscribed just now. If you cannot find it, make sure the drop-down option off is set to Podcast.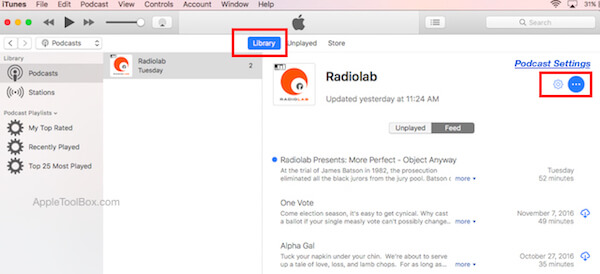 Step 3: Set new episodes downloading
Simply tap on the podcast for which you want new podcast episodes to be downloaded to iTunes, and click on next to Download Episodes from the menu off to the right.
If you have uploaded Podcasts into iTunes, then here you can also find your own Podcasts and download them.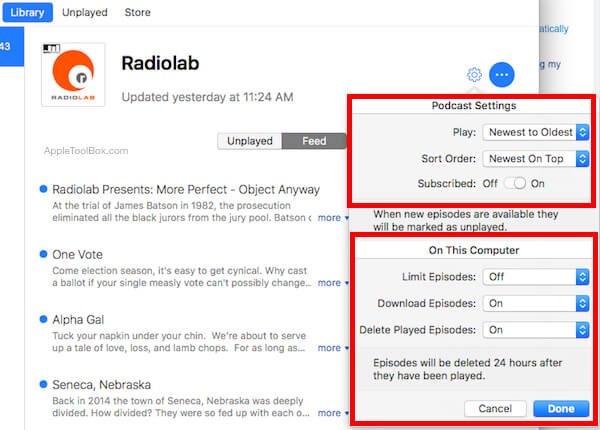 Step 4: Save the configuration
Finally, click on the "Done" button to save to the changes. And later the new episodes of your selected podcast will be downloaded automatically.
To select which podcast episodes to download, here is a general guide:
Step 1: Select a podcast episode
Choose a certain podcast episode that you want do download from iTunes, tap on the Download button near the episode you want.
Step 2: Set iTunes settings
Move to the Library in iTunes, open the podcast from the Podcasts section, and then switch the podcast from the Unplayed tab to Feed.
Step 3: Start downloading
At last, select the menu to the right of the chosen episode, tap on the "Download Episode" button to start downloading it.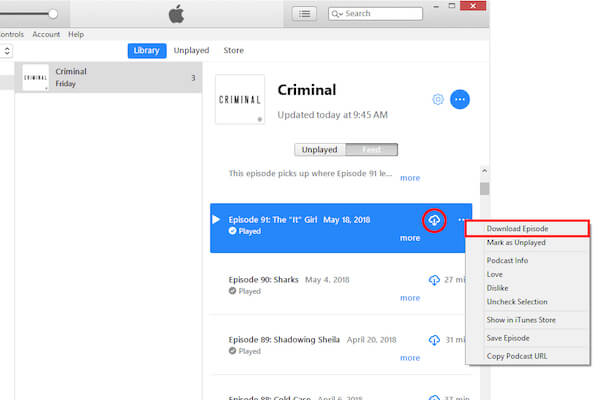 Even if you are not subscribed to the podcast, you are also able to download an individual podcast episode from iTunes.
Part 2

: How to playback downloaded iTunes podcast

After downloading your located iTunes podcast, it is time to open and view it. All of the downloaded podcast episodes will be saved in the same folder in iTunes, and you can easily access there by opening Library in iTunes and then selecting Podcasts from the drop-down box at the top left side.

Here are the detailed steps to playback any iTunes podcast you have downloaded:

Step 1: Open iTunes

Launch iTunes by choosing it from Applications folder or double clicking its icon from your dock directly.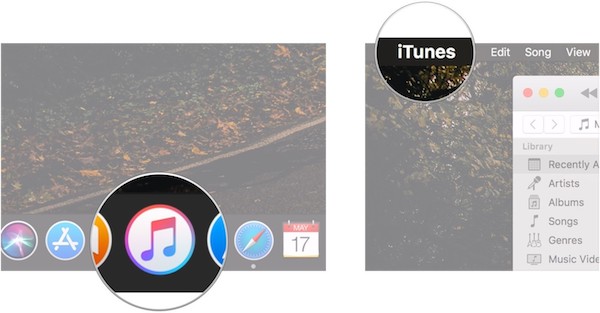 Step 2: Move to Preference
To play iTunes podcast downloaded, then tap on iTunes in the menu bar, and select Preference option, and next Advanced option.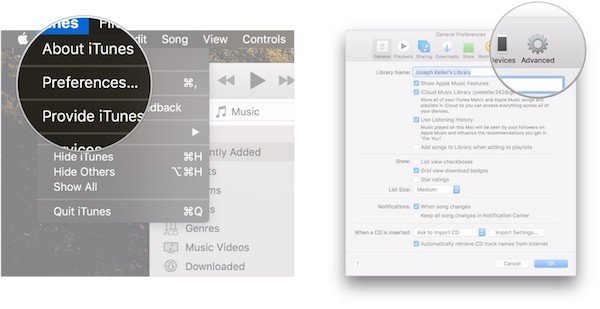 Step 3: Check settings
Confirm the box next to "Keep movie window on top of all other windows", and tap on OK button in the lower tight corner.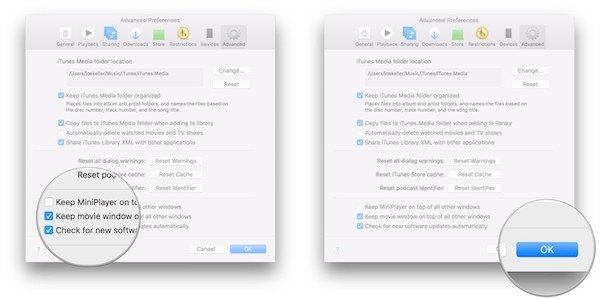 Step 4: Play iTunes podcast
Click on the media drop-down option in iTunes, and select Podcasts section, choose a certain video podcast that you are going to pay, and double-clicking on the episodes.

Now you are able to watch the podcast you have downloaded in iTunes. Just enjoy it!
Part 3

: How to record iTunes podcast with screen recorder

If you are going to download iTunes podcast to computer, maybe you can choose to record them with a professional screen recorder. You are highly recommended to use Apeaksoft Screen Recorder, one of the best and most powerful video and audio recorders among the market.

This wonderful screen recorder provides professional solutions for you to record iTunes podcast, get online movies as well as create video tutorial and more. What's more, Apeaksoft Screen Recorder also comes with advanced editing features, which enables you to do any edits with your iTunes podcasts downloaded.

Key features of this iTunes Podcasts recorder:
Customize recording area and screen size.
Support freely record system audio, microphone audio or both.
Any screen activities can be recorded, including iTunes podcasts, game video and etc.
Support a wide variety of output formats, like MP4, AVI, MKV, MOV and so on.
Follow the next tips to learn how to download iTunes podcast by recording it with Apeaksoft Screen Recorder:
Step 1: Install and launch Apeaksoft Screen Recorder
With the download button above, free download this software on Windows or Mac according to your OS differs. After installation, start it on your computer.

Step 2: Recording area selection
Next select "Video Recorder" from the main interface, and choose a recording area. You are able to record download iTunes podcast with full screen, custom region or preset area.

Step 3: Adjust audio settings
Turn on system audio and turn off the microphone. Then click REC button on the right side to start recording. Additionally, you can highlight, add texts to process the podcast.

Step 4: Preview and share recording
Once done, you are capable to preview the download iTunes podcast on computer. And you can also share the recording to your social websites.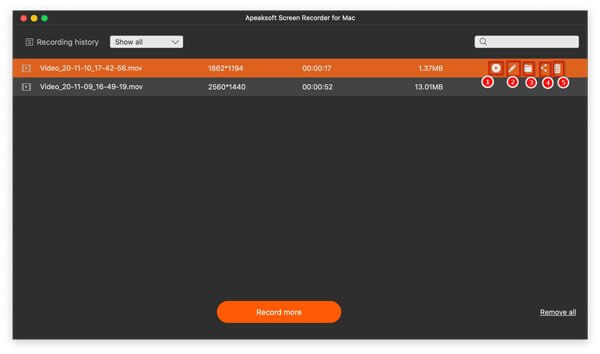 Conclusion
This article is an ultimate guidance about how to download podcast from iTunes to computer. Here you can not only learn the direct way to download and playback it from iTunes, but also learn a recording way to download iTunes podcast to computer so that you are able to view the videos in other portable device. If you have any other query about how to download iTunes podcast, please share them in the following comment.