There are many myths of music copyright. For instance, some people believe that it's okay to use copyrighted music without making money or less than 10 seconds. The misunderstandings of fair use and no copyright infringement intended are also common. Actually, those copyright myths will get you sued due to the violation of copyright laws. Thus, it is recommended to download no copyright music for your YouTube video, vlog and more. This article will show you where and how to download no copyright music for free.

Download No Copyright Music
Part 1: How to Download No Copyright Music with Original Quality
Though you can download songs from some copyright free music sites, you are still limited with these or those restrictions. You may need to sign up its user account, share to social media and more. Moreover, the downloaded copyright free songs are compressed. If you want to download original no copyright songs, you can use Apeaksoft Screen Recorder to record the streaming audio losslessly for playback or further use.
To be honest, you can record any, streaming audio online audio and microphone voice within the software directly. Thus, you can add your voice while recording no copyright music as well. Furthermore, you can clip the copyright free music recording with the built-in audio trimmer. No matter you want to download any audio clip with high quality, you can record, download and trim no copyright music in one stop.
Record and download no copyright music as MP3, WMA, AAC, M4A and other formats.
Add your voice to the system audio recording if you want.
Keep 100% original quality.
Trim the non-copyrighted music with custom start and end time.
Adjust output audio settings before sharing or saving.
Support Windows 10/8.1/8/7/Vista/XP and Mac OS X 10.10 or above.
Download for Win
Download for Mac
Step 1 Free download, install and launch Apeaksoft Screen Recorder. Choose Audio Recorder to download royalty free music library for videos and easy playback.

Step 2 Enable System Sound to download streaming audio from the browser without noise. You can move the slider above to adjust the input volume.

Step 3 Click Settings on the toolbar. Here you can adjust output format, audio recording settings, hotkeys and more.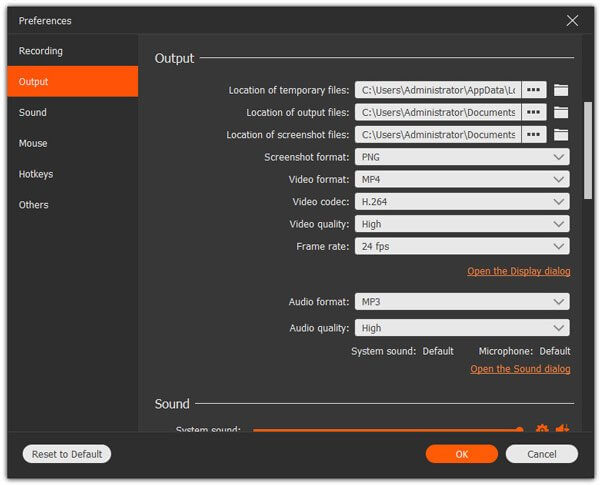 Step 4 Click the REC button to start recording no copyright music. You can pause and resume recording the copyright free music freely.

Step 5 When the audio recording process ends, you will be in the Preview window. Click Play to pre-listen the music recording file. Moreover, you can set the custom start and end time to clip the audio recording file.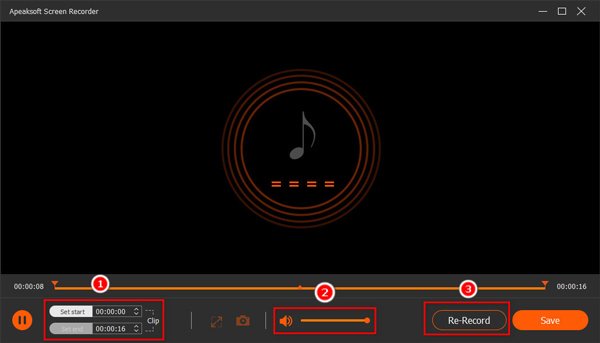 Step 6 Click Save followed by Next to download no copyright free music. You can rename, delete, share, play and quickly find the audio file.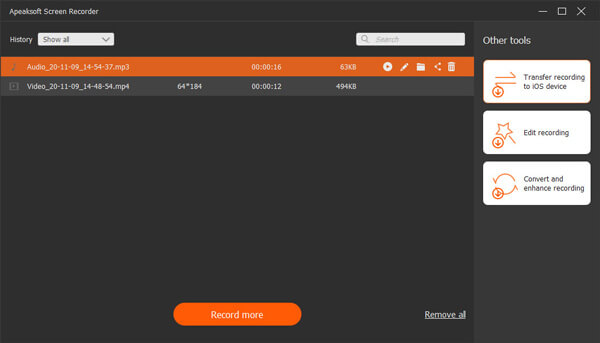 Part 2: How to Download No Copyright Music to MP3 Audio Online for Free
If you want to download intro music with no copyright to MP3 format, you can also use Apeaksoft Free Online Audio Recorder. Just as its name shows, you can record and download no copyright music for free online. No matter you want to record music from the computer or other third-party apps, such as Windows Media Player, VLC, iTunes, etc. Different from its full version. You can save no copyright songs as MP3 format only. The recording customization, audio trimmer and other advanced features are not available. But it is enough to download no copyright free music to your computer.
Step 1 Open the main page of the Free Online Audio Recorder. Click Start Recording to access its launcher.
Step 2 Select System Audio to record online audio only. You can also enable Microphone to record both non-copyrighted music and your voice.
Step 3 Click Record to start recording no copyright music online.
Step 4 Once recorded, you can get the real-time preview window to have a check. The audio recording file will be downloaded automatically without extra operations.

Part 3: Top 5 Websites to Download No Copyright Music
If you want to download intro, outro and background music without copyright, you can take a look at the following sources. Here you can pay royalty free music once or get completely free no copyright music. As a result, you can stay away from royalty fees. Where to download no copyright music? You can choose from the following online royalty free and non-copyrighted sites.
Top 1: YouTube Audio Library
You can free download no copyright music from YouTube Audio Library in many genres, such as instrument, attribution, mood and more. Well, you can regard it as the free music library for all YouTube users. It is supported to download and add no copyright music, sound effects and other audio tracks into YouTube videos directly. From YouTube Audio Library, you can download both public domain works and creative commons. (Check how to edit YouTube video)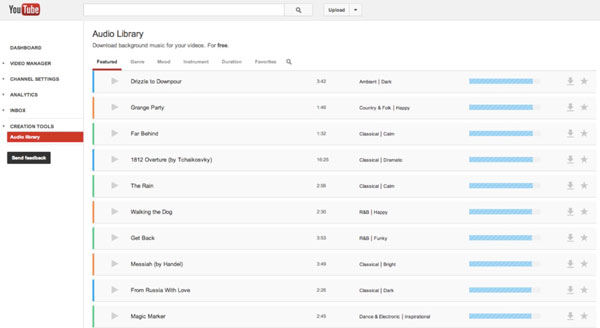 Top 2: Free Music Archive
Free Music archive offers free music and royalty free music. There are over 1500 public domain tracks and many other licensed tracks following the licensing conditions. If you have a small budget or you just want to get no copyright music for free, you can visit Free Music Archive to free download no copyright music. In a word, you can get royalty free music with different licenses here.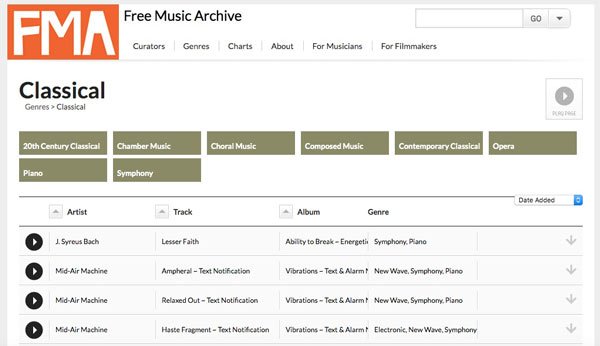 Top 3: Incompetech
Incompetech is an artist-run site that offers no copyright music in all genres. You can download no copyright music pack for free if you also upload your work. It's okay if you don't want to share your music with others. You can download no copyright music without attribution after paying $20 per piece.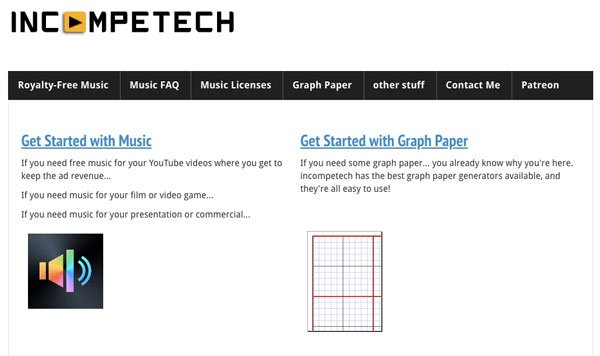 Top 4: SoundCloud
SoundCloud is licensed under Creative Commons. In most cases, you can download and use SoundCloud audio tracks for free. The precondition is that you need to follow the guidelines released by the artists. Compared with other no copyright music websites, you can download royalty free music with more choices.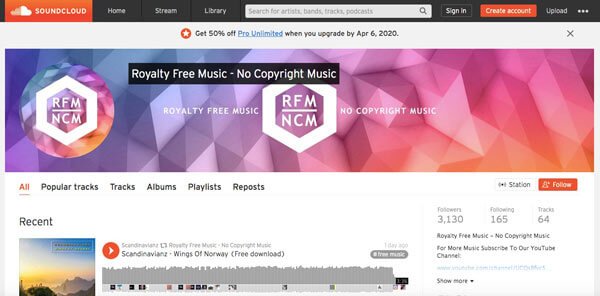 Check how to download SoundCloud song in details
Top 5: CCMixter
CCMixter is a nice place to free download no copyright background music. You can get many copyright free music under the Free for Commercial Use licensing option. It is supported to search for the certain artist or track. CCMixter is more like a community that takes contributions from thousands of artists all over the world. You can find a large amount of original background music.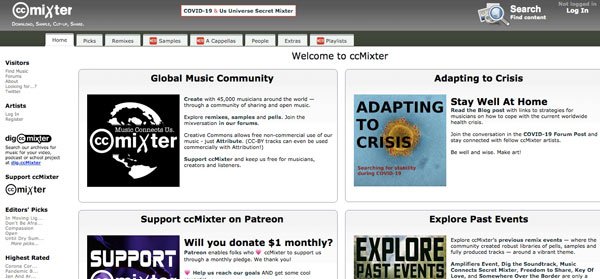 Part 4: FAQs of Downloading No Copyright Music
Can I use copyrighted music if I give credit?
Yes. If it is the first time copyrighted music gets recorded and distributed, you need to ask permission. After that, you don't need to give credit to copyrighted songs over and over again.
Can I use copyrighted music on my YouTube video if I don't monetize?
No. If you are not the intellectual property rights owner, it is illegal to use any copyrighted content. You can check detailed from U.S. copyright law of Title 17 U.S. Code.
What happens if you put copyrighted music on YouTube?
You can get no copyright background music for YouTube from YouTube Audio Library and other sites directly. If you insist on using copyrighted songs in your YouTube video, the copyright owner can mute, monetize or even block your YouTube video.
That's all to free download no copyrighted music. You can also get online sources to download free music for YouTube videos, vlogs and more with no copyright. As a result, you will not get trouble into copyright issues. Do you have any non-copyrighted music to share? You can feel free to leave messages below.