Is there any method to download Tumblr audio files on PC/iPhone with ease?
Tumblr as the popular microblogging and social networking website, has posted by users many multimedia files. One of the most attractive features you can find is the various audio file on Tumblr.
But how to save colorful audio for offline listening? Tumblr lets you share the audio post, but does not allow you to download the audio file from its site directly.
No worries. here we are going to share 4 best methods to help you download audio and music from Tumblr.

Download Tumblr Audio
Part 1: The Best Way to Download Tumblr Audio on PC
Apeaksoft Screen Recorder is one of the best online music downloading software. If you are looking for a professional way to download Tumblr audio, SR is a smart option.
Screen Recorder is the best professional audio recording software, which can help you record Tumblr audio with high sound quality and save it on your PC. Apart from Tumblr, it also can record online videos, podcast, webinars, lectures, presentations, Skype calls, online conference, webcam videos, songs, etc.
Save Tumblr audio on your hard drive in MP3, M4A and other used audio formats.
Keep original quality when downloading Tumblr audio.
Provide extensive custom options, like bitrate, sample rate and more.
Work on Windows computer and Mac well.
Download for Win
Download for Mac
Step 1
Download and install Screen Recorder on your computer and start it. Hit the Audio Recorder to open the best Tumblr music downloader.

Step 2
For recording online audio, music or radios, turn on "System Audio", and turn off "Microphone" on this audio recorder before that. If you want to record other's or your voice, you can just turn on "Microphone" and begin recording. Adjust the volume as you like.
Open the audio on Tumblr you want to download and click "REC" on the right side of this audio recorder to begin recording.

Step 3
Click the red square on the top left corner to finish recording. It will show the audio you have recorded.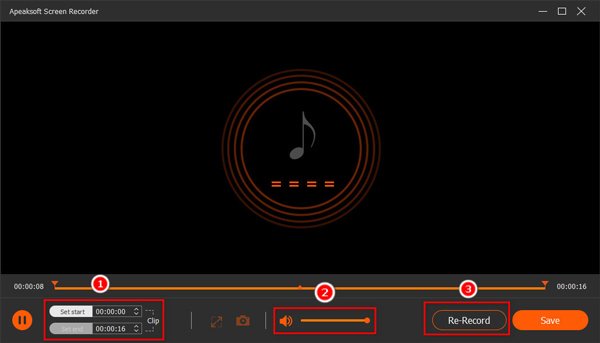 Part 2: 2 Free Ways to Download Tumblr Audio on PC
1Apeaksoft Free Online Audio Recorder
Apeaksoft Free Online Audio Recorder is one-stop free audio recording software to record internal and external sound online. It can capture any voice pass through your sound card on the computer. Whether the internal audio is coming from your local computer files or other third-party apps, like Tumblr, it is working great to record any audio played on computer.
Step 1
Open Apeaksoft Free Online Audio Recorder on your browser.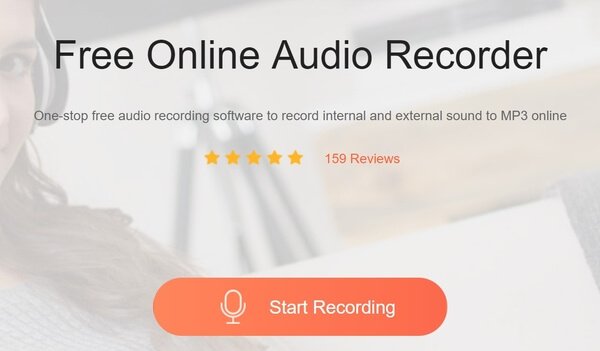 Step 2
Click the Start Recording button to access the launcher. Open the audio you want to record on Tumblr. Hit the REC button to start recording.

Step 3
Hit the Stop button to stop recording.

2TumTaster extension
TumTaster is an add-on for Chrome and Safari, which can download audio from Tumblr. If you want to use this extension on Firefox browser, you have to install the Greasemonkey extension and configure the TumTaster script page.
Step 1
Launch your Chrome browser. Search for the TumTaster extension in Chrome Store and hit Add the extension to install it on your browser.
Step 2
Open Tumblr, sign in your account and navigate to the music you want to download.
Step 3
Then you will see the Click to download option next to the audio track. Right click on it and press Save link as, when prompted, pick up a proper location to save the audio, and download Tumblr audio.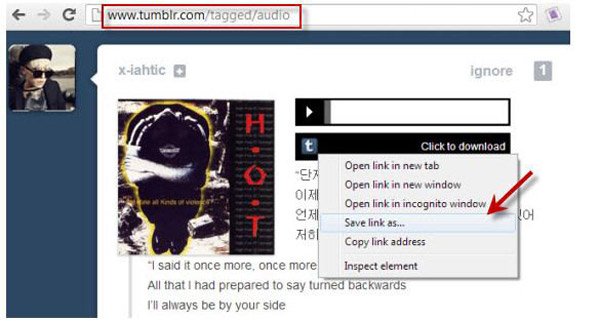 Part 3: Download Tumblr Audio on iPhone
MyMedia is a free download manager app which can be downloaded easily from the App Store. Whit it, you can play the files, manage them and export them to your computer. Here is how it works:
Step 1
Download and install MyMedia on your iPhone.
Step 2
Open the Tumblr app on your iPhone, find the post, then tap the Share button and select Copy to copy the post's link to your clipboard.
Step 3
Open MyMedia. Then open web browser and paste the link into the address bar and hit Go.
Step 4
Paste the link you copied earlier into the box, then tap the Get Video button below it. After few seconds, it will show Download button on the resulting page. Tap and Hold it to download the video.
Step 5
When the Download file option shows up, click it to start downloading.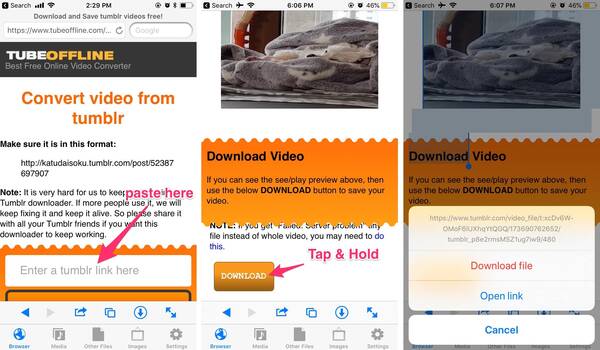 Part 4: FAQ about Downloading Tumblr Audio
How do I upload an audio file to Tumblr?
How to download Tumblr audio on Android phone?
How to download Tumblr audio on Android phone?
It is easier than downloading Tumblr audio on iPhone. Unlike iOS, Android allows users to save videos from the Internet to a Downloads folder, without installing any software.
Copy the link and paste it into a downloader tool like TubeOffline.Com and you can then download the audio immediately. The process is similar to how to use the MyMedia to download Tumblr audio.
How to download an embedded audio file?
You can use Firefox. Search Download Embedded 0.5 in Tools, which is available from the link provided in the Resources section. Download it. Close the browser and launch it again. You will then see a red arrow at the bottom of the browser window. Open the web page with the embedded audio file. Click the red arrow and select Download all embedded items in the menu. Then select a destination folder for the file.
Conclusion
In this article, we have shared 4 powerful methods to download audio from Tumblr. Apeaksoft Screen Recorder is the most effective way to grab audio from Tumblr. It not only works on all music, but also keeps original quality in downloading. If you do not want to download any software, you also can try free way we mentioned above. They can help you download Tumblr songs directly. Have a nice day!