TuneIn is a popular audio streaming service in American. A lot of people listen to live news, radio, music, podcasts, sports and more programs on TuneIn website for free. Unfortunately, there is no option to download TuneIn audio to your hard drive or memory. It means that all audio sources on TuneIn cannot be played offline. What you can do if you do not have a good internet connection? This article will show you how to get your favorite audio streaming on computer, iPhone or Android simply.

Download TuneIn Audio
Part 1: What Is TuneIn?
TuneIn, also called TuneIn Audio, is a fast and reliable streaming platform covers so many local and internet radio stations. It has attracted millions of users, partly because the high quality. Many people listen to it as the ultimate replacement for traditional radio. More importantly, you can get exclusive content with premium tier or free trier. That makes it even more popular for people who want more than just local radio.
Part 2: The Best Option to Download TuneIn Radio on PC and Mac
As mentioned previously, TuneIn Radio is a streaming service and only allows you to enjoy various radio stations through the internet. It means that you will miss the programs if you cannot listen to it in real time. Can you download programs from TuneIn Radio? The answer is yes and all you need is Apeaksoft Screen Recorder.
Download any programs on TuneIn Radio without premium.
Support a wide range of audio output formats, like MP3.
Make schedule to record radio stations alone.
Pre-listen to the audio programs with the built-in media player.
Download for Win
Download for Mac
Briefly speaking, it is the best way to download your favorite radio programs from TuneIn Radio on Windows 7/8/10 and macOS 11.
How to Download TuneIn Radio on Windows 7
Step 1 Install the TuneIn Radio downloader
Launch Screen Recorder after you install it to PC. There is another version for Mac. Choose Audio Recorder from the main interface to open the TuneIn Radio downloader.

Step 2 Download radio programs
In order to download TuneIn Radio programs or audiobooks, turn on the System Sound option and disable Microphone. Click the Settings icon at the upper right side to open the Preferences dialog. Here you can set the output format, destination, hotkeys and more. Open TuneIn Radio desktop app or website and find the desired radio station. Hit the REC button to start downloading it.

Step 3 Save TuneIn Radio to hard drive
Automatic save downloaded TuneIn radio: If you know the length of the radio station, click the Clock icon, check Record length and set the duration. Hit Modify button to confirm it. If you have set the record length, the program will be saved automatically.

Manually save downloaded TuneIn radio: When the radio station finishes, click the Stop icon to open it at the preview window. Listen to the program and remove unwanted parts with the Clip tool. Finally, click the Save button to export the downloaded TuneIn radio to your computer.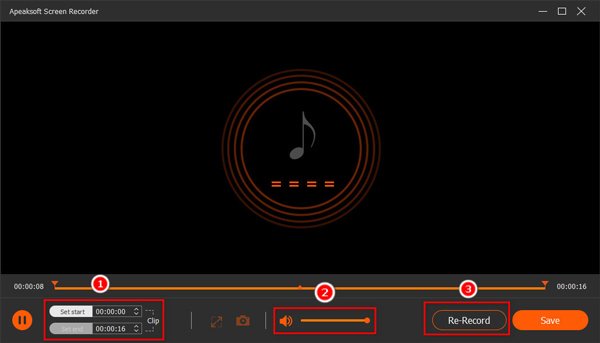 Note :
To make a schedule for downloading TuneIn Radio, hit
Task Schedule
option at the bottom of the Audio Recorder window. Choose
Add new task
button, enter a task name and click
OK
. Then set the start time, record length and more. Hit
OK
to confirm it. When the radio station begins, the program will download it spontaneously.
In this way, you can record any free Internet radio on your computer easily.
Part 3: Download TuneIn Radio to Android or iPhone
No matter you have the TuneIn Radio app for desktop or mobile device, you cannot find the download option. If you wish to download TuneIn Radio to iPhone or Android phone, Apeaksoft Free Online Audio Recorder is a good option. It can help you download TuneIn Radio without installing any software.
Step 1 Open a web browser, visit https://www.apeaksoft.com/free-online-audio-recorder/ and hit the Start Recording button to access the launcher.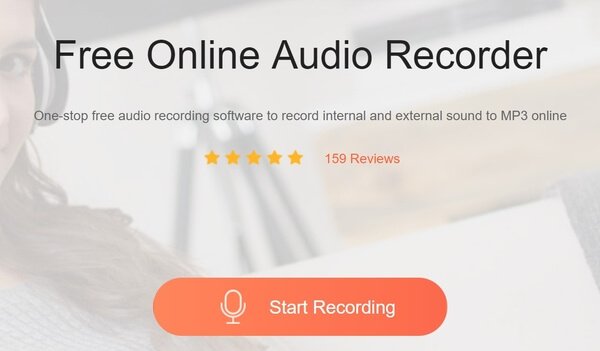 Step 2 Turn on the System Audio option while turn off Microphone. If you intend to add your voice to the audio station recording, enable Microphone too.

Step 3 When the target radio station starts, click the REC button to initiate downloading TuneIn Radio. Then hit the Stop icon once the radio is done.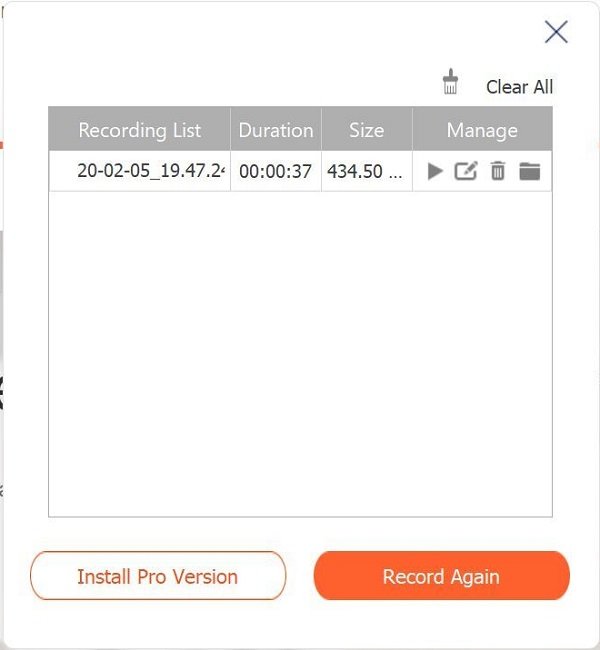 Step 4 The program audio will be saved as an MP3 file and you can decide to download it to your device or record another radio station. Finally, transfer the downloaded TuneIn Radio to your Android or iPhone.
Part 4: FAQs of TuneIn Radio Download
How do I use TuneIn Radio on an Android?
Go to your Play Store, search for tunein radio and download it to your Android device. Then run the app, and go to the Browse panel. Here you can either search or browse your favorite radio stations. Select one on the list and tap the Play icon under the Stations to begin streaming the broadcasts.
What kind of stations, formats and genres does TuneIn have?
As a free internet radio station aggregator, you can find radio stations related to sports, music, news, conversation, podcast and more. There are more genres in each category. Plus, you can listen to programs according to languages and locations.
Is TuneIn Radio free?
Though TuneIn Radio is a free platform, it does offer Pro version and Premium subscription. Firstly, you can find TuneIn Radio and TuneIn Radio Pro apps. The former is a free app with access to 100,000 real radio stations and podcasts. The Pro app provides the premium subscription for live sports from NFL, MLB, NBA and NHF, and commercial-free radio stations.
Conclusion
Now, you should understand what TuneIn Radio is and how to download your favorite radio programs and podcasts to your hard drive or mobile device. Apeaksoft Screen Recorder is the best option to download TuneIn Radio to computer. If you do not like to install software, Apeaksoft Free Online Audio Recorder is a good alternative solution. Then you can listen to your favorite radio anytime and anywhere. More troubles related to TuneIn Radio download? Please write it below.