Comparing with video gaming experience, it is also important to record your achievements. You can upload the gameplay video recording files to Internet to share with your friends and fans. To be more specific, you can share your PS4 gameplay recording video to YouTube, Twitter, Facebook or even streaming services like Twitch and more.

The default PlayStation gameplay video recording time is 15 minutes. So if you want to record PS4 gameplay longer than 15 minutes, you need to do as the following tells. Here are two solutions for you to record gameplay on PS4. You can read and choose one solution you like to perform PS4 game recording right now.
Part 1

: Use HDMI to Record Game on PlayStation 4

The widely-used and recommended way of PS4 video recording is using HDMI cable and capture card. You can project game to your Windows or Mac computer with those tools directly. Later, you can run one PS4 game recorder software to record the gameplay video with no time limitation.

If you are looking for an easy-to-use and powerful PS4 screen recorder, then Apeaksoft Screen Recorder can be your best choice. You are able to record any gameplay and share the project within few clicks. Well, the followings are main features about PS4 gameplay recording.
What Can the PS4 Game Recorder Software Do for You
Record PS4 gameplay with system audio and microphone voice individually or both with no interpret.
Provide the drawing panel, step tools, changeable cursor and other customizable tools during or after the screen recording.
Freely choose the capturing area, output video/audio quality and other preferences.
Use hotkeys to take screenshot, record or finish the PS4 video recording process freely.
How to Record PS4 Gameplay with Commentary Using HDMI
Step 1: Launch Screen Recorder
Connect the PS4, HDMI cable, capture card and your computer with the correct order. Power on your PS4, you can see the PS4 screen projected on the monitor of your computer directly. Then free download and install Apeaksoft Screen Recorder. Launch the PS4 recording software after the installation.

Step 2: Set the input video and audio source
Choose "Video Recorder" if you want to record video on PS4. Later, set the custom recording area with flexible filters. If you want to record both system sound and your voice, then you can trigger both the "System Sound" and "Microphone" to the "On" state.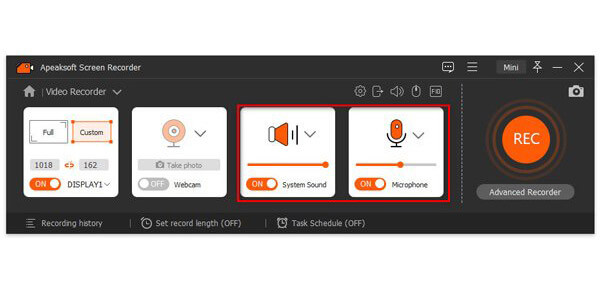 Step 3: Adjust the output screen recording settings (optional)
Click "More Settings" option on the top right corner of the window. Now, you can change its output video quality, video/audio/screenshot format and other personal settings freely. There are many other sections including "Mouse", "Hotkeys", "Output" and more. Later, click "OK" to save your change and exit the window.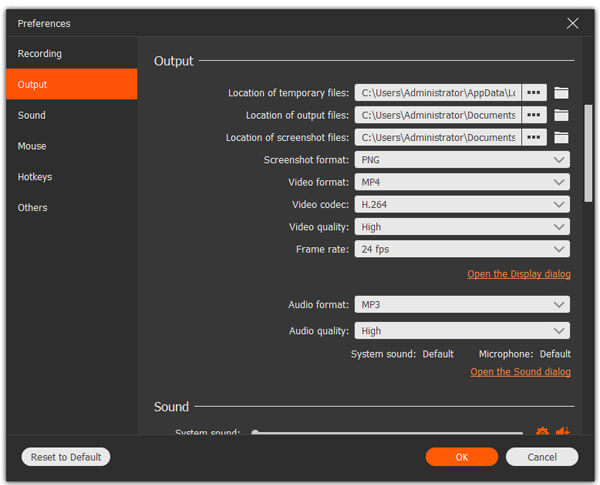 Step 4: Record PS4 gameplay for YouTube
After all preparations are done, you can click "REC" to start to record the streaming PlayStation 4 game video with audio. Of course, you can pause, restart and stop the whole PS4 gameplay recording process freely. When the PS4 recording process ends, you can get a preview window.
If everything goes well, choose "Save" on its lower right corner to move on. Then click "Next" and get your export PS4 game video in the left panel. Navigate to the "Share" section to upload your PS4 game video to YouTube and other media platforms by one click.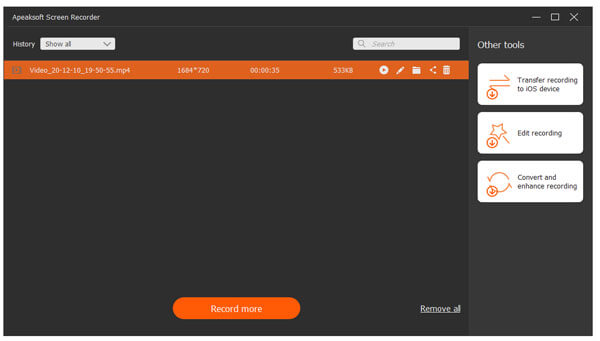 To quickly record a game video on PS4, you can trigger the "Video Recorder" filter and start PS4 video recording directly. Well, the default output video format is MP4.
Part 2

: Capture PS4 Game with Its Built-in Function

If you want to record PS4 gameplay without capture card, then you can use its built-in gameplay recording function directly. There is no need to prepare HDMI cable or capture card. Actually, you can record and share the video to YouTube and Facebook directly. Be aware that PS4 will keep footage of the last 15 minutes of the gameplay automatically.

Step 1: Request for PS4 gameplay recording

Turn on your PlayStation4, and then open the gameplay as usual. When you want to record the certain scene, you can quickly press the "Share" button for 2 times. Then an animation appears on the left corner of your PS4 screen. It will start recording on PS4 sooner.

Step 2: Record PS4 gameplay without capture card

Just long press the "Share" button when you want to stop PS4 video recording. Choose the "Save Video Clip" on your game controller, which is represented with a square.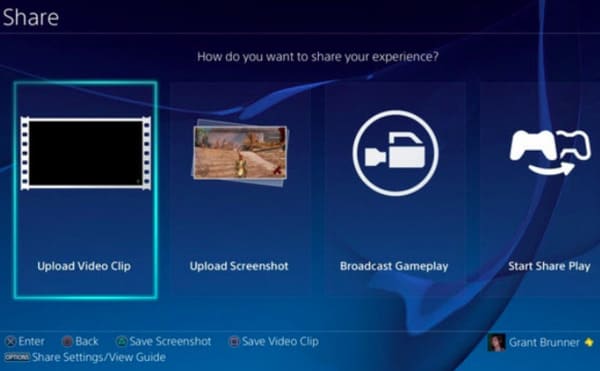 Then you can export the recorded PS4 game video to hard disk. Of course, it is supported to share the video file to YouTube too. you can choose "Share Play" or "Upload Video Clip" to complete the process.
Make sure you have connected a USB stick to PS4 before saving the recorded PS4 gameplay video. In addition, you can also enter into "Broadcast Gameplay" section to record a live streaming PS4 game video with ease.
Conclusion
You can use above ways to record PS4 gameplay with PC or on PS4 itself quickly and easily. If you only want to record a quick video of short minutes, then both two ways are friendly.
But if you want to get more gameplay recording features, then you had better choose one PS4 game recorder to solve the problem, like Apeaksoft Screen Recorder. What's more, the PS4 gameplay recording software allows users to capture screen video as long as possible. You can even set a timer to record a PS4 game video smartly.
That's all for how to record PS4 gameplay with capture card or not. If you encounter any difficulty while recording PS4 gameplay video, you can write down the problem in the comments below. We are glad to help you solve any problem immediately.