Live TV means you cannot download and it will go after broadcasting. If you want to watch live TV shows offline or later, you have to record them as digital video files. The good news is that you can do it if you have the right tool. Today, there are more live TV shows than ever before. However, the internet speed and availability cannot keep up with the pace. Therefore, this article will tell you three ways to record live TV on any device.

How to Record TV
Part 1: How to Record TV with Streaming Service
There are a lot of streaming services on market offering live TV shows. Some of them allow you to record live TV for watching offline. The Cloud DVR in Hulu, for example, is the live TV recording function. It offers storage space for recorded live TV contents. When you subscribe to Hulu for Live TV, which costs $40 per month, you will get 50 hours of Cloud DVR storage.
Step 1 Open the Hulu for Live TV app on your mobile device. It is available on both iPhone and Android device. This app is available on some smart TVs. For Android, Apple TV and other platforms, it is called Hulu app.
Step 2 Browse the TV shows and movies available through Live TV but not available on-demand. When you find the program you wish to record, go to the description screen and tap My Episodes or My Stuff. Then it will be recorded automatically.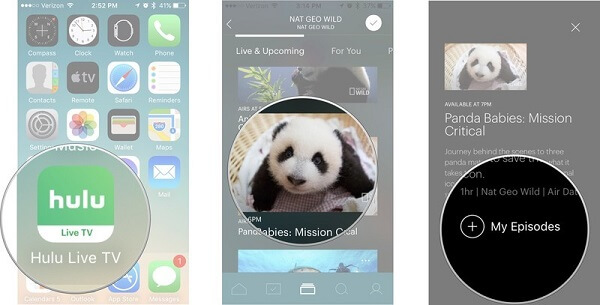 Step 3 To watch the recorded live TV show, go to My Stuff in the app, select TV Shows or Movies based on your situation.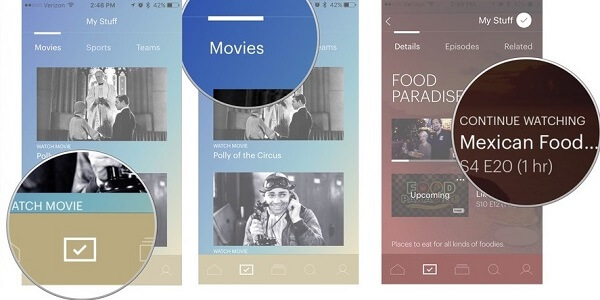 Step 4 Select the desired program and play it on your smartphone.
Note : Bear in mind that most streaming services have add encryption to recorded live TV shows. It means that you can only watch them within the authorized app or device.
Do not want to record TV via streaming sites? Just download the streaming videos directly.
Part 2: Best Way to Record TV without DVR
If you do not have Hulu Live TV subscription, don't worry since you can turn your computer to a live TV recorder with Apeaksoft Screen Recorder.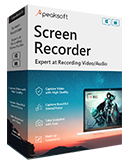 4,000,000+ Downloads
Record live TV shows, movies and more in a single click.
Make schedule recordings to avoid missing live contents.
Enhance video quality and save live TV in HD videos.
Preview the live TV show recordings with built-in media player.
Briefly speaking, it is the most cost-effective option to record live TV on Windows and Mac without DVR.
How to Record Live TV Show on PC
Step 1 Install live TV recorder
Run the best live TV recorder once you install it on your PC. There is another version for Mac users. Pick Video Recorder from the home interface. Open your browser or media service and find the live TV show you wish to record.

Step 2 Record a live TV show
Then you will get four options on the toolbar, Display, Webcam, System Sound and Microphone. To record a live TV show, turn on Display, choose Custom and then Select region/window, and click your browser or media service to set the recording region. Toggle on System Sound while disable Webcam and Microphone.

If you know the length of the live TV, click Set record length and enter the length. To make a schedule recording, click Take Schedule to open the new task dialog. Then set Start time, Record length and more based on the show. Click OK to confirm it. Other custom options can be found in Preferences dialog and you can click Gear icon to open it.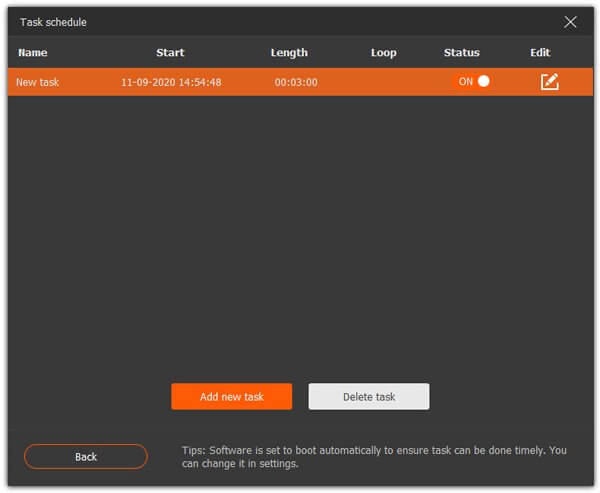 Click the REC button when the live TV show starts.
Step 3 Save live TV to computer
When the show is done, click the Stop button to open it in the preview window. If you have set up record length or schedule, the live TV recorder will save it automatically.
On the preview window, you can play the video and clip unwanted frames. Finally, click on the Save button to save the live TV recording as a digital video.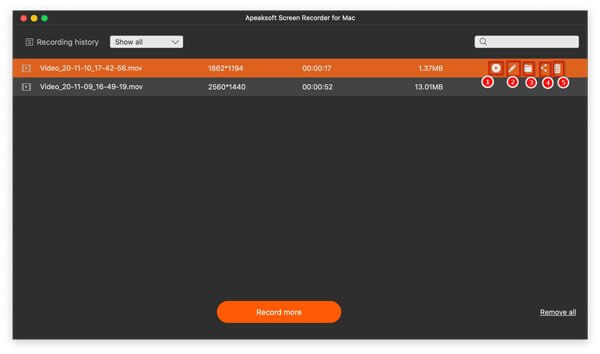 Part 3: How to Record TV Online
For people who just want to record live TV occasionally, Apeaksoft Free Online Screen Recorder is the best choice. It does not require installation or any payment.

Recommendation
Record live TV shows online.
Totally free to use with no limit.
No watermark or extra payment.
Save live TV as HD videos.
How to Record Live TV Online
Step 1 Open https://www.apeaksoft.com/free-online-screen-recorder/ in a browser when you wish to record a live TV show. Click the Start Recording button to get the launcher.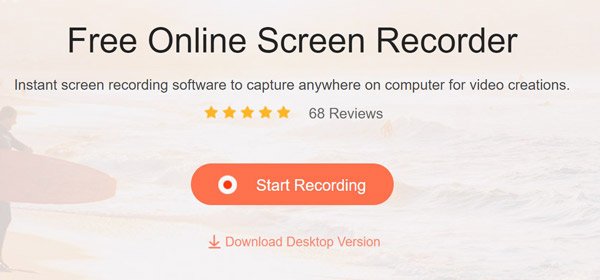 Step 2 Click the Monitor icon and set the recording area. Enable System audio and turn off Webcam and Microphone.

Step 3 Press the REC button to begin recording live TV show. When the show finished, click Stop button and download the MP4 file.

In this way, you can free record TV online, movies, and more directly.
Part 4: FAQs of Recording Live TV
What device can I use to record a TV show?
In addition to camcorder, you can record TV shows on any computer or mobile device. All you need is the right live TV recorder software.
Can you record streamed TV?
Yes, you can record any streamed TV and it is not illegal for personal uses. In fact, Hulu and some streaming services offer the TV recording function within the subscription.
Is there a TV with built-in recorder?
Today, the built-in recorder function has become a new bonus on smart TV. Some Blaupunkt LED TV sets, for example, have integrated the USB record function, which will record and save TV shows on USB drive.
Conclusion
This guide has shared you three ways to record live TV shows on Windows, Mac, iPhone and Android. Whenever you wish to record a live show and watch later, you can do it easily. Apeaksoft Screen Recorder, for example, is able to produce high quality TV recordings. Moreover, it delivers pro-level features in the way that everyone can master quickly. If you have other problems, please feel free to leave a message below this post.