This article intends to tell you the best ways to save Dailymotion videos to your various devices. As a collection of videos from various sources and users, Dailymotion has become increasing popular. You can watch these videos on both computer and mobile devices. However, Dailymotion works in the same way with YouTube. It is not easy to find the way to download your favorite videos or shows for editing or watching offline. If you are ready, let's start the guide.

Save a Video from Dailymotion
Part 1: Best Way Save Dailymotion Videos
On mobile device, you can download the videos from Dailymotion right away. When it comes to desktop, you will need a third-party Dailymotion downloaders, such as Apeaksoft Screen Recorder.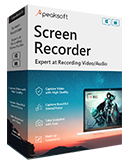 4,000,000+ Downloads
Save videos from Dailymotion to computer by recording.
Offer extensive custom options for advanced users.
Support a wide range of output formats, like MP4.
Preview the Dailymotion videos with built-in media player.
Make schedule for downloading automatically.
Briefly speaking, it is the best option to download a Dailymotion video to your computer.
How to Save a Video from Dailymotion
Step 1
Install the best video recorder
When you want to download a video from Dailymotion, install Screen Recorder to your computer and launch it. Pick Video Recorder in the main interface.

Step 2
Record Dailymotion video
You can find four options on the interface. For saving a video from Dailymotion, turn on Display and System Sound while disable Webcam and Microphone. Then set the recording area based on your situation. Next, click the Settings icon to open the Preferences dialog. Here you can set output format, hotkey and more. Now, play the Dailymotion video and click the REC button to start recording it.

Step 3
Save Dailymotion video to computer
Wait for the video to finish, and click the Stop button. Then you will be presented the preview window. View the Dailymotion video and click the Save button if you are satisfied.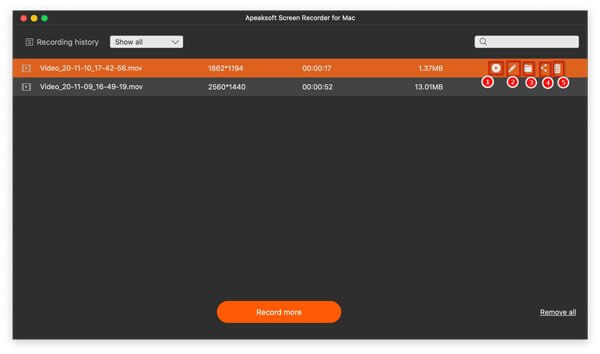 Part 2: How to Save a Dailymotion Video Online
Sometimes, it is not convenient to install software to computer. You may wonder whether you can get the online ways to save Dailymotion videos. The answer is yes and you can learn them below.
Method 1: Save a Dailymotion Video Online
There are several online video downloader apps available to Dailymotion. We use DMVideo as the example to show you how to save a Dailymotion video online.

Step 1
Copy the video address when you find a video on Dailymotion that you want to save. Create a new tab and visit https://dmvideo.download/.
Step 2
Paste the video address into the box and click the GO button to extract video files from the URL.
Step 3
When you see the list, scroll down to the video file with desired resolution. Right-click on the Download button, and select Save Link As. Then navigate a specific folder to save the Dailymotion video and click Save.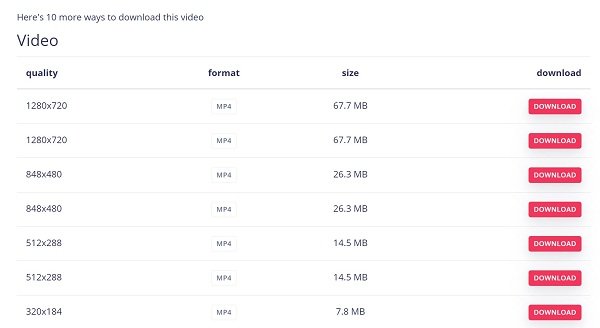 Method 2: Save Dailymotion Videos in Chrome
Extensions for Chrome, such as Dailymotion Video Downloader, are another way to save videos from Dailymotion without installing software.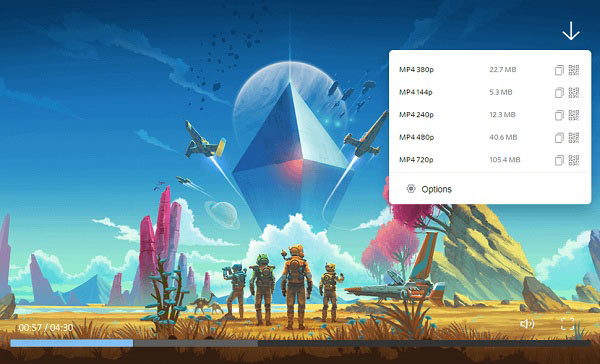 Step 1
Open Chrome Web Store, search for Dailymotion Video Downloader, and install it.
Step 2
After installation, it will add the download button to each Dailymotion video when you play it in video player. Hover your cursor over the button to display all media files with different resolutions and formats.
Step 3
Select the desired file and save the Dailymotion video in Chrome to your hard drive. Or you can scan the QR code to get the video to your mobile device.
Check this post to get more screen recorders for Chrome.
Part 3: How to Save Dailymotion Videos to iPhone or Android
As mentioned previously, the Dailymotion app for iOS and Android offers the download option to most videos. So, you can watch them offline. However, there are some limits you should know. Firstly, it requires a good internet connection. We suggest you to use a Wi-Fi network. It only save the videos on your device for 30 days. Moreover, you can only view the videos within Dailymotion app.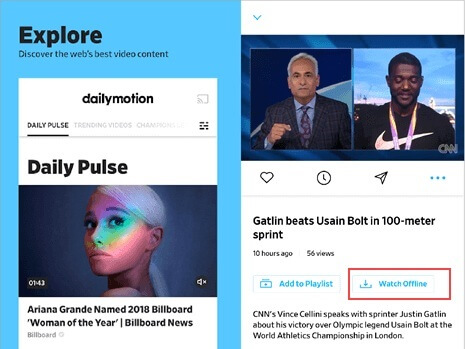 Step 1
Install the Dailymotion app to your iPhone or Android phone. Open it, search for the video you want to save on Dailymotion and play it in video player screen.
Step 2
Tap the three-dot icon under the player to open the video menu.
Step 3
Now, touch the Watch Offline option to save the video from Dailymotion on mobile.
Note: Unfortunately, you cannot save Dailymotion videos to Camera Roll or Photo Gallery officially. If you want to download and decrypt Dailymotion videos, you must try a third-party video downloader.
For more screen recorders on iPhone are here.
Part 4: FAQs of Saving Dailymotion Videos
Can I download Dailymotion videos?
Dailymotion is a video collection and almost videos are copyright protected. That may be why you cannot save videos from Dailymotion by default. If you want to watch Dailymotion videos offline on your computer, you can follow our guide above.
How can I download Dailymotion videos to MP4?
Apeaksoft Screen Recorder and most Dailymotion downloaders are able to save Dailymotion videos to MP4. If your downloader cannot save videos as MP4, you can look for a video converter program to transcode the video files to your favorite format.
How can I download videos from Dailymotion without any software?
If you save videos from Dailymotion on mobile, you can do it within the app directly. When it comes to desktop, you can only watch the Dailymotion videos online. To get a video from Dailymotion offline, you have to use the third-party software.
Conclusion
This guide shares multiple ways to save videos from Dailymotion to Windows, Mac, iPhone and Android. If you just find a video that you want to watch offline, you can try our guide. Apeaksoft Screen Recorder, for example, is the best way to get any videos from Dailymotion. It is not only easy to use, but also able to produce high quality output. If you encounter other problems when saving Dailymotion videos, welcome to write it down below the post.