People can't live without music. You can listen to music after a long day work, during travel, exercise, working, studying, cooking, showering and more. Whatever, if you want to enlarge your music collection, you need to use a MP3 downloader to extract MP3 audio track from any media files.
There are two main ways to get more music. You can download MP3 songs from video or audio websites for offline playback. If you want to download video or audio to MP3 without spending money, you just come to the right place. This article collects top 15 MP3 converters and downloaders. You can get free MP3 conversions and downloads on your mobile phone or computer.

Part 1: Top 5 MP3 Downloader Software for Windows and Mac
You can get MP3 music without any purchase or subscription. An MP3 downloader can help you turn live audio streams to MP3 tracks. If you are looking for the best MP3 downloader to download free music on your computer, you can take a look at the following recommendations.
Top 1: Apeaksoft Screen Recorder
Is it possible to get an MP3 downloader that can download MP3 from any online video or audio? Luckily, you can run Apeaksoft Screen Recorder as your best MP3 downloader software. The MP3 recording and downloading software can help you download MP3 from browser, software or anything else on your computer. Different from common MP3 audio downloaders, you can download original MP3 files with 100% success rate. It is absolutely possible to download high quality 320kbps MP3 audio files.
1. Record MP3 from any video and audio streaming sites and platforms, such as YouTube, Amazon Music, Apple Music, Play Music, Tik Tok, etc.
2. Download MP3 music with the original sound quality.
3. Capture not only online audio, but also streaming audio and microphone voice.
4. Extract the MP3 audio track instead of downloading an entire file. (Pause/Resume/Trim)
5. The MP3 downloader and recorder works with Windows 10/8.1/8/7/Vista/XP and Mac OS X 10.10 or above.
Download for Win
Download for Mac

Top 2: Freemake YouTube to MP3 Boom
It is a YouTube to MP3 converter freeware available for Windows. You can search and download MP3 from YouTube music and video files for free. Just copy and paste the YouTube link into the blank. Later, you can use the YouTube to MP3 downloader for Windows to get easy MP3 playback.
Pros:
1. Download MP3 from YouTube URL.
2. Use a search engine to find the MP3 song you want to download.
3. Provide the song with the highest bitrate up to 320 Kbps.
Cons:
1. The MP3 music download history is available for the current session only.
2. Lack the automatic completion and correction of queries.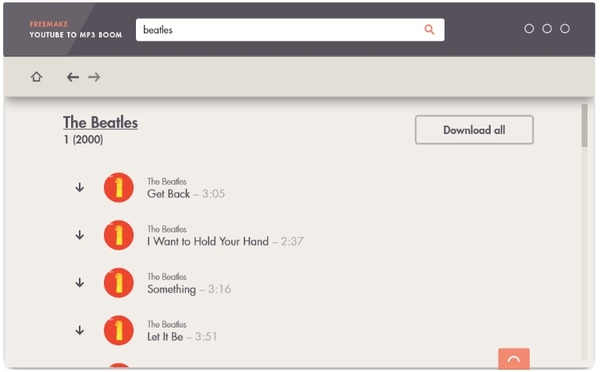 Top 3: MP3jam
MP3jam is another free MP3 downloader for Windows. All music tracks in MP3jam are legal to download. There are over 20 million audio tracks available, but not including torrents, p2p algorithms or private sites.
Pros:
1. Offer the built-in music search engine.
2. Download MP3 from YouTube online videos.
3. Download, manage and play audio files.
Cons:
1. Save no more than 5 MP3 files per 25 minutes.
2. Need to subscribe to MP3jam before downloading full albums as MP3 format.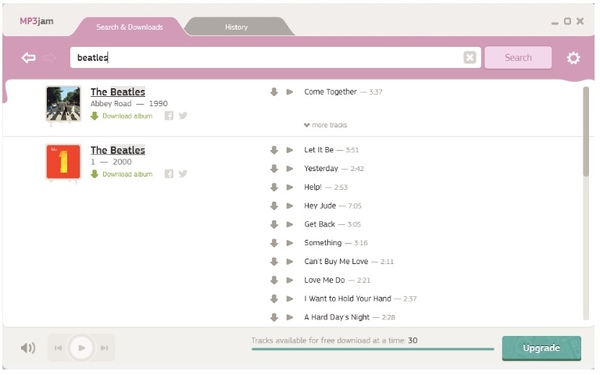 Top 4: Songr
Songr is not only a cloud music player, but also a MP3 audio downloader. You can download MP3 music from multiple web services, such as YouTube, Prostopleer, Grooveshark and more. With the built-in search engine, you can search a song title, artist name, album or lyrics to download MP3 music for free.
Pros:
1. Download free music by searching lyrics, albums, artists, etc.
2. Pre-listen the MP3 audio track before the free download.
3. Get the additional link to check more information.
Cons:
1. The interface of Songr need to be improved.
2. The MP3 downloader freeware has not been updated for a long time.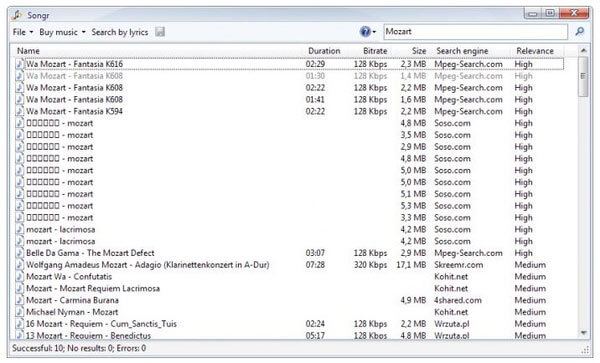 Top 5: Frostwire
Frostwire is a free MP3 music downloader for Windows and Mac. You can search, download and play songs within Frostwire. After downloading MP3 audio tracks, you can play and manage music library within the program. The old Frostwire version used to be flagged as a virus due to the contained toolbars. But you can feel free to use the MP3 song downloader software, because Frostwire has removed ads already.
Pros:
1. Get in-app search engine to download MP3 music from public domains, creative commons and more.
2. Share songs and cloud-based music sources based on the P2P network.
3. Preview torrents before downloading MP3 audio to your computer.
Cons:
1. The Frostwire interface is old fashioned.
2. There may be bundled software in the Frostwire package.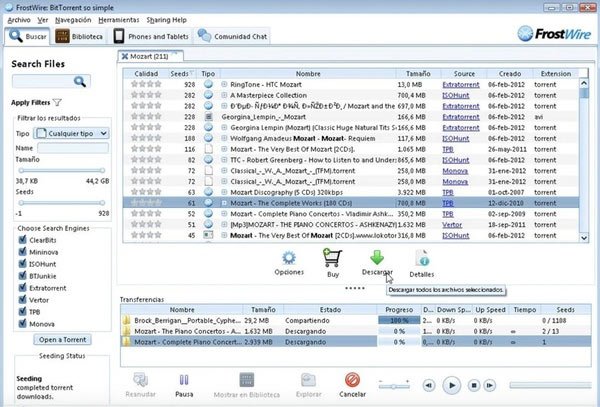 Part 2: Top 5 MP3 Downloaders Free Online
There are also online MP3 downloaders you can use. You don't need to download, install or register before downloading songs. Compared with offline MP3 music downloaders, you cannot get much audio editing and managing tools. The download success rate is not high either. But it is still worth to try with a free MP3 downloader online.
Top 1: Apeaksoft Free Online Audio Recorder
It is exactly a free audio recorder and downloader for all users. You can download both the system sound and microphone audio as MP3 format to your computer. To be more specific, you can download MP3 audio tracks from all streaming music sites and in-app sound. The real-time preview window can show you all details before export.
Pros:
1. Download and record MP3 audio from video/audio sharing sites, in-game sound, voice chat, online meeting, iTunes, VLC, Windows, Media Player, etc.
2. Make all MP3 audio recording files downloaded to your Windows computer automatically.
3. No recording length limit.
Cons:
1. Cannot adjust the audio recording quality.
2. There is recording cutter to extract the certain audio clip.

Top 2: FreeMP3Downloads
By using this free MP3 downloader and converter, you can grab music from YouTube, Facebook, Soundcloud, Twitter and more platforms. The unlimited free MP3 downloads and conversions are available to everyone.
Pros:
1. Search keywords or paste the link to download MP3 music online for free.
2. Wide support of online video and audio websites.
3. Download MP3 audio up to 320 Kbps.
Cons:
1. The user interface is dull.
2. Lack basic audio editing and managing tools.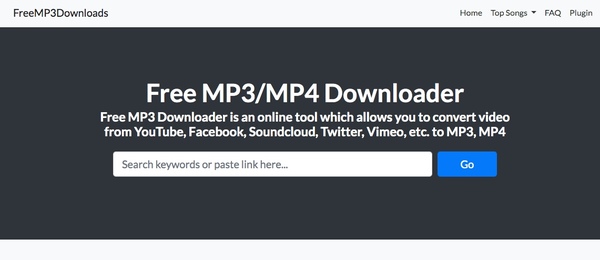 Top 3: Mp3download
If you want to download MP3 songs for free, you can take a look at Mp3download. You can search for any MP3 song from YouTube, Facebook, SoundCloud and other 3000+ sites. Even though you have no idea which song to download, you can get the lists of top and popular songs.
Pros:
1. Search, convert and download MP3 songs from 64 to 320 Kbps.
2. Preview the MP3 audio track before downloading.
3. No registrations or ads.
Cons:
1. Lack the audio trimming tool.
2. The MP3 downloading and converting speed is not fast.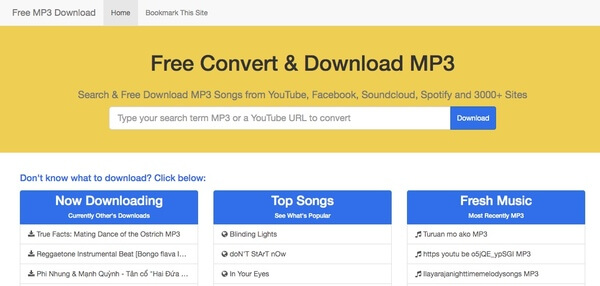 Top 4: Mp3juices
Mp3juice is a free online MP3 downloader with a search engine contained. Once you type the information, you can get a list of possible results. Moreover, it is also supported to copy and paste video URL into the simple MP3 downloader. You can convert an online video to an MP3 file online quickly.
Pros:
1. Search and download MP3 files from all online sources.
2. Download and convert any media file to MP3 format in one stop.
3. Save the MP3 file to your local drive or cloud service.
Cons:
1. No preview function.
2. Lack the control of output audio quality.
Top 5: Free Music Downloads
With the support of 5000+ online MP3 sites, you can download favorite MP3 songs from Free Music Downloads. Just as its name shows, you can download music for free from online video and audio files.
Pros:
1. Download MP3 from YouTube Music video URL or other online sites.
2. Synchronize and download playlists as MP3 for free online.
3. The online MP3 music downloader is mobile friendly.
Cons:
1. You may fail to grab MP3 audio from the online MP3 downloader occasionally.
2. The user interface is poor.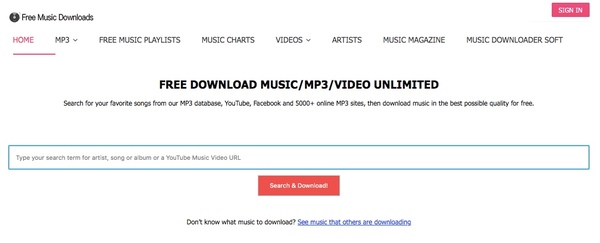 Part 3: Top 5 MP3 Downloader Apps for Android and iPhone
It will be time-saving if you can download MP3 songs to your mobile phone directly. There is no need to transfer the downloaded MP3 files from desktop to mobile. An MP3 downloader app is enough.
Top 1: Yoump34
Yoump34 is a YouTube to MP3 downloader apk for Android users. You can extract MP3 audio from all YouTube video and audio streams. The YouTube downloader for MP3 music free is not available in Google Play. You need to find it from its official site.
Pros:
1. Search and download YouTube to MP3 audio on Android.
2. Play the YouTube music or video within the application.
3. Share with friends or Instagram.
Cons:
1. The YouTube to MP3 downloader app cannot download music from other sources.
2. No selectable options for MP3 audio quality.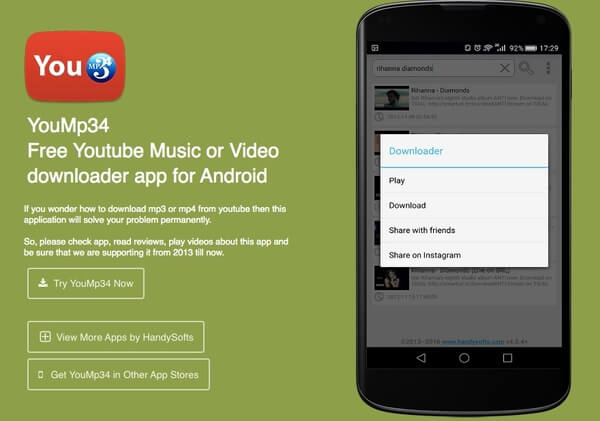 Top 2: Spotify
There is the portable Spotify for iOS and Android users. You can stream and download songs within the Spotify app, including those DRM-protected music files. Since Spotify is a worldwide audio streaming platform, you can get almost all popular and rare MP3 music files here.
Pros:
1. Stream and download millions of songs for free.
2. Get personalized recommendations of new music, podcasts and albums.
3. Get high sound quality for audio playing and downloading.
Cons:
1. The downloaded MP3 music files still exist within the Spotify app.
2. Need to upgrade with premium plans to unlock more features.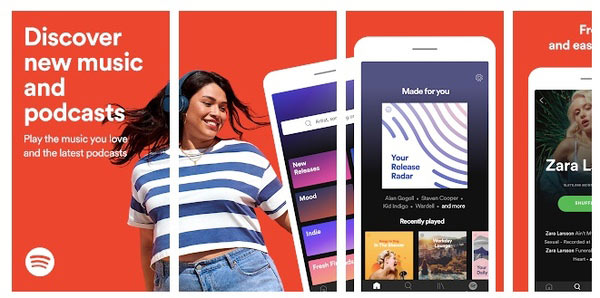 Top 3: Pandora
If your Pandora subscription is active, you can get offline listening within the app. You can play Pandora songs, albums, stations or playlists with no Internet connection, the available content depends on your subscription mainly. But when your Pandora subscription ends, your MP3 downloads will go as well. (Read how to download Pandora music)
Pros:
1. Get Pandora songs and playlists in MP3 format.
2. Stream music, radio channels or podcasts.
3. Mark the song you like or set the favorite radio channel.
Cons:
1. The Pandora downloads will be unavailable when the subscription expires.
2. Lack Hi-Res audio tracks.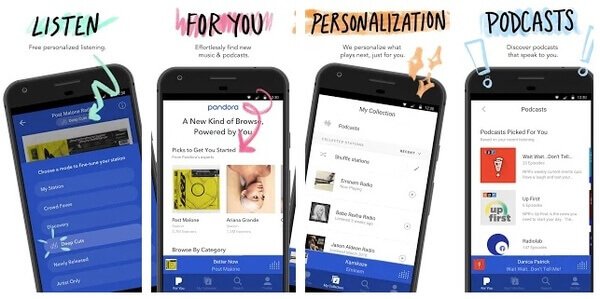 Top 4: Simple MP3 Downloader
Simple MP3 Downloader is capable to grab MP3 audio over the Internet. All you need is typing the song's name or artist into its search engine. Later, you can get access to all the downloadable songs within the free MP3 music downloader app.
Pros:
1. Download MP3 songs to the internal or external storage space on Android directly.
2. Get a wide selection of songs free to download.
3. Offer convenient and simple audio downloading and streaming.
Cons:
1. Simple MP3 downloader apk cannot be found in Google Play Store.
2. The MP3 free downloader may stop working suddenly.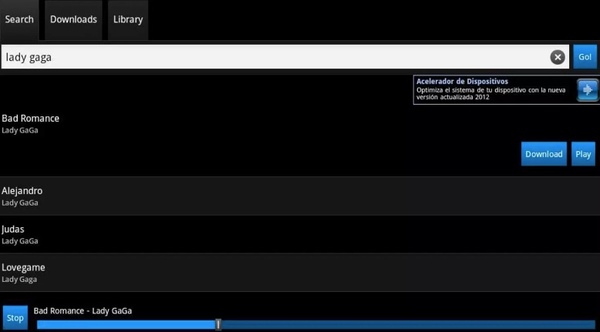 Top 5: Vidmate
You can use Vidmate to download YouTube to MP3 or MP4 files on your phone and tablet. There are over 500,000 high quality songs you can choose, which includes Hindi, Telugu, Punjabi and more.
Pros:
1. Download high quality MP3 music files on Android and iPhone.
2. Work with live TV channels, covering music, movie, fashion, etc.
3. Multiple download support.
Cons:
1. The YouTube to MP3 downloader and converter may not respond occasionally.
2. Some downloaded files cannot play without Playit.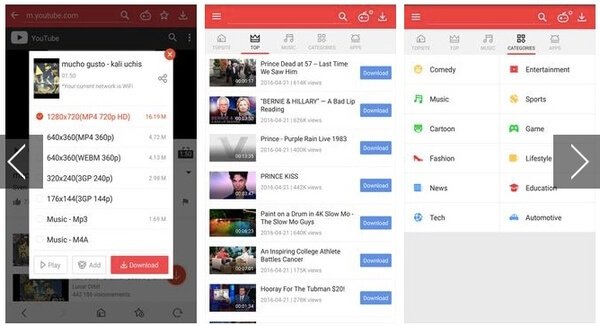 Part 4: FAQs about MP3 Downloaders
Is downloading MP3 files legal?
If you use the downloaded MP3 files for personal use only, it does not matter a lot. Or you can visit the legal sites to download MP3 safely, such as Amazon Music, Google Play Music, SoundCloud, Jamendo, etc.
How do I get music from YouTube to MP3?
You can use any MP3 downloader app mentioned above to download songs. In common cases, just copy and paste the URL into the online or offline MP3 music downloader. Later, you can choose the MP3 version to download.
What to do if I can't download MP3 music?
Check if you paste the correct link. Change a new MP3 downloader. Or you can use an audio recorder to grab MP3 audio track.
Which one is your best MP3 downloader? If you still have questions of downloading MP3 songs to your phone or computer, you can leave messages below or feel free to contact us.