Music has become a part of our life and an entertainment for us. But most music only can be listened online. More and more people like to download music for listening everywhere. So, how to download music becomes a big problem.
MP3Skull helps people end the puzzle. As its name, you can find any music you want. It is a popular site for listening to and downloading music. In this page, we would show you its features and alternative for you. These will help you get music with high quality easily.

MP3Skull Music Download
Part 1: Features and Using Details of MP3Skull
As we all know, MP3Skull is a free MP3 download site. In fact, it is a search engine for MP3 files. What makes MP3Skull popular is its vast collection of music and songs. It allowed users to search for MP3 files around the web and download any music from it for free. The site not only streams music but also enables users to download music to their local files. And it is totally for free.

What MP3Skull can do for you?
1. The easiest way to listen and download MP3
Start searching for MP3 you want by entering the name, or just a part of it, into the input field on top of every page. Enter only the first letter and you will get a lot of suggested keywords or names. And your personal result list will be shown to you. Choose one of the results and listen or download it.
2. The widest way to search MP3
MP3Skull uses the latest technologies and modern APIs offered by the big players in the web. With this technical harmony, you can get the searched results just in seconds. Even you input one word, it will calculate the popularity of the shown results and list the most popular downloads at first. Every served results is downloadable in many formats. You can choose the right format for your device and download it.
How to use MP3Skull?
Step 1 Enter your search music into the input bar on top of the page.
Step 2 Then it will list all results for your search. Choose the song you want to download. You can listen to each one to check the quality.
Step 3 Choose the format for downloaded files and click the download button.
Step 4 Select the folder where to save your file.
Part 2: The Best Alternative to MP3Skull – Apeaksoft Screen Recorder
MP3Skull is a free site for people to download MP3. However, free download makes it not reliable and safe as other music sites. And after you use it, you can find the output format of files is limited. And with the increasing needs in other aspects, people would like to find an alternative to MP3Skull.
Here we recommend Apeaksoft Screen Recorder.
Screen Recorder by Apeaksoft is a professional audio recorder to capture radio including 8tracks radio, online audio, and microphone voice with high quality. In addition, it also has the ability to record any streaming videos from various popular websites. During recording, you can set audio track and customize video recording area. Any music or songs from popular musical site or CDs could be recorded by this application.
Its Task Schedule can help you record automatically without your extra clicks. There are various formats to choose for recorded files, like MP3, M4A, AAC, M4A, CAF, etc.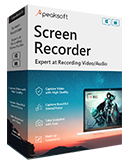 4,000,000+ Downloads
Record any music and audio easily and smoothly.
Record audio/video on both Windows and macOS operating systems.
Powerful editing features to allow users to add colorful effects.
Save recorded files in various formats, like MP3, MP4, WMV and more.
How to use Apeaksoft Screen Recorder?
Step 1 Download the latest version of Apeaksoft Screen Recorder and then install it on your computer. Launch this software and select Audio Recorder in the main interface.

Step 2 For recording online audio, music or radios, turn on "System Audio", and turn off "Microphone" on this audio recorder. If you want to record other's or your voice, you can just turn on "Microphone" and begin recording. Adjust the volume as you like.

Step 3 Then you need play the music you want to record and click "REC" on the right side of this video screen recorder to begin recording.

Step 4 Click the red square on the top left corner to finish recording. It will show the video you record. And you can preview it immediately.
1. You can clip the video by input the number in bars.
2. Adjust the volume
3. Re-record the audio.
Click Save to save the files.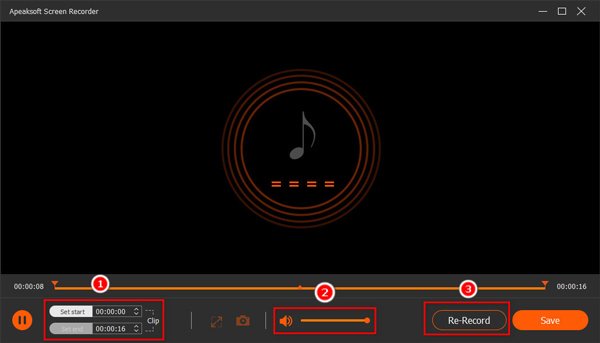 Conclusion
In the end, you should know more about MP3Skull. It can help you free download MP3 for offline listening and sharing. But if you want a song in various formats and high quality, or want to add other elements, Apeaksoft Screen Recorder would be your choice. And it not only can record music, but also record video for you. Have a try and you will love it!