If you are used to download videos from iTunes, you must get familiar with the FairPlay DRM system from Apple.

For artists and publishers, it is a wonderful anti-piracy system that makes it difficult for the consumers to distribute copyrights material and protects their legitimate rights and interests.
As a consumer, however, DRM system will also restrict your behaviors, such as stopping you from playing your purchased movies on MP4, PMP, or your Android device, which is quite troublesome and frustrating.
So, is there any feasible solution for you to strip the videos of their DRM?
Fortunately, this tutorial is going to show you the best three methods to remove DRM from iTunes movie without any loss of quality. If you are interested with this topic, read on and learn the details.
Part 1

: Remove DRM from iTunes M4V movies with Requiem for free

Requiem, developed since 2012, is a popular freeware to help you get rid of DRM from iTunes M4V files. It works by using the secret credentials from iTunes itself to authenticate with the DRM library and decrypt the video data in iTunes. Finally, the MP4 movie converted from iTunes can be played on your MP4, PMP, and other compatible hardware devices.

The only disadvantage of Requiem is that it requires an ancient vision of iTunes, and the System Identity Protection makes downgrading iTunes almost impossible on Mac, and you may get inconvenience to use Requiem on your Mac.

If you do not mind it or you are a Windows user, here are the detailed steps to remove DRM from iTunes M4V movies with Requiem.

Step 1: Uninstall the latest Versions of iTunes (optionally)

On your PC, go to the Control Panel, choose Programs and tap on Features, then uninstall everything related to Apple, including iTunes, Apple Software Update, etc. and you have to make sure all made by "Apple Inc" are erased.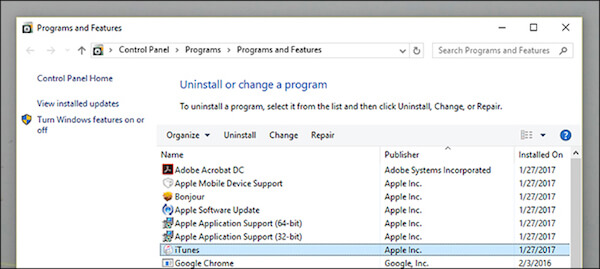 Step 2: Download and install iTunes 10.7
Navigate to the iTunes 10.7 download website, then install and launch iTunes on your computer. Next, you can go to the store and download the iTunes video that you want to convert to MP4, make sure you have authorized iTunes and these downloaded videos can be played.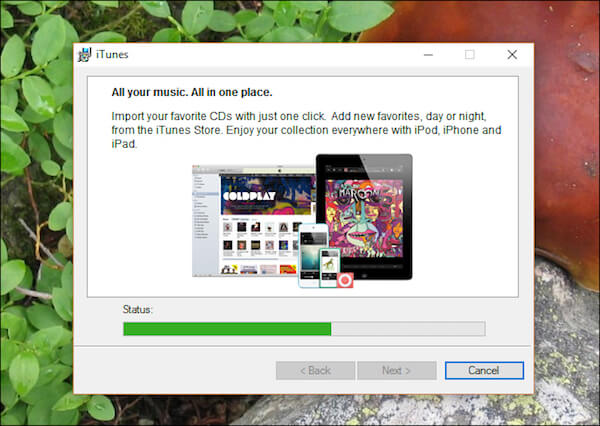 To remove iTunes DRM, you have to re-download your desired videos because these files cannot be transferred from your existing system.
Step 3: Install the Java Runtime Environment
Head to the Java download page and follow the instructions to download the JRE installer. Then run the executable to install Java. You can skip this step if there is a Java already on your Windows.
Step 4: iTunes DRM removal
Close iTunes and start Requiem. After launching, Requiem will scan the protected files in your iTunes directory and remove the protections automatically. When the process is finished, the protected versions of your downloaded videos will be replaced with entirely unprotected visions.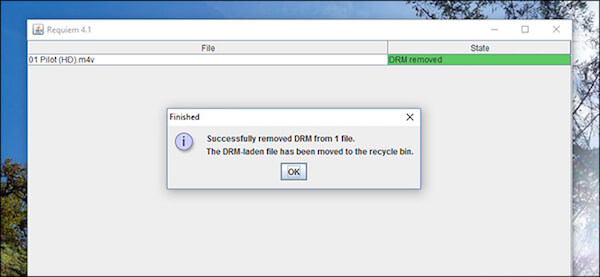 Part 2

: Record iTunes M4V movies to remove DRM protection

You can find that it is a little bit complicated to use Requiem. For simplicity, you are advised to erase DRM protection of iTunes M4V movies in the recording way.

That is to say, you can record your purchased iTunes movies and play them on your other devices.

Here this passage recommends you a powerful screen-recording tool, Apeaksoft Screen Recorder. As one of the best recording tools among the market, Apeaksoft Screen Recorder provides easy but advanced solutions to help you get purchased iTunes movies with the removal of DRM protection.

What's more, this wonderful screen recorder works on both Windows and Mac, and is regularly updated to work with the latest version of iTunes, and is lossless, too.

Next is a step-by-step guide to remove DRM protection by recording iTunes M4V movies with Apeaksoft Screen Recorder:

Step 1: Download and install Screen Recorder

Go to the official website of Apeaksoft, choose a proper vision of Apeaksoft Screen Recorder, and install this recording tool on your PC or Mac. At the beginning, you are able to download the trial vision for a try.

Step 2: Choose recording screen
Before you start recording the iTunes movie, choose the option of "Video Recorder" from the main interface, as well as the recording area. You can set the recording region as full screen, customized screen size or preset region.

Step 3: Make audio settings
Then turn on the system audio and turn off microphone. Make sure you have selected to record audio through both of system audio, microphone audio. If not, the MP4 video converted from iTunes movie will be muted.

Step 4: Start recording process
Click Start and Stop button to launch or finish the recording process. Before you export the video, you can preview it firstly. Then save it to your MP4, WMV, MOV, F4V, AVI or TS.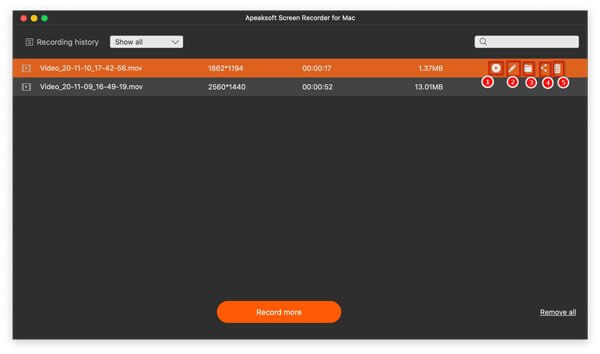 That is done! Now you have removed DRM from iTunes M4V successfully!
Part 3

: Tips about DRM and risk for removing DRM protection

DRM, and the laws behind it, have contributed to a sense among rights holders that they can and should control media and devices even after users have purchased them.

By removing DRM, you truly own the iTunes movies you bought. However, these videos with iTunes DRM removal can be easily wiped by their cloud servers. Though you can restore iTunes purchases, you cannot play the videos on non-iTunes supported devices like android, etc.

That is to say, you are still having the files on your computer though, once there is no such a video in iTunes, you won't be able to pass the DRM validation and fail to open and play these videos.
Conclusion
So, by telling detailed solutions to remove DRM from iTunes M4V, the purpose of this tutorial is to help you convert your legally purchased files from iTunes to other portable devices for safe back up. We are pointing to non-infringing uses that are nevertheless hampered by the presence of DRM software and the legal backing that supports it.