"My friend has searched something on YouTube on my laptop, and now YouTube recommends the videos relevant to my friend's search item, but I do not like such videos, how to clear YouTube search history and get rid of irrelevant recommendations? Please help."

YouTube is a unique social platform. And many people visit it every day to search for their favorite videos, from sports to music videos, from animation to movies. Some people have found that YouTube wound save the history of our previous searches and recommend similar videos when you come back. If this annoys you, erasing your search history is a good idea. In this tutorial, we are going to show you how to clear YouTube history on computer, iPhone and Android.
Part 1

: How to clear YouTube search history from web

Unlike other social media, computer and smartphone are both important to YouTube traffic. Actually according to recent research, most people access YouTube on both laptop and smartphone. Moreover, you should understand that your search items are saved in your web browser and YouTube server. Once clear YouTube history in your account on one device, it will be gone from your computer and smartphone. Here we use a MacBook and Safari as the example to show you the procedure.

Step 1. Start Safari from your desktop, input youtube.com into the address bar of your browser, hit the "Enter" key to open YouTube home page. Click "Sign in" at upper right corner of the window and input your Google credential, Gmail address or phone number and password.

Step 2. Then locate to the left hand column, find the "History" option and click on it. If you cannot find History, click the "Profile" icon, choose "Settings" and then scroll down to find History option.

Step 3. On the search history window, go to the "Search history" tab and click one the "Clear all search history" button. When prompted, click "Clear all search history" again on the popup dialog to confirm it. Then all YouTube search history will be cleared from your account and Safari.

Step 4.To clear YouTube history thoroughly, the watch history should be deleted as well. Go to the "Watch history" tab on search history window, click on the "Clear all watch history" button and hit it again on the confirming dialog. Next, open YouTube again; you might discover that YouTube will not recommend relevant content.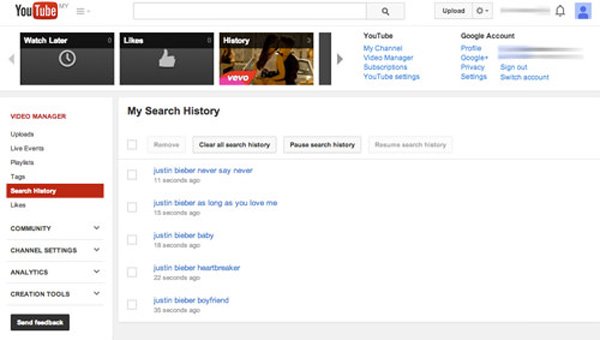 If you just delete search history on YouTube website without signing in your account, it just clears YouTube search history from this device, but not your account.
Part 2

: How to clear YouTube history on iPhone/iPad

If you prefer to access YouTube on your iPhone or iPad, you are lucky since there is a professional way to clear YouTube search history permanently. Apeaksoft iPhone Eraser is one of the best iPhone erasing applications. Its key features include:
It has the capacity to permanently clear YouTube search history along with other caches in one click.
In addition to YouTube search history, iPhone Eraser is able to clear a wider range of data categories, like photos, music, contacts, call history, SMS, custom settings, videos, app data and other files from iPhone.
It relies on advanced technology to clear all data from iOS device, and anyone cannot recover them.
This iPhone erasing tool allows you to decide the level to clear data on iPhone.
iPhone Eraser supports all iOS models, like iPhone X/8/7/6/6s/5/5s/5c/4, and iPad Pro/Air/Mini and earlier generations.
It is available to Windows 10/8/8.1/7/XP and Mac OS.
Download for Win
How to clear YouTube search history on iPhone/iPad in one click
Step 1. Install the best iPhone erasing tool on your computer
Download the latest version of iPhone Eraser and follow the onscreen instructions to install it on your computer. Plug your iPhone to your computer via Apple Lightning cable. Launch iPhone Eraser and it will detect your device automatically.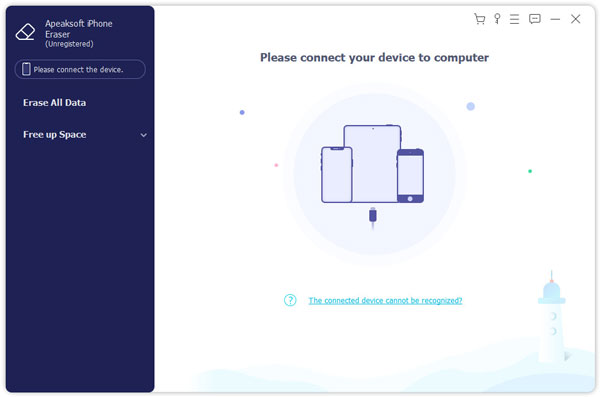 Step 2. Setting for clearing YouTube search history
Click the link under Erasing Level on home window, then you will face three options on erasing level, Low, Medium and High. The first one overwrites all data on your iPhone one time. The second one overwrites your device twice and the last one does it for three times. Choose an appropriate option and back to home interface.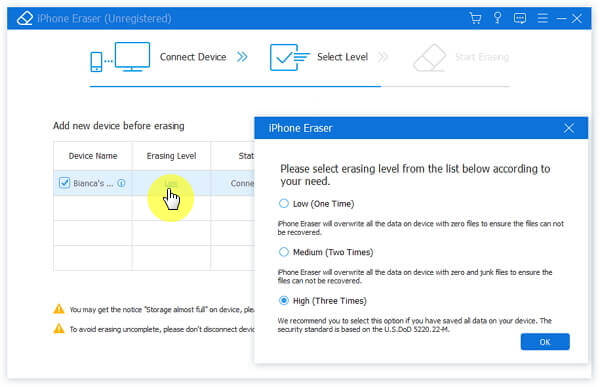 Step 3. Clear all YouTube history on iPhone
If you are ready, click the "Start" button on the interface to initiate clearing YouTube history from iPhone. A few seconds later when it is done, remove your iPhone from your computer.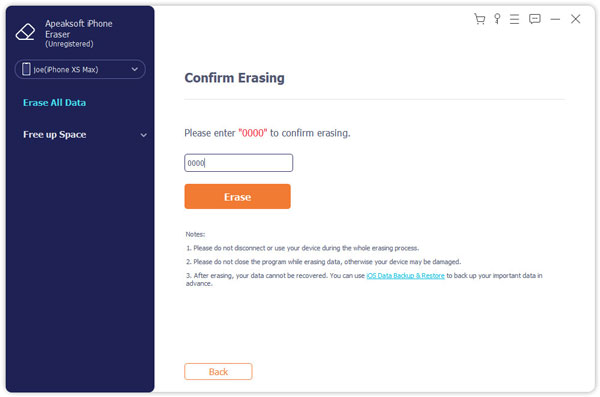 Part 3

: How to clear YouTube search history on Android

As more and more young people become mobile-first, who access internet only on mobile devices, YouTube app becomes increasing popular. It is convenient to search for favorite videos in YouTube app on the road. If you want to clear YouTube history on Android phone, you will discover that the steps below are helpful.

Step 1. Unlock your Android phone, go to app drawer and open the YouTube app. Sign in your Google account and password if you have not signed in.

Step 2. Locate to the bottom menu bar, tap on the "Profile" icon marked with a person's head and shoulders, or your profile picture. Then scroll down and find the "Settings" submenu on the menu bar. Tap on it to open the options screen.

Step 3. Head to "History & Privacy" >"Privacy", tap on "Clear search history"and then hit "Clear History" on the warning message. This will clear YouTube search history from your account and Android phone.

Step 4. Next, tap on "Clear watch history" and then confirm it by hitting "Clear History" to clear all YouTube history.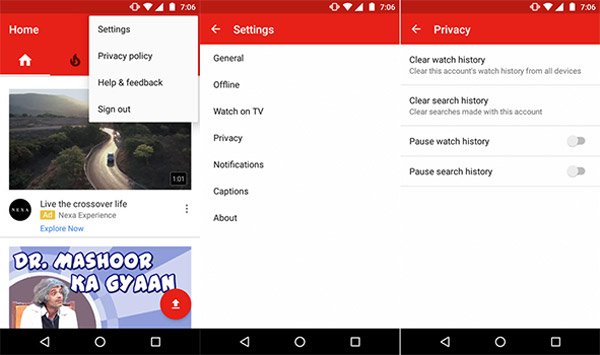 Conclusion
Based on the introductions above, you might grasp how to clear YouTube search history on PC, Mac, iPhone and Android. If you have accumulated a lot of cache data and YouTube history on iPhone, we suggest you to try Apeaksoft iPhone Eraser, because it could simplify the process of clearing all data from your device with single click. Plus, we also shared the methods to clear YouTube history on computer and Android phone. You can choose the proper approach and remove history items from YouTube to protect your privacy and stop recommendations. We wish that our guides and suggestions are helpful to you.