"I have downloaded Spotify music and find them in the folder android/data/com.spotify.music. But I can do nothing with them to create the ringtones for my Android phone. Somebody can help?"
Spotify is the digital music service that supplies you with millions of songs. You could enjoy and download the music on computer, iPhone or Android phone. However, when you decide to create a ringtone with the Spotify song downloads, you will find you can do nothing.
DRM is the biggest obstacle. Downloaded music from Spotify is DRM protected, which cannot be edited or transferred. For using Spotify music as ringtone on iPhone and Android, you should remove the DRM to convert Spotify songs to editable music files.
Here, this article will show you the detailed guide of removing DRM from Spotify and make ringtones with the converted Spotify songs.

How to Use Spotify as Ringtone
Part 1. How to Download/Convert Spotify Music to Ringtone and Add to iPhone/Android from Computer
The easiest way of making Spotift songs as ringtones for iPhone and Android is completing the whole task on computer, and add the ringtones to device finally.
For downloading Spotify songs on computer, you just need to Screen Recorder for desktop to do it easily.
Screen Recorder
Apeaksoft Screen Recorder is the any audio and video capture software for Windows and Mac users. It records any audio from system and microphone from streaming sites or live sites, like Spotify, SoundCloud, YouTube, etc., as MP3, AAC, WMA and M4A.
Step 1
Download Screen Recorder on computer
Free download this software by clicking the download link below, install and run it immediately on computer.
In the main interface, click "Audio Recorder".

Step 2
Adjust audio settings
Turn on "System Audio" and turn off "Microphone" to avoid any noise.
Click "Settings" and navigate the "Output" option on the left sidebar, and choose "M4A" or "MP3" as the "Audio format".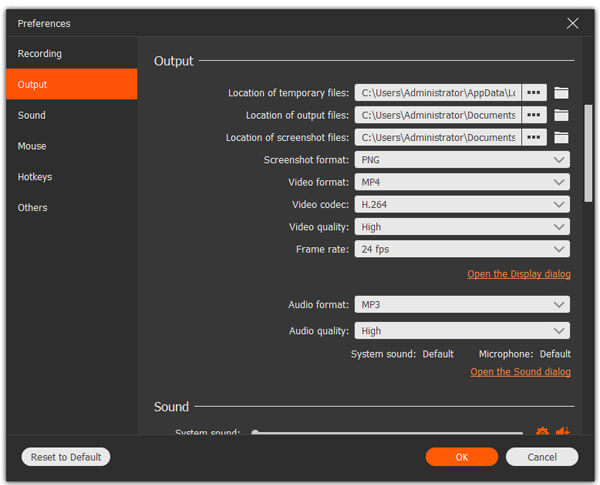 Step 3
Record Spotify music
On playing the Spotify music, you should click "REC" button in this software to start recording Spotify songs.

Step 4
Make ringtone for iPhone or Android
After that, click the stop button to preview the Spotify audio recording, where you could use the clip feature to set the starting and ending point for the ringtone time.
Click "Save" to export the Spotify music as ringtone on computer directly.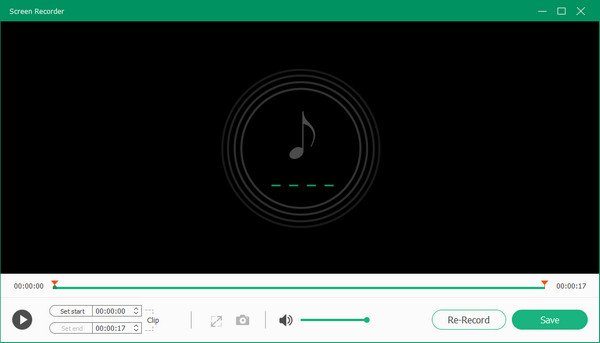 Tips
1. When you save Spotify song as M4A, then you just need to change the extension of the audio recording from *.m4a to *.m4r by renaming, and it can be recognized by iPhone.
2. After the ringtone has been made, you could transfer ringtones to Android phone directly with the USB cable. As for iPhone, you should use the professional tools to add ringtones from computer to iPhone.
Part 2. How to Make Ringtones with Spotify Songs on iPhone and Android
For using Spotify songs from iPhone as ringtones, it comes to be a little complex. You should download Spotify songs with DRM removal on phone first and then create them into ringtones.
Download and Convert Spotify DRM Songs on iPhone/Android via Phone Recorder
Whether you want to make Spotify song ringtones on iPhone or Android, you should download the DRM-removed music files from Spotify.
For saving the Spotify songs as common audio formats, the phone voice recorder will be enough.
For iPhone users, you could download the music recorder from App Store. Or use the free feature, iOS Screen Recording, on iPhone to save Spotify song as video and then extract the ringtone from the video recordings.
iOS Screen Recording is the built-in feature on your iPhone running in iOS 11 and later, and it can record any audio from your iPhone system and microphone. That gives you the opportunity to save the Spotify playback as recordings easily.
Step 1
Enable iOS screen recording in Control Center
Go to "Settings" > "Control Center" > "Customize Controls", you can tap the "+" button next to "Screen Recording" to add it to "Include" section.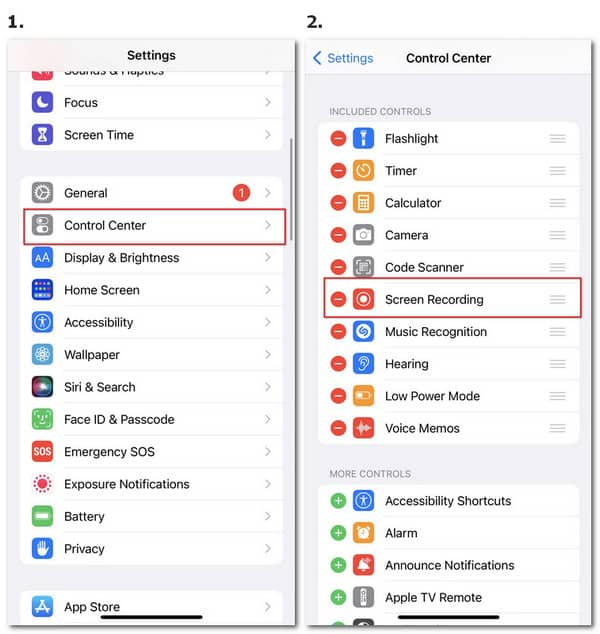 Step 2
Record Spotify sons on iPhone
Swipe up to the "Control Center" to find "Screen Recording" nested circle icon. Tap and hold the icon to turn off "Microphone".
Then open the Spotify app on your iPhone, and play the song that you want to make a ringtone.
Immediately, return to the Screen Recording screen, and hit the button of "Screen Recording" to start recording the Spotify songs.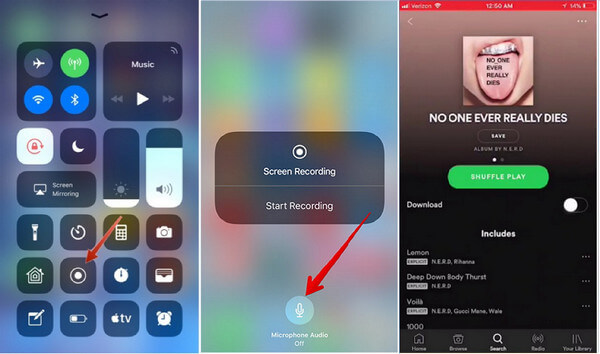 Step 3
Save Spotify recordings on iPhone
Again, hit the Screen Recording button to stop the recording and save Spotify songs as a video in Photos app on iPhone.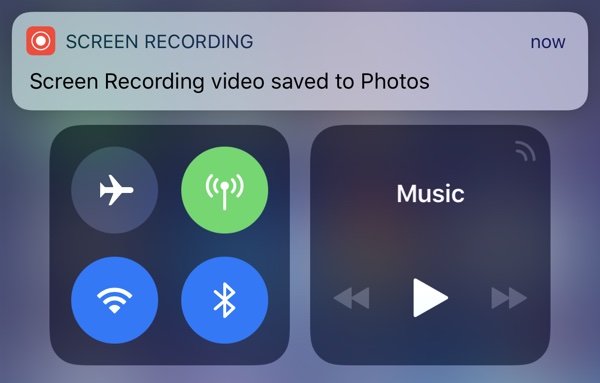 For Android users, it comes to be as easy as iPhone with the Android voice recorder. Then you just need to create the ringtones from the Spotify recordings.
Make Spotify Music Ringtones on iPhone and Android
For creating ringtones with the Spotify songs, you could download the iPhone or Android ringtone maker directly, and follow the similar steps (Add video/audio file > Set the ringtone time > Export and save ringtone on iPhone or Android) to create the ringtone from video or songs on your mobile phone.
Here, we will take another way of making Spotify songs into ringtones on computer with MobieTrans.
Apeaksoft MobieTrans is the one-stop iPhone and Android data management. It can help you transfer data between phone and computer and make ringtones for iPhone and Android without hassle.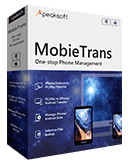 4,000,000+ Downloads
Create any song from computer/phone into ringtone for iPhone/Android.
Add ringtones to iPhone and Android phone directly.
Delete exiting ringtones on iPhone or Android phone easily.
Make ringtones from Spotify, SoundCloud, Pandora, etc.
Now, let's check how this ringtone maker works to turn Spotify music into ringtones.
Step 1
Run Spotify ringtone maker
Launch MobieTrans and connect your iPhone or Android phone to computer. This program will automatically detect your device, then "Ringtone Maker" at the bottom.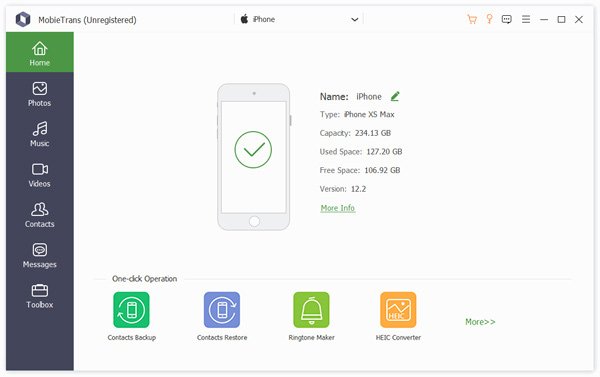 Step 2
Set ringtone time
In the popup window, there are two options for you, "Add Files from Device" and "Add Files from PC". Choose either of the buttons to choose the Spotify song you would like.
Then set starting point and ending point to confirm the ringtone length. (You can also double-click the time tab to change the time).
Step 3
Make ringtone and add to iPhone/Android
Check the box of "Add to device" and click "Generate" button to start making ringtone and adding it to iPhone or Android phone automatically.
Then you could unplug your iPhone or Android phone, and change the ringtone with the created Spotify ringtones.
This article mainly talks about how to use Spotify music as ringtone for iPhone and Android phone. For removing DRM from Spotify songs, you have to download or convert Spotify songs first and then create the Spotify songs in common formats into ringtones. All the process can be done on phone directly or on computer.
Which way do you prefer to?
Let me know by leaving your comments.