As you know, due to iOS creators protect musicians from illegal music distribution, most music downloaders are removed from Apple Store. Thus, it is quite troublesome for you to download MP3 files to your iPhone or other portable devices.

If you are a music lover who used to listen to MP3 on your iPhone, you can never miss this post. In this article, you will learn 5 excellent apps to download MP3 to your iPhone, as well as 2 solutions to add MP3 music to computer. Keep on reading and learn more details.
Part 1

. 5 applications to download MP3 to iPhone
Top 1

. Free MP3Box

Free MP3Box is an amazing streaming music app. It enables you to stream any MP3 files on YouTube. In addition to getting MP3 on your iPhone, you are also able to add your favorite music in Favorite, search hot labels with hashtags. What's more, all the MP3 files are legal and come with official musical videos, but you are allowed to listen live radio for totally free.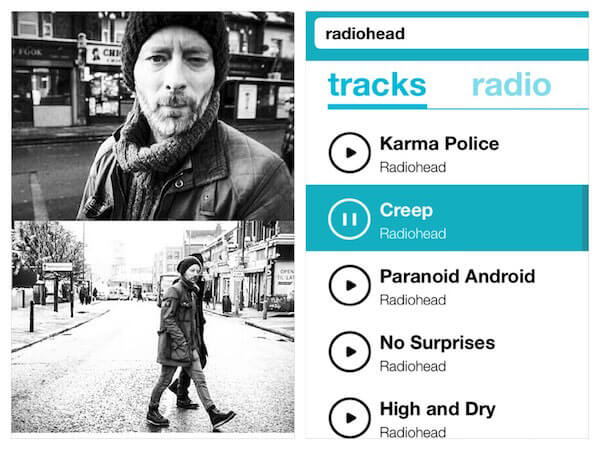 Top 2

. Spotify

Spotify is a new way to copy and enjoy MP3 on your iPhone. This free online music downloader will read your music collection, and recommend related music and playlists based on your preference. With its clean interface and convenient search tool, you are never far away from the song you want.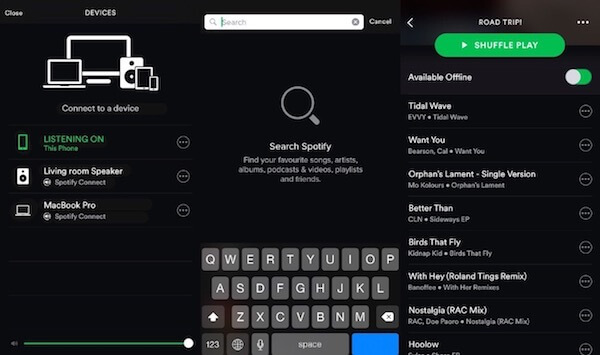 Top 3

. Google Play Music

There are free standards and paid accounts in Google Play Music. As the free standard accounts, you are able to add MP3 files to iPhone for no more than 50000. As long as you can access the service, you are capable to listen to those songs. And the paid account enables you to stream from the Google library with 40 million songs, which costs $9.99 per month.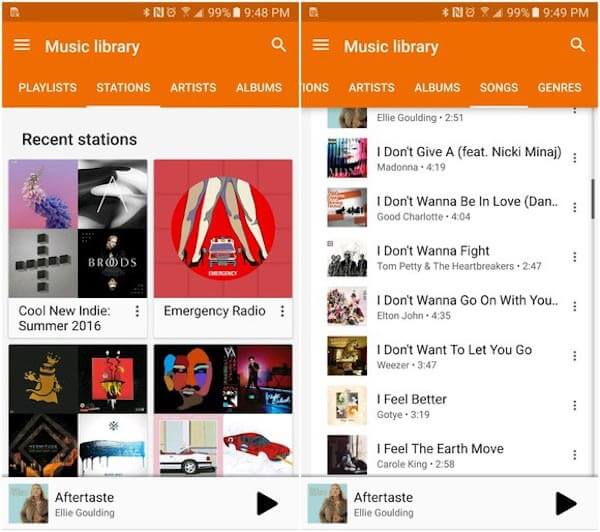 Top 4

. Tidal

Tidal is also a wonderful app to help you put MP3 files on iPhone. It comes with comprehensive functionality, such as music sharing, offline listening mode and etc. even in the offline mode, you are still capable to save a MP3 you like directly to your iPhone and enjoy it. Just pay $19.99 per month; you can enjoy MP3 in high quality.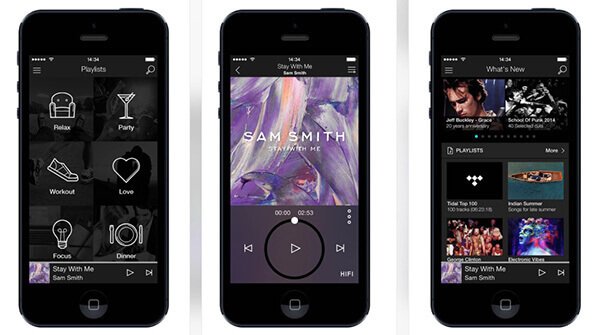 Top 5

. Apple Music App

Last but not least, you must be familiar with Apple Music. It is devoted to bring up-and-coming artists and curated music every day. It provides necessary functions, including play, pause, stop, MP3 downloading as well as playlist creation. As one of the most popular music players, the streaming catalog of Apple music has been more than 10 million tracks in all genres. Besides, Apple Music App is available in iTunes and also compatible with Android devices and PCs.

Last but not least, you are able to download ringtone to iPhone like MP3 songs for your iPhone incoming call, text messages, etc.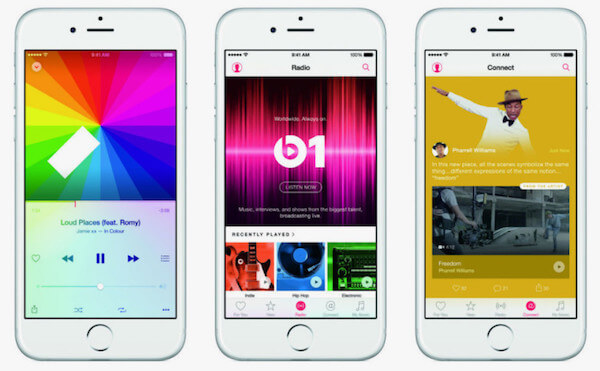 Part 2

. 2 best methods to download MP3 to iPhone via computer
Solution 1

. Transfer MP3 to iPhone via iTunes

When it comes to download MP3 to iPhone, the most direct and easiest way is to use iTunes. iTunes enables you to copy music, photos, videos, messages, contacts, and many other files from computer to your iPhone. You don't have to download a third-party program.

Keep on reading and learn how to get MP3 files from computer to iPhone with iTunes:

Step 1: Connect iPhone to computer

Plug your iPhone to a PC or Mac with an USB cable, and then launch iTunes. You can see your iPhone is shown on the upper left corner of iTunes, and all the files on the left side.

Step 2: Choose Sync Music

Move your mouse to the top bar of iTunes and click on "File" button. Then tap on the "Add to Library" option from the drop-down list.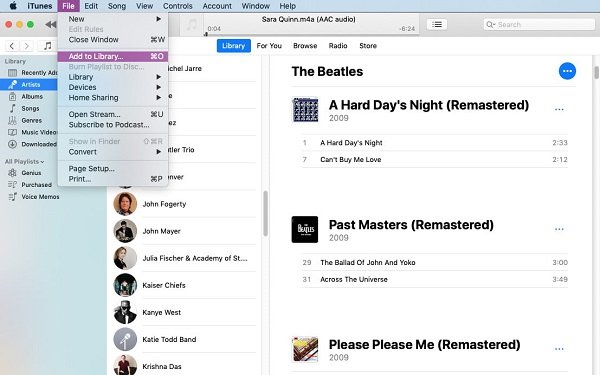 Step 3: Select converted playlist
Next target on the sidebar, tap on "Music" section, and select "Sync Music" option to add your selected MP3 flies to your iPhone.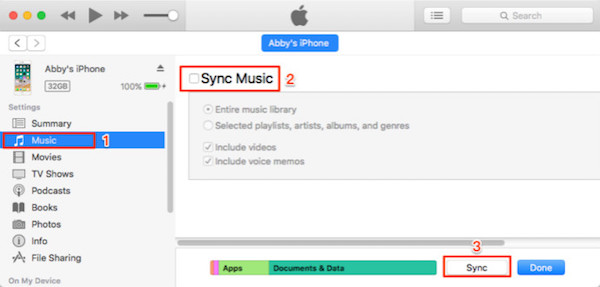 Step 4: Check newly added music
Finally, you can tap "On this iPhone" button on the top of the screen to check if the selected MP3 has been synced to your iPhone.
iTunes may run a little bit slow during the transferring. Do not get worried, such a situation is quite common, especially when there are too many MP3 files managed by iTunes. Just wait patiently.
Solution 2

. Transfer MP3 to iPhone with Apeaksoft iPhone Transfer

The disadvantage of iTunes is that there will be some data loss during the downloading process. To prevent such a situation, you are suggested to use Apeaksoft iPhone Transfer, one of the best and most powerful transfer tool among the market.

With this powerful transfer tool, you are able to download MP3 files to iPhone, whether from PC/Mac computer or Android/iOS devices without iTunes. More importantly, Apeaksoft iPhone Transfer guarantees that no data will be removed.

Let's start learning how to transfer MP3 files to iPhone with Apeaksoft iPhone Transfer:

Step 1: Download Apeaksoft iPhone Transfer

Download and install Apeaksoft iPhone Transfer on the computer. You can free download this software with the download button above. Choose a proper version from Windows or Mac.

Step 2: Connect your iPhone to computer

Use an USB cable to connect your iPhone with the computer. Once connected, your iPhone will be detected by iPhone Transfer automatically.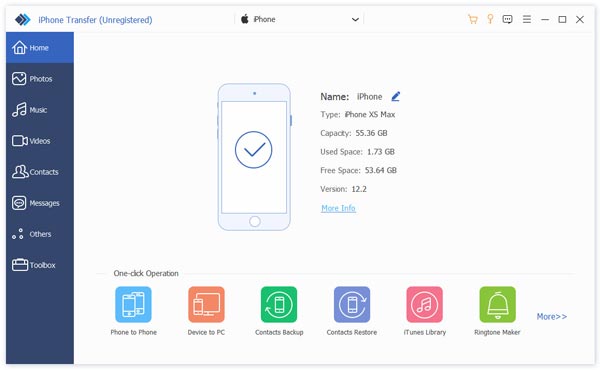 Step 3: Import MP3s from computer
Select Music from the sidebar on the home menu, and then click on the Add button in the top-left corner to add your selected MP3 files from computer to iPhone.
It is done! Now you have managed to download MP3 files to iPhone from computer successfully! Go to enjoy your favorite music on your iPhone!
Conclusion
As you can see, Apeaksoft iPhone Transfer is capable to help you download MP3 files to iPhone. It is easy to use and guarantees 100% safe and security. It should be your best choice to put MP3 to your iPhone. If you manage to make the downloading successfully, please share your experience in the comments to help out your fellow readers.