Do not spend more on your cellular data plan; download your favorite songs and playlists from Apple Music for offline playback anywhere and anytime on iPhone and Android.

Download Songs from Apple Music
Apple Music becomes the obsession of many users for its 60 million songs ad-free. You can play your favorite tracks from the exclusive and original content on iPhone or Android conveniently.
Instead of streaming Apple Music online, offline playback is what many users like you expect. Whether you are in an airplane or camping trip without Internet connection, offline music playback always comes first. Moreover, it can avoid keep down the cellular cost, especially when you have a smaller data plan.
Fortunately, if you have an Apple Music subscription and enabled iCloud Music Library, you can find the option to download the songs, albums and playlists from Apple Music for offline listening.
Now, let's check it out.
Apple Music is allowed to download on Android and iPhone, and the steps are similar, therefore, we will repeat the steps separately on iPhone and Android.
Moreover, for downloading music from Apple Music, you should enable iCloud Music Library first.
After later, just follow the steps above to toggle on iCloud Music Library.
1. Go to Settings app on iPhone.
2. Scroll down to tap Music option.
3. Toggle on iCloud Music Library, which shows the green toggle.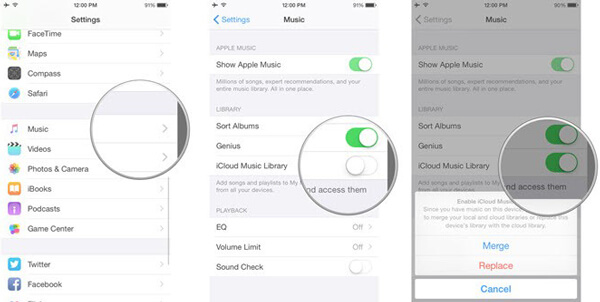 Then continue the following parts to download all music on Apple Music.
Part 1. How to Download Selected Songs and Playlist from Apple Music
You can pick up what music you prefer to download to your device.
Step 1Open the Music app on your iPhone or Android phone.
Step 2Tap the + Add button next to the song or album you want to add to your library.
Step 3Tap the cloud-download icon to download the song or album to your phone.
When the song or album completes downloading, it will be marked as Downloaded.
If you have added the family member to Apple Music, the way is also working for the members downloading Apple Music songs.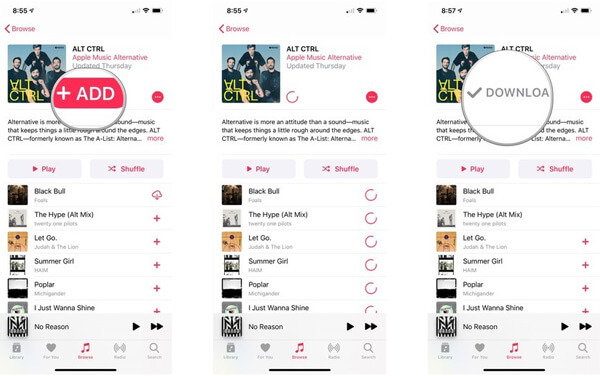 Part 2. How to Download All Songs You Added to Library Automatically
Apple also gives you the controls to download all the songs that you added to library automatically. What you should do is to turn on the Automatic Downloads button.
Step 1Tap the Settings app on your mobile device.
Step 2Choose Music option by scrolling down.
Step 3Enable Automatic Downloads and the toggle will be marked as green.
Then the song or playlist you added to Library (in part 1) will start downloading automatically.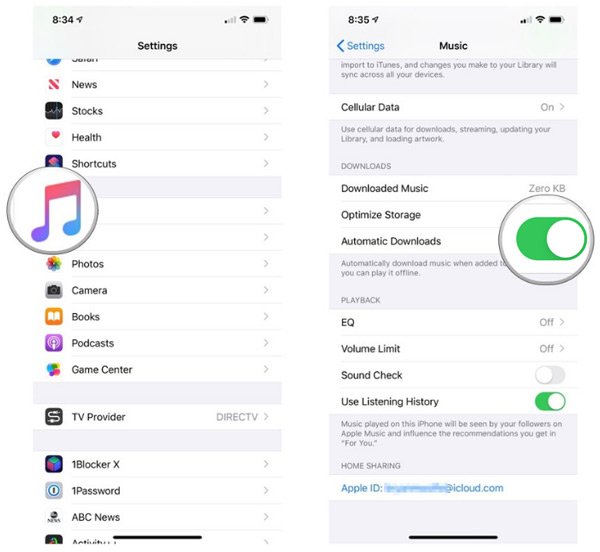 Very easy, right? Surely, not everyone can succeed in downloading the songs from Apple Music for one reason or another. You will need the solutions here when Apple Music does not download songs.
Part 3. How to Manage Apple Music Downloads
As massive Apple Music songs' download on your device, music management becomes the must-know knowledge.
1Optimize Storage for Apple Music on iPhone
Once you toggling on the Automatic Downloads on iPhone, then all the songs will be downloaded to your device once you add them into the library. However, for a low-space iPhone, the option will eat up the storage. Here Apple also leaves you the option to optimize music storage by setting up a minimum storage threshold.
Step 1Tap on the Settings app on your device.
Step 2Scroll down to find the Music option.
Step 3Hit Optimize Storage.
Step 4Select the minimum storage from 4GB, 8GB, 16GB or 64GB based on your own needs.
Then, once your iPhone is low on space, it will automatically remove music from this iPhone that you have not played in a while.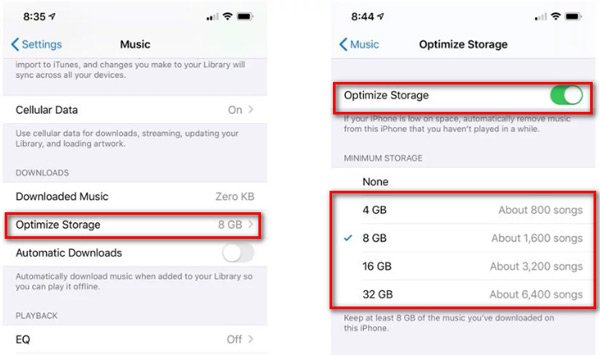 2Apple Music Download and Offline Limits
It is known that Spotify has the limited 10,000 songs to download, while Apple Music is only limited by the amount of storage on your device, not limited download numbers.
An offline playback of Apple music is not working on iPhone can be fixed by the solutions here (How to fix Apple Music not playing?), however, it will never be fixed if you cancel the Apple Music subscription.
The only offline limit from Apple music is all the songs, playlist and albums will be removed, including the playing and downloaded items, once you cancel the Apple subscription.
3How to Keep Apple Music Songs Playable after Cancelling the Subscription?
When your Apple Music subscription is expired or free trial is overdue, it will show the notification, "Don't Miss a Beat" on the screen, you have to pay up or let all the songs in Apple Music go with the wind.
How to keep the Apple Music songs playable after cancelling the subscription?
Move the Apple Music song downloads to another place with Apeaksoft MobieTrans.
MobieTrans – Sync Apple Music from iPhone/Android to PC
It is the music transfer software to save all the music on iPhone and Android to computer for backup, including the downloaded from Apple Music, purchased from iTunes and more. Moreover, it can delete, create music playlist, edit music meta information on computer easily.
Step 1Connect phone to computer
Free download this Apple Music songs sync software on your computer. Run it after the successful installation.
Connect your iPhone to computer with the USB cable and this software will detect your device automatically.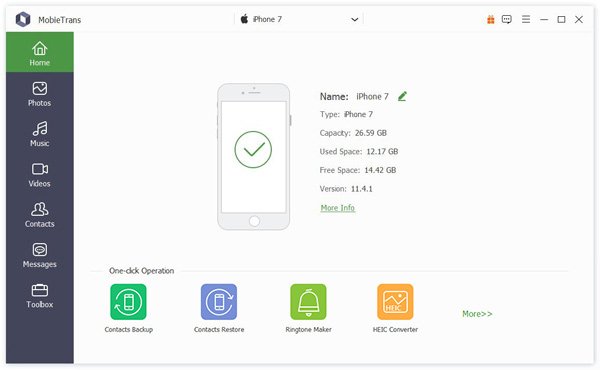 Step 2Save Apple Music songs to computer
Click the Music tab from the left sidebar, and all the music types will show on the right side. Select the songs downloaded from Apple Music by clicking the checkbox before the song, and click Export to PC option (the third-computer image) in the menu to sync the Apple Music downloads into computer at once.
If you want to share Apple Music songs from one phone to another phone, just connect both phones into computer, and select the Export to Device option to pick up another phone name.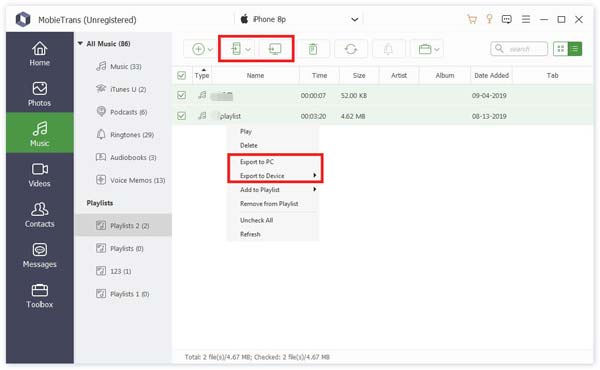 Then you can use the media player on your computer to play the exported Apple Music songs. Even if you cancel the Apple Music subscription, you could keep them playable on your device easily.
Then you can easily add Apple Music songs to video or iMovie for further use as you wish.
Part 4. How to Download Music from Apple Music Alternative
Whether you are using Apple Music, Spotify, or Amazon Music, you will find all the music downloads will go once your subscription is over. For playing the songs offline forever, the best solution is to download the music from non-subscription service.
There are various music download sites for free, like Jamendo Music, SoundClick, Mp3skull, Last.fm, Audiojungle, PureVolume, etc., from which you can download the free music online on computer.
Still there are some music download software, which can let you save streaming music sites on computer for offline playback. Apeaksoft Screen Recorder is one of them, which can save any songs, including from iTunes, SoundCloud, Spotify, Amazon, Pandora, etc., to computer easily.
Step 1Run Screen Recorder
Free download and install Apeaksoft Screen Recorder by clicking the following download link.
In the main interface, you should select Audio Recorder.

Step 2Set up audio recording settings
For only saving the music, you should turn on System Audio and turn off Microphone.

Well, the default output audio format is MP3. If you want to save the free music as other formats, you should head to its Settings window.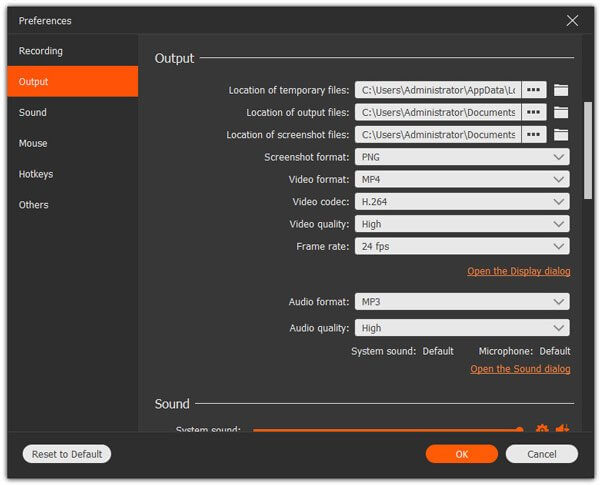 Step 3Record streaming music
Play the music file that you want to save on computer and click the REC button to start recording music.

The stop button will direct you to the preview window, where you can listen to the music recording and use the clip feature to trim the unwanted parts.
Do not forget to click Save button to export the music recording file into your computer.
Wanna get YouTube music to Apple Music? Check the details here.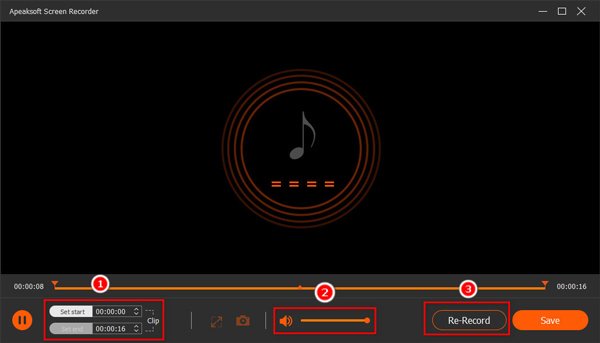 Conclusion
Apple Music is the great music streaming service where you can listen to the song online. For listening to Apple Music, you have to download the songs. This post gathers the full guide to downloading all the songs manually and automatically from Apple Music on iPhone and Android. Surely, for keeping the Apple Music song downloads after cancelling the subscription, you had better transfer the songs to computer for backup.
Also, you can save any Apple Music files to MP3 with the music recording software without any subscription.
If you have any question while downloading the songs from Apple Music, let me know by leaving your comments.