YouTube supports users to create playlists and video libraries to manage liked videos. By doing so, you can arrange videos with the similar theme together. In addition, it is easy to share YouTube videos with friends. However, many people do not know how to delete an outdated YouTube playlist. Therefore, here are some common questions you can see in many forums.
- "How come I can't delete an entire playlist from YouTube? There is no option I can find to delete a created Playlist on YouTube."
- "I want to remove a playlist under 'Saved Playlist'. However, there is no remove playlist button. How do I delete a saved playlist on YouTube?"
Many people complain that there is no such delete button. If you have the same problem, then you can look through the following paragraphs.
This article focuses on the full guide on how to delete a playlist on YouTubeon computer and mobile phone, like Android, iPhone, iPad, etc. You can also delete a song or video off a YouTube playlist easily here.

Pre-reading: Download YouTube Playlist before Deleting
Before deleting the YouTube playlist, you had better download them, because there is no undo option for you from YouTube.
To download the YouTube playlist uploaded by yourself is very easy, and you just click the download button.
For downloading the playlist on YouTube uploaded by others, you should turn to Screen Recorde for help.

Screen Recorder
Save online videos and music like YouTube, Facebook, Dailymotion, Netflix, Vevo, Vimeo, SoundCloud, Spotify, Pandora, etc. to computer for offline playback.
Get the details here to save YouTube videos here.
Part 1: How to Delete a (Saved) YouTube Playlist on Computer
When you open YouTube official site and sign into your YouTube account on your computer, you can access all your playlist history including all saved playlists and created playlists. Just as mentioned above, there are many functions like "Play All", "Share", "Save" and more.
Unfortunately, you cannot find a button to delete a saved playlist on YouTube directly. Nevertheless, do not worry about that, and there is a useful solution you can use to remove a saved YouTube playlist from your Windows or Mac computer.
Step 1. See all playlists on YouTube
Open YouTube website on your web browser. Then log into your YouTube account. Choose "Library" in the left panel, and then click "Playlists" to access all your YouTube playlists in order.
Step 2. Delete a saved playlist on YouTube online
Select the playlist and click it to enter "Edit" option. Click "Delete playlist" from the dropdown option of the three-dot on the top right corner.

Moreover, you can also delete multiple playlists on YouTube in the same way. Well, this is also the answer towards to the question of how to delete an entire playlist from YouTube. Therefore, if you are not satisfied with any created playlist on YouTube, you can delete it on your computer within few clicks.
Check here to know how to watch a deleted YouTube videos here.
Part 2: How Do You Delete a Playlist on YouTube App (Android/iPhone/iPad)
If there is no computer around you, then you can delete a playlist on YouTube app using iPhone, iPad or Android devices as well. In addition, the installed YouTube application also allows users to edit the playlist like "Rename", "Add to Playlist", "Share" and more. Thus, you can manage YouTube playlists on iPhone, iPad and Android portable devices easily.
Step 1. Navigate YouTube playlists
Turn on your smart phone and choose the YouTube app icon. Then head to "Account". You can see all your YouTube playlists under "Playlists" section.
Step 2. Delete a YouTube playlist on YouTube app
Choose one playlist you will delete. Later, click "Delete" for iPhone and "Delete playlist" for Android. A new window pops up asking whether you really want to delete a playlist on YouTube app, click "OK" to confirm.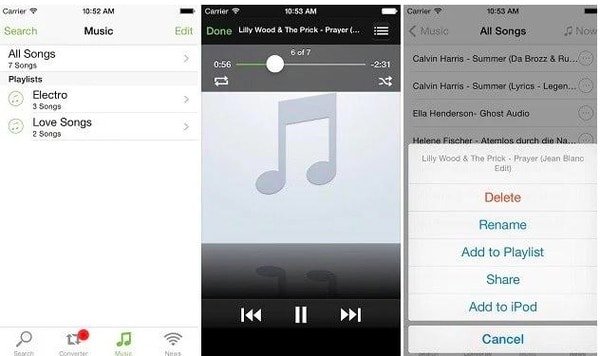 As a result, you can delete disliked and outdated YouTube playlists from your smart phone successfully. Thus, next time you lose interest in any playlist on YouTube, you can follow above steps to solve the problem.
Part 3: How to Delete Liked Videos Playlist on YouTube
It is quite easy to remove liked videos from your YouTube playlist. You can just click the "X" icon on its top right corner. But do you know how to delete a liked playlist on YouTube?
Step 1. Turn to YouTube video manager
Log into your YouTube account and go to your YouTube Video Manager. During this time, you should click the name of your liked Playlists, and then you will see all your liked videos YouTube playlists.
Step 2. Delete the liked videos playlist on YouTube
Choose one to delete it from your YouTube account, and click "Remove from liked playlist" from the dropdown of the three-dot on the right corner.

Part 4: How to Delete Videos/Songs from YouTube Playlist
Some users have the need of deleting some videos or songs from a YouTube playlist, instead of all items, then this part will help you exactly.
Step 1. Locate YouTube video manager
Open YouTube official site on your browser. Make sure you have signed into your YouTube account. Click your thumb image on the top right corner. Choose "Creator Studio" from its drop-down menu. Then enter into "Video Manager" section.
Step 2. Delete video from playlist on YouTube
For removing a video or multiple videos from a created YouTube playlist or watch later playlist, you should select "Playlist" and choose the certain playlist. Later, click "Remove from XX (the name of your YouTube playlist)" from the dropdown of the three-dot on the right corner.

Step 3. Remove music track from video in your YouTube playlist
For removing a claimed song from your video, you should choose "Edit" and then select "Audio" from a drop-down menu. If this song can be removed from your video, then you can see "Remove a Song" section at the bottom. Choose "Remove this song" to delete a song from a playlist on YouTube. At last, click "Save" to finish the process.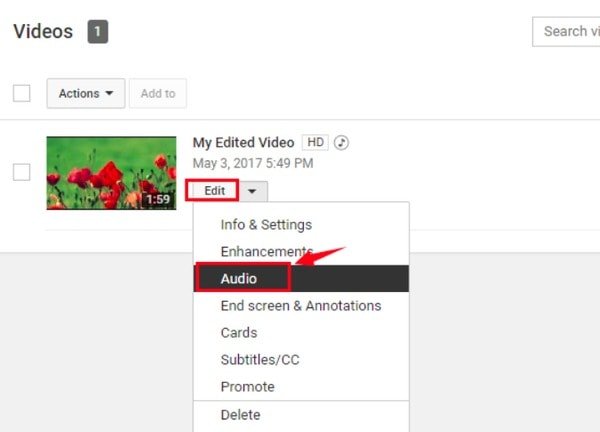 Conclusion
Above are easy-to-follow solutions of how to delete a playlist on YouTube. If you have any other question during the process, you can write down in the comments below. A last warm reminder that, do not forget to save YouTube videos or playlists before you delete them.