YouTube, the biggest website of videos and music, updates a lot of videos and music every day. People make, share and commend videos every day on it. And what you see opening it are the best videos about your interests.
No one want to miss them. So, sometimes we need to download for collecting or replaying. But as you know, not all videos or music can be downloaded. And to download them is not an easy thing. This article will show both online and offline 100% working methods for you.

YouTube to Apple Music
Part 1: Online method – Soundiiz
Soundiiz. It would be a strange word for you. But today, you will know about it and it would help you a lot.
Soundiiz is the most complete online tool to manage your music library between multiple services. It offers a simple way to import and export playlists but also favorites tracks, artists, albums.
Note: To use Soundiiz to transfer music data from YouTube to Apple Music, you must need an account. If not, you need create a new account.
Step 1Open the Web App (Here is the link: https://soundiiz.com/webapp)
Step 2Click on Platform to Platform in left panel of the interface.
Step 3Select YouTube as source service (and connect this platform).
Step 4Choose categories of elements you want to transfer by checking the corresponding box in left.
Step 5Select Apple Music as destination service (and connect this platform)
Step 6The transfer process runs in background. You can see batch progression in real time in your Batches list.
Copy this link to get more details: https://soundiiz.com/tutorial/youtube-to-apple-music
After that, you can add the songs to Apple Music for sharing with others.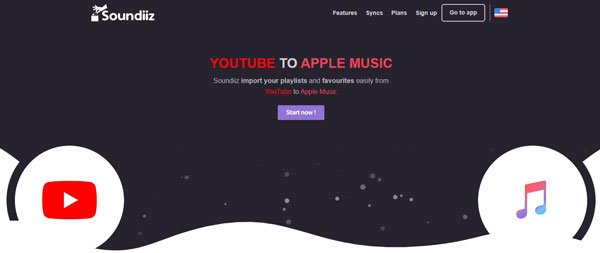 Part 2: Phone method - YouTube Premium
You can not only watch videos on PC, but also watch them on mobile. So, here is also a way to download music from YouTube to iPhone.
To download YouTube songs to iPhone, you can subscribe YouTube Premium, which enables you to access music on YouTube limitlessly and download music on your iPhone via YouTube Music app. But YouTube Premium only offers 3-months free trial. You can cancel it any time you want.
Step 1Open the YouTube app on your iPhone.
Step 2Tap the profile icon to enter your account.
Step 3On the account interface, tap "Get YouTube Premium" > "Try it Free".
Step 4Then you can get YouTube Music app installed on your iPhone. Open the app, find a song you like, tap the three dots next to the music title and select "Download" to download this music to your iPhone.
Step 5Back to your device and open the Apple Music app. Find music that you want to add to your library.
Step 6To add a song, tap the Plus icon. To add an entire album or playlist, tap +ADD.
After that, you can listen to the Appe Music songs on PC after signing into the iTunes account.

Part 3: Offline method – Screen Recorder
For the above method, you all need the account to download YouTube videos/music to Apple Music. Even the second method is a charge way.
If you do not want to pay it or think it too troublesome to create a new account. Here is the free and offline method for you.
Apeaksoft Screen Recorder is the best powerful and professional screen recording software for YouTube. It is aimed at making your recording and editing process in an easy way. And it is compatible with popular Windows and Mac computers. If you have lots of on-screen activities to record, Apeaksoft should be your best choice.
Support to annotate your recorded YouTube with a text box and more.
Customize recording area and screen size freely.
Freely record system audio, microphone audio or both.
Any online video on YouTube can be recorded.
>Download for Win
Download for Mac
Step 1After installing this screen recording software, you can run it on your PC.
Step 2Choose the option "Video Recorder" from the main interface. Before recording gameplay, Skype chats, online meetings or streaming videos with this screen capturing software, you should choose the recording area at first.

After clicking "Video Recorder", it will show you the red dotted line. It is used to delineate the recording area. You can select the size of the recording area by dragging the red point on the side. And you also can input the width and length on the bar to select the size.

Step 3After setting the recording area and audio, click "REC" on the right side of this video screen recorder to begin recording.

And it will show you the hotkeys. You can change it according to your need.
During the recording, you are able to make drawing or add annotations based on your need by clicking the writing icon.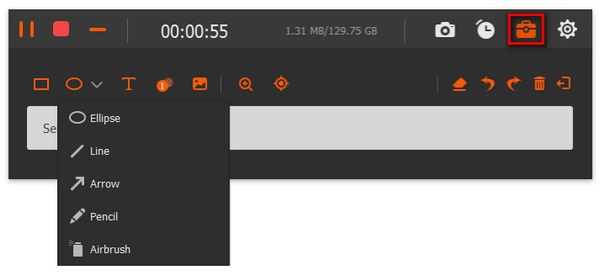 Step 4Click the red square on the top left corner to finish recording. It will show the video you record. And you can preview it immediately.
Then click "Save" to save the video.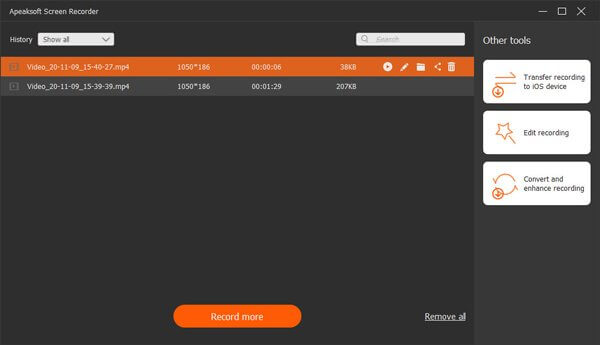 Step 5Then you need to open the Music app on Mac or open iTunes on Windows PC.
Step 6Find music that you want to add to your library. Click Plus icon to add. If you want to add an entire album or playlist, click +ADD.
Time for the end. Here are three methods for transferring YouTube videos/music to Apple Music. As you see, the third method is so easy and free. If you have this need, it would be the best choice for you. Have a good day!