"I noticed a few days ago that the fullscreen function no longer works for embedded YouTube videos in Chrome, I repeatedly check if it works when watch YouTube videos, I have tried several videos at random and none of them had the fullscreen function, I hope this can be repaired, please help me."

Actually, YouTube won't fullscreen problem happens in various browsers, and many people ask for help on fixing this problem on social media and forums. Therefore, we are going to tell you how to fix YouTube won't fullscreen on Chrome, Firefox and Safari in this tutorial.
Part 1

: Fix YouTube wont fullscreen on Chrome

Google's Chrome is one of the most popular browsers. According to Stat counter, 55.4% of digital devices are using Chrome, much higher than other browsers. If YouTube won't fullscreen on Chrome, you can try the steps below to fix this problem.

Step 1. Input "chrome://plugins" in the address bar of your Chrome browser and press "Enter" key to open the list of installed plugins.

Step 2. Click the "Detail" button and scroll down to find "Adobe Flash Player". If there is only one player, you have to download a new player from adobe.com. Otherwise, you can try to check and update the flash players for Chrome.

Step 3. If the problem happens persistently after updated, you can press the "Disable" link under Adobe Flash Player in Chrome plugin page. This way allows you to use the latest flash version if you have installed one on your computer.

Step 4. Re-open the Chrome and check if the fullscreen feature works fine on YouTube.

HTML5 has been integrated from Chrome 55. The YouTube won't fullscreen is usually caused by flash player. So, you'd better update your Chrome browser to the latest version. Now, Chrome defaults to HTML5.

To update Chrome browser, unfold the menus icon with three dots at upper right corner, click "Help" > "About Google Chrome" successively and hit Update Chrome to get the latest version of Chrome.
After updated, you can watch YouTube videos under fullscreen mode in HTML5.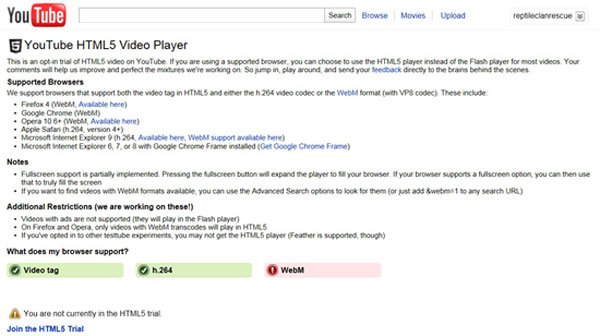 Don't Miss: Multiple Solutions to Fix YouTube won't Play Effectively and Quickly
Part 2

: Fix YouTube wont fullscreen on Firefox

Firefox is another prevalent browser. Many people prefer to use Firefox, because it is available to Windows, Mac and Linux. Plus, it is able to provide better internet surf experiences, higher speed, lower CPU use. The flash plugin requires users to active manually since Firefox 53 released. It makes sense when considering the plugin produces a lot of problems, such as YouTube won't fullscreen or YouTube no sound. To get rid of this problem, try these steps.

Step 1. Update Firefox browser to the latest version. Click the menu icon at upper right corner, head to "Help" > "About Firefox" to open the info window. If there is an update available, Firefox will check and install it automatically. After updating, click "Restart to update Firefox" button to open the new Firefox.

Step 2. If you prefer to watch YouTube in Flash player, you have to update the player and enable it manually. Go to Firefox menu and select Plug-ins to check whether you have installed Flash player or not. If not or the player is outdated, you can go to Adobe website and install or update your Flash plugins.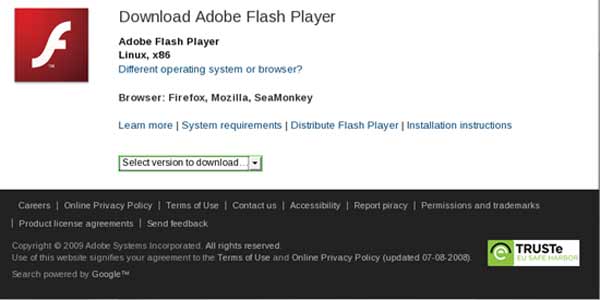 Part 3

: Fix YouTube won't fullscreen on Safari

Also, some Mac users have encounter the YouTube buffering or YouTube won't fullscreen problem on Safari. There is a simple troubleshooting solution.

Step 1. Find your "Safari" in "Finder" > "Applications". Right click on it and select "Get Info" on the menu.

Step 2. Tick the checkbox in front of the "Open in 32-bit mode" option. Then close and quit the Safari Info window.

Step 3. Start Safari from home screen, locate to "Safari" > "Reset Safari" and click "Reset" to complete resetting Safari. Now, open YouTube website to check if the fullscreen feature is fine or not.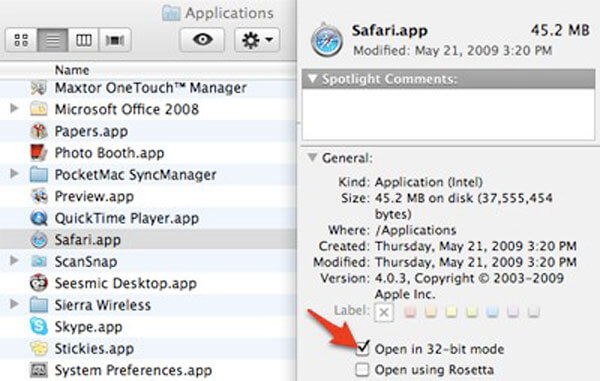 Step 4. If the YouTube won't fullscreen problem persists, you have to reinstall Adobe Flash Player on your Mac computer.
The latest version of Safari has supported HTML5 and you have to manually activate Flash Player. If you confront the same problem with HTML5, you'd better make sure YouTube HTML5 player is enabled.
Part 4

: Download YouTube Videos to fix YouTube won't fullscreen (Recording Way)

When YouTube won't fullscreen on Chrome or other browsers, you can try downloading it to fix the issue. Surely in this case, this YouTube video means a lot to you. To download YouTube video, you can rely on the Screen Recorder below:
Apeaksoft Screen Recorder provides a professional way to record any activity on PC/Mac and take screenshots.
Capture any video from YouTube, DailyMotion, Vimeo, Vevo, RED, Facebook, Yahoo, and more.
Record audio from microphone or system audio according to your need.
Take screenshot as you want and make drawings on the capture as well.
Save captured video, audio and picture in any frequently-used format.
Download for Win
Download for Mac
How to record YouTube videos to fix YouTube won't fullscreen
Step 1. Launch Screen Recorder
After downloading this YouTube video recording software, install and run it on your computer. Make sure you download the right version. Here we take recording YouTube video on Windows PC as an example.

Step 2. Set recording Area
When you enter the main interface, choose the "Video Recorder" option. Here you can choose to record YouTube video with full screen, customized region or preset region. You are also allowed to record any window without any other task disturbing. You can also choose to capture audio from system audio or microphone.

Step 4. Record YouTube video
Click "REC" to start recording YouTube video. During the recording, you can make drawing or add annotations.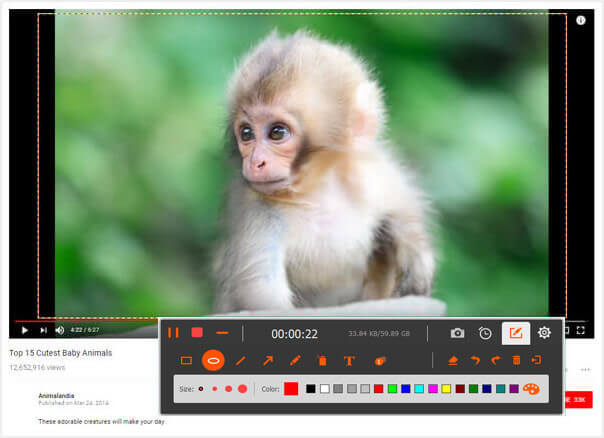 After the YouTube video recording, you are allowed to preview the captured video and then save it. With this powerful screen recorder, you can record anything happened on the screen. So you can easily capture Facebook video call, Vimeo video, Yahoo, and more.
Conclusion
In this tutorial, we have discussed what you can do when YouTube won't fullscreen. Actually, this problem is common in Chrome, Firefox, Safari and other browsers, partly because the Adobe Flash Player plugins work abnormally. For average people, it is difficult to fix such problems, so we hope that our suggestions and guides above are helpful to you. And the simplest way to get rid of YouTube fullscreen problems is to download your favorite videos using Aiseesoft Video Converter Ultimate.