How to Use Apeaksoft Screen Recorder
Part 1. How to Record Screen
Step 1. Install Screen Recorder
After downloading this desktop recorder on your computer, you can install it on your Windows computer.

Step 2. Recording Area Selection
Choose the option "Video Recorder" from the main interface. Before recording gameplay, Skype chats, online meetings or streaming videos with this screen recording software, you should choose the recording area at first. You can record on-screen activities with full screen, custom region or preset region. In addition, Apeaksoft Screen Recorder allows you to record any window you want without any other task disturbing.

Step 3. Make Audio Settings
If you are going to record a video conference, or record the Skype chat, you may need to select both system audio and the microphone. Click the system audio and microphone to make sure the checkmarks appear.

Step 4. Record Your Computer Screen
After setting the recording area and audio, click REC on the right side of this video screen recorder to begin recording. During the recording, you are able to make drawing or add annotations based on your need. Or you can snapshot during the recording. After that, you can preview the project, and share on kinds of social platforms like Google +, Facebook, etc.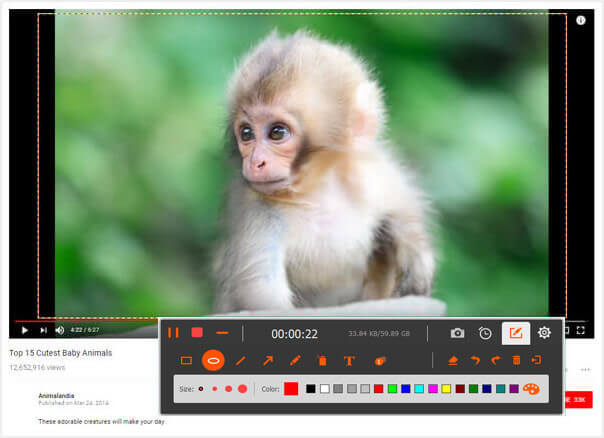 After that, you can preview the project and save it.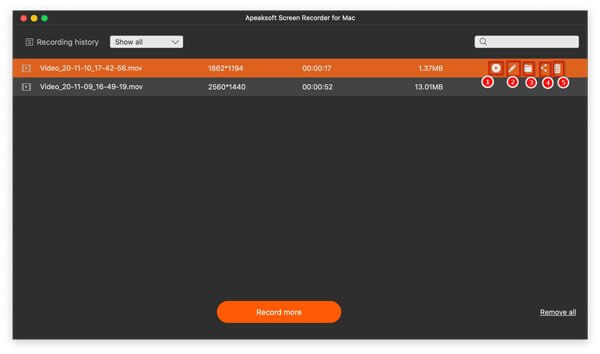 Note: Powerful as the Screen Recorder is, the program enables you to make the settings you prefer in advance, then you are able to record video using these settings next time. It is pretty convenient if you have lots of on-screen activities to record in the same demand.
How to Record Audio/Music
Step 1. Install Screen Recorder
After downloading the program on computer, install and run Apeaksoft Screen Recorder.

Step 2. Choose Audio Recorder
Choose the second option, "Audio Recorder".

Step 3. Make Audio Settings
For recording online audio, music or radios, turn on "System Audio", and turn off "Microphone" on this audio recorder before that. If you want to record other's or your voice, you can just turn on "Mircrophone" and begin recording. Adjust the volume as you like.

After the recording, pre-listen to it and share on Facebook, Google +, etc.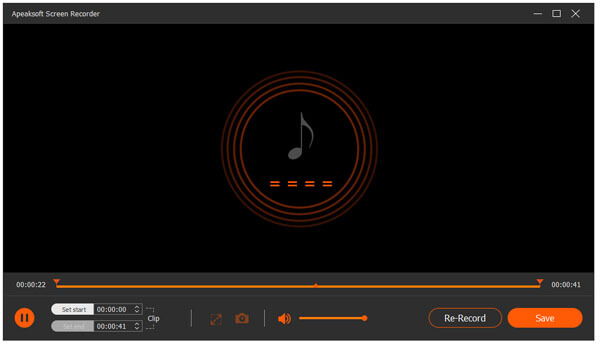 Part 3. How to Capture Screen
Step 1. Download and install Apeaksoft Screen Recorder
Download, install and run Apeaksoft Screen Recorder on your Windows 7/8/10 computer.

Step 2. Choose screen capture feature
Choose the third option, "Snapshot". Capture the whatever you want to snapshot on the computer.

Step 3. Draw or annotate the capture
Currently, you can draw and annotate the capture with the lines, arrows, step tools, text, etc.
How to Register Screen Recorder
Click "Register" on the upper right corner of the main interface to open the registration window, type in the email address and registration code and click "OK" to complete the registration of Apeaksoft Screen Recorder.
The email address is the email that you use to purchase this software.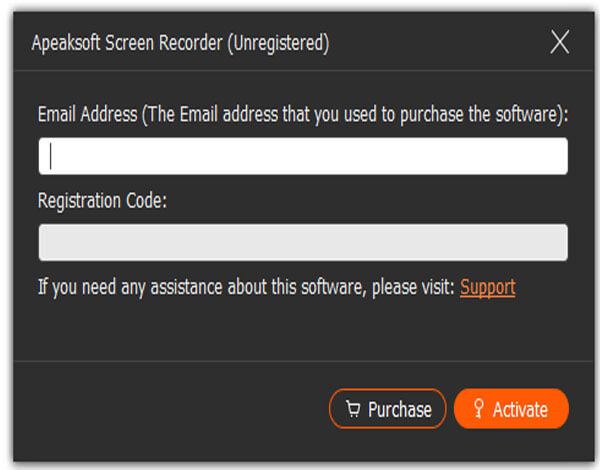 NOTE: After you purchased it successfully, the registration code will be sent to your email address that you filled in the order form.
Email Address: The email address that you fill in the order form.
Registration Code: A string of characters marked as Activation key, license code or KEYCODE(S) in the order confirmation letter you received after the successful purchase.