HTC is one of the most popular electronics manufacturers around the world founded in 1997. And the first HTC smartphone was released in 2008. Since then this brand launches several high-end and entry-level smartphone models each year. According to our survey, the most prevalent HTC flagship smartphone is HTC One series. Of course, there are many people asking how to reset HTC phone online, partly because it is a versatile method to solve various issues on HTC devices. Therefore, in this tutorial, we will tell you how to reset HTC phone when it is still working or inaccessible.

Part 1

: What is hard reset and soft reset

If you search for resetting HTC phone online, you will discover that there are several concepts, hard reset, soft reset, factory reset, master reset or force reset. For average people, it is easy to be confused by these concepts. Don't worry; we will explain them clearly in this part.

Generally speaking, there are two types of reset, hard reset and soft reset. Other concepts are just another name for them. Master reset, for example, is hard reset.

Now, let's talk about what is hard reset and soft reset. Briefly, soft reset is to restart your HTC phone with the Power button; and hard reset is to restore your phone to factory conditions, reverting to the status in the box.

Besides concept, the workflow and functions of hard reset and soft reset are different.

The problems on HTC phone that soft reset could solve include:
1. Perform slower, not respond, and respond incorrectly.
2. Cannot receive SMS. MMS, WhatsApp, email or documents.
3. Cannot connect to Wi-Fi network or cellular.
4. No signal on your phone or cannot make phone calls.
5. Stuck in headphone mode.
6. And other software problems due to cache data redundancy.
Hard reset is more drastic and the issues can be solved include but not limited:
1. Attack by virus, malware, and spyware.
2. Locked out as forgot PIN code or lock screen password.
3. No sound, and speaker or headphone stops working.
4. Crash due to failed rooting or software update.
5. And other software problems and situations need to clean up entire device.
Another difference between hard reset and soft reset is that former will wipe all personal data and customized settings while the latter will not interrupt current data on your HTC phone.
If you want to perform soft reset or hard reset HTC phone, just follow the guides below.
Part 2

: How to soft reset HTC phone

As said before, if your HTC phone is running slower than normal, unresponsive or having an app that performs improperly, try soft reset and see if that helps solve the issue.

Step 1. Press the Power button to evoke your HTC phone if the display is off. The "Power" button is usually on top the HTC phone.

Step 2. Then press and hold down the "Power" button until your see "Restart" screen. Tap on "Restart" and then hit "Restart" again on confirmation screen to perform soft reset immediately.

Step 3. When reboot into the lock screen, enter your PIN code and access your smartphone as usual.

If your HTC phone does not respond when your press the Power button, you can still perform soft reset on it. At this time, press and hold down the "Power" and the "Volume Up" buttons at the same time for at least 10 seconds. When you see the HTC logo on screen, release both buttons.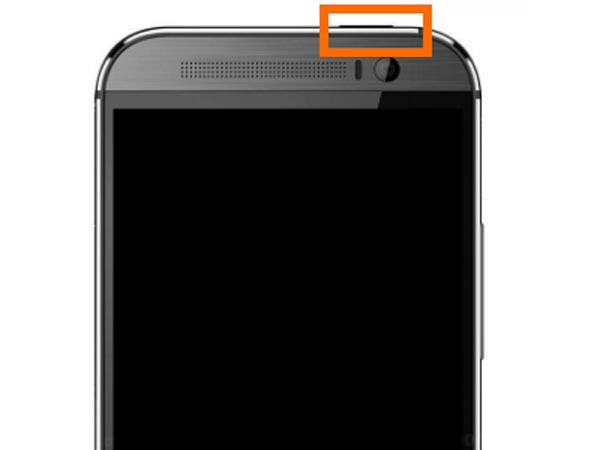 Part 3

: How to factory reset HTC One (Hard reset)

If soft reset cannot remove the problem bothering you, resetting HTC phone to factory conditions is another solution you can try.

Factory reset Android will wipe all data and settings on Android phone. So you had better backup HTC phone for avoiding any data loss.
Way 1: Factory reset HTC via the Setting menu
The Settings menu is the simplest way to perform factory reset on HTC devices. If your phone is still working, you can follow the steps below to reset HTC phone easily. To avoid losing data, you should create a backup for your HTC phone first.
Step 1. Press the Power button to turn your HTC phone back on and unlock it.
Step 2. Open the "Settings" app from Main screen and tap on the "Backup & Reset" submenu.
Step 3. Next, choose "Reset phone" under the Reset section and then hit "Erase all data" to continue.
Step 4. Finally, touch "OK" to confirm it and start restoring factory settings to your phone.
This way is available to all HTC phone models,
including HTC One series, HTC Desire flagship, HTC U series and other models.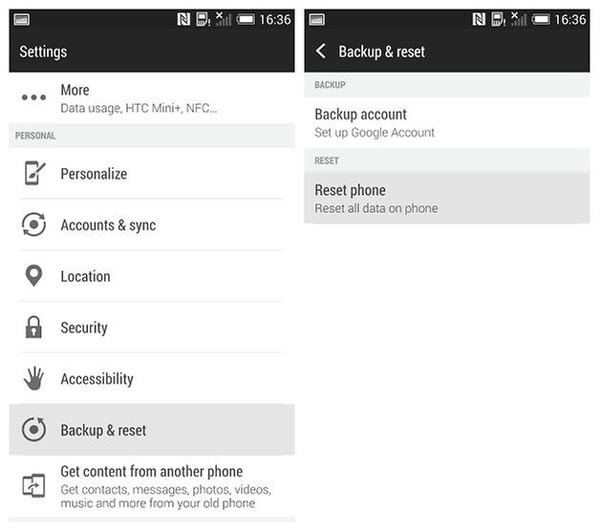 Way 2: Factory reset HTC using hardware buttons
On the other hand, if your HTC phone is freezing, not responsive, or inaccessible, the Settings menu will be not feasible. Is it possible to reset HTC phone in such cases? Yes. The HTC devices have a built in function that allows people to reset HTC phone back to the settings from factory.
Step 1. Power off your HTC phone, such as HTC One, by using the "Power" button on top of the device.
Step 2. Wait for the device to get black completely. Hold down the "Power" button and the press the "Volume Down" button together for a few seconds. When you see the Download Mode screen, release both buttons.
Step 3. Highlight "Bootloader" using the "Volume Up" and "Volume Down" buttons; then implement it by pressing the "Power" button. Use "Volume" buttons to scroll down to "Reboot to Recovery Mode" option and press "Power" button to confirm it.
Step 4. When the exclamation mark appears, press both the "Power" and "Volume Up" buttons to boot into the Recovery Mode. Then select "wipe data / factory reset" with Volume buttons and execute it with Power button. When prompt confirmation, select and execute "Yes -- delete all user data".
Step 5. Select "reboot system now" when it is done to restart your smartphone.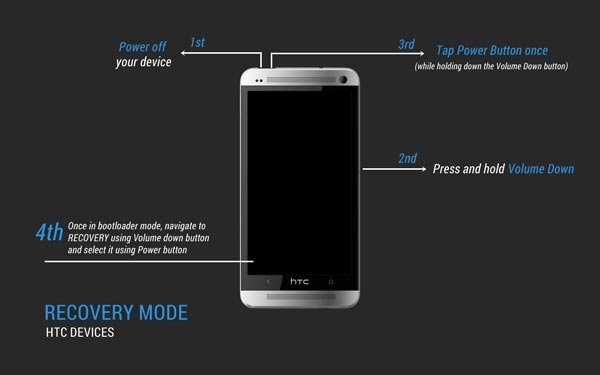 Conclusion
In this tutorial, we have talked about how to reset HTC phone through soft reset and hard reset. If you are confused with the concept of hard reset and soft reset, you can find the concise explanation in the first part of this tutorial. Moreover, we have shared the step-by-step guides to perform soft reset and hard reset HTC phone. When you encounter problems on your device, you can follow our guides to improve user experience easily. Anyway, we hope that our tutorial is helpful for HTC phone users. If you have any questions related to resetting smartphone, you can leave a message below this article, we will reply it as soon as possible.