There are several reasons when people want to reset LG phones. In order to protect privacy, for example, customers have to restore their LG devices to factory settings. Moreover, when some unexpected issues happen, such as device freezes, crashes, or converts to root, users could get their LG phones to normal through forced reset. Fortunately, LG phone users have multiple solutions to reset LG phone, such as key combinations, Settings menu, and there is specific solution for resetting a locked LG phone. In this tutorial, we focus on how to reset a LG phone under different situations. Remember that factory reset should be done only when it is absolutely necessary as it will wipe out all content on your phone permanently.

Part 1

: How to hard/factory reset LG using key combinations

Factory reset Android will wipe all data and settings on Android phone. So you had better backup Android phone to computer for avoiding any data loss.

One of the most common case that people need to reset LG phone is the device does not respond or crash. At this time, the key combination is the best way to reset your device.

Step 1. Hold down the "Power" key to shut down your LG phone. The Power key is usually on the rear case of the LG phones.

Step 2. Press and hold down both the "Volume Down" and "Power" keys at the same time. When LG logo appears, release the "Power" key but keep holding the "Volume Down" and then press the "Power" key again immediately.

The key combination is available to new LG phone models, such as LG V30/G6 and more.
Some LG phone models have special key combinations, such as:
On LG Zone X180G, you have to press "Power" button for 5 seconds after phone is off, release it and hold "Volume Up", "Volume Down" at the same time to boot into recovery mode.
If you are not sure the key combination for your LG phone, you can find it in product manual or search it in Google.

Step 3. When the factory mode presents, release both keys. Then perform factory data reset by using "Volume keys" to navigate and the "Power" key to confirm.
Part 2

: How to reset LG phone from setting menu

If your LG phone is still working, the easiest way to reset LG phone is the Settings menu. After creating a backup for your device, you can feel free to perform factory reset following the guides below.

Step 1. Tap on Apps on the home screen of your LG phone and then start the "Settings" app with a gear icon. Make sure that your battery has at least 80% of capacity.

Step 2. Head to "General" > "Backup & Reset" and tap on "Factory Data Reset" to start reset LG phone. If you are prompted to enter the PIN code or LG phone password, do it following the onscreen instructions.

Tip: This way will not erase the content on the SD card in your phone.

Step 3. Read the warning information carefully and then press "Reset Phone" to continue. If you are ready, tap on "DELETE ALL" button to start performing LG factory reset.

Step 4. When it is done, all personal data and customized settings will be erased and you can set up your LG phone as a new device.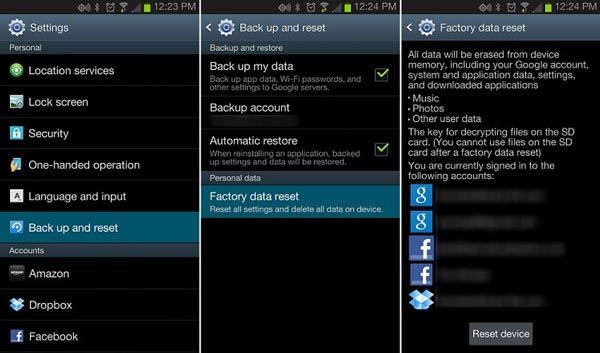 Part 3

: How to factory reset LG phone when it is locked

If you forgot the lock screen password or were locked out due to other reasons, the Settings menu is not feasible. Fortunately, LG phones are supported by Google's Android Device Manager, which is a web-based service for a part of Android devices. If you have installed Google account on your phone, you perform factory reset LG phone bypass the lock screen.

Step 1. Visit www.google.com/android/devicemanager in your browser and sign in the Google account installed on your LG phone. Then Google will search your device on the map.

Step 2. When your phone shows up on the map, you will be presented three options, "Ring", "Lock" and "Erase". Select "Erase" button to go to the factory reset page.

Step 3. Read the warning information carefully and then click "Erase" again to trigger the factory reset process remotely. It will take a while to erase the entire smartphone.

Android Device Manager works when your LG phone connects to internet. If it is offline, the factory reset will be triggered once your phone is online. After factory reset, your Google account will be deleted from your phone and the Android Device Manager is no longer available.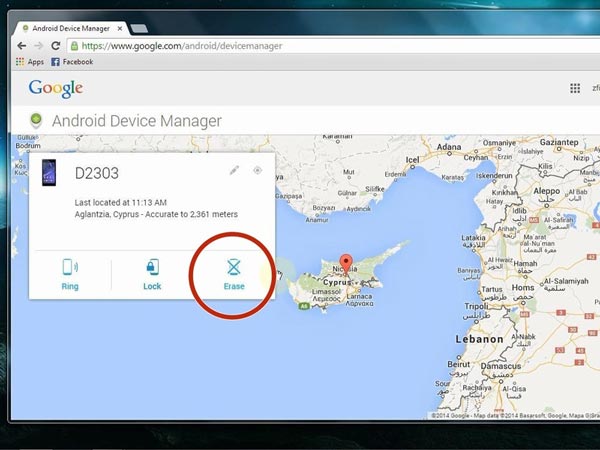 Part 4

: Backup your device before LG reset

Though there are many methods to reset LG phone, the starting point of all these methods should be backup. We recommend Apeaksoft Android backup & restore, because it provides a lot of easy-to-use features.
1. Create a backup for your LG phone in one click.
2. Work on normal, frozen, crashed, and even broken smartphones.
3. Back up data from LG device to computer.
4. View the LG backup on your computer at any time.
5. Recover the lost data from backup to computer in original conditions.
6. Support all LG phone models, including LG V30/G6 and earlier.
7. Compatible with Windows 10/8/8.1/7/XP and Mac OS.
In short, Android backup & restore is the best way to back up LG phone before reset.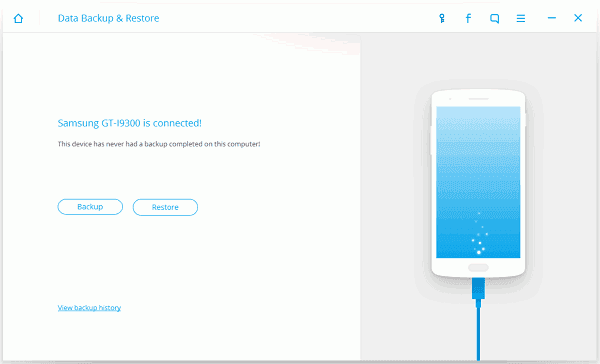 How to back up LG phone before reset
Step 1. Download and install the best LG phone backup tool on your PC. There is a specific version for Mac. Connect your device to the computer using a USB cable when you plan to reset LG phone.
Step 2. Launch Android Backup & Restore, and click "One-click Backup" when it detects your tablet. Then the program will start creating a backup for your phone automatically.
Step 3. When it is completed, you will be brought to the result window. If you want to check the backup, select the latest file and click "Start" button to open it. On the detail window, you can view LG data by categories.
Conclusion
In this tutorial, we have told you how to reset LG phone when your phone is working, locked or not responsive. It is true that factory reset is able to solve various software problems on your phone, but we suggest you to perform it when other troubleshooting is not available. And if you need to reset a LG phone, you can make a decision based on your situations and follow our guides to do it easily. No matter using which method, you should start with backing up your LG phone with Android Backup & Restore.