As an audio codec with lossless quality, FLAC is the best compression format for storing music. Therefore, you also want to contain this quality when you cut FLAC files into several segments or different tracks and get rid of the redundant parts. Whatever your application is for the trimmed FLAC clips, below are the 3 efficient methods you shouldn't miss to easily cut FLAC files everywhere you go. Scroll down and learn the steps.

Cut FLAC Files
Part 1: Trim FLAC Files with Original Lossless Quality
Whether you prefer desktops or mobile phones, the methods in the following content can all meet your requirements and help you trim FLAC files without device restriction. Meanwhile, for your information, if you want professional skills when cutting the FLAC audio, you may seek help from Audacity and the alternative – Apeaksoft Video Converter Ultimate. However, if you prefer more convenience, then just directly jump to the latter part, and see a reliable online method. Quickly choose your favorite and follow the steps on how to cut FLAC files.
How to Cut FLAC Files with Professional Tools
1.Audacity
Audacity is free and open-source software that can be accessed on all your desktops. It has so many advanced features, so no matter whether it is to cut FLAC files, combine audio segments, or convert between formats, you can all do it here. Moreover, as a professional tool, beginners may not find where the splitting button is. Therefore, prepare your FLAC audio and closely follow the detailed steps below.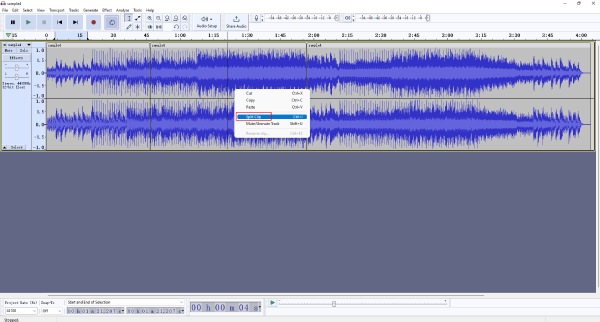 Step 1Install and launch Audacity on your desktop. Then, simply drag the FLAC file to the Audacity window. You can double-click the Play-at-Speed Toolbar to precisely adjust the playback speed.
Step 2Listen to your audio and find the part you want to delete or cut. Click the place you want to cut and there will be a line there. Next, right-click the track and click the Split Clip button.
Step 3After splitting, you can hover over a segment to select and click the File button. Then, click the Export Selected Audio from Export to save the track.
Step 4Or you can cut and paste the clips to other tracks. Then, you can click the Export Multiple button to export all clips at one time as separate audio files.
Apeaksoft Video Converter Ultimate – Trim FLAC Files to Perfect Length
Apeaksoft Video Converter Ultimate can be the Audacity alternative on your desktop as a simpler version. Simpler means you do not need to figure out where the buttons are or learn how the program operates. Because this tool has a clear layout, and you can find everything you need to cut FLAC files immediately. Besides, you can even adjust the audio rate and bitrate when trimming the files. The simple fade-in and fade-out effects are also available for you. Now, just follow the steps below to see how to cut FLAC files easily.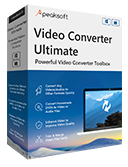 4,000,000+ Downloads
Cut FLAC files into even lengths or desirable clips.
Adjust the volume while cutting FLAC files.
Merge trimmed audio into a new file.
Retain the original quality of your audio after trimming.
Step 1Get a free download and installation of the program and launch it. Then, click the Toolbox button on the main interface. There, you will find many tools. Click the Video Trimmer button to continue and import.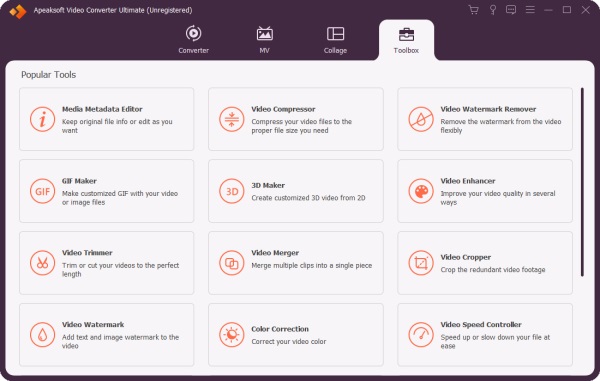 Step 2 In the new window, click the Plus icon to import a FLAC audio file. Next, your audio will start playing. Now, you can listen and mark the place you want to cut by clicking the Set Start/End buttons. This will allow you to select a certain part.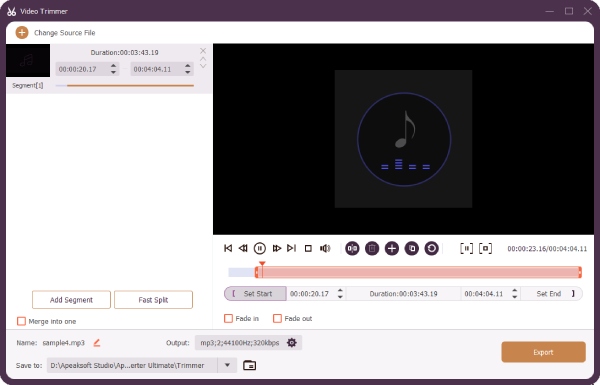 Step 3Meanwhile, you can click the Fast Split button to cut the FLAC file into several clips or tracks. After that, click the Save To dropdown button to choose a folder to store it. Then, click the Export button to finally export and save it.

Tip :
For your trimmed FLAC files, you can go back to the main interface and click the
MV
button. There, you can upload your video materials and create a music video or vlog. Then, you can attach the lossless FLAC audio to it as your
vlog music
.
1.2 Quickest Method to Cut FLAC Files Effortlessly
Here is another method to cut FLAC files quickly and you will be able to access it anywhere you go. VEED.IO is an online toolbox that offers you all kinds of editing tools and takes care of everything ranging from trimming audio and video to adding subtitles. If you choose the free service, then your output file will have a watermark on it. Besides, if you want to save the final file as audio, this tool will convert your FLAC to MP3.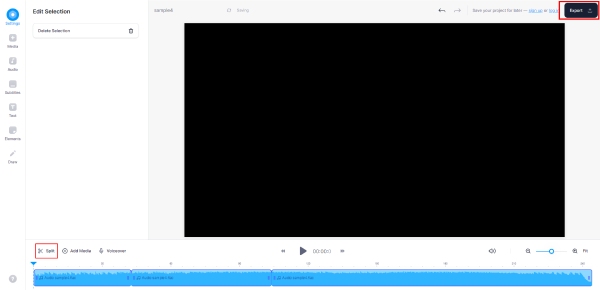 Step 1Go to the official website of VEED.IO and find the Audio Cutter section. Then, you can access the FLAC Cutter.
Step 2Click the Choose FLAC File button and you will be on a new page. Then click the Browse button to import your FLAC audio.
Step 3 After uploading, move the cursor on the timeline to the point you want to cut and click the Split button.
Step 4Now, click the Export button. On the exporting page, you can click the Download button and save your trimmed FLAC audio in MP3 format.
Part 2: FAQs about Cut FLAC Files
How to cut FLAC files with the CUE file?
You can rely on the Medieval CUE Splitter software to cut FLAC audio and retain the CUE file attached. Just install and launch the program by clicking the Open Cue File button. Then, click the Split icon on your left side to cut the audio into clips. In this way, your CUE file will remain in your FLAC file.
How to trim FLAC files in Linux?
Actually, the professional audio trimmer, Audacity, is compatible with all kinds of platforms. Therefore, you can install this tool on your Linux computer, and follow the steps discussed above to cut the audio.
How to cut FLAC files with Foobar2000?
You can use Foobar2000 to trim FLAC files with the CUE extension. Firstly, launch it and click the File and Open buttons. Import your file and drag the file to the music player. Then, the file will be automatically split into several tracks. Select all tracks and right-click them. Next, click the Convert and Quick Convert buttons. Choose FLAC, click the Convert button, and it's done.
Conclusion
To conclude, it is easy for you to know how to cut FLAC files into different tracks from now on after reading this post and learning the three workable methods above. For more professional and advanced features, you may go with Audacity, or you can choose Apeaksoft Video Converter Ultimate for its simplicity and versatility.