Trimming audio files is not a hard thing for MP3 or other common formats. For a format that is not frequently seen like OGG, then you may need extra effort to learn how to trim OGG files. As a free and open container format, the OGG container format can include both audio and other metadata in one file together. Therefore, without damaging these data and the audio quality, here is an excellent OGG trimmer for you that can cover these demands and trim the OGG file for you on the computer. Plus, you can also see some quickest ways to cut OGG files online.
Trim OGG File
Part 1: Trim OGG Files and Save the Original Quality
Compared with other common trimmers, the Apeaksoft Video Converter Ultimate can be your best OGG trimmer since it gives you a high level of flexibility and customization. When trimming the OGG file, you can also convert it to other formats, or add it as background music to your video. Meanwhile, you may also compress your audio file size to the desirable one after you split OGG files into clips. Now, scroll down below to see the steps and soon you will find that OGG split is such an easy thing that you can finish in seconds.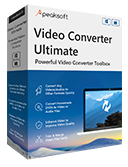 4,000,000+ Downloads
Merge or trim OGG files seamlessly with quality.
Split OGG files into even segments with the same duration.
Change output formats for better compatibility.
Cut off unwanted parts and merge the rest into a new audio file.
Step 1After downloading and installing the Apeaksoft Video Converter Ultimate on your computer, launch it and click the Toolbox button on the main interface. Then, you need to find Video Trimmer and click on it among many tools.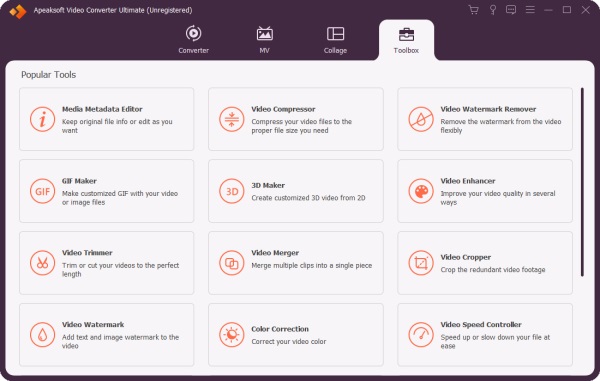 Step 2Next, a window pops up and you need to click the Plus icon to import an OGG file. Then, a new window appears and starts playing your OGG audio. Now, you can click the Fast Split button and cut your audio into as many clips as you want.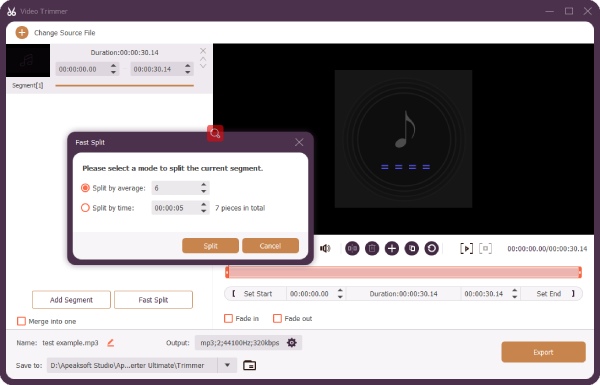 Step 3Or you can split your file into even segments with the same length. After that, you can also delete some of the clips. Then, choose a destination folder by clicking the Save To dropdown button. Finally, click the Export button to save the new OGG file to your folder.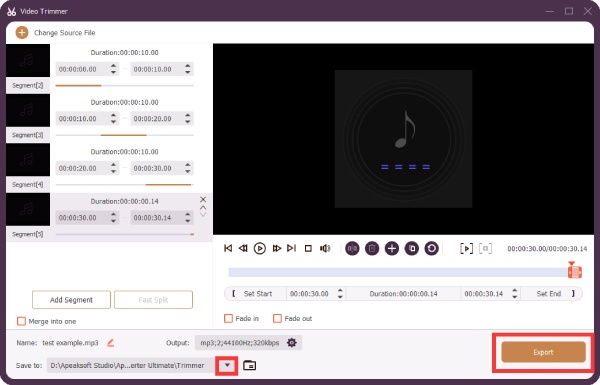 Part 2: How to Cut an OGG File Online
For the quickest method that enable you to trim the OGG files everywhere you go, online audio trimmers are good alternative options. Instead of installing apps or programs, you can always access these online tools on both your computer and phone. Without further ado, below are two workable OGG trimmers online with step-by-step guides.
1. AConvert – Cut Audio
AConvert is an online converter that is equipped with extra functions related to audio or video cutting, merging, or compressing. Therefore, you can easily split OGG files into clips. Besides, AConvert can also be your online OGG player and you can pre-listen to the trimmed audio before downloading it.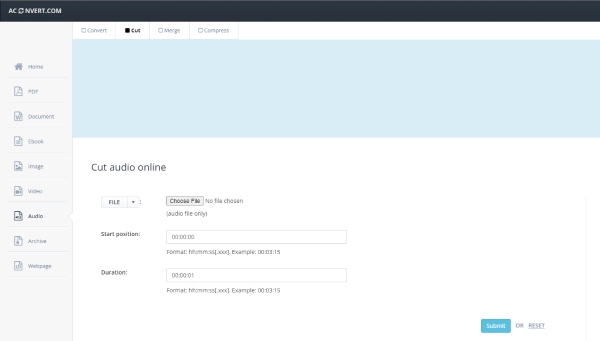 Step 1Go to AConvert's official website, click Audio on the left side, and then click Cut on the top.
Step 2Click Choose File and select an OGG audio from your device. You can get a certain part you want in the audio. You just need to enter the start position and duration.
Step 3Then, click Submit and the website will start trimming for you. After that, your new audio file will be listed under the OUTPUT FILE section, from which you can click Download to save it.
2. Audio Trimmer: Online Audio & MP3 Cutter
Audio Trimmer is another free online audio cutter/MP3 cutter for you to trim OGG files. Supporting many popular audio formats and friendly to mobile devices, this online tool gives you more advanced functionality. Moreover, there are two trimming modes for you, and you can easily keep or remove desired or unwanted parts. You can also see the waveform and pre-listen to the audio.
Step 1Enter the official website of the Audio Trimmer. Then, click Choose File and import an OGG file you need to split or trim.
Step 2Then, you will hear the audio playing on the website. Now, to remove the unwanted parts, click Mode to switch to REMOVE mode.
Step 3Next, drag the handle on both sides to select the part you need to remove. Then, click Crop to cut it off.
Step 4: Once the process finishes, click Download to save the new audio.
Part 3: FAQs about Trim OGG File
Question 1. How to trim the OGG file with Audacity?
After launching Audacity, you can directly drag the OGG file to the Audacity window to import it. Select the part you want to keep by clicking the Selection Tool above with an I icon. Then, click on the track, press, and hover your mouse over that part to select. After that, click the Edit button on the menu bar and click the Trim Audio button from Remove Special. Then, the rest parts will be cut off.
Question 2. How can I open the audio after trimming the OGG file?
There are several free players for you to play the trimmed OGG audio. For example, the VLC Media Player is a good choice, being free, open-source, and compatible with many formats. You can play your OGG files smoothly.
Question 3. Is the OGG file the same as the OGV file?
No, they are not the same. Files with OGG extension usually contain audio, while the files with OGV extension are normally videos.
Conclusion
To wrap it up, to trim the OGG file properly and fulfill your needs, you just need an appropriate tool to help you out. If you need to constantly trim audio files, then the Apeaksoft Video Converter Ultimate is a great software to be installed on your computer. If you seek for more convenience, then the online trimmer can also meet your demands.