Cutting or trimming audio files is not a hard thing. But when it comes to uncommon formats like WMA, things can be tricky. If you have WMA audio files, you really need some handy WMA cutters to help you do the editing work, so that you can merge them with other audio, or attach it to videos. To save you the trouble of selecting a suitable one among all the WMA cutters, this post has collected the 4 best WMA cutters accessible on both Windows and Mac and even includes free options. Continue reading to check them out.

WMA Cutter Reviews
Part 1: 4 Best WMA Cutters Reviews
Among so many excellent WMA cutters and editors, here are the 4 best ones suitable for both beginners and pros. The brief WMA cutters review on them will give you a better understanding of these tools. Meanwhile, you will also learn how to cut WMA files with the best trimmer below.
1. Apeaksoft Video Converter Ultimate
Except for cutting WMA files, Apeaksoft Video Converter Ultimate offers you more options when dealing with WMA files, you can cut, trim, merge, and even convert WMA files. Moreover, you can even refine or sync the WMA audio files in this comprehensive program featured many editing tools. Or, if you want to share your WMA files in a more common format, you can also easily convert them with this program.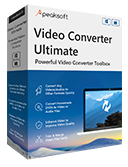 4,000,000+ Downloads
Split WMA files into even segments.
Combine WMA files with other audio.
Boost the volume of your WMA audio files.
Sync WMA audio with your video.
How to Cut WMA Files with Video Converter Ultimate
Step 1Firstly, download and install the program on your computer. After launching it, click the Toolbox button on the main interface. Then find the Video Trimmer tool. Click on it to continue trimming your WMA files.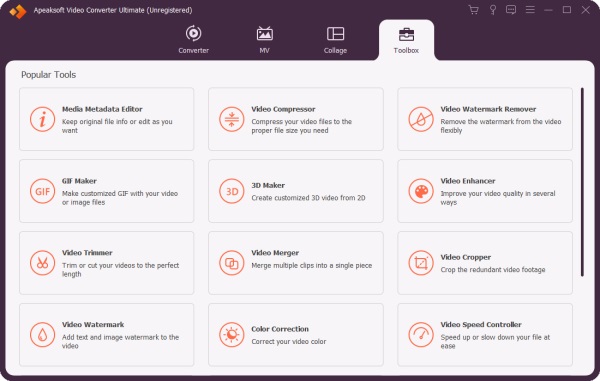 Step 2On the window that pops up, click the Plus icon, and select your WMA file from the folder in the new popup. Your audio will automatically play after importing. Next, you can cut the WMA file into even clips by clicking the Fast Split button.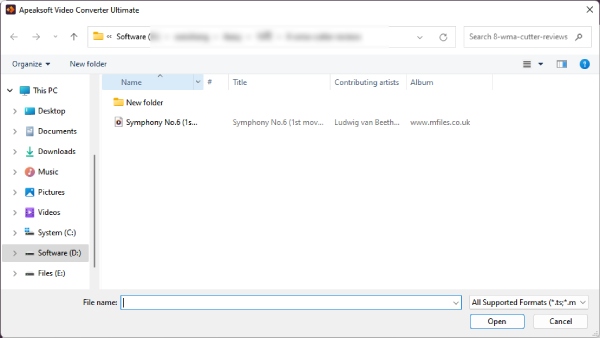 Step 3 If you want to keep only a single part of your WMA audio, you can set new start and end points by clicking the Set Start/End button. After that, you can click the Save To dropdown button to choose a new folder. Then click the Export button to finally save the audio to your computer.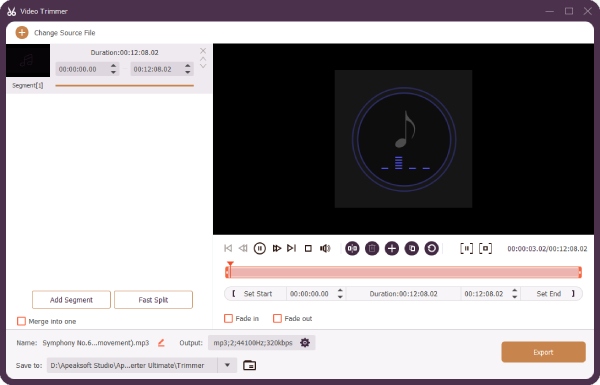 2. Audacity
Audacity is a well-known free audio player and editor, which is best for professionals that want more advanced features to trim WMA files. This WMA cutter and editor with multiple tracks enable you to clearly see every element in your audio file like volume, waveform, etc. Apart from cutting audio, Audacity has great compatibility for all audio files, so it can your great WMA player.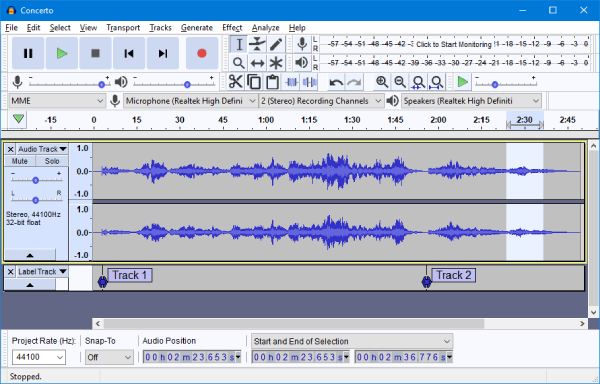 Main Features
Trim the WMA file for free with precision.
Import several audio files together for trimming.
Record live audio via microphone or mixer.
PROS

You can add extra plugins to enrich the features.
Employ a high-quality resampling method for your exported files.
CONS

Complex operations with too many buttons hidden.
Freeze issues exist when playing or stopping sounds.
3. Clideo – Audio Cutter Online
Can you trim WMA files online? Of course, you can and Clideo is one of the best and most frequently used online trimmers for audio files. The Audio Cutter Online tool from it gives you a fast split experience for audio files and the intuitive interface saves you the trouble of learning a new tool. Besides, as a combo for all kinds of video and audio tools, Clideo also enables you to remove audio from video by muting it.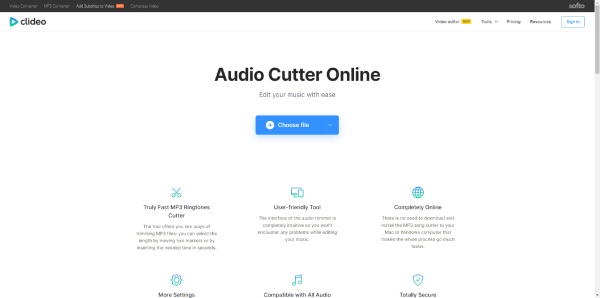 Main Features
Choose audio files stored on Google Drive and Dropbox.
Insert seconds to the WMA audio to extend the length.
Offer fade-in and out effects for your audio track.
PROS

Easy-to-use trimming features with a few buttons.
Extract a certain part of the WMA file to export.
CONS

It takes more time to preprocess uncommon audio like WMA.
No precise trimming may cause accidental loss of seconds.
4. Aspose Audio Cutter [Online]
Aspose Audio Cutter is another online WMA cutter that works from all platforms. Whether you are using a computer or a mobile phone, you can always access the site to split WMA files. Meanwhile, you can also remove the noise of your WMA audio on this site.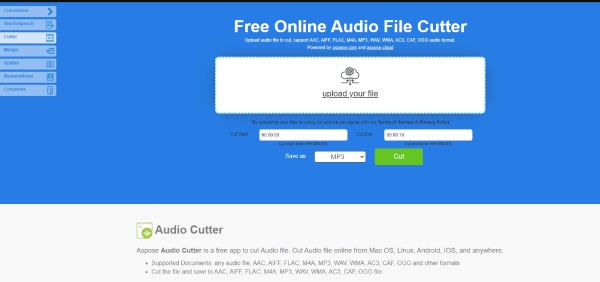 Main Features
Process and upload your audio files quickly.
Access the cutting tool from anywhere instantly.
Send a download link of the trimmed WMA file to your email.
PROS

Cut off exactly the part you want by entering the time.
Trim your audio file in seconds with a straightforward layout.
CONS

You can cut only one WMA file at a time.
No preview for the uploaded WMA file.
Part 2: FAQs about WMA Cutter
Question 1. Can I cut the WMA file in Windows Media Player?
Normally, you can only play the WMA file in Windows Media Player instead of editing it. However, if you add WMP Trimmer Plugin, then it is possible to trim the WMA file in it.
Question 2. Can I use VLC as a WMA cutter?
Although VLC is a powerful media player, it only supports simple editing features for videos. Therefore, you can only play WMA audio with VLC.
Question 3. Can iTunes trim a WMA file?
No, iTunes cannot trim a WMA file. If you successfully import a WMA file to iTunes on your computer. Then, it may ask if you agree to convert the audio to a more compatible AAC format. After that, you can convert via iTunes and trim the audio in another program such as iMovie.
Conclusion
To sum it up, you can now choose from the 4 best WMA cutters and editors discussed above after reading their features, pro, and cons. Then, you can better decide which one is more suitable for you and can fulfill your needs. Also, if you are looking for a more comprehensive editor, you may try Apeaksoft Video Converter Ultimate.