What is the backup file for an iPad and what iPad backup tools are popular? Well, an iPad or iPhone backup file includes your iOS settings, app data, ringtones, music and most iOS content. You can make a copy and move iPad data to another hard drive or cloud storage. And it is also supported to backup iPad data and then delete them to free up more space. No matter what reason you hold, it is important to make an iPad backup due to emergency. For instance, your iPad got water damaged or stuck on restart loop, but you need to access the certain iOS data immediately. The fastest solution is to restore iPad backup data. And if you want to change a new Apple device, backing up data from an old iPad to a new one is a time-saving choice.
Commonly, as the iPad backup apps, iTunes and iCloud are widely-used among most Apple users. Even though there are some limitations during iPad backing up processes with iTunes and iCloud, they can still do a quite good job on creating an iPad backup. In addition, you can also choose the ultimate program from this article that can backup iPhone, iPad and iPod better than iTunes and iCloud in one click.

Part 1

. How to Backup iPad with iTunes

Note: All your iPad backups will be stored on your Mac or PC that offers enough available hard drive space. The default iPad encrypted backup option is off, but you can make an encrypted backup manually as well. Sometimes, you may be notified that iTunes cannot recognize your iPad, just restart it or change a new USB cable.

Step 1. Update iTunes on your computer.

You need to update iTunes to the latest version before backing up an iPad or iPhone. For Mac users, open the "App Store", check "Updates" on the top and then click "Install" if there is a new iTunes version. And if you are using a Windows computer, open iTunes and find its "Help" option from the top menu bar, choose "Check for Updates" and follow on-screen instructions to install the latest iTunes program.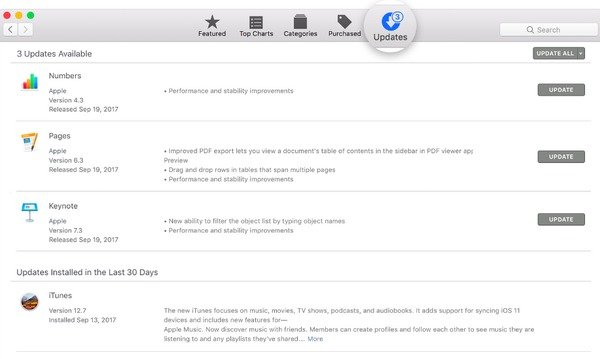 Step 2. Connect iPad to iTunes
Use a USB cable to connect your iPad to a Windows or Mac computer. If it is your first time to connect iPad to this computer, then you need to unlock the iPad and trust this computer first. When the iPad detecting process completes, choose an iPad icon and enter the main interface of iTunes.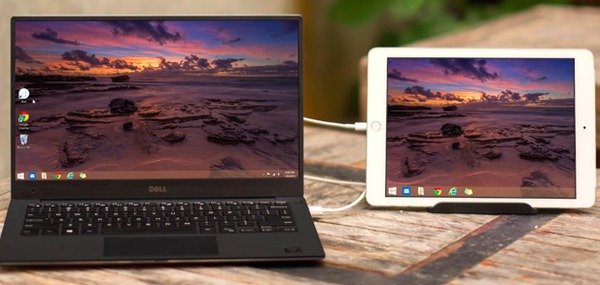 Step 3. Backup iPad to your computer with iTunes
Locate "Backups" section in the default "Summary" page. Tick "This Computer" and choose "Encrypt iPad backup" below if you want to save Health and Activity data. If you have nothing important need to be encrypted, then you can tap "Back Up Now" button directly. After that, you can see the accurate date and time of the latest iTunes backup file under "Latest Backups" on the Summary screen.
Still, when you connect your iPhone, and click "Restore Backup", you are able to restore iPad from iTunes backup. (Fail restore iPad? Get the solutions here.)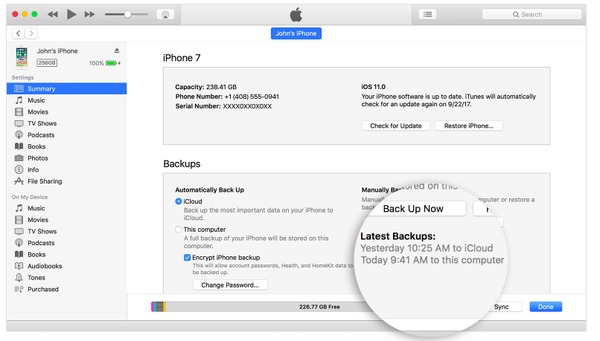 Part 2

. How to Backup iPad with iCloud

Note: Your iCloud storage space starts from 5GB free storage up to 2TB (Pro). All your iPad backup files will be stored in iCloud over the air. Thus, you can back up an iPad to iCloud without a computer. Moreover, iCloud always encrypts your backups.

Step 1. Open iCloud on your iPad

Connect your iPhone or iPad to a Wi-Fi network that works well. Open "Settings" app on your iPad. If you are using iOS 11 and later iOS versions, choose your name and tap "iCloud" directly. Otherwise, iOS 10.2 and earlier users need to scroll down and click "iCloud".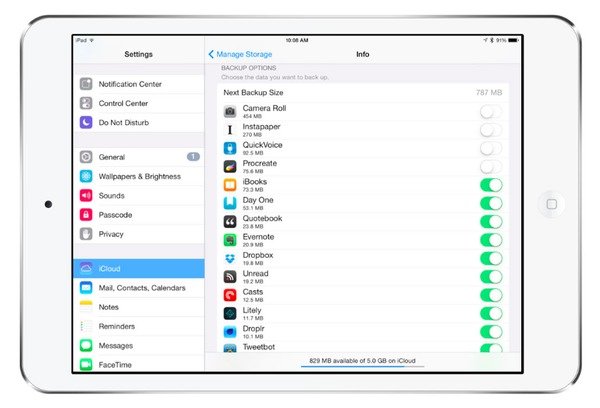 Step 2. Choose what your iPad backs up to iCloud
Before you back up an iPad or iPhone to iCloud, you can set iCloud backup options manually. Turn on the switch next to each option including mail, contacts, calendars, notes, photos, app data, etc.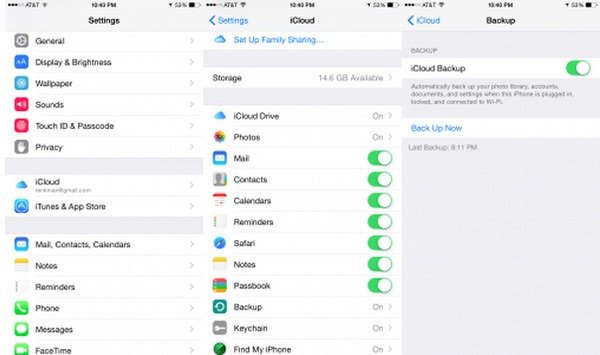 Step 3. Turn on iCloud backup
Scroll down to turn on "iCloud Backup" (iOS 11/12) or "Backup" (iOS 10.2 and earlier). Later, move the "iCloud Backup" slider to the green state to turn it on as well. If you want to backup iPad to iCloud automatically, then you should stay "iCloud Backup" turned on all the time. Accordingly, once your iPad or iPhone is plugged in a power source or connected to a Wi-Fi network, iCloud will start backing up your iOS device without notifications automatically.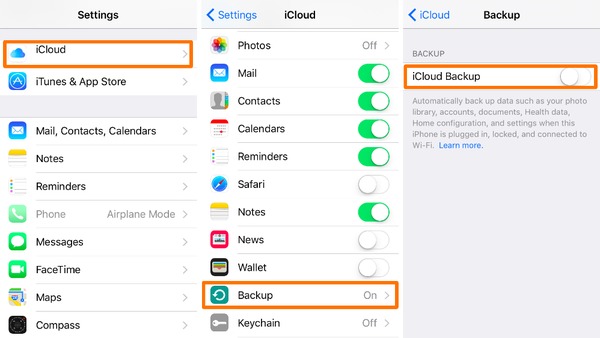 Step 4. Back up your iPhone or iPad to iCloud wirelessly
Tap "Back Up Now" button to start backing up an iPad or iPhone without a computer. Keep connected to your Wi-Fi network until the iPhone or iPad backup process completes. If the iPad backup finished successfully, you can see the date and time of your latest iCloud backup under "Back Up Now".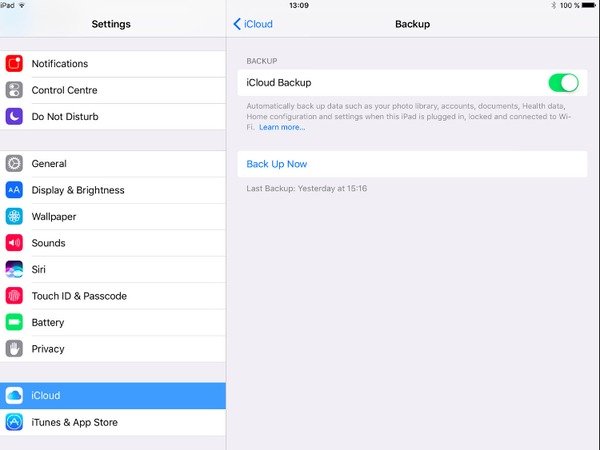 Part 3

. How to Backup iPad with Apeaksoft iOS Data Backup & Restore

While iTunes does not allow users to preview detailed iPad backup information, iCloud only provides you free 5GB space for iPad backup. And you cannot restore data from iPad backup selectively. To overcome those limitations, you can use Apeaksoft iOS Data Backup & Restore, which is the versatile iTunes and iCloud alternative program. With all iOS data types and iOS models supported, iOS Data Backup & Restore offers the most efficient and fastest service for users to backup and restore iPad data in one click.
Key Features of iPad/iPhone/iPod Backup APP
One click to backup iPad data to your computer or external hard drive smoothly
Preview data after backup or before restoring in detail
Optionally restore data from iPad backup without hassle
Easy to use interface and no data loss guarantee
Support all models of iPad Pro, iPad Air 2/1, iPad Mini 4/3/2/1, iPad generations, iPhone X/8 Plus/8, etc.
Free Download
Free Download
How to Back Up an iPad/iPhone/iPod to a Windows/ Mac Computer
Step 1. Launch iOS Data Backup & Restore
Download the program from Apeaksoft. Run it and choose "iOS Data Backup & Restore". Then you can see the main interface of iPad backup software.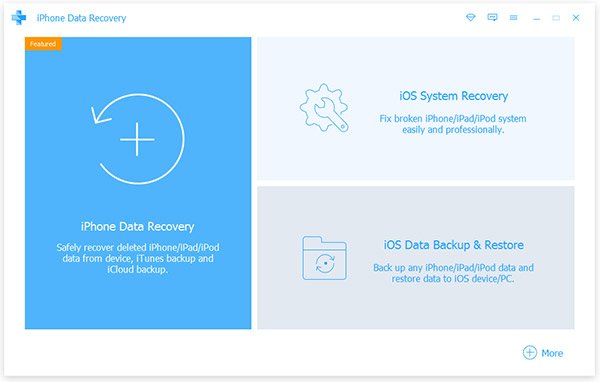 Step 2. Connect iPad to iOS Data Backup
Select "iOS Data Backup" and use a USB cable to connect iPad to your computer. Wait until iOS Data Backup detects your iOS device entirely.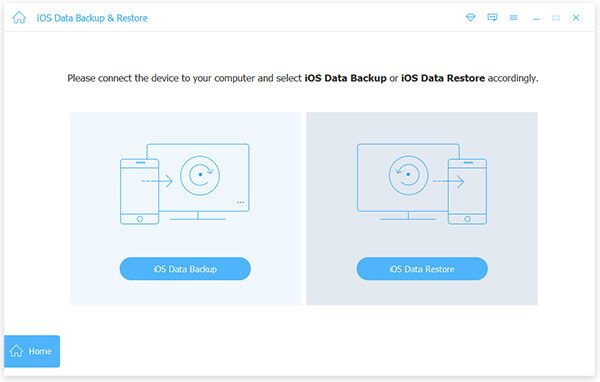 Step 3. Choose iPad backup mode
The default iPad backup mode is "Standard backup". But if you have something secret or important need to be encrypted, choose "Encrypted backup" instead.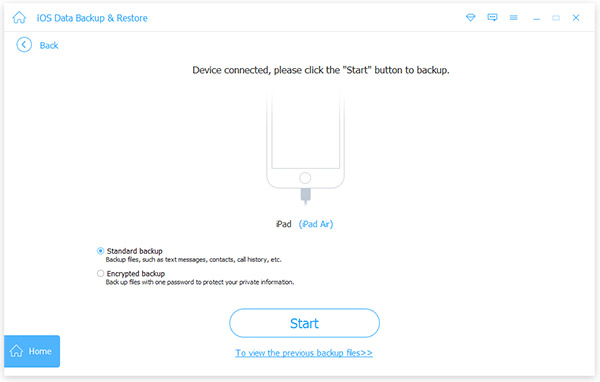 Step 4. Select iPad file types to backup
Press "Start" button to move on. Later, you need to select the target iPad data type from all those available options. Tick before each item you want to backup including photos, contacts, app data, call history and more.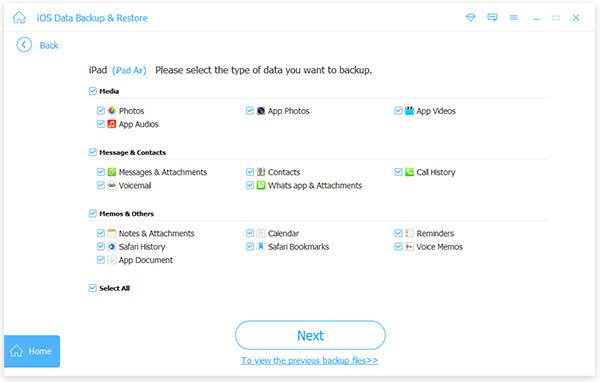 Step 5. Backup iPad to a computer
Tap "Next" button and set a pointed folder to save your iPad backup file. It may take you several minutes to complete iPad backing up process. Do not disconnect iPad from the Windows or Mac PC during the process.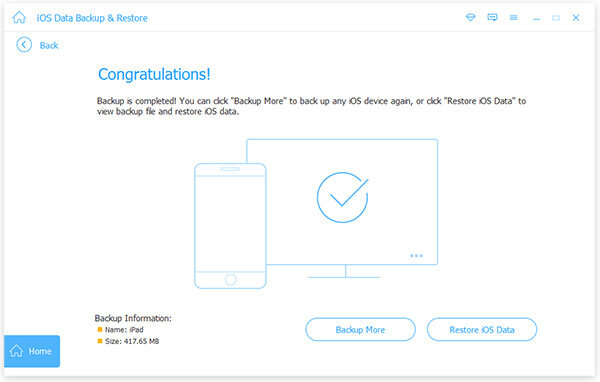 Don't miss: iPad Update Stuck – Your comprehensive guide to fix it
You can get 3 different solutions to back up an iPad or iPhone to a computer or cloud storage easily. And if you want to backup iPad without iTunes or iCloud, Apeaksoft iOS Data Backup & Restore should be your first choice. Because of its advanced iPad backup and restore features, you can keep the security of both your previous iPad data and new iPad backup files.