Currently, Smartphone has replaced notebooks in writing down important things, events, and memories by using notes on iPhone. It's powerful for keeping all sorts of things, such as one's password, an abstract for a critical meeting, a 10th anniversary date… What if all of these notes are gone one day before you know how to backup notes on iPhone? Don't urge to be desperate immediately. This article will introduce 4 efficient and easy ways to help you backup notes on iPhone.
Part 1

. How to backup iPhone notes to PC

Actually, many iPhone users who depend on Notes in business or in private largely, can easily get lost when they must backup notes on iPhone to computer. Are there any easy and convenient solutions to backup iPhone notes relying on neither iTunes nor iCloud? iOS Data Backup & Restore, a reliable tool that is worth seeking to help you to backup not only iPhone notes but also videos, photos, contacts and so on.

The program supplies the fastest way to appropriately regain lost data, such as call history, contacts, notes, photos, text messages, videos/music and so on for iPhone/iPad/iPod, etc. Moreover, it helps to transfer iPhone notes and allows you to view and edit without any effort on your PC.

Free Download Free Download

Main Features of iOS Data Backup & Restore:
1. Recover your lost or deleted data directly from iPhone 4/3GS, iPad 1 and iPod touch 4.
2. Directly get back data from iPhone X/8/7/6/5s/5c/5/4S, iPad 4/3/2/Air, iPad mini/mini 2 and iPod touch 5.
3. Recover data from iTunes backup files.
4. Restore data from iCloud backup files.
5. Preview your lost data before recovery.
How to backup iPhone notes on Computer
Step 1. Install the Software and Connect iDevice
Download and install the software on your PC from the official website. After that launch the program and simply connect your iPhone to computer with USB cable.
Step 2. Choose Mode and Start Scan
There are two recovery modes to select in the home page. If you only want to backup iPhone notes, just directly click "iOS Data Backup" and click "Start Scan". "iOS Data Restore" is for those who worried that in case losing data someday.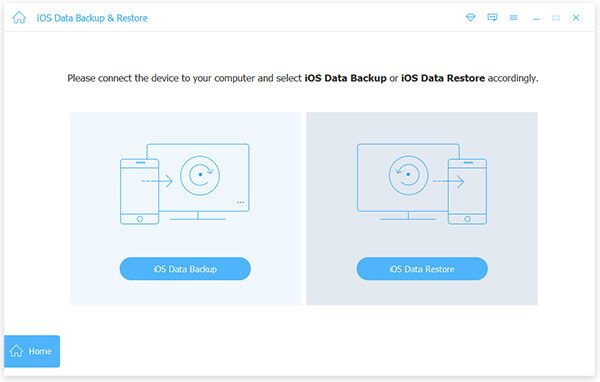 Step 3. Backup iPhone Notes on Computer
Highlight the box of Notes with a little green mark in the left, which enables you to preview the details of each item in the Notes of your iPhone device. What's more, you can select what you want to be exported and then click "Recover" button to start your iOS notes backup process. The backup notes will be soon saved conveniently on your PC.
Part 2

. How to backup iPhone notes via iTunes

When it comes to iPhone data sync, backup or export, iTunes is a good choice with no doubt. For dozens of iPhone users, iTunes must be a good way to retrieve videos, photos, data, and iOS notes. Therefore, if you want to backup notes on iPhone by iTunes, you can just follow to specific steps below.

Main Features of iOS Data Backup & Restore:

Step 1. Connect iPhone to iTunes

Open up iTunes and connect your iPhone to computer with USB cable. And then the iTunes on the computer will detect iPhone automatically.

Step 2. Backup Notes on iPhone with iTunes

After the identification of iTunes for your iPhone device is done, remember to click the "Note" button so as to locate the summary tab.

Then, if you are using Windows, click the "Back Up now" button while Mac users can just select "File" > "Devices" > "Back Up" to proceed your notes backup process on iPhone.

In this way, you will backup all data including notes on iPhone to iTunes. You can access your iPhone backup from iTunes in this post.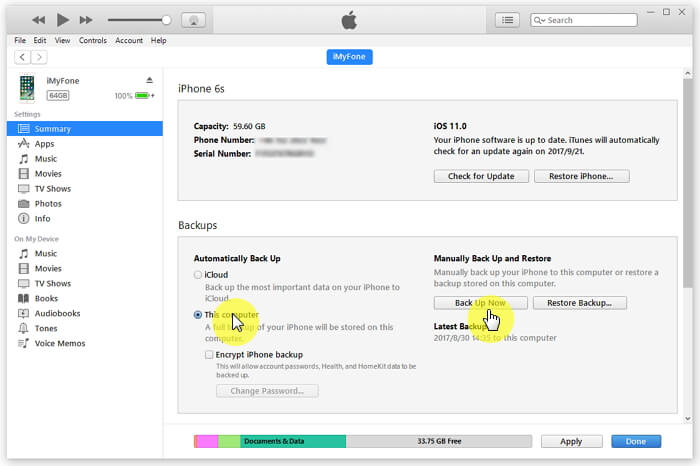 Actually iTunes backup all the files, you cannot backup iPhone Notes only. What is more, when you need to get back the backed up iPhone notes. You have to restore iPhone to delete all the contents and settings beforehand.
Part 3

. How to backup iPhone notes through iCloud

iCloud is the default cloud service to backup iPhone notes. It also enables iPhone users to backup other iPhone content automatically with ease. What is more, you can access to the backup iPhone online with any device. Just read more details and follow clear steps to backup notes on iPhone without hesitation.

Step 1. Log in iCloud on iPhone

Enter "Setting" and open "iCloud", and then log in with your personal Apple account and password as instruction. Click "Notes" in iCloud option to make it enable for backup.

Step 2. Choose a Default Medium

Turn on "Notes" option and select "iCloud" to be the default way for the purpose of backup iPhone notes. And then the iPhone will automatically upload to iCloud.

Step 3. Backup Notes on iPhone

All your notes created in this device will be easily synced to iCloud. Finally, the notes will be checked and seen in the Internet by accessing your iCloud account online.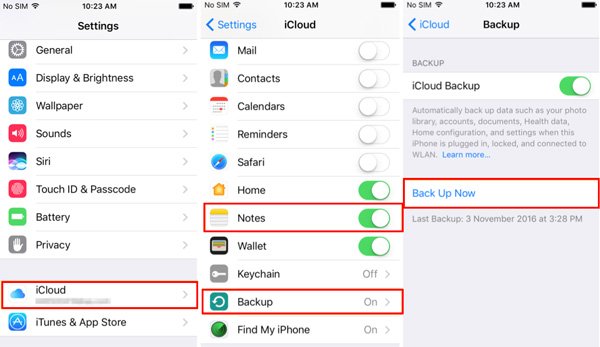 It is able to see your iPhone backup notes on your own computer, but iCloud has some limitation to export iCloud backup files, you can't export the backup notes of iPhone to computer or other devices.
Part 4

. How to backup iPhone notes to Gmail

The last way to backup iPhone notes is using Gmail, which only need the regular Gmail account. You can access to your iPhone backup notes in any device as long as you get in with your Gmail account. Now let us move on to the steps below.

Step 1. Add Gmail Account on iPhone

Go to "Settings" > "Mail, Contacts, Calendars" > "Add Account". And then select "Google" and enter your login email address and password to access and add your Gmail account.

Step 2. Turn Notes option for Backup

Make sure turn on "Notes" button in the home page, there will be a mark with green check if it is selected. Turn to the Notes App, you will find there is a new selection of Gmail among other options, so as to your iPhone notes to be synced by Gmail.

Step 3. Backup Notes on iPhone

After previous steps are all done, now your notes are ready to be synced and backed up. Go to Gmail and find a folder named "Notes" in order to check your iPhone backup notes.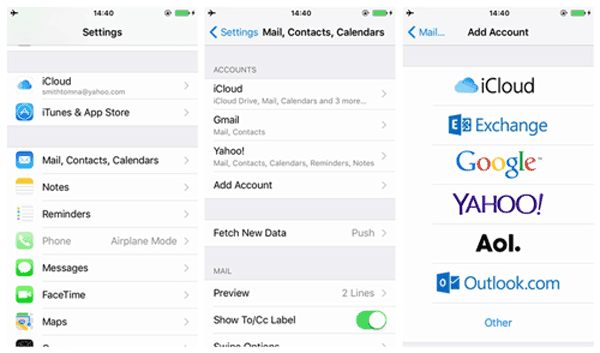 Generally, for personal Gmail account, notes are accessible. However, you can only see your notes, and add notes only to the original "Notes" folder, but you may be forbade to create new folder in your Notes App with Google account.