As we take more and more photos or pictures using our smartphones, it become important backup pictures regularly, in case your device might get damaged, or you want to free up the space or delete some pictures by mistake.

If you are looking for an easiest way to backup photos and pictures from your Android, you are in the right place. In this article, we would like to show you two ways for pictures backup. One option is to use Google Auto backup, and another is to use a recommended Android data management tool to backup pictures or photos from Android phone in Samsung, LG, HTC, Sony, Google Nexus and so on.
Part 1

. Backup pictures with Google auto backup

Google Photos is a nice choice for you to backup pictures from Android smartphones. It offers sufficient enough cloud storage for everything you would like to backup. Powerfully, the auto backup feature enables you to back up Android pictures or photos automatically. Here is a tutorial to show you how to use Google auto backup to save pictures.

Step 1. Free download Google Photos app from Google Play store on your mobile device.

Step 2. Launch the application and slide out the menu at the left side. Click the "Sign in" button to log into Google account. Then tap on the "Settings" button and enter "Backup & Sync" option.

Step 3. Under the "Backup & Sync" menu, tap on "Choose folder to backup", and you'll see all the folders containing pictures stored in your Android phone. Select any folder and you are able to backup pictures from Android to Google Photos manually.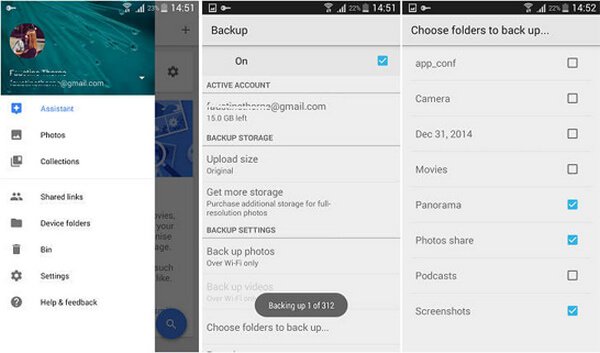 Step 4. On your computer, visit Google Photos official website, and sign into with the Google account where you've backed up the pictures. Then you can choose all the pictures or photos you've transferred from Android to the Google Photos. You are able to download pictures to computer as well.
In addition, you can do pictures backup to Dropbox or other cloud storage services according to your need. Then you can find your photos anytime and anywhere. However, to fully protect your pictures, we would like to suggest you to make a pictures backup on your computer.
Part 2:

Backup pictures with Android Backup tool

When it comes to pictures backup from Android to PC, Android Data Backup & Restore would be your best choice. As the most advanced Android data management tool, the program enables you to selectively or wholly backup pictures and other files like contacts, SMS messages, call logs, videos, etc. from Android phone.

Key features:

• Selectively or wholly backup and restore Android pictures to your computer.

• Preview photo backup.

• Support backup Samsung Galaxy S7/6/5/4, Samsung Galaxy Note Edge/Note, HTC, LG, Moto X, Moto E, Moto G, Xperia, Huawei, Xiaomi and more.

Step 1. Choose Device Data Backup

Open FoneLab for Android, choose "Android Data Backup & Restore" feature in the left module, then choose "Device Data Backup" button. Connect your Android phone to PC via a USB cable.
Notes: One click Backup enables a whole backup of all your Android data.
Step 2. Select Data type (Gallery)
Wait until your Android phone was detected automatically. Then you'll be asked to select data type to back up. Here you need to select "Gallery". All photos and pictures are included in the Gallery.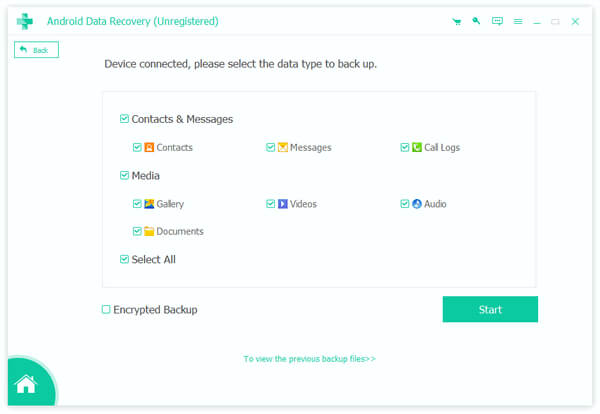 Note: If you want to make an Encrypted Backup for your Android pictures, you need to set a password. Keep well the password, as you will use it whenever you want to restore pictures from the encrypted backup.
Step 3. Backup pictures on Android
Click "Start" button, then you'll see a Backup File Output popping up. Confirm the backup folder, and click OK button. Wait for seconds, then you'll see the pictures all backed up in your computer.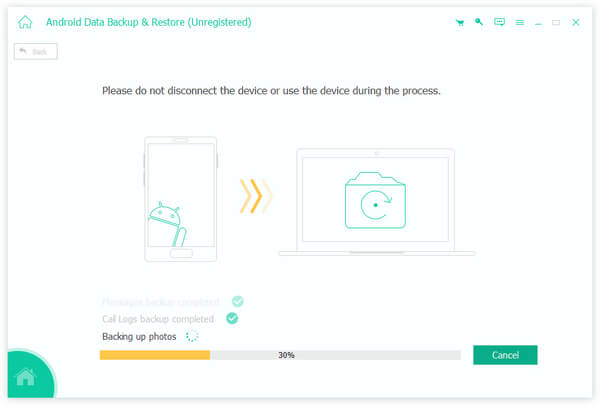 If you want to check or restore your pictures backup, go back to "Android Data Backup & Restore", and select "Device data Restore". Then you can preview pictures in the backup and selectively restore any picture you want.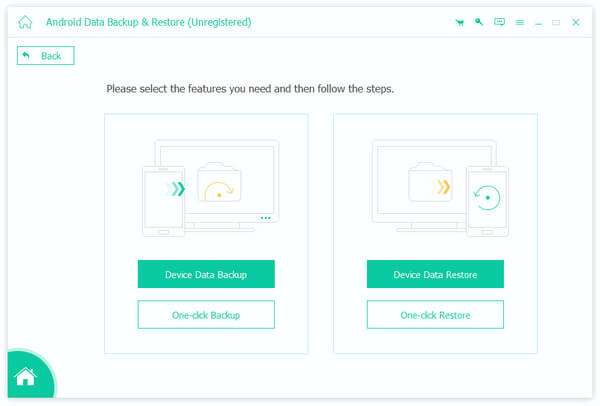 Don't miss: How to save Kik messages on Android or iPhone
In the following article, we have mainly showed you how to backup pictures on Android phone in 2 ways. One is to use Google Photos, and another is to use the best Android Data Backup & Restore.