Contacts on your portable iOS/Android device are very essential. It will be troublesome if some important contacts are mistakenly deleted or lost due to device system upgrade, or anything else. So it's quite necessary to backup contacts on your iPhone or Android phone.
Surely, you won't want to input and back up contacts one by one. At that time, you should turn to an easy-to-use contacts backup app. This post will introduce you with some great contacts backing up apps to help you get the job done. Now you can keep reading to backup contacts on your iPhone or Android device.

Part 1

. iPhone contacts backup app to backup contacts

For iPhone contacts backup, there are many ways for you. The two main methods for most iOS users to back up contacts are through iTunes or iCloud. It seems convenient for contacts backup with iTunes or iCloud. However, once you want to restore contacts from iCloud or iTunes backup, all the current data on your iPhone will be overwritten, you don't want that happen, right? To better backup and restore contacts on iPhone, here we introduce two easier methods.
Best contacts backup app for iPhone/iPad/iPod (Backup contacts to computer)
Why not choose to backup iPhone contacts to computer? In that way, you need one software to help you. iOS Data Backup & Restore is highly recommended.
Key features of this contacts backup app:
• Backup contacts on iPhone safely and selectively.
• Restore any contact to iPhone or to PC from the backup file in case of information lost.
• Preview name, phone, email, company or other information before contacts backup & restore.
• Fully support all iPhone/iPad, including iPad, iPad Pro, Air 5/4/3/2/1, mini 6/5/4/3/2/1, iPhone 15/14/13/12/11/XS/XR/X/8/7/6, etc.
In the following steps, we take contacts backup on Windows as the example to show the steps. If you want to backup contacts from iPhone to Mac, just click here.
Step 1. Free download this iPhone contacts backup app and choose iOS Data Backup & Restore feature.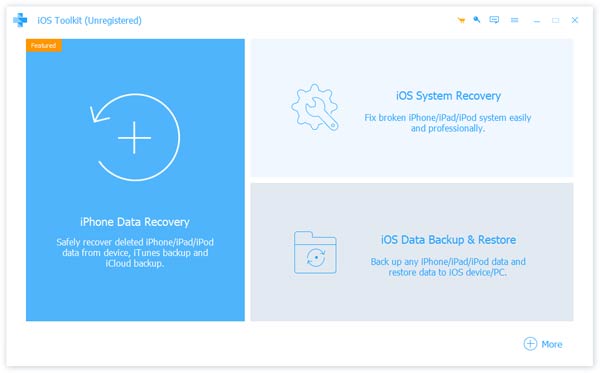 Step 2. In order to backup contacts on iPhone, connect your iOS device to your computer, and then select iOS Data Backup option.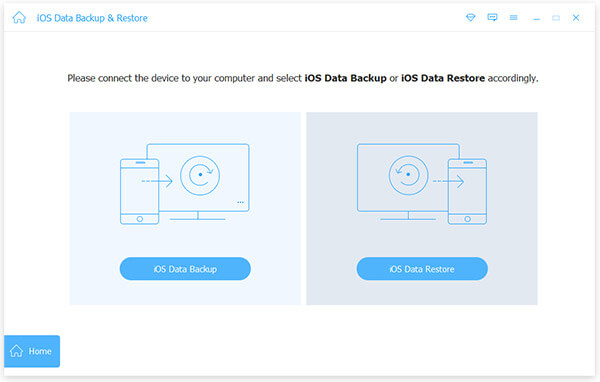 Step 3. Wait until your iPhone was detected by the program automatically. Then click Start button after you choose Standard backup or Encrypted backup.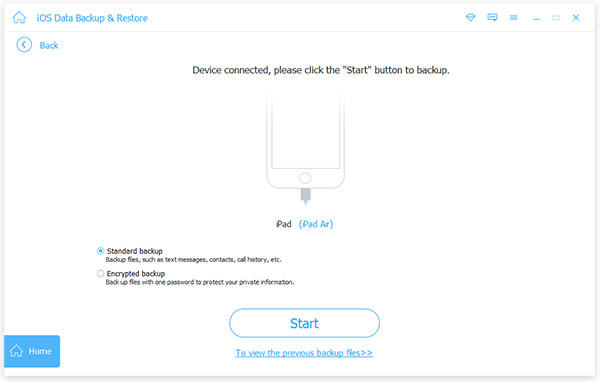 Select file type you want to backup. Here just choose Contacts.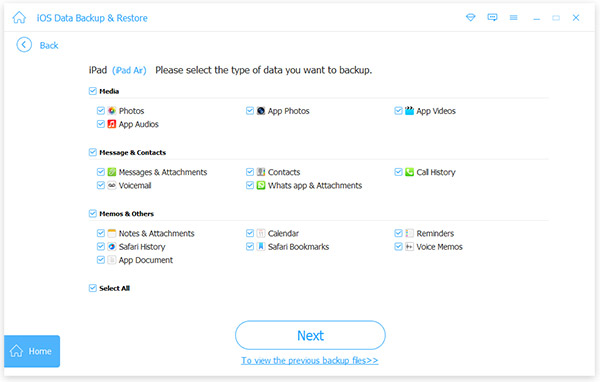 Note: You can also choose the default Standard backup option to iPhone Encrypted backup in order to protect private information.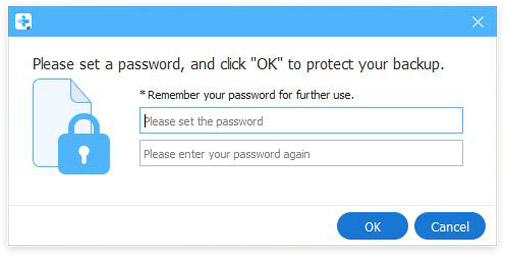 Step 4. Backup iPhone contacts
Click Next button, and confirm the backup path in the pop-up window, then click Backup button to save your backup files in the local disk.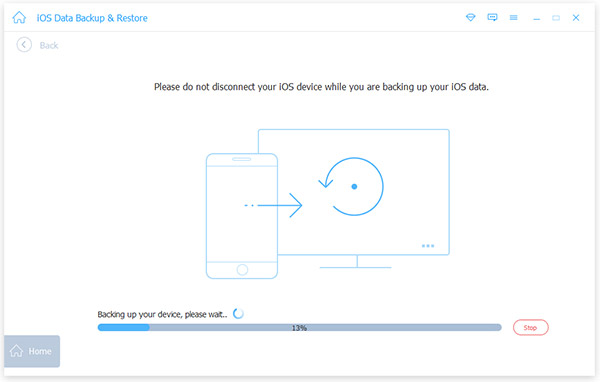 The above method tells you how to backup data currently stored on your iPhone. However, you may get the question:
"if I deleted data like iMessages, can I back up the deleted items?"
Of course, you can. Just visit this page to backup deleted iMessages.
Contacts backup on iPhone with My Contacts Backup
To directly backup contacts on iPhone, you can use a contacts backup app, like My Contacts Backup. We are going to take My Contacts Backup as an example to show you how to backup iPhone contacts.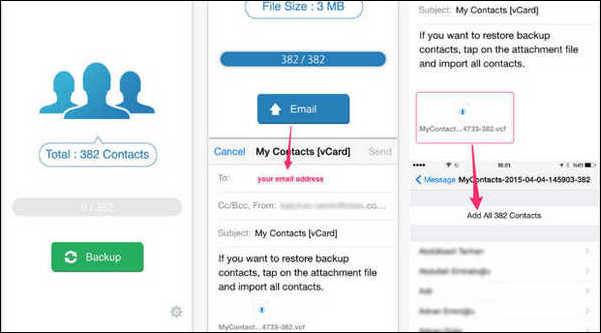 Step 1. Download and install "My Contacts Backup" app from App Store.
Step 2. Open "My Contacts Backup", it should automatically detect and scan all your contacts. Tap on the "Backup" button and wait till it completes contacts backup.
Step 3. Tap on the "Email" button and the application will send an email with the contacts copy. You can save this email in a folder on your phone or on your computer.
With My Contacts Backup, all backup contacts will be saved in a vCard file, so that it will be convenient if you want to restore the contacts to iPhone.
Part 2

. Contacts backup app for Android

You are able to backup Android contacts with the two following contacts backup apps. One is Gmail, another is the famous Android Data Backup & Restore.
Common Android contacts app to back up contacts to Gmail
Step 1. Go to your Android phone and tap on "Settings" app on the screen.
Step 2. In Settings, go to "Account" > "Google Account" > "Contacts" and it would automatically sync and backup your contracts on Android to Google account.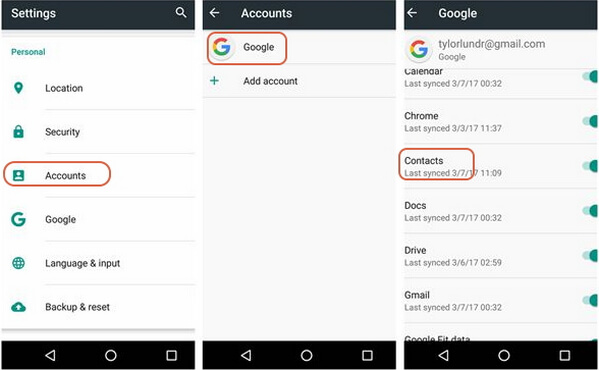 Step 3. Sign into Gmail on your computer, and click "Contacts", you can see that all your device contacts have been made a backup to Gmail. Click "More" button and you can export Gmail contacts to computer if you want.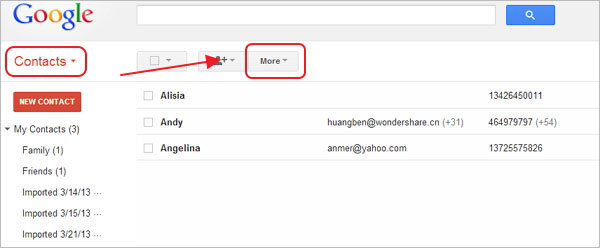 Check this post to learn more information about how to backup iPhone contacts to Gmail.
Method 2. Contacts backup with Android Data Recovery
Android Data Recovery is a powerful android data backup and management program. It is very easy for you to backup contacts on Android phone to computer, but also work well in restoring contacts .
Key features of this Android contacts backup app:
• Copy and transfer Contacts from Android to computer safely and selectively.
• Backup Contacts from Android as vCard file, CSV file or TXT file.
• Restore contacts to android phone any time.
• Support any Android models, including Samsung, HTC, LG, Huawei, Sony, Sharp, etc.
In the following stesp, we will take backup iPhone cotacts to Windows computer as the example. If you want to backup iPhone contacts to Mac, visit here.
Step 1. After downloading, install and open this contacts backup app for Android, choose Android Data Backup & Restore feature from the left module. Click Device Data Backup on the main interface if you want to selectively backup Android contacts. One-click Backup option will let you backup all data from your Android phone, including contacts, messages, gallery, videos, call history, etc.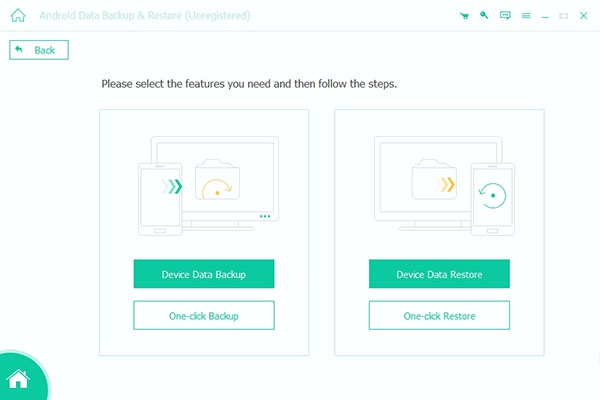 Step 2. Connect your Android phone to your computer. Then you'll be asked to select data type to back up. Here you need to select Contacts.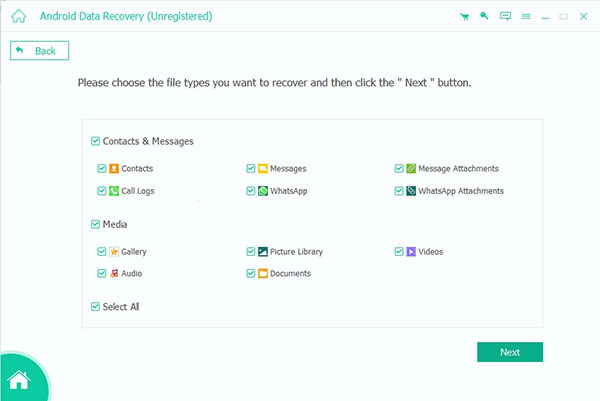 Notes: You can also check Encrypted Backup to better protect your contacts backup. But you need to keep the encrypted password well as you'll need it whenever you want to restore contacts.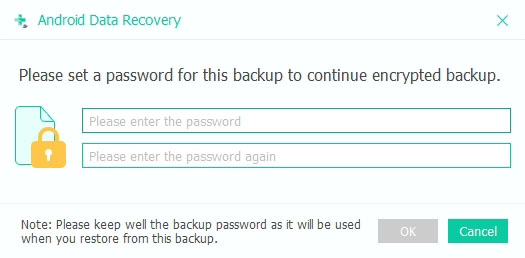 Step 3. Click Start button, then you'll see a Backup File Output pop-up. Set the path for saving the backup file and click OK button. Wait for seconds, and the program will soon manage to backup your Android contacts.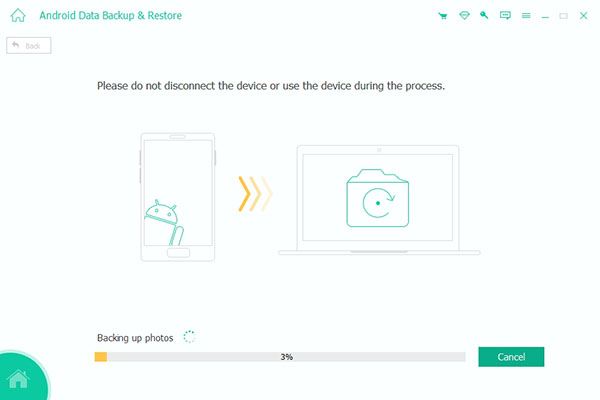 After making the contacts backup, you can restore contacts on Android here with this software.
In this article, we have mainly talked about contacts backup apps. Whether you are using an iPhone or Android phone, the recommended 4 contacts backing up tools can help you keep your valuable contacts safe. Please tell us in the comments if you have any better recommendation.