Although iPads are still the most popular tablet products, it does not mean that the users won't encounter any problems. The biggest challenge is to get rid of the junk files and app cache data. It is well-known that iOS does not provide any functionality to clean up iPad memory. In another word, you need a third-party iPad cleaner program to help you manage data and clear memory. This article identifies and shares a top list below.

iPad Cleaner
Part 1: Top 5 iPad Cleaners
Top 1: Apeaksoft iPhone Eraser
Apeaksoft iPhone Eraser is one of the best iPad cleaner software. It is very flexible. For beginners, the well-designed interface allows you to find what you want easily. Advanced users can get the desired result with a variety of custom options.
Pros

Easy to use.
Find duplicate, large files, and more.
Delete app cache, junk files, unwanted apps, etc.
Erase iPads and iPhones in one click.
Cons

After the free trial, you have to purchase a license.
Top 2: Macgo iPhone Cleaner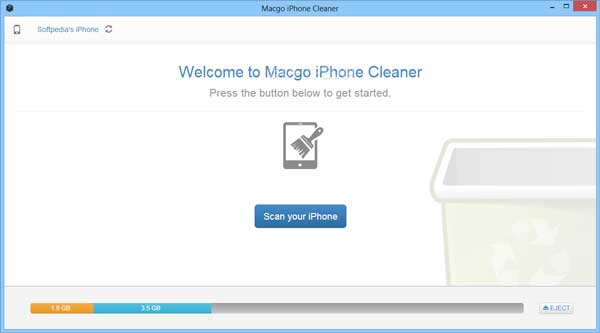 Macgo iPhone Cleaner is a powerful iPad cleaner program running on Windows. It can clean up most junk files from memory, free up storage space, and improve performance. Anyway, it is an indispensable tool for iPad users.
Pros

Clean up junk files on iPad.
Manually manage files.
Available to messages, call history, contacts, etc.
Reclaim space without deleting precious information.
Cons

It has not been updated for years.
Some features still need improving.
Top 3: iFreeUp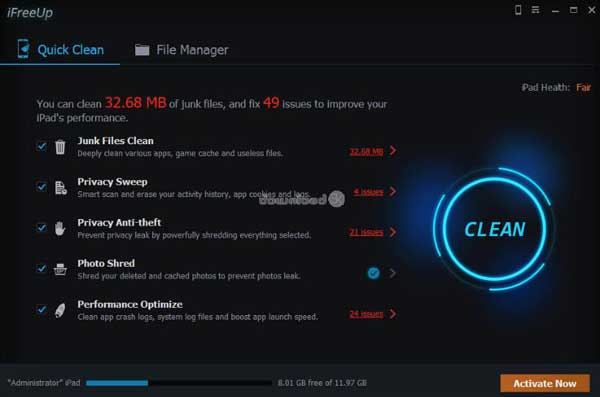 iFreeUp is not only an iPad cleaner but also a useful tool to protect your privacy. It is an important tool to optimize iPad performance. Moreover, it is built in a file manager that deletes, back up, and transfers files between an iPad and a computer.
Pros

Clear cache, cookies, logs, and more.
Remove user activity history from iPad.
Prevent unauthorized users from data recovery.
Clean up selective files.
Cons

It requires iTunes installed on your machine.
The full version costs $14.99.
Top 4: iMobie PhoneClean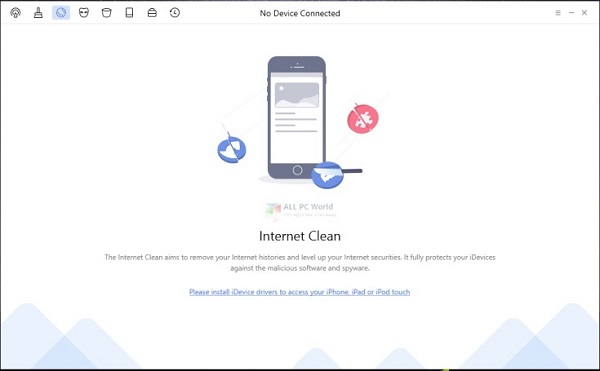 iMobie PhoneClean is another iPad cleaner worth you using. Before you give your iPad to another person, it can help you to delete sensitive data with zero recovery rate. Plus, you can use it regularly to free up space.
Pros

Scan and delete specific files from the iPad.
Optimize iPad performance.
Include a silent clean mode.
Support a wide array of data types.
Cons

The free trial is limited.
The interface makes beginners confused.
Top 5: CleanMyPhone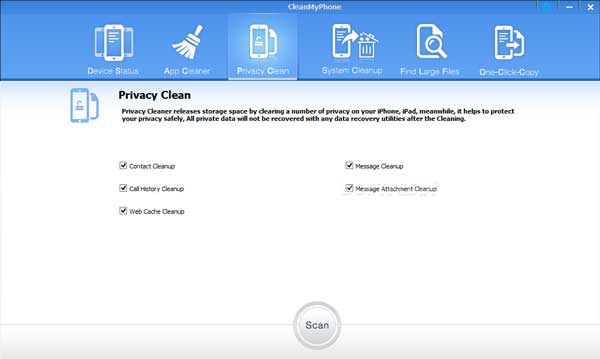 Although it is called CleanMyPhone, it is an iPad cleaner program. It can manage and delete videos, photos, contact details, audio tracks, and calendar entries from iPad memory. That is an important way to keep your handset running fast.
Pros

Clean up iPad memory.
Support a variety of data types.
Compatible with most iPad models.
Scan iPad memory automatically.
Cons

It cannot manage app data.
You cannot preview file detail before deleting them.
Part 2: How to Clean up iPad
An iPad cleaner program can be used in a variety of situations. It should protect your privacy, remove junk files, and delete unwanted data. However, how to get it? We show you how to clean up the iPad using Apeaksoft iPhone Eraser.
Step 1Connect iPad to computer
Launch the best iPad cleaner software as long as you install it on a computer. It is compatible with Windows 10/8/7 and Mac OS X. Connect your iPad to the same computer using a Lightning cable and your device will be recognized immediately. We suggest you use the Lightning cable that came along with your iPad to protect your device.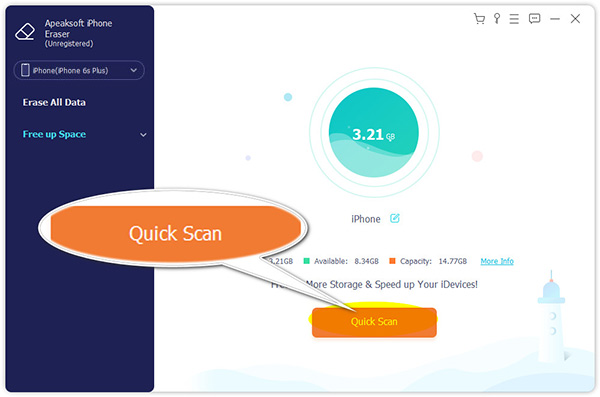 Step 2Clean up iPad
After device detecting, you will be presented with the main interface. Now, you have two options:
Erase All Data: If you intend to give your iPad to another person, choose to Erase All Data from the left-hand column. Then select an erasing level, like Low, Middle, and High. Click the Start button, enter 0000 into the box, and click the Erase button. Then all personal data and settings on your iPad will be deleted and overwritten.
Free up Space: To clean up iPad memory without deleting important files, choose to Free up Space from the left side. Click the Quick Scan button to begin scanning your iPad. Then you can decide to Erase Junk Files, Uninstall Applications, Delete Large Files, or Clean up Photos by hitting each Erase button.
When you are done iPad clean-up, you can use your iPad as usual.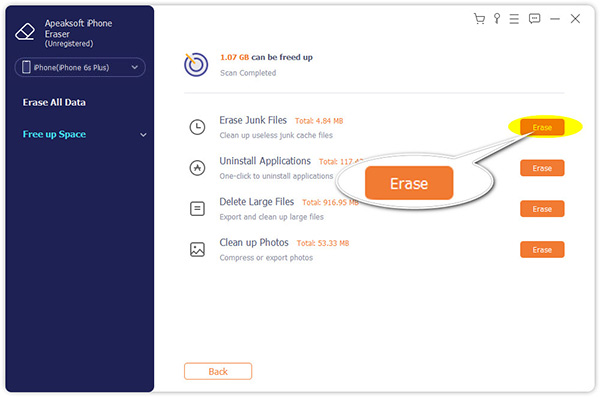 Note: During the process, you should keep your iPad connecting to the computer.
Extended Reading:
Part 3: FAQs about iPad Cleaner
Do I need a cleaner for my iPad?
Since iOS does not provide the built-in feature to clean up iPad memory, it is worth you looking for a cleaner app or program. It can protect your privacy and improve your performance.
Can I use alcohol wipes to clean my iPad screen?
Alcohol can probably damage the coating on the iPad display. Therefore, it is not recommended to clean your iPad screen with alcohol wipes or relative materials.
How to clean a virus from an iPad?
The easiest way to get rid of the virus from the iPad is to perform a factory reset. However, it deletes all data including your files and apps. Also, you can use an iPad cleaner program to get the same purpose.
Conclusion
Following our article, you should master at least the top 5 best iPad cleaner programs for Windows and Mac. They help you to remove unwanted and junk files from memory and keep your iPad running fast. Apeaksoft iPhone Eraser, for example, allows you to erase your iPad and bring it to the factory status, or just delete unwanted data while protecting the personal files. If you have better recommendations or other questions, please feel free to leave a message below this post and we will reply with it as soon as possible.