It is essential for iPhone users to clean app cache data frequently. Unfortunately, there is no built-in functionality to get rid of junk files from iOS devices. Whether it is photos, videos, documents, or files that you no longer need, it can get overwhelming to keep up with all the different data. As result, you have to look for an iPhone app memory cleaner. This article shares a top list below.

Best iPhone App Memory Cleaner
Part 1: Top 5 iPhone App Memory Cleaners
Top 1: Smart Cleaner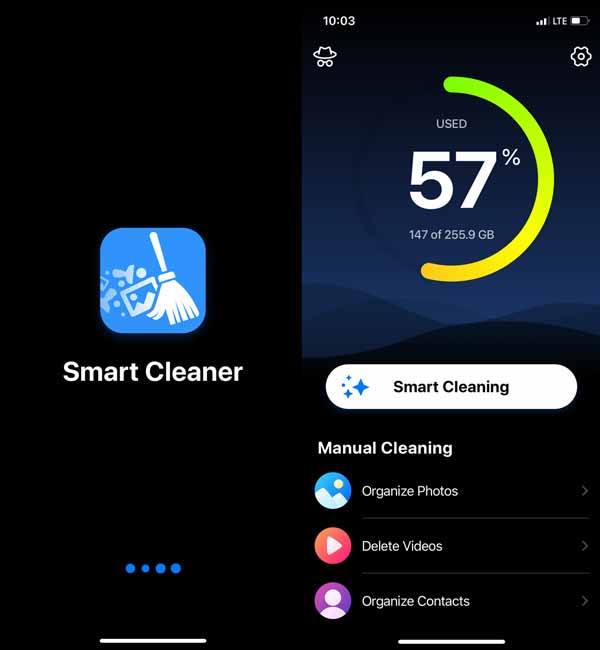 Smart Cleaner is a free iPhone memory cleaner app. It is efficient enough to find and remove unwanted contacts, free up space, delete duplicate contacts from iPhone. It equips a very easy to understand interface too.
PROS

1. Free to use.
2. Clean a variety of data types.
3. Show you storage status.
4. Merge duplicate contacts automatically.
CONS

1. It cannot find large files.
2. It is available in limited languages.
Top 2: iCleaner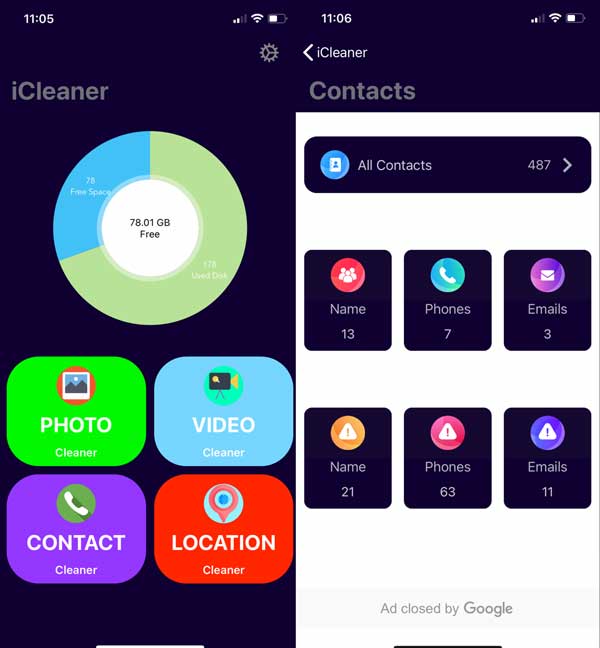 iCleaner is another free app to clean iPhone memory without a computer. It can scan your memory, and find duplicate photos and videos. Plus, you can use these features for free by viewing ads.
PROS

1. Free to download.
2. Clean duplicate photos and videos.
3. Easy and straightforward to use.
4. Scan iPhone memory quickly.
CONS

1. There are lots of ads.
2. The only way to eliminate ads is to upgrade.
Top 3: Cleaner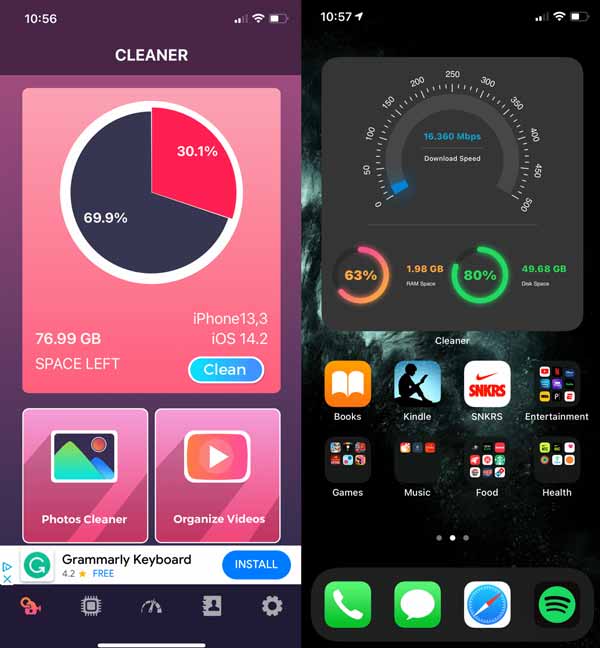 Cleaner is both an iPhone memory cleaner app and a software monitor. It can scan your memory, look for duplicate photos, contacts, and more, and enable you to delete or merge them quickly.
PROS

1. Monitor iPhone status.
2. Clean up duplicate files.
3. Offer a monitor widget on iOS 14.
4. Provide a pro version.
CONS

1. The free version comes with limited features.
2. It includes ads.
Top 4: Boost Cleaner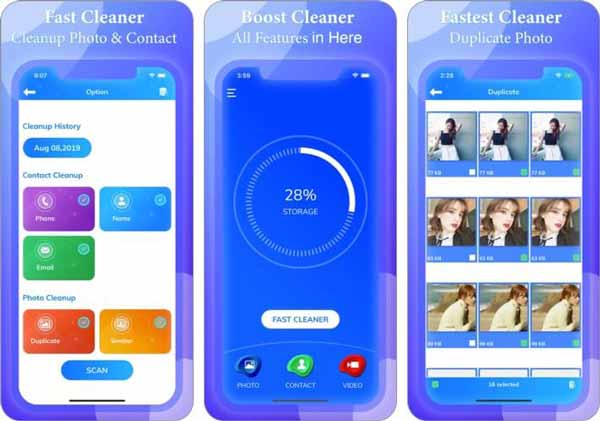 If you prefer a concise interface, Boost Cleaner is a good choice to clean iPhone memory. Once you open the app, it tells you how much storage you are using on your handset. Then you can decide to clean up the memory.
PROS

1. Clean iPhone memory quickly.
2. Offer two cleaning modes.
3. Show you the content that can be cleaned.
4. Delete duplicate and large media files.
CONS

1. The full features cost $9.99 per month.
Top 5: iRemover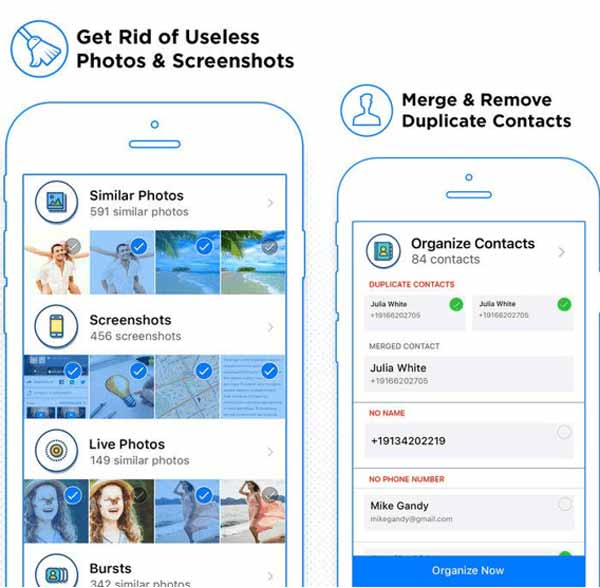 As its name indicated, this app helps you to clean iPhone memory by removing unwanted files, such as duplicate photos, contacts, screenshots. More importantly, it creates backups before cleaning up.
PROS

1. Organize iPhone memory easily.
2. Make backups to avoid data loss.
3. Free up space on iPhone.
4. Offer a free version.
CONS

1. It is only available to limited data types.
Part 2: How to Clean iPhone App Memory with a Computer
The iPhone memory cleaner apps are just a simple way to free up space. If you intend to clean up app cache and data from iPhone, Aspeaksoft iPhone Eraser is a good choice. Moreover, it is pretty easy and does not require technical skills.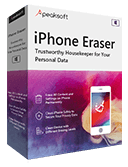 4,000,000+ Downloads
Clean iPhone memory with a computer.
Delete junk files, large files, and more.
Preview the files before deleting them.
Available to a wide range of data types.
How to Clean iPhone Memory
Step 1Connect iPhone to computer
Launch the best iPhone memory cleaning software after installing. Next, connect your iPhone to the same computer with a Lightning cable. Then it will be detected automatically.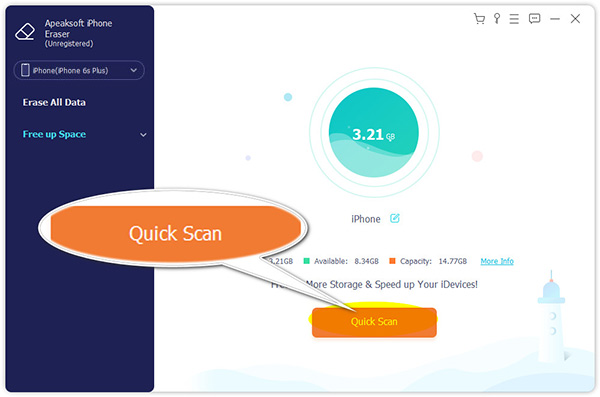 Step 2Clean iPhone memory
Select the Free up Space option at the left side, and click the Quick Scan button. After scanning, you will be presented with the data that can be deleted. Click the Erase button next to the desired data type and clean iPhone memory. Wait for the process to finish and remove your iPhone.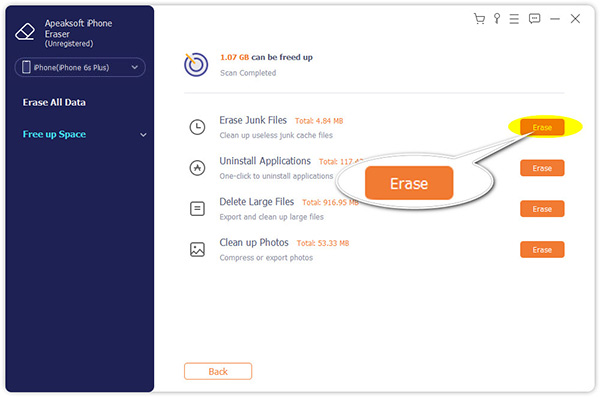 Part 3: FAQs about iPhone App Memory Cleaner
Do I need a cleaner app on my iPhone?
Most iPhone users need a cleaner app since iOS does not include the functionality involved. It means that you have to use a third-party app to free up space.
How to clear the cache on iPhone?
You can only clear the Safari cache in the Settings app. When it comes to third-party apps, you have to use the built-in cache cleaning feature to clear iPhone cache.
Why does my iPhone become slower and slower?
The most common factors behind slow iPhones include bloatware, unused apps, outdated software, and overloaded storage space. You can clean junk files to improve performance.
Conclusion
This article has identified and shared the top 5 best iPhone memory cleaner apps. They can help you free up iPhone space by deleting duplicated photos, contacts, and videos easily. If they are not available to you, try Apeaksoft iPhone Eraser directly. More questions? Please leave a message below this post.