With the accumulation of usage traces, a large number of temporary files may slow the performance of your iPhone or iPad. Can CCleaner remove the temporary files and optimize the iOS or iPadOS? Actually, because of the sandboxing restriction, CCleaner is not available on iOS devices. But it does not mean you cannot remove cache or duplicated files from your iPhone. Just learn more about how to delete temporary files with the best CCleaner for iPhone alternatives from the article.

CCleaner for iPhone
Part 1

. Why Do You Need CCleaner for iPhone

When you need to find a CCleaner for iOS alternative, you need to know the related features beforehand. As the first cleaning software released for PC, it is a popular method to delete unnecessary junk, clean your browser, find duplicates, analyze photos, and uninstall apps. Moreover, CCleaner enables you to disarm the virus before it had done any harm.

For cleaning your browsing history on iPhone, you can simply clear history and website data from the Settings app without an extra app. Of course, you can use a similar process to uninstall apps and delete unnecessary junk. But it is impossible to remove the virus file or clean up all files on your iPhone directly without CCleaner for iPhone.
Part 2

. Best Alternative of CCleaner for iPhone

When it comes to cleaning up apps and optimizing your iPhone, Apeaksoft iPhone Eraser is the all-in-one CCleaner for iPhone alternative to wipe out all content and settings on iOS devices. It enables you to remove all applications without any track, speed up/optimize iPhone storage, clear caches and browsing history, and turn the iPhone into a new one. Moreover, you can erase more than one iOS device simultaneously to save time.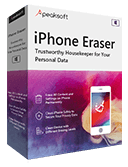 4,000,000+ Downloads
Compatible with almost all iOS systems and devices.
Speed up slow Safari, clear search on Instagram, and more.
Erase all content and settings on iOS devices permanently.
Provide reliable technology to overwrite data on iOS devices.
How to Clean Virus Files as CCleaner Alternative
Step 1: Download and install Apeaksoft iPhone Eraser on your computer. Plug your iPhone into the computer via the original Lightning cable. Launch the program and it will automatically recognize your device.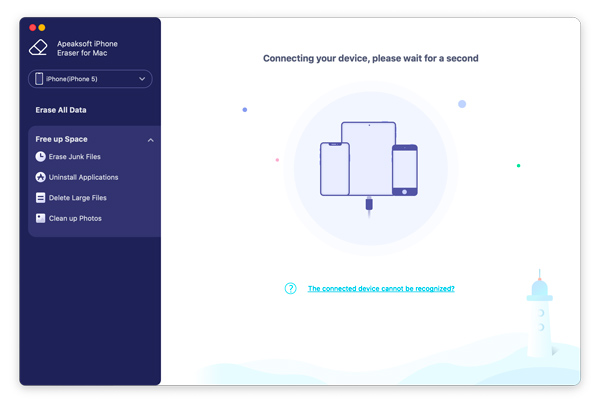 Step 2: Click the Erase All Data button and choose an appropriate erase level according to your situation from the 3 options related to erase level, including Low, Medium, and High.
Note: The High-security level adopts DoD 5220.22-M wiping standard that can help you erase private data like password files and bank records.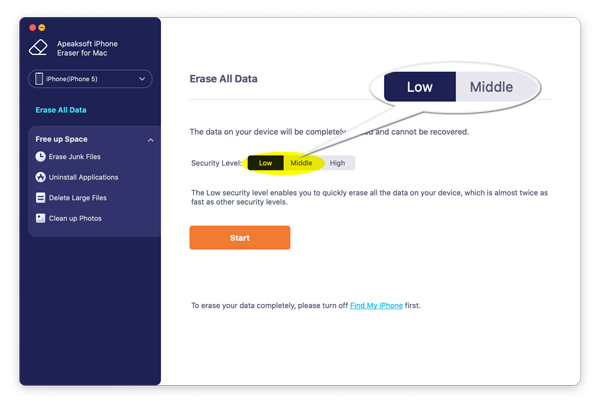 Step 3: Once you have made your selection, click the How to Remove Junk Files on iPhone as CCleaner button to clean up all the data on your iPhone. When the process finishes, you can disconnect the iPhone and enter 0000 to confirm the delete operation.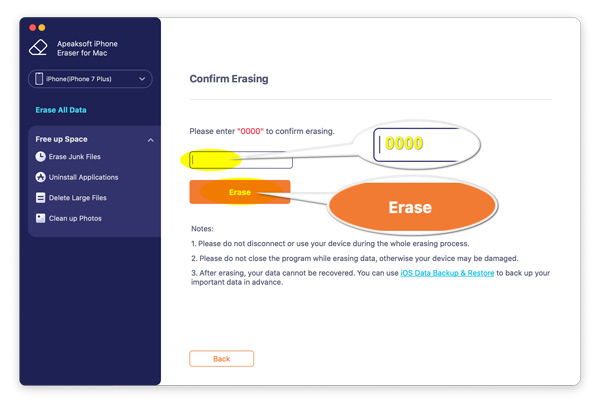 How to Remove Junk Files on iPhone as CCleaner
If you want to deal with temporary files on your iPhone as CCleaner, you can choose the Free up Space option. It enables you to erase junk files, uninstall applications, delete large files, and clean up photos. Just learn more about the process as below.
Step 1: Click the Free Up Space option from the left sidebar. Choose the Quick Scan mode to start scanning the cache files from your iPhone. After that, you can find the scanned files.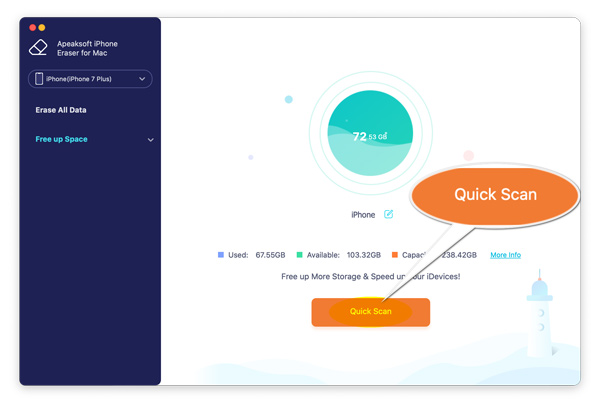 Step 2:Check the cache files you want to delete and click the Erase button to clean them up. Moreover, you can also uninstall applications, delete large files, and even clean up photos on your iPhone.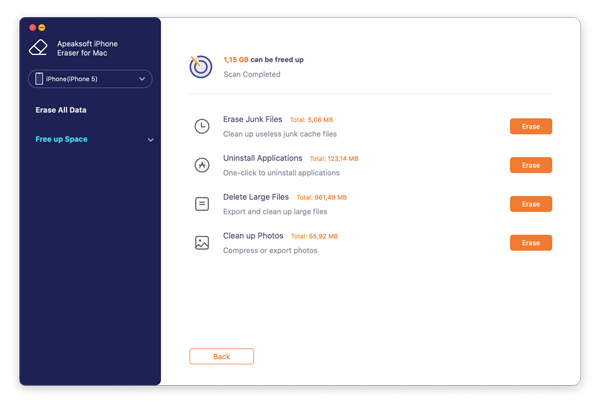 Part 3

. Can You Smart Cleaning iPhone Data as CCleaner

Yes. When you need to clean up the files as CCleaner, Smart Cleaner is the best alternative with both smart cleaning and manual cleaning. Besides the basic features to remove the unwanted cache files, it also allows you to hide some private photos, videos, audios, contacts, and documents.

Step 1: When you need to create the duplicated photos, remove caches, and uninstall some unwanted apps, you have to enable the CCleaner alternative to access your iPhone.

Step 2: Once you have installed the app, you can launch it and choose the Photos option to scan for the duplicated photos on the iPhone. You can get similar photos in a row.

Step 3: Tap the Select All button and choose the Delete Selected button to remove similar photos. It will remove the photos from iCloud Photos on all your devices within one click.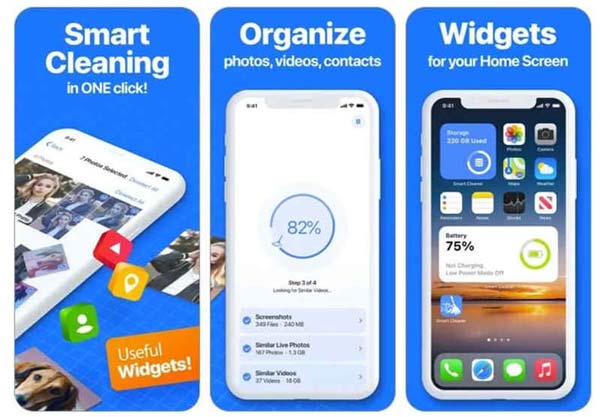 Part 4: FAQs about CCleaner for iPhone
1. Does iPhone need a cache cleaner?
Yes. Your iPhone might get clogged up with useless files from Safari and other apps. All these files end up in your iPhone's cache and eventually slow it down. It is the reason that you need to clear your iPhone's cache from time to time with a professional cache cleaner.
2. When should I clean up app data on iPhone?
You can monitor how much space each app takes up in the Settings app on your iPhone. When the app data is larger than 500MB, you have to clean it up with CCleaner for iPhone or alternatives. Moreover, you can take process when your iPhone or iPad is slowing down.
3. How to clean temporary files with CCleaner?
Once you have entered CCleaner, a series of options will be provided, such as history, cookies, and recently typed URLs, check the desired ones you want to delete, and click the Analyze button to scan. Click the Run Cleaner button to remove cache or Internet history on iPhone.
Conclusion
What should you do if you cannot find the CCleaner for iPhone? Here is the ultimate guide you should know. Because of the Sandbox restriction, you can only find some duplicate photos with iOS apps. To remove cache files and enhance the iPhone performance, Apeaksoft iPhone Erase should be the ultimate solution you should not miss.