If your Android phone runs slower than usual, or you find something different, you need to check if there is a virus of your phone. Actually, not only Android malware but also other factors can make your phone or tablet be infected. As a result, your personal information and privacy would be stolen.

Therefore, once you find any Android virus warning, you should delete virus from phone as soon as possible. Well, do not worry if you have no experience about viruses. This article offers a complete guide of how to delete virus from phone. Thus, you can get step-by-step ways to remove virus from phone memory card or other places with ease.
Part 1. How to Check Your Phone for Viruses/How do I Know My Phone Has a Virus
The first question you should solve is to check your phone for viruses. In another word, it is important to distinguish the virus warning on Android phone. Well, the followings are common symptoms of a virus infected phone.
Rapid depletion of data usage.
Unexpected crashing apps.
Frequently pop-up ads.
Unexplained charges in "SMS" and other categories.
Unwanted apps that you do not download manually.
Battery drains extremely.
There are also other related symptoms about virus. As a result, you can use above items to check your phone for viruses successfully.
Do not miss this article: How to clean cerber on computer with ceber decryptor.
Part 2. Android Virus Removal Tool
Here are two anti-virus applications you can take to check and remove virus from Android phone. Furthermore, those Android virus removal tools can protect your smart phone from malicious content effectively.
AVG AntiVirus 2018 for Android Security – Protect Your Phone from Viruses and Malware
You can delete virus from phone by using AVG AntiVirus app easily. It offers App lock, photo vault, Wi-Fi security scan and App permissions advisor features. Moreover, you can get much more effective functions to extend battery life and improve its performance.
Scan apps, games, settings and files in real-time mode.
Use encrypted vault to hide private photos.
Lock sensitive apps.
Clean unnecessary files.
Boost speed.
Scan Wi-Fi networks.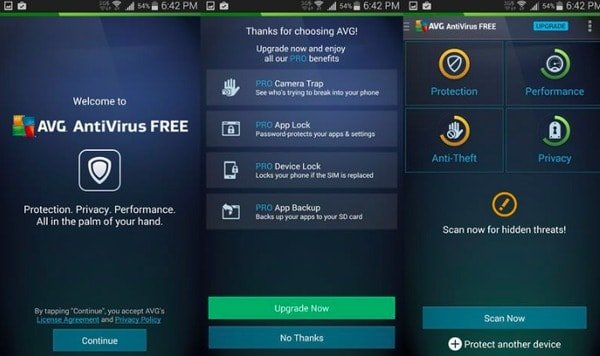 Therefore, this Android virus removal tool can safeguard your smart phone instantly and safely.
McAfee Total Protection – Keep Android phone Safe with Your Windows PC
McAfee is a useful virus removal program, which can protect Windows, Mac, Android and iOS devices. Moreover, you can keep all used names and password safely.
Use anti-SPAM to block annoying and dangerous emails.
Run encryption software to protect your privacy.
Offer parental control.
Prevent Android and other devices from spreading malware and SPAM.
Delete sensitive digital files permanently.
Remove virus like Safe Finder, etc., on Mac, Android phone, etc.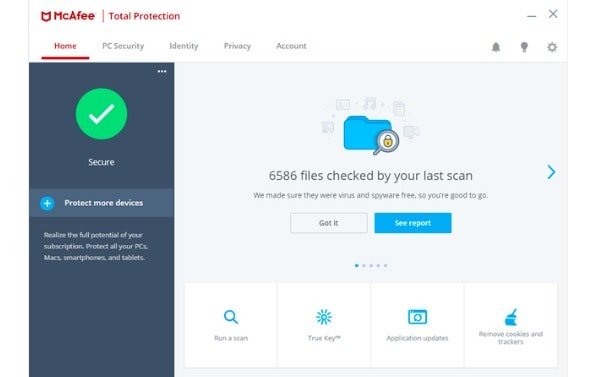 Therefore, you are able to remove malware from Android phone on PC with McAfee as well.
Part 3. How to Remove Virus from Android Mobile Using PC
There are many desktop anti-virus software you can take to delete virus from phone on PC. However, you need to pay certain fees per year to clean virus off phone and protect all your digital devices. And McAfee is your smart choice. Just as above has mentioned, you can get much functions to remove Android virus.
Step 1. Run McAfee Total Protection on PC.
Step 2. Connect Android to PC with a lighting USB cable.
Step 3. Click "Run a scan" to check your phone for viruses.
Step 4. Choose "Done" and take other measures when full scan is done.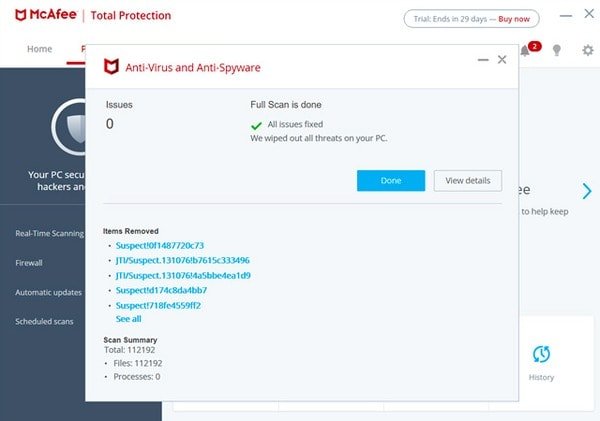 Once McAfee detects there is a virus on your Android phone, it can access your computer and delete Android virus remotely. And you can turn on real-time protection as well.
Part 4. How to Remove Virus from Samsung Mobile
If you are sure that your Android device is infected by a virus or malware, then you can follow methods below to remove virus from phone memory card without antivirus.
Step 1. Put Android phone in Safe Mode
By entering into safe mode, you can stop malware from running in your phone temporarily. So you can press Power button to see the menu of "Power off" and other options. Choose "Power off" and hold the Power button again. Do not release this button until the notification of "Reboot to safe mode" appears.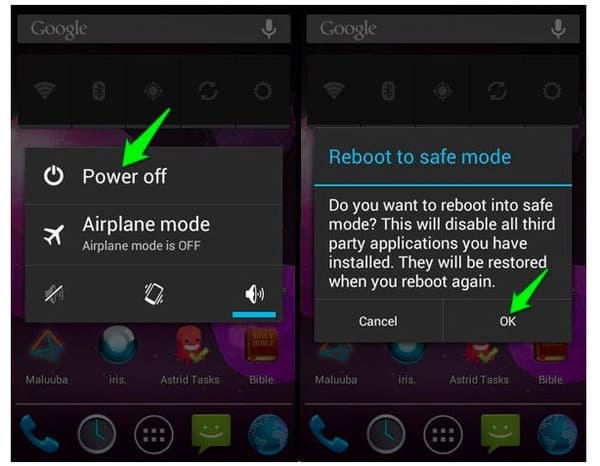 Step 2. Clean All Running APPs
"Settings" app and choose "Apps" or "App Manager". Later, click "Running" and then you can see a list of running applications. Just visit every app and choose "Stop".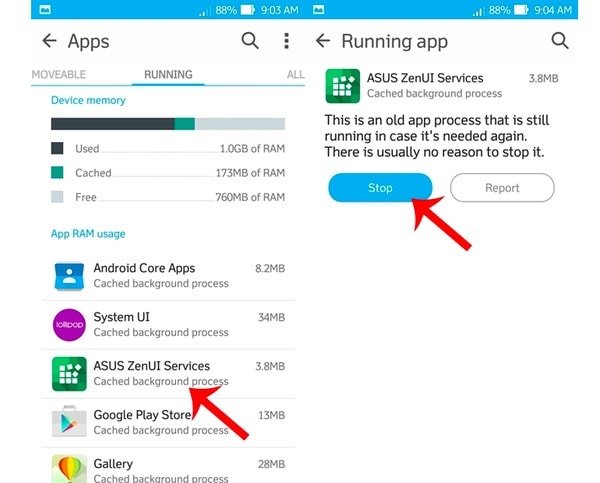 Step 3. Clear Cache and APP Data
You can also clear cached data to protect your privacy. Open "Settings" and choose "Storage". Later, click "Cached Data" and click "OK" to confirm. If the malware hides in the cache storage, then you can delete virus from phone memory successfully.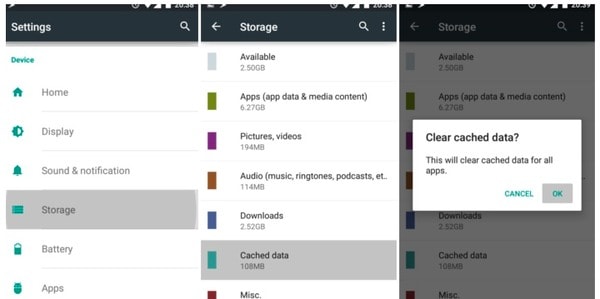 Step 4. Uninstall Malicious APPs
If you find a malware, then you can remove the malicious app from Android manually. Just hold the certain app and choose "Uninstall" to remove virus from Samsung mobile and other portable devices.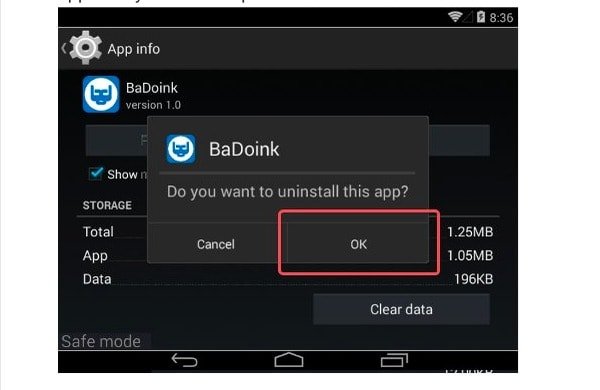 You can also factory reset your Android to clean virus off phone and erase everything permanently. So you had better back up important files in advance.
Part 5. How do I Get Out of Safe Mode on My Android Phone
What if your Android phone is crashed or locked suddenly? How to rescue documents and other files from this unresponsive mobile phone? Fortunately, you can run Apeaksoft Broken Android Data Extraction to fix broken Android phone and extract data for backup safely and easily.
Broken Android Data Extraction
Fix damaged, crashed, locked, virus attacked and other abnormal situations.
Extract contacts, documents, videos and over 20 Android file types from broken phone without data loss.
Fully compatible with all models of Samsung Galaxy Note, Samsung Galaxy S, Samsung Galaxy Tab.
Download for Win
Step 1. Run Broken Android Data Extraction
Launch this Android mobile virus remove tool on your Windows or Mac computer. Later, enter into "Broken Android Data Extraction" mode and choose "Fix Device" button.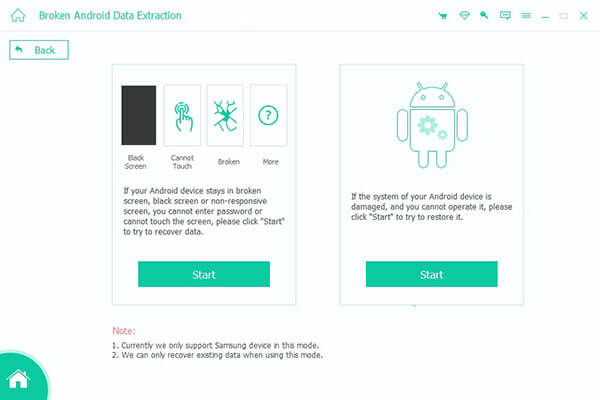 Step 2. Exit safe mode on Android
Choose the certain mode according to the status of your Android phone. Later, choose "Next" to move on. Now complete the list of "Device name" and "Device Model". Click "Confirm" to get out of safe mode and extract Android data.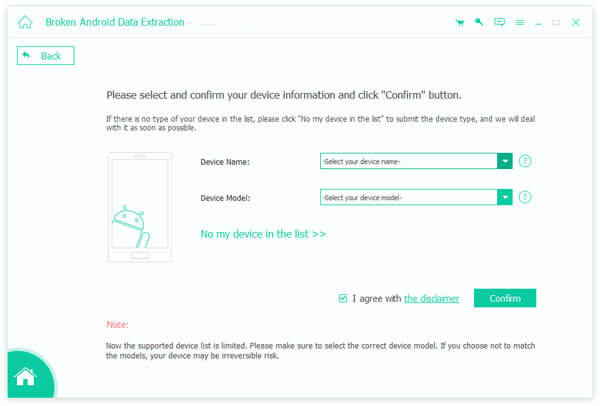 After knowing what is a virus warning on Android phone and how to delete virus from phone, you should also be careful enough to prevent malware attacks. Well, do not install apps from any third party platform. And never click any unknown URL and connect to a public Wi-Fi. In addition, those pop-up ads, redirects and other similar objects are also dangerous. If you have any good solution to remove virus or malware from Android phone, please don't hesitate to share in the comments.