Apple's iPhones and iPads are the most popular mobile devices today. Users can enjoy a lot of advanced technologies and a high level of security. However, they are still not perfect. The app data, for example, slows down the performance as time goes by. It makes sense that more and more users asked how to clear app data on iPhone or iPad. If you are one of them, you will find what you want from the guide below.

Clear App Data iPhone
Part 1: Best Way to Clear App Data on iPhone Permanently
It is important to clear app data for iPhone users. The app data and cache not only slow down your iPhone but also leaks privacy. Moreover, Apple provides a variety of methods to restore iOS data. Sometimes, you may wonder if you can delete app data from your iPhone or iPad permanently. Aspeaksoft iPhone Eraser is the answer.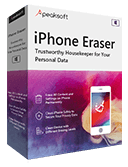 4,000,000+ Downloads
Clean up app data from iPhone and iPad easily.
Use advanced technology to overwrite data on iOS.
Available to a wide range of apps, like games, browsers, etc.
Compatible with almost all iOS systems and devices.
How to Delete App Data on iPhone
Step 1Connect iPhone and computer
Download and install the best iPhone app data eraser, and then launch it. The software is available to Windows 11/10/8/7 and macOS. When you need to delete app data on your iPhone, connect it to the same computer with a Lightning cable. Then the software will detect your iOS device automatically.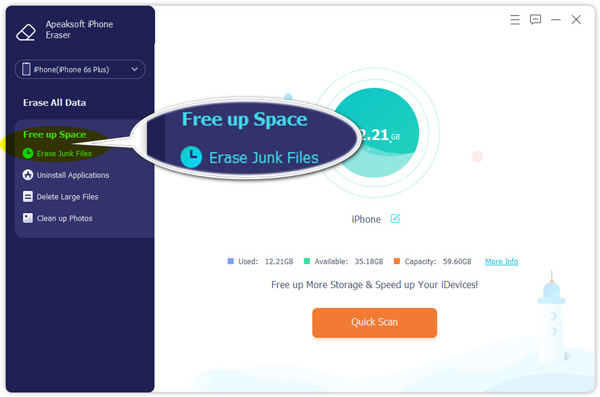 Step 2Clean app data
After device scanning, you will be presented with the main interface. Here are two options on the left hand column. To clean up app data on iPhone, go to the Free up Space screen.
Firstly, select the Erase Junk Files option and click the Quick Scan button. Then hit the Erase button to clear all app cache data.
Next, choose Delete Large Files and perform a quick scan too. Then delete the unwanted large files in the app.
If the app includes a lot of photos, click Clean up Photos, hit Quick Scan, select the target photos, and hit Erase button.
If the app is still very large, choose Uninstall Application under the Free up Space section, and click the Uninstall button next to the app. Then reinstall it from your App Store.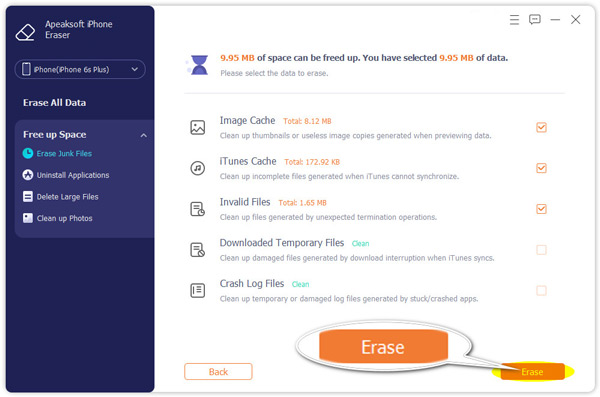 Extended Reading:
Part 2: How to Clear App Data on iPhone Manually
There are two kinds of mobile apps on iPhone and iPad, built-in apps, such as Safari and more, and third-party apps, like Chrome, mobile games, etc. The methods to clear app data are a bit different.
How to Clear Safari Cache and History
Step 1Run the Settings app from your home screen, scroll down and choose Safari.
Step 2Tap the Clear History and Website Data option, and then tap Clear History and Data to confirm it.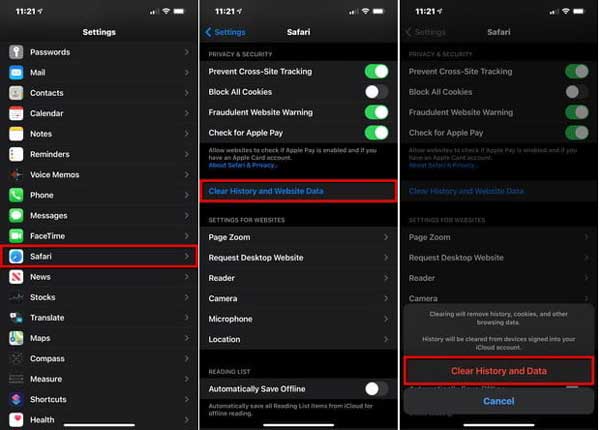 Step 3Back to the Safari settings screen, scroll down and tap Advanced, and choose Website Data. Check the amount of website data, and tap Remove All Website Data.
How to Clear an App Data on iPhone with the Built-in Feature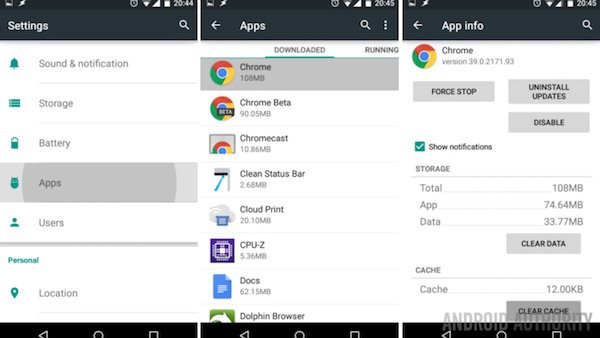 Most mobile apps on iPhone or iPad provide the Clear Cache feature. It helps you to clear app data on iOS devices. You can find the built-in feature in the Settings screen in the app.
How to Clean up App Data on iPhone by Re-installing
On iPhones and iPads, the only way that clean up app data without extra software is to uninstall the app and then reinstall it again. The benefit is to do it on your iPhone directly. The downsides are obvious. It deletes all app data including your account and word. Bear in mind that this way won't delete app data in your iCloud or iTunes backup.
Step 1Also, open the Settings app, tap on your profile, and head to the General option and choose iPhone Storage. You will see all apps on your handset arranged by the amount of storage.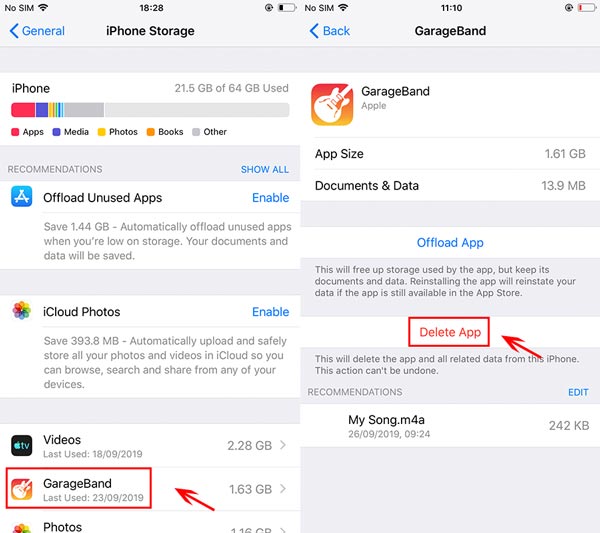 Step 2Scroll down to find the desired app, and tap it to open the app settings screen. Look at the value of Documents & Data, which includes pictures, songs, podcasts, games, preferences, and more in the app.
Step 3Generally speaking, if the value is more than 500MB, you'd better clear the app data immediately. Tap the Offload App button first.
Step 4Next, tap the Delete App button. If prompted, enter your passcode. Then tap Delete App again to confirm it.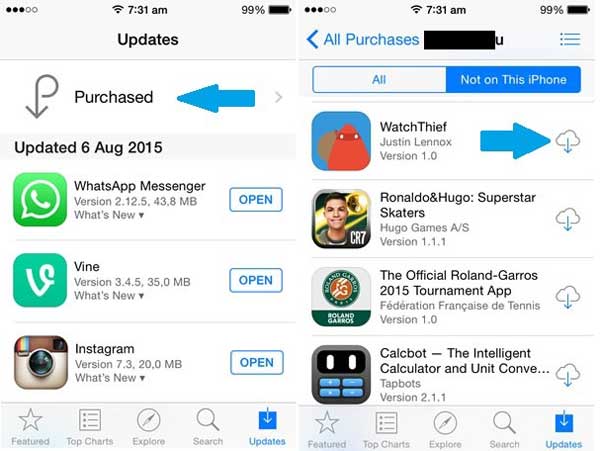 Step 5Now, restart your iPhone, open the App Store, go to the Purchased screen, and switch to the Not on This iPhone panel. Tap the Download icon to install the app again. Then you have to sign in to your account.
Part 3: FAQs about Clearing App Data on iPhone
Will clearing app data delete my pictures on my iPhone?
Yes, the action will remove and clear all data in your app including your pictures. To prevent data loss, you can back up your iPhone and the target app to the computer, and then clean up the app data.
What is the difference between clear cache and clear data?
The cache is a special storage space for temporary files. It tracks every activity in the app but does not include your documents, pictures, videos, and more. You can access the app data but not the app cache.
When should I clean up app data on iPhone?
On iPhone, you can monitor the space that each app takes up in the Settings app. When app data is larger than 500MB, you have to clean it up. Moreover, you can do it when your iPhone or iPad slows down.
Conclusion
Now, you should understand how to clear app data on iPhones and iPads. For iOS users, cleaning up app data is still an important task. That can speed up your device's performance. If you do not want to get it through re-installing your apps, Apeaksoft iPhone Eraser is the best solution. More questions? Please leave a message below this post.