Every iPad owner should learn about how to clear cache on iPad. Junk files, memory hogs and unwanted cache items could lead to various problems. They not only slow down the performance of your iOS device, but also cause freezing or crashing. For example, iPad is a friendly device, but it gets clogged up over time with cache data and junk files.
Unfortunately, Apple has not introduced an all-in-one solution to clear cache data for iOS devices. Don't worry! In this article, we are going to talk about how to clear cache on iPad and get it running a bit faster.

Part 1

. What is Cache?

Cache is a concept for temporary data produced by apps, websites and system, so they can work more efficiently in the future. For instance, if you access a website with a large picture, your browser will cache it. The next time when open the page, you do not have to download it again.

It is a normal part of digital devices. Without cache, your device would work much less efficiently.

However, iOS cannot distinguish which data is necessary and which is useless. In result, your device is full of cache data.
Part 2

. How to Clear Safari Cache on iPad

Browser cache data is often the biggest user of memory storage. All pictures, videos and music you enjoy on websites will be stored on your device as cache. So, it makes sense to start with clearing Safari cache on iPad. Bear in mind that it will log you out of any websites you have signed in.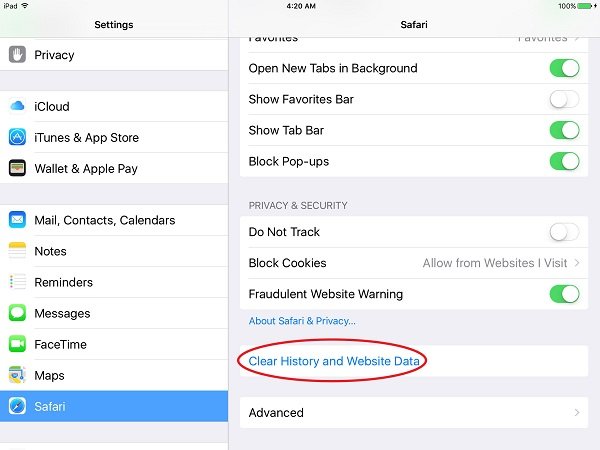 Step 1. Open the Settings app from your home screen and tap on your name.
Step 2. Scroll down, find and tap Safari, which is usually at the bottom of the Mail group.
Step 3. Tap Clear History and Website Data and then touch Clear History and Data if prompted.
Note: This method will clean out your browsing history, website cookies and cache data, your search history and more, and it can fix the Safari slow issues.
Part 3

. How to Clean App Cache Data on iPad

In addition to Safari, other native apps and third-party apps are the biggest sources of cache data on iPad. However, the methods to clear app cache on iPad are different depending on the app design.
Method 1: Clear cache in an app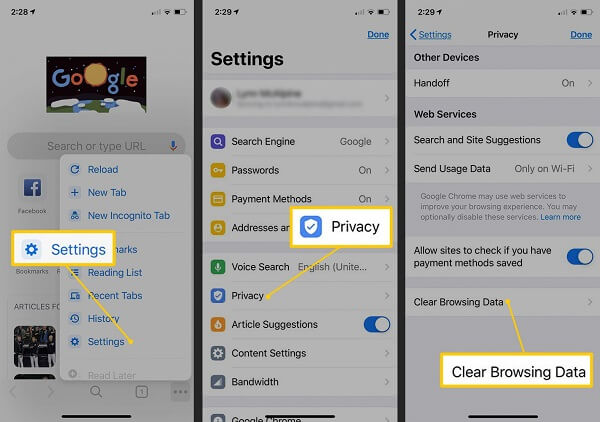 We use Chrome app as the example to show you the procedure.
Step 1. Open the Chrome app and tap the menu button with three-dot icon.
Step 2. Go to Settings > Privacy and tap Clear Browsing Data.
Method 2: Clean up app cache in Settings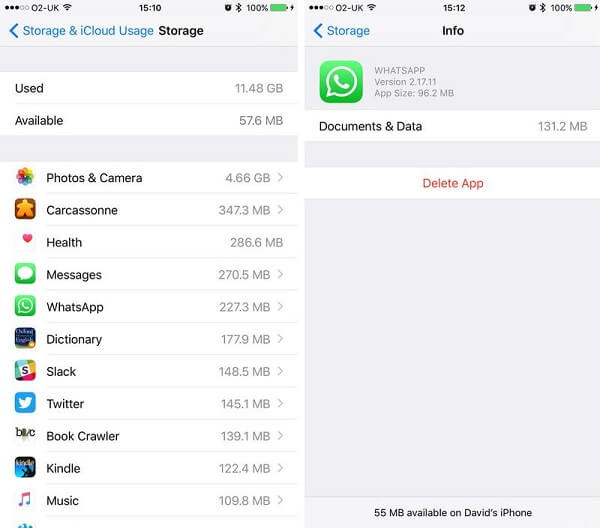 Step 1. Start the Settings app and tap on your name.
Step 2. Navigate to General > Storage & iCloud Usage and tap Manage Storage.
Step 3. All apps on your iPad will be listed based on the storage that each app takes up. Select a large app and take a look at the Documents & Data.
Step 4. If it takes up over 500MB, you'd better clear app cache. Tap the Delete App option and confirm it.
Step 5. Next, go to your App Store, search for the deleted app and re-install it on your iPad.
Note: Uninstalling an app will remove all files and information stored in it, so you should backup the app using iCloud or iTunes before clearing app cache.
Still, there are some app cleaner applications in the market which you could turn to for help.
Part 4

. Free up Memory by Rebooting

Generally speaking, iOS will manage your memory and clear system cache automatically. However, restarting an iPad is a good way to clear cache manually.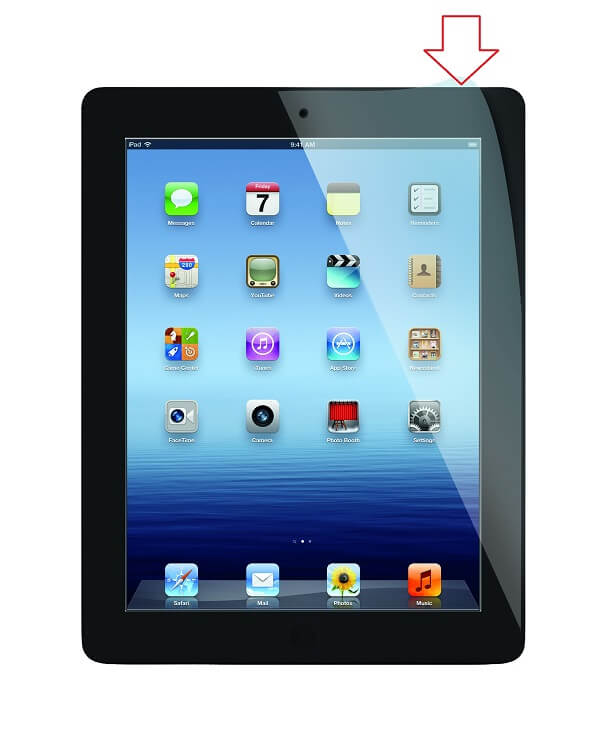 Step 1. Press and hold the Side or Power button until you reach the power-off screen.
Step 2. Swipe the slider from left to right side to turn off your iPad.
Step 3. Wait for at least 20 seconds after the screen becomes completely black.
Step 4. Next, hold down the Side or Power button until the Apple logo appears on your screen. When prompted, enter your PIN passcode.
Note: This way is able to clear system cache on iPad but has nothing to do with app cache.
Part 5

. Use a Cleaner App for iPad

There are a few apps that have the capacity to clear all cache data on iPad at one time, such as Apeaksoft iPhone Eraser.
Clear cache on iPad produced by Safari, apps and iOS in one click.
Protect your private information and personal files from spying.
Offer three modes to clear cache in various situations.
Utilize hardware acceleration technology to speed up the process.
Available to any iPad devices running iOS 17/16/15/14 and earlier.
In short, it is the best option to clear cache on iPad with a single click.
How to clear cache on iPad
Step 1. Connect iPad to cache cleaner
Get Apeaksoft iPhone Eraser and install it on your computer. Plug your iPad into your computer with the Lightning cable. Then launch the cache cleaner from your desktop. It will recognize your iPad spontaneously.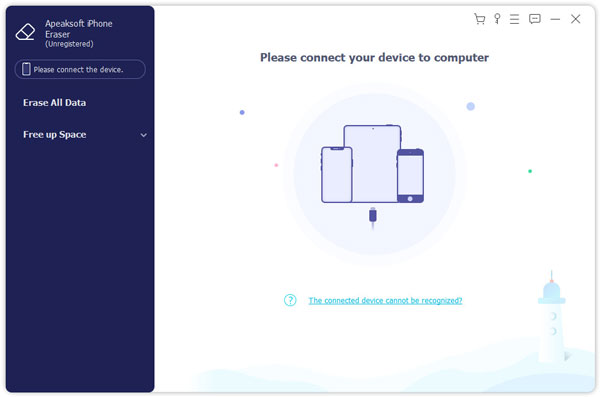 Step 2. Clear cache data on iPad
Next, you will be presented three erasing levels, Low, Medium and High. They will overwrite your iPad one, two and three times. You can choose an appropriate level based on your demand. To clear cache on iPad, Low level is enough. Then click the OK button to move on. Finally, press the Start button to begin removing all cache data on iPad immediately.
Note: The cache cleaner will erase apps and personal data along with cache, so you should make a backup for your entire iPad before performing the process above.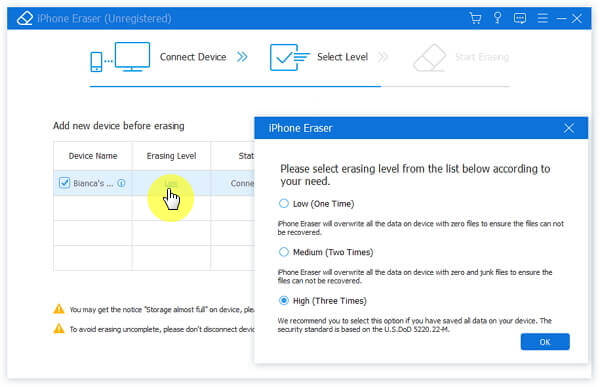 Conclusion
We have discussed how to clear cache on iPad. First of all, the cache is a normal kind of data on iOS devices. If you discover your iPad slows down or even freezes, it is the time to clean up cache data on your device. You have to clear cache data in Safari and apps separately without a professional cleaner. Our guides could help you to streamline the process. That is why we recommend Apeaksoft iPhone Eraser, which is an all-in-one solution to clear cache data on iPad and other iOS devices.