When your iOS turns slower and slower, it is time to clear Safari cache on iPhone. In order to improve the performance, and open a website quickly, Safari stores all the site addresses that you have accessed. Moreover, these websites may track your activities using cookies and other technology. All of them are stored in your memory as cache data. The instruction below demonstrates how to clear your Safari browser on iOS devices properly.

Clear Safari Cache on iPhone and iPad
Part 1: Clear Safari Cookies and Caches Completely on iPhone iPad
Sometimes, you may hope to wipe all your footprints and activities on the internet. Aspeaksoft iPhone Eraser is just the tool that you need. More importantly, beginners can master the software in seconds.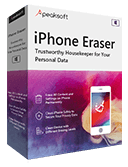 4,000,000+ Downloads
Speed up Safari by clearing cache, history, and cookies with one click.
Perform cache clearing using advanced technology.
Offer three erasing levels for different conditions.
Available to a wide range of iOS devices.
How to Clear Safari Cache and Cookies on iPhone
Step 1Connect iPhone to PC
Launch the best iPhone erasing software after you install it on your computer. Next, connect your iPhone to the same computer using a Lightning cable. Then the software will detect your iOS device automatically.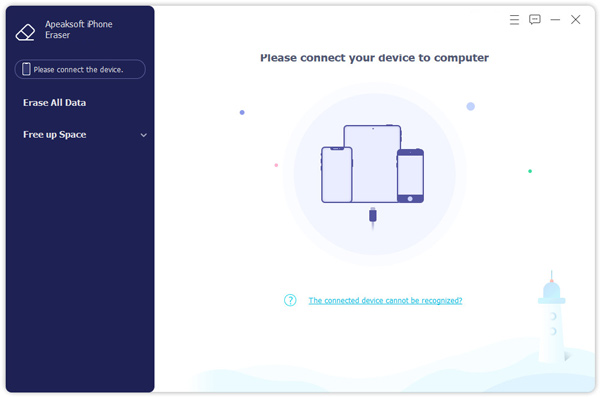 Step 2Scan Safari cache
Next, click and unfold the Free up Space option on the left side, and click the Erase Junk Files. Hit the Quick Scan button to begin looking for Safari cache, cookies, and other unwanted data on your iPhone.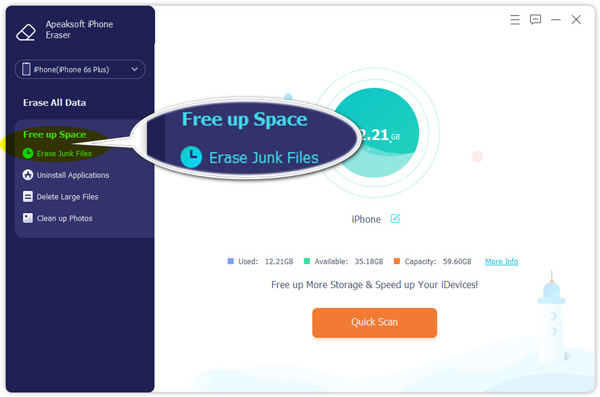 Step 3Clear Safari cache
When cache data scanning is done, check the data types, like Image Cache, Invalid Files, and more. Once you click on the Erase button, all Safari cache will be wiped out from your memory.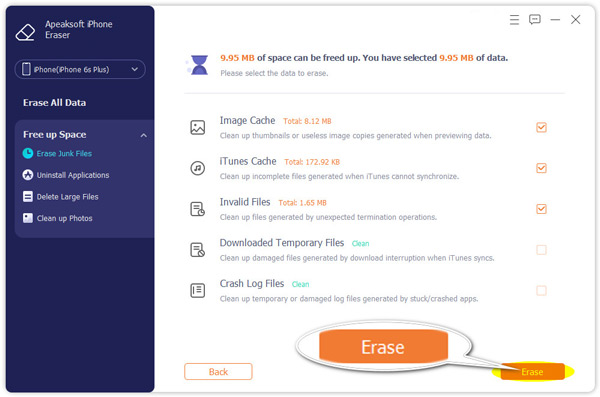 Part 2: Clear History, Cookies, and Caches in Safari
To help you speed up your iOS device, Apple offers several ways to clear cache data whether for Safari or other apps. You can follow the steps below to clear Safari cache and history from iPhone.
How to Clear Safari History and Cache on iPhone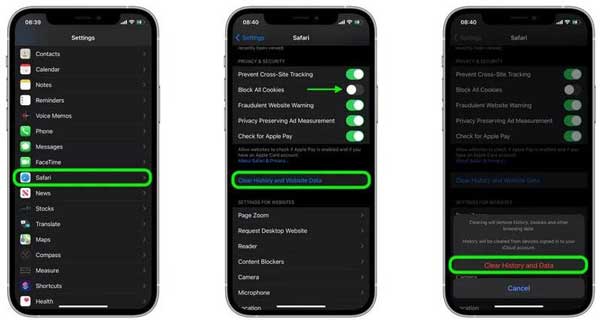 Step 1Run the Settings app from your home screen when you find that your device becomes slow.
Step 2Tap on your profile and select the Safari option which is usually located in the Mail panel.
Step 3Scroll down to find the Clear History and Website Data, and select it. When prompted, tap the Clear History and Data button to confirm it.
How to Clear Website Data in Safari on iPhone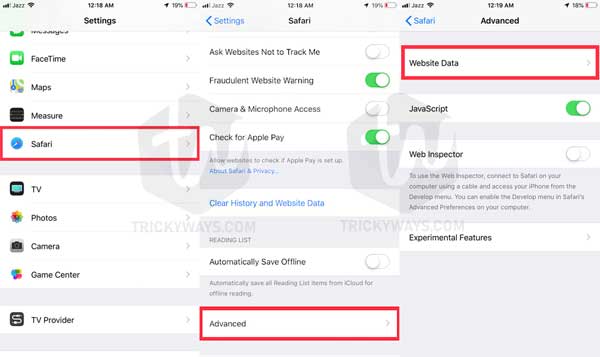 Step 1Also, open the Settings app, and head to the Safari settings screen.
Step 2Next, tap the Advanced option and select the Website Data. Then you will be presented with all websites that you have surfed in Safari.
Step 3To clear a specific website data, move over the item from left to right, and tap the Delete button. Or you can tap the Remove All Website Data. When prompted, tap the Remove Now button to get rid of them quickly.
Note : When your Safari does not include history or website data to clear, the setting turns gray.
Part 3: How to Block Cookies in Safari
A cookie is a little file that a website stores on your device. It can remember your footprints on the website, your login information, and more. When you visit the website again, you can enjoy a higher speed to load the pages. However, more and more websites give up cookies due to privacy regulations. To protect users' privacy, Apple enables you to block cookies in Safari if you set it up.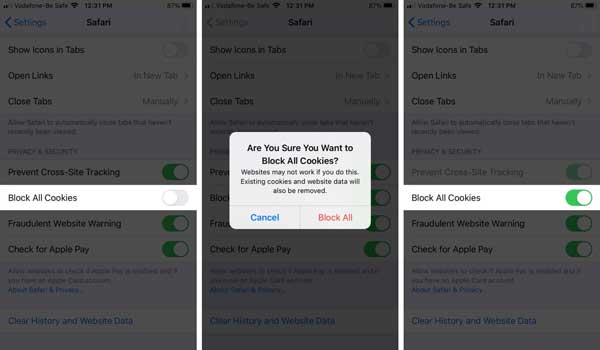 Step 1Open your Settings app from the home screen.
Step 2Tap on your profile, go to the Safari screen and toggle on Block All Cookies.
Step 3Then you will get the popup dialog saying Are You Sure You Want to Block All Cookies. Tap the Block All button to confirm it.
Part 4: What Happens after Clearing Safari Caches
Some people said that they cannot visit or sign in to the websites after clearing the Safari cache on iPhones. Firstly, let's learn several concepts:
Safari cache: A cache is a store of data. When you visit a website on your iPhone or iPad, the browser saves a snapshot of the pages you surf. If you go back to the pages, Safari loads the cached in an instant, instead of taking the time to retrieve the page from the internet again.
Search history: When you search for something in the box in Safar, your browser keeps the words. The next time when you search for it again, you can do it without spelling the words.
Cookies: Cookies are bits of website data that help Safari remember your preferences, passwords, usernames, and more. It was created by the website you visit, but not Safari.
Website data: It includes cookies, flash plug-in data, and more information.
When you clear Safari cache on iPhone, it can free up storage space and help your iOS run faster. In addition to cache, you may also want to clear cookies and browsing history in Safari. The Clear History and Website Data button will delete Safari history, cookies, and browsing data but the AutoFill information won't be interrupted. The Remove All Website Data option deletes cookies and website data, but not Safari search history.
As long as you block cookies in Safari, all websites cannot track your activities through it. However, certain websites rely on cookies to function. Thus, you may face the problems such as:
Cannot sign in to a website with your username and password.
Get the message said cookies are required to keep reading the website.
Some parts of a website might not work.
Part 5: FAQs on Clearing Safari Cache on iPhone
Should I delete the Safari cache?
The answer is determined by your situation. Firstly, clearing the Safari cache can help you free up space and improve the performance of your iPhone. However, it takes more time to open a website that you have viewed before after deleting Safari cache data.
Is there a cache cleaner for iPhone?
First of all, Apple has introduced the cache cleaning feature into iPhone and iPad. You can follow our guide to get it on iOS without extra apps. However, some data is difficult to delete, like Search Marquis and other malware. In such cases, you'd better look for a cache cleaner for your iOS device.
Is it safe to delete cache files on iPhone?
There is no need to find out where are cache and junk files are stored on your iPhone. Generally speaking, you cannot open or read the file even if you find them in your memory. No matter you delete the iPhone cache files with the built-in function or third-party software, it is pretty safe to do it.
Conclusion
Now, you should understand how to clean up Safari cache data from your iPhone or iPad. Every time you use the built-in browser on an iOS device, the pages you open, the search items, and your footprint are all be saved on your memory as cache data. As time goes by, your browser will become slower and your handset slows down too. To fix this problem, you have to clear Safari cache with Apeaksoft iPhone Eraser or manually. More questions? Please leave your message below.