As one of the most popular search engines, Google is widely used on a variety of devices. It is also featured on iPhones both via the Safari browser and through the Google mobile app. The revolutionary search functionalities are available in mobile form for internet users who intend to access what they want on the go. However, the search history is a big problem with privacy leakage. This tutorial tells you how to delete Google search history on iPhone under various conditions.

Delete Google Search History from iPhone
Part 1: Delete Google Search History on iPhone Completely
Sometimes, you want to clean up all Google search history from your iPhone and iPad. Can you get it without recovery? The answer is Aspeaksoft iPhone Eraser. It utilizes advanced technology to delete Google history permanently.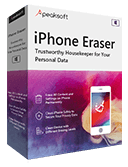 4,000,000+ Downloads
Delete Google search history from iPhone in one click.
Perform military-level technology to delete data.
Protect your privacy and personal files.
Available to almost all iPhones and iPad.
How to Delete Google Search History on iPhone
Step 1Connect iPhone to computer
Install the best iPhone eraser software on a computer and launch it. Next, connect your iPhone to the same computer using a Lightning cable. Then the software will recognize your handset automatically.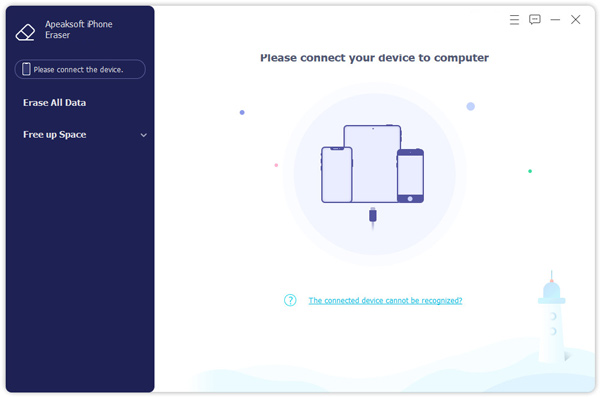 Step 2Delete Google search history
Select Erase All Data after iPhone detecting, and you will see three erasing levels:
Low: Perform a quick erasing on iPhone.
Middle: Overwrite your Google search history along with other data to make sure they cannot be recovered.
High: Adopt DoD 5220.22-M wiping standard to clean up all data and settings from iPhone.
Click the Start button to move to the next window. Now, enter 0000 into the box and click the Erase button to begin deleting Google search history immediately. When it is done, disconnect your iPhone and restart it.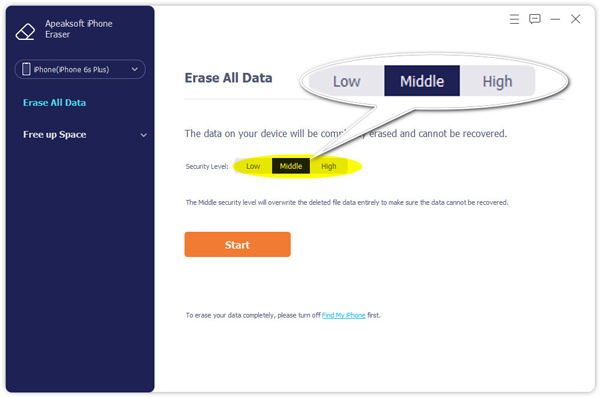 Aside from deleting google search history, you can use this iPhone Cleaner to delete Google photos, cache, and more.
Part 2: Clear Google Search History on iPhone Manually
How to Delete Google Search History in Safari
Safari is the built-in web browser on iPhone and iPad. Generally speaking, it is the best way to experience the internet on Apple devices due to the powerful privacy protections. However, it cannot prevent Google from remembering search history. Fortunately, it is not very difficult to delete Google search history from iPhone Safari.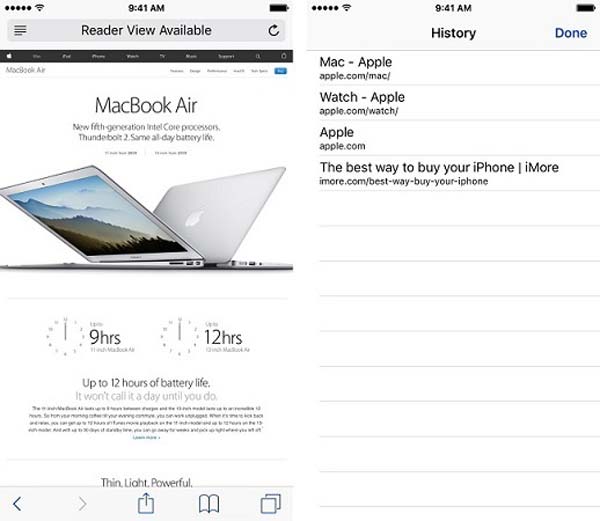 Step 1Open the Safari browser from your home screen.
Step 2Tap the Book icon at the bottom, and touch the Clock icon. Now, you can see all websites that you have visited.
Step 3Find Google.com, swipe it to left, and tap Delete.
Note : If you set Google as the default search engine, delete all items on the history screen to delete them directly.
How to Clean up Google Search History in Settings
Another way to delete Google search history from the Safar on iPhone is the Settings app. It can display all the website data including what you have searched for by Google search engine.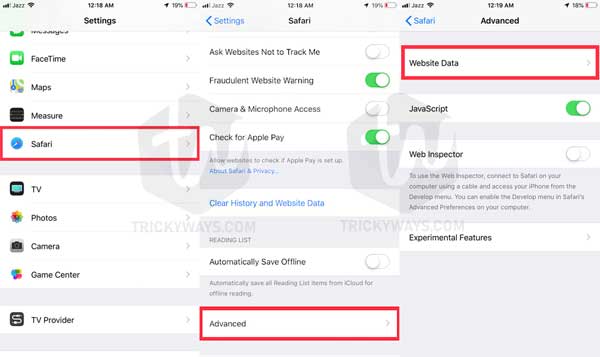 Step 1Go to the Settings app, and tap on your profile.
Step 2Scroll down to find and tap the Safari entry. Choose the Advanced option, and then Website Data.
Step 3Now you can view the whole list of web history. Tap Remove All Website Data and confirm the deletion.
How to Delete Google Search History in Google app
Google has released the search engine app for iPhones and iPads. It makes searching online more straightforward. Now, Google has rolled out a feature that lets you quickly delete the last 15 minutes of search history in the app. You can tap your profile in the Google app on an iPhone, and tap Delete last 15 min directly. To delete all Google search history on iPhone, perform the steps below:

Step 1Start your Google app, and touch the Menu button with a three-dot icon at the top right side. Now, you will see the menu list.
Step 2Touch Settings, Privacy, and then Clear Browsing Data. Make sure to select the Browsing History option and other data types that you want to delete.
Step 3Tap the Clear Browsing Data button.
Note : If you have signed up for your Google account in the app, the search history will be deleted from both your iPhone and account.
How to Remove Google Search History in Chrome app
If you prefer to search on Google using the Chrome app, it is possible to delete Google search history too. However, the design of the Google browser app is very different from Safari. You can follow the steps below to clean up your search history on your iPhone.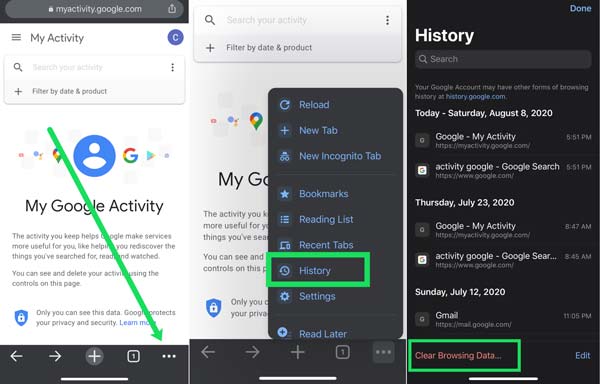 Step 1Run your Chrome browser app on iPhone, and tap the Menu button at the bottom right corner with a three-dot icon.
Step 2Touch the History option on the context menu list and you will be presented with all search history.
Step 3Now, you can delete specific pieces of Google search history, or tap Clear Browsing Data to delete all of them.
How to Delete Google Search History Automatically
No matter you sign in to your Google account in Safari, Chrome, or Google app, there is an option to dump your data automatically. If you do not like to delete Google search history manually, follow the steps to set up the auto-delete feature:
Step 1Visit the Google Activity page on your iPhone or computer. Make sure to log in to the account associated with your handset.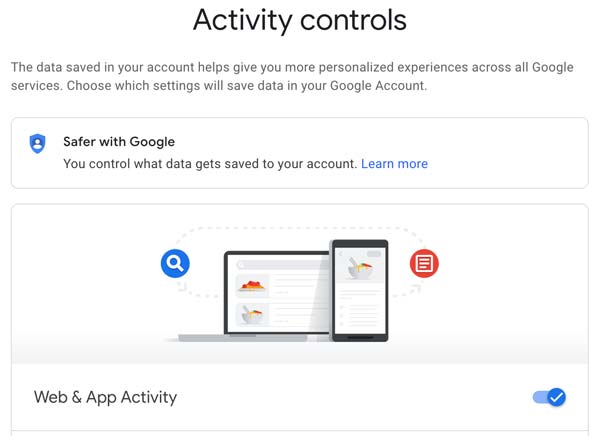 Step 2Click the Activity controls option in the left navigational menu. Next, scroll down and choose Auto-delete. By default, it is disabled.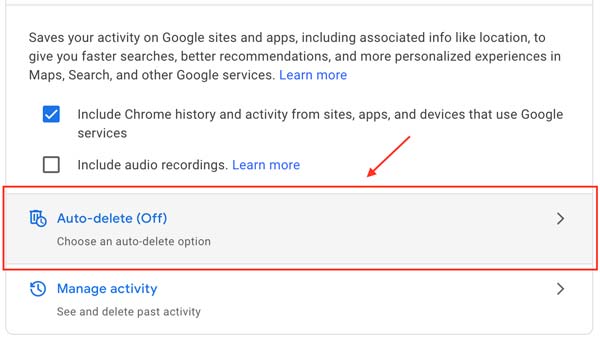 Step 3Now, you will see a pop-up dialog. Pull down the menu under Auto-delete activity older than, and select a proper option.
Step 4Click the Next button and then hit Confirm. Then all the old search history will be deleted from iPhone automatically.
Part 3. FAQs on How to Delete Google Search History
How to delete Google Maps search history?
Open your Google Maps app, log in to your account, tap the Menu button, and choose Settings. Next, tap Maps History and you will see the entire search history. Now, type Maps in the search field, and tap Delete Results to delete the search history. When prompted, tap Delete again.
Why Google saves my search history?
According to Google, it keeps the track record of your search history to create your profile leveraging your search results. It helps the search engine become more relevant while answering your search queries and exposes you to more relevant searches and options.
Can I read others' Google search history?
You cannot read others' Google search history. Unless you are the administrator of your network, who can see all the browser history of users in the network.
Conclusion
Now, you should understand how to delete Google search history from your iPhone or iPad. Firstly, you can manage and clean up the search history from your Safari and Chrome browser or Google app. Moreover, you can set up the auto-delete feature to get rid of search history automatically. Before putting your iPhone in others' hands, Apeaksoft iPhone Eraser can help you to delete search history permanently and protect your privacy. If you encounter other troubles when using Google, please leave a message below this post.