It is true that iPhone backups help a lot, especially in situations when someone just delete important iOS data by accident. For iOS users including users having new released iPhone X, iPhone 8, iPhone 8 Plus, iPad and more, Apple provides two main ways to prevent data loss. In another word, you can back up iPhone files to iTunes or iCloud free for further usage. As time goes by, your iPhone will be full of backup files no matter how large storage it offers. To make sure there is enough space for normal operations, you need to delete iPhone Backup on Mac computer.

Part 1

. How to Find iPhone Backup Location on Mac

Before deleting iPhone backup on Mac, you need to find where those iPhone backup files are saved firstly. Later, you can navigate to the iPhone backup location and then delete the specific backup folder or clear all iOS backups on Mac.
Section 1

. How to Find iPhone Backup Location on Mac Created by iTunes

If you wanna find iTunes backup files on Mac, you can read the following steps to find where those backup files are. There are two methods that enable you to find iPhone backup locations.

1. Find a list of your backups:

Step 1. Search iTunes backup lists on Mac

Find the "Spotlight Search" icon on the top right corner. It looks like the magnifier. And then you can type or just copy "~/Library/Application Support/MobileSync/Backup".

(The first "~" icon denotes the home directory, which all your personal documents are saved. In addition, you can press Command, Shift and G on the keyboard simultaneously to access it.)

Step 2. View the iTunes backup categories on Mac
You can see the finder with your entire backup files created by iTunes. You can copy those iTunes backup files to the new folder. But do not move them to the external drive or network drive. Moreover, you should not edit, rename or extract content from your iTunes backup files. Or your backup files are unable to work normally. It does not matter if you delete iPhone backup on Mac of the certain folder.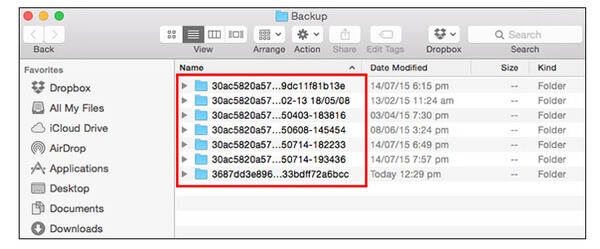 2. Find a specific backup:
Step 1. Choose "Preferences"
Open iTunes on your Mac OS X, Click iTunes in the menu bar. After that, select "Preferences".
Step 2. Find the certain iTunes backup folder
Click "Devices" from the toolbar. There will be all your iTunes backups display according to the data created. Choose the certain iPhone backup folder, right click and select "Show in Finder".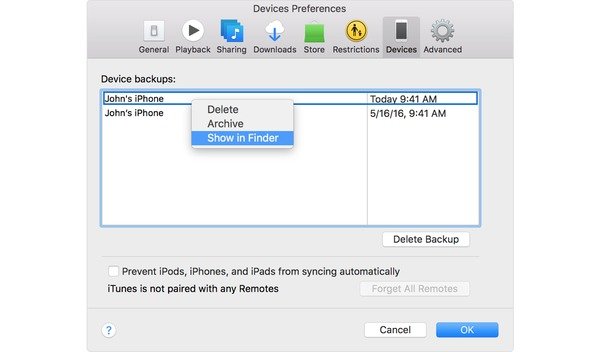 (You can tick "Prevent iPods, iPhones, and iPads from syncing automatically" option below to stop iPhone backup.)
Section 2

. How to Find iPhone Backup Location on Mac Created by iCloud

You can back up iTunes purchased history, photos, videos, device settings, messages and most iOS data to iCloud under wireless connection. If you do not need iCloud backups, you can also delete iPhone backup on Mac directly. During this period, you should not turn to iCloud.com to access backup files. Checking in the iDevice or Mac is the nice idea to find iPhone backup location of iCloud.

For people using iOS 11, go to "Settings", select your name, tap iCloud, hit "Manage Storage" and choose "Backup". For iOS 10.3 and earlier users, the process to find iPhone location created by iCloud is slightly different.

Or you can view the whole iCloud backup files on Mac computer. Drop down the Apple menu on the top left corner. Select "System Preferences" in the second place. Select "iCloud" and choose "Manage" button. Tap "Backups" to get your iCloud backup files.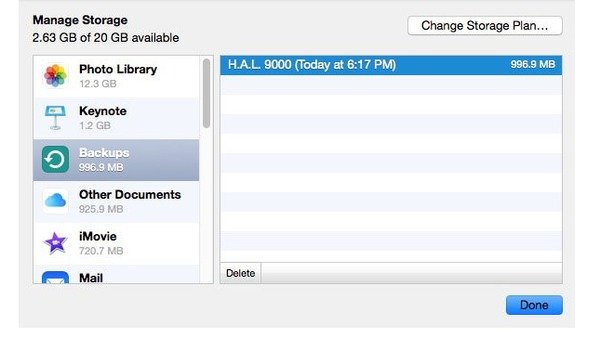 Part 2

. How to Delete iPhone Backup on Mac

There are two options you can choose to delete iPhone backup on Mac from iTunes or iCloud. You can read and locate the certain part to remove unnecessary backup files on Mac computer.
Section 1

. How to Delete iTunes Backup on Mac

Step 1. Find the certain iTunes backup

Through the above iPhone backup location finding tasks, it is already obvious to find iTunes backup files. When you right click the iTunes backup and select "Show in Finder", there will be the new window displays the entire list contained iPhone backups.

Step 2. Delete iPhone backups in iTunes on Mac

You can see the created date and the accurate iDevice info. Select all or specific iTunes backup. Choose "Delete Backup" button and tap "Delete" when the popup window asking your confirmation. Now you can delete iPhone backup on Mac from iTunes successfully.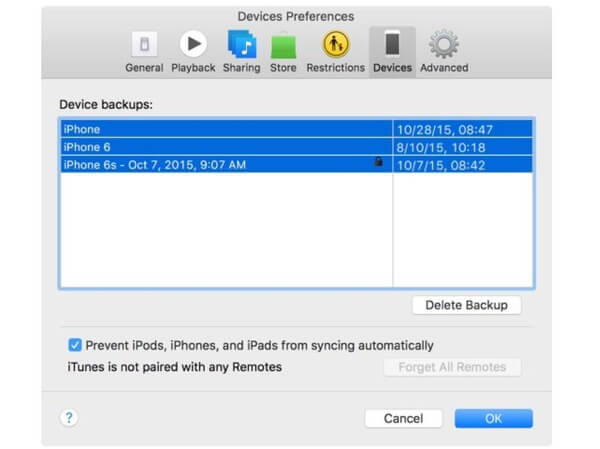 Section 2

. How to Delete iCloud Backup on Mac

Step 1. Access iCloud backup

Choose "System Preferences" from Apple drop-down menu. Tap "iCloud" button and then click "Manage" button in the corner. Tap "Backups" and see all your iCloud backup files on the right pane.

Step 2. Delete iPhone backup on Mac in iCloud

Select your iCloud backup items, and then tap "Delete" button. There will be the confirmation popping up, choose "Delete" to confirm iPhone backup deletion on Mac computer.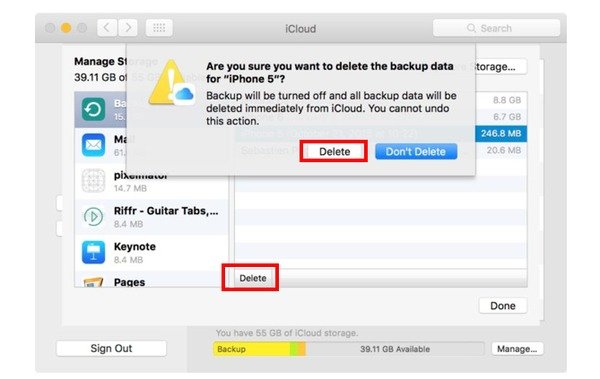 You can delete iPhone backup on Mac easily through this post. No matter you choose iTunes or iCloud to back up iPhone files, you are able to find and delete iPhone backup with ease. Here you may also want to know how to delete apps on Mac.
Apeaksoft iOS Data Backup & Recovery
Even though you lose important iOS data without backup, you can restore data without hassle.
1. Back up data from your iOS device to your computer by one click.
2. Back up iPhone/iPad/iPod safely and quickly.
3. Restore data from the backup to iOS device or to Mac/PC.
4. Preview data before iOS recovery.
5. Export anything you want from the backup to the computer.
6. Backup and restore on iOS device without data loss.