When there is a limited storage space, how do you clear the WhatsApp cache completely? The WhatsApp Caches would be easily accumulated for its frequent use, and it is quite necessary to remove cache and free up space. Here are 4 frequently used methods to remove the cache files from WhatsApp and enhance the performance of your iPhone. Just read the article and follow the process accordingly.

How to Clear WhatsApp Cache on iPhone
Part 1: The Ultimate Method to Clear WhatsApp Cache on iPhone
Whether you need to remove WhatsApp cache files, such as photos, videos, memes, and other files, or uninstall WhatsApp completely from the iPhone, Apeaksoft iPhone Eraser is the ultimate method to clean iPhone safely to secure your privacy. Moreover, different erasing modes that enable you to remove apps, clear cache files and even erase iPhone settings.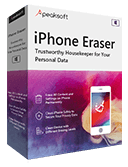 5,000,000+ Downloads
Clear WhatsApp cache on iPhone or iPad securely.
Wipeout unnecessary data and junk files to free up space.
Remove various applications and files and associated data.
Compatible with almost all iOS systems and devices.
Fast data wiping speed to remove caches within seconds.
Step 1 Download and install Apeaksoft iPhone Eraser on your computer. You can connect the iPhone to your computer with the original USB cable. Launch the program and it will automatically recognize your iPhone.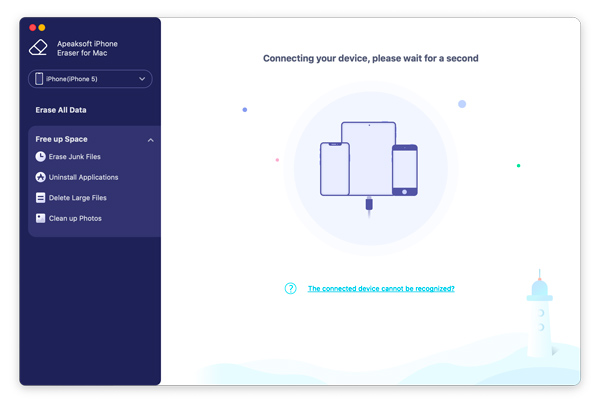 Step 2 It will detect and present all the files of your iPhone, including the used space, available space, and capacity. Click the More info icon to check more information about your iPhone. Click the Quick Scan button to move on.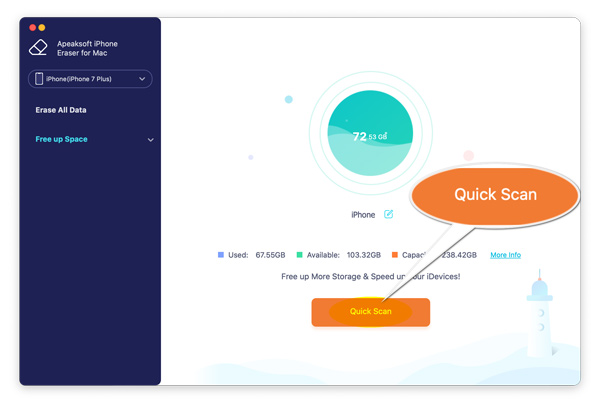 Step 3 When the scanning process is done, click the Free up Space option on the left column and select the Erase Junk Files option or the Uninstall Applications option to clear WhatsApp cache on iPhone.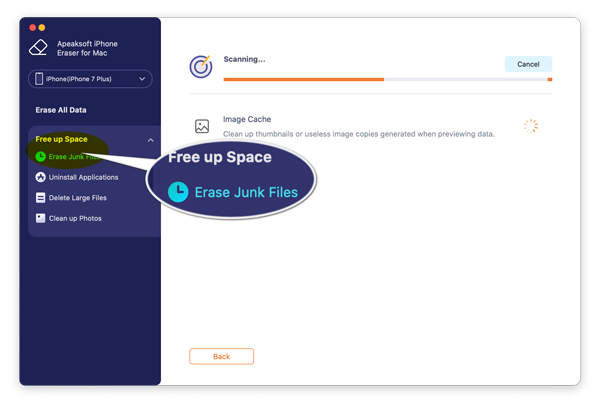 Step 4 Choose the Erase Junk Files option to remove the image cache files of WhatsApp, invalid files, temporary files, and crash log files. Check the files you want to delete and click the Erase button to clean them up.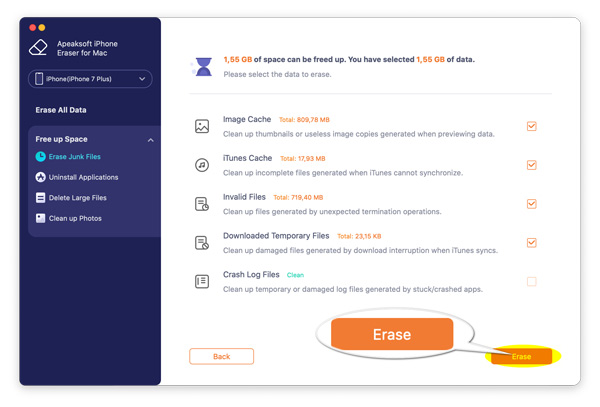 Step 5 To clear the WhatsApp cache on iPhone, you can also choose the Uninstall Applications option. Scroll down to locate the icon of WhatsApp, and then click the Uninstall button to confirm your operation.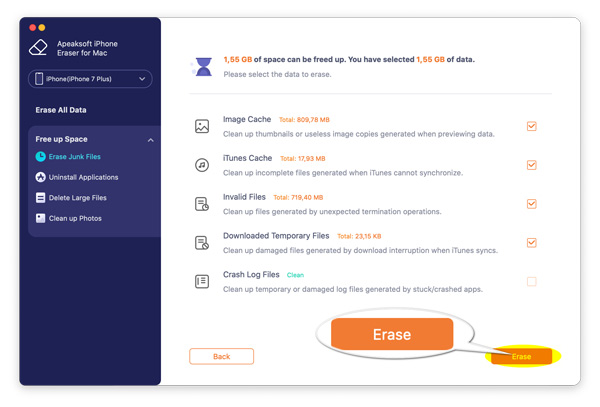 Part 2: How to Clear WhatsApp Cache on iPhone from Settings
Step 1 Go to the Settings app on your iPhone. Tap on the General option and select the iPhone Storage option. Here you can find the storage usages of each app on your iPhone.
Step 2 Locate the WhatsApp app and tap on it to view more details. You can choose the Delete App to uninstall WhatsApp and remove WhatsApp cache files on iPhone directly.
Step 3 Go to the App Store and re-install the WhatsApp app on iPhone. After that, you can launch WhatsApp on your iPhone and set up the same account without cache files.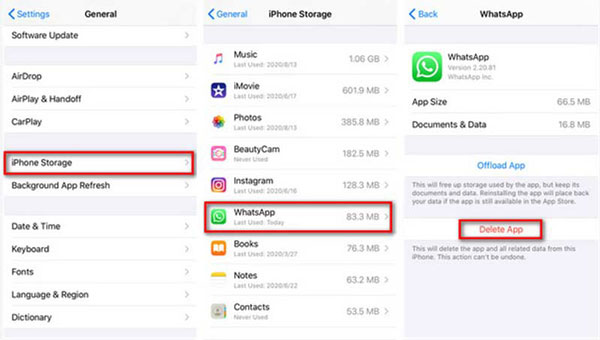 Part 3: How to Remove WhatsApp Cache on iPhone via WhatsApp
Step 1 Open the WhatsApp app on your iPhone and go to the WhatsApp settings. Locate the Data and Storage Usage option on the interface and press it.
Step 2 Scroll down and select the Storage usage option at the bottom. Now you can view a list of conversations and threads, along with the storage size of each file type.
Step 3 Tap the Manage option and select the specific data types you want to clear. Tap on the Clear to option to remove the cache from your iPhone and tap on Clear again to confirm your operation.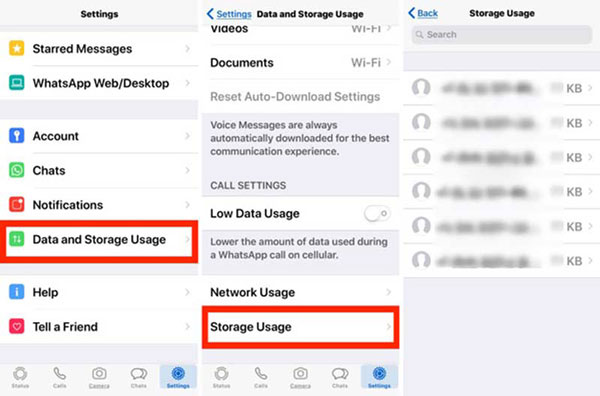 Part 4: How to Uninstall WhatsApp to Remove Caches on iPhone
Just tap the WhatsApp icon on your iPhone and choose the Remove App button to uninstall the app, which will delete WhatsApp cache files on the iPhone completely.
Note : It will remove the saved conversations, images, videos, audio sent and received. Just have the desired backup of the WhatsApp files on iCloud or iTunes beforehand.
People Also Ask:
Part 5: FAQs about How to Clear WhatsApp Caches on iPhone
What is a WhatsApp cache and what does it do?
Cache memory, also called cache memory, is a small amount of memory that is used to temporarily hold instructions and data that the central processing unit is likely to reuse. The WhatsApp caches enable you to get to the desired files in a short time.
What happens if I clear cache on WhatsApp?
All app-stored data, including photos, videos, contacts, and more, will be removed from your device's memory or storage space. But this operation could improve the app experience as if it were just installed and smooth your iPhone or iPad.
Why does WhatsApp take such large storage?
Though WhatsApp itself may not occupy much storage, it contains a large number of caches, files, and data that are produced during the conversation. Moreover, WhatsApp is set to download new photos and videos automatically. All this data will be stored on your device.
Conclusion
You can learn the details about 4 effective ways to remove unwanted WhatsApp cache from your iOS devices. It is necessary to clear caches for better performance of your iPhone. Whether you need to remove the caches only, or need to uninstall the app completely, Apeaksoft iPhone Erase is always the initial choice.