Are you facing the App not installed or Application not installed error? Can't use the app even after you re-install it?
Actually, App not installed is a kind of common error that many Android users have ever encountered before. This error often occurs when you download an app from Google Play Store or other sources, install a signed .apk, update Android Marshmallow or make a dirty upgrade and so on.

This post will show you effective solutions to get rid of this annoying "App not installed" pop-up. What's more, if you want to know more about the causes of App not installed error, we will also talk about them on the second part.
Part 1

: How to fix "App not installed" error [8 best solutions]

Various reasons will cause the "App not installed" or "Application not installed" error, especially when you want to install a new app from an unknown source. The good thing is, many methods will help you fix it. You can try the following solutions one by one until you get rid of it.
Reboot Android phone to fix app not installed error
Rebooting is always a good way to solve various issues on Android device, iOS device and computers. This process will free up the phone's random access memory and get your Android phone back to normal condition.
Remove old app version
If you doesn't upgrade or install app from Google Store, the original app may keep any conflict with the new installed app. In that case, you need to uninstall the old version first.
Check and update Android version
Sometimes, the app not installed error is due to the incompatible Android version. You can check if there is an available version for you to upgrade.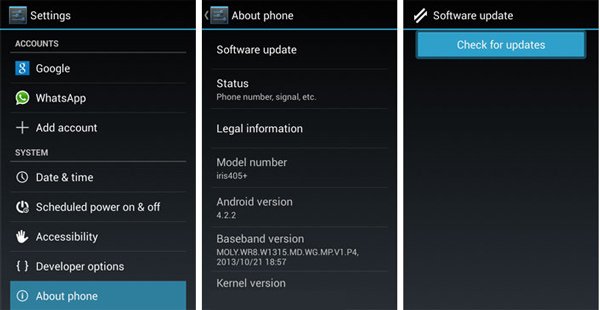 Manage and free up Android storage space
Enough Android space will guarantee app is installed or worked normally. Here you can check the app installed location and storage. Make sure there are enough space. Check this post to clear storage space on Android.
Change or format SD card to fix application not installed
You are suggested to format SD card if the app cannot installed on it. Or you can remove the SD card and then insert it again. After that, you can try installing the app again to see if the App not installed error will pop up.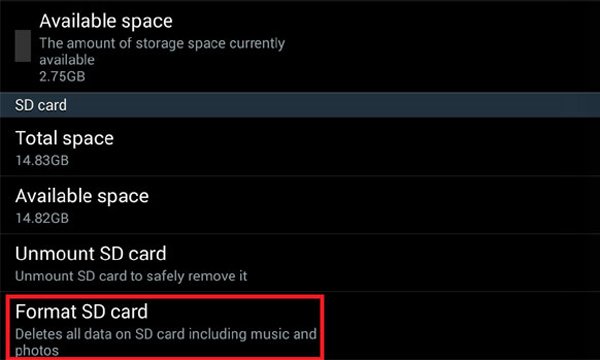 Check the APK file
You need to check again if the .apk file is downloaded completely. Sometimes, the APK file may be corrupted or not copied fully.
Reset Android phone to factory settings
Resetting Android to factory settings will wipe everything on Android device and bring it to brand new condition. You click open "Settings" app on Android phone and then tap "Backup and Reset" > "Factory data reset" option. Know more about how to perform Samsung factory reset.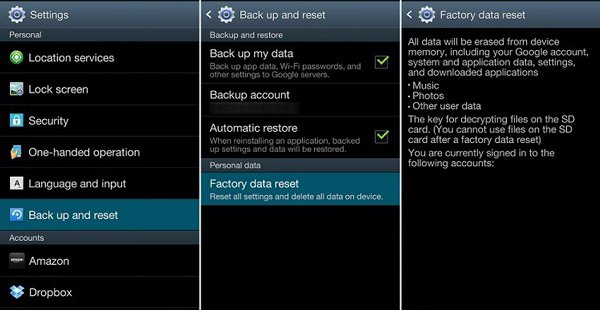 Professional way to fix app not installed
You can use the methods above to try fixing app not installed error. What if you still get the application not installed prompt? In that case, you can rely on this professional solution. Here we sincerely recommend the powerful Broken Android Data Extraction to help you get rid of this error.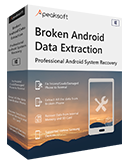 4,000,000+ Downloads
Fix App not installed or Application not installed on Android phone.
Fix Samsung Galaxy frozen, crashed, locked, black screen, etc. to normal condition.
Extract contacts, messages, photos, call logs, etc. from disabled phone.
Fix Samsung Galaxy phone even if you forgot phone passcode.
Step 1: Free download, install and run this Android app not installed error fixing software on your computer. Connect your Android phone to it with USB cable. Choose "Broken Android Data Extraction" option on the left. Then click "Start" button to begin fix application not installed issue.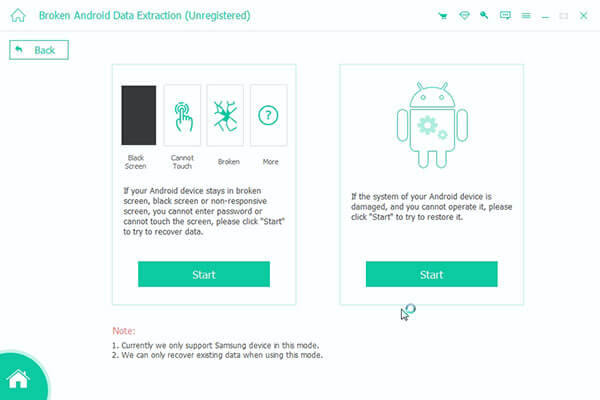 Step 2: Click "Fix Device" and choose specific Android problem you are facing. Various issues can be easily fixed by this tool. Here you can select "Others" and the click on "Next".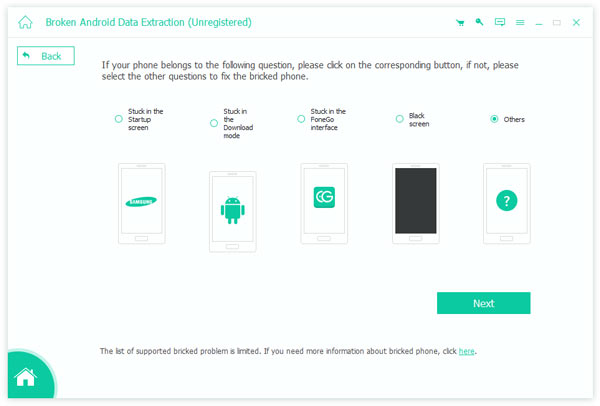 Step 3: Select device name and model of your Android phone. Then click the "Confirm" to move to the next operation. One thing you should know is that, this software now can only fix app not installed error on Samsung devices.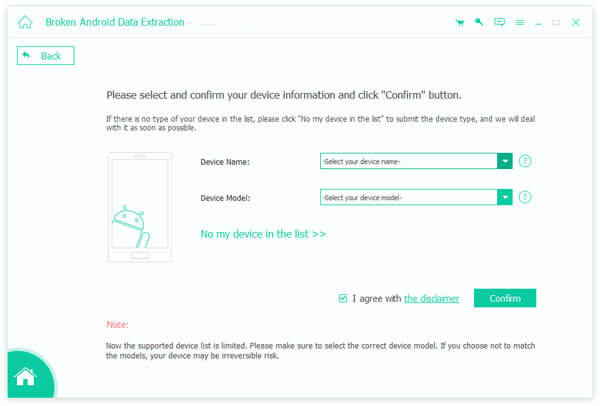 Step 4: Follow the on-screen instructions to put your Android phone into Download mode.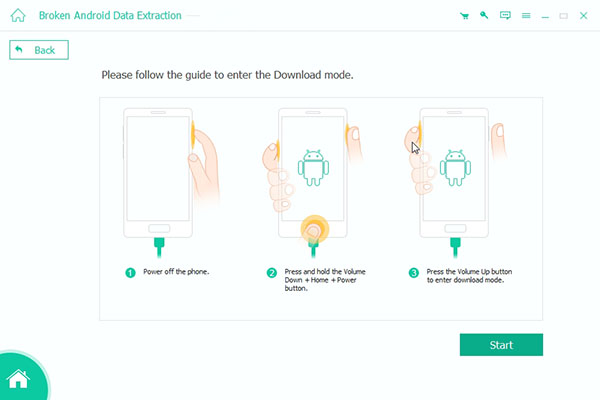 Step 5: It will automatically download recovery package and fix app not installed issue after entering the Download mode. After that, the application not installed error will no longer bother you.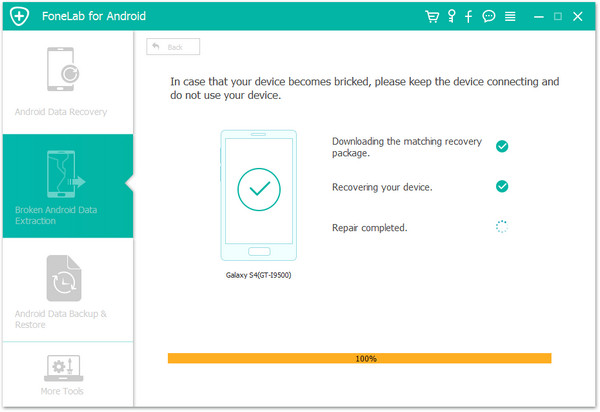 Part 2

: Some reasons may cause App not installed error

With the 8 effective methods above, you can easily fix Application not installed issue. If you want to know more about why this error occur, you can check this part. This part will list some common causes of App not installed error on Android phone.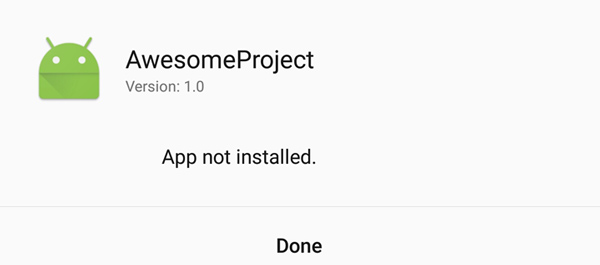 Corrupted APK file
Corrupted apk file is one of the major causes of the App not installed problem. Sometimes, incompletely downloaded .apk file will easily read this error. Surely your app won't be installed normally if the APK is corrupted or incomplete.
Not enough storage space
New installed app needs enough storage space to ensure it work well. When there is no enough space on your Android phone, it may pop up the app not installed error.
Low Android Version
Many apps are designed or updated to work well on the latest Android version. App not installed may due to the low Android version.
Undetected or improper SD Card
Many Android users like to install new apps on the external SD card to make sure there is enough memory space. But undetected or improperly mounted SD card will easily cause the application not installed. Here you may also want to know how to repair damaged/corrupted SD card without formatting.
Conclusion
We mainly talked about the App not installed error in this page. 8 effective solutions are offered to help you get rid of this annoying pop-up. We also list some causes of this application not installed issue at the second part to help you better know it. Leave us a message in the comment if you want to know more.