Are you still feeling down because you are unable to call out or receive calls on Android phones? Well, it can't be more annoying when you need to make urgent phone calls but are being hindered by uncertain reasons.
Now you can have an insight into the Android phone calls failed issues with all possible reasons. And this post won't let you down with 8 effective solutions to troubleshoot and offer you a powerful tool for use.

Can't Call Out on Android
Part 1. Why Can't I Make a Call on My Android
Several factors would be included when you can't make a phone call on your Android devices. You can check the causes below.
Broken or Damaged Phone Screen: You can't touch, swipe and tap the screen buttons to make calls if your phone suffers external damage or turns into a blank screen.
Insufficient Battery Support: If your Android phone battery has a short life span or runs at poor performance, you may fail to turn on your phone and call out.
Inserted Card and Accessories: If your SIM card or other crucial accessories are placed incorrectly or break accidentally, you can't get connected to the network and enjoy the phone call service.
Poor Network Connection: You may be unable to make or receive phone calls if the WiFi or cellular network stays unstable. That's a common reason for calls failure in daily life.
Multiple Background Apps Running: The Android system performance will be eclipsed by overburdened programs running together, including apps, videos, games and so on.
Phone Settings: Android smartphones enable users to change various phone modes and set block lists based on one's preferences. If the phone is set to Airplane Mode or Do Not Dirturb Mode, you can't make calls to affect others. And the blocked phone number can't connect to people who make the settings.
Virus Attack or Hacking: When your Android phone is hacked or attacked by malware, the phone would run out of control and stop your normal activities, including phone calls.
Part 2. Ulitmate Way to Fix Android Phone Issues
No matter what occasions you are encountered, you can be free of all worries on a frozen, damaged and crashed Android phone with Apeaksoft Broken Android Data Extraction. You can extract all important data, including messages, contacts, call history and so on for backup before you factory reset your Android phone and fix the troublesome issues within a few clicks.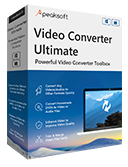 4,000,000+ Downloads
Clear virus data and back up important information for privacy.
Enable you to fix broken Android phones at a superfast speed.
Support Samsung devices like the Galaxy series and so on.
Work with OS, CPU, RAM system, and Hard Disk Space.
Step 1Launch Apeaksoft Broken Android Data Extraction and choose Broken Android Data Extraction.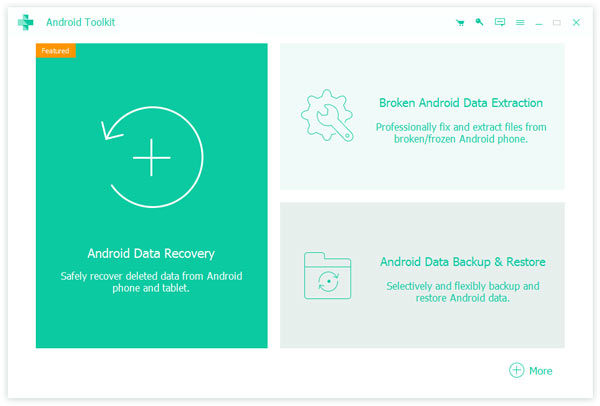 Step 2If you fail to make or receive calls due to external facilities problems like a broken screen or cannot touch, click the left Start button. Then you can select the model and name of your Android phone and follow the instructions to enter the download mode.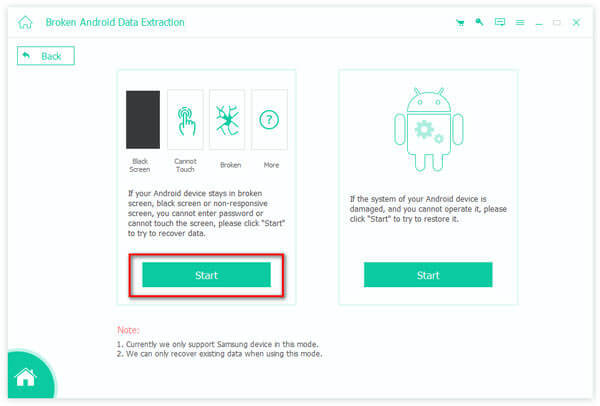 Then you can view all data and phone information in the new window. Here you can choose the contacts, messages and any wanted data for backup. Click the Recover button to continue.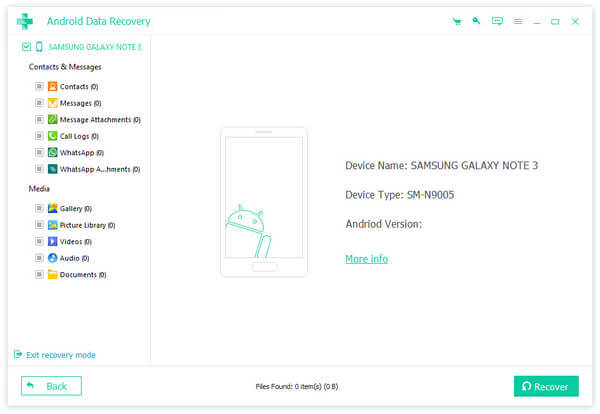 Step 3But if the failed phone call is caused by the damaged devices, you can click the right Start button after step 1 and do as the following instructions require.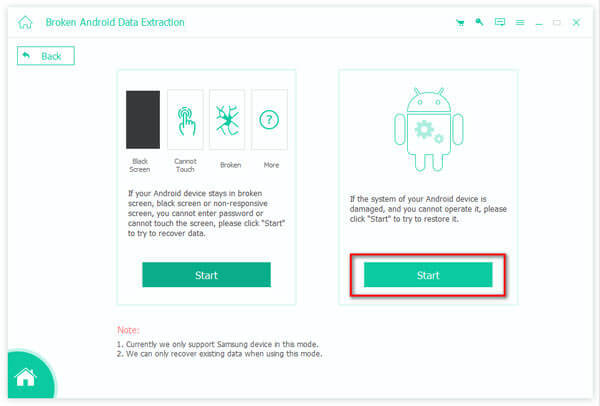 After that, you can click the Start button to recover all scanned and deleted items with the data recovery safely.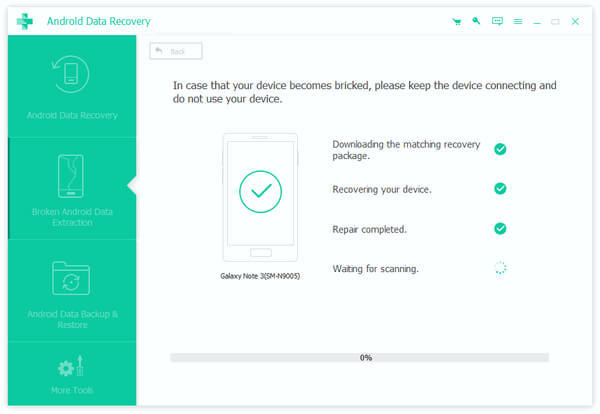 Part 3. Eight Ways to Help You Out
1. Review the Phone Call Settings
If you have added the contact number to the block list, you will fail to make phone calls with the specific person. Thus, you can change the phone call settings to unblock the number again.
Step 1Click the Call icon and you can see the Three Dots icon on the top right corner. Open Settings.
Step 2Then you can see the Call Settings window. Move to Call blocking.
Step 3Next, you can open Blocked numbers and check whether you have added the phone number you want to dial into the blocked call. If so, remove the phone number and you can call out on your Android phone again.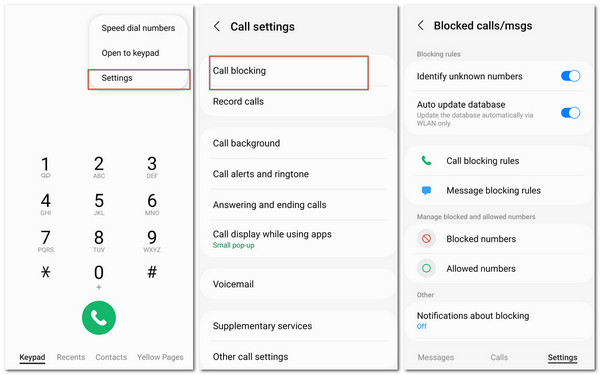 2. Check the Network Connection
As we know, if you feel like calling out on your Android phone, mobile data connection is a must to transmit the radio signals and connect two users. So you can check whether there is a network outage or instability and restore the cellular.
Step 1Swipe down from the top screen and you can see the Mobile data (or Cellular). If it's grey, tap it to turn on the network connection.
Step 2You can also open Settings> Connections > Mobile networks to check the network mode and change the settings to ensure you can make phone calls again.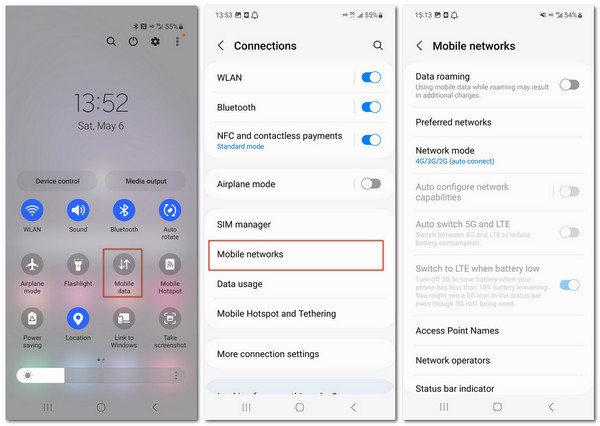 Tips: You can also learn solutions if you could not activate cellular data network with the steps above.
3. Clean Up All Cache and Running Programs
You can clean up the unused apps and cache to get more free space for calling and other activities on the phone.
Step 1Open Settings and find General management.
Step 2Click the Storage column and you can see the program data in the following window.
Step 3You can choose to clean up, delete or remove the cache and junk files to release more space for better phone performance.
Step 4If the running programs are too many for a smooth calling experience, you can also click the Three Dots icon in the main interface and close all apps.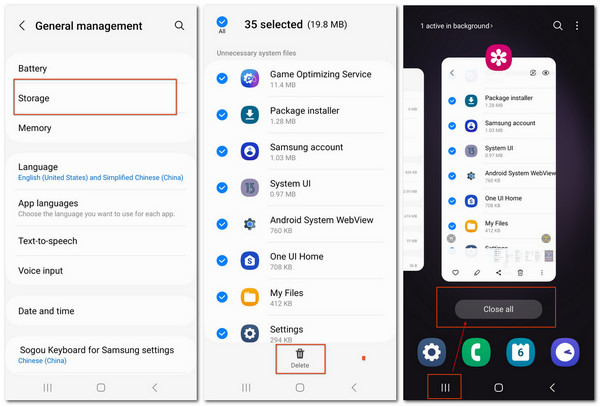 4. Adjust the Phone Mode
If you have set your phone to the airplane or other customized modes, the system will automatically force quit incoming and outcoming calls.
Step 1Swipe from the top screen and tap the Airplane mode icon till it gets grey.
Step 2Open Settings> Modes and Routines. Check whether you have turned your Android phone into the personal mode that stops calls and messages. Turn it off to ensure the phone calls.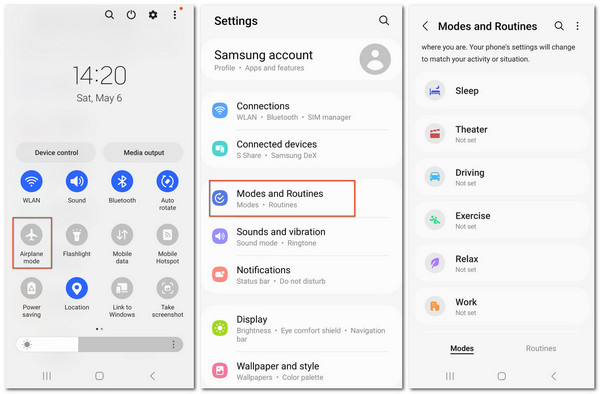 5. Reboot Your Android Model
When you find the Android phone gives no response, you can simply long press the Volume Down and Power button and click the restart button to reboot your phone.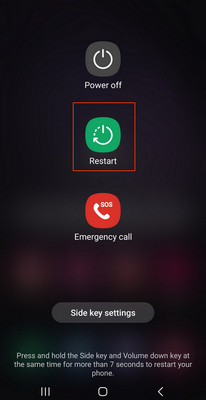 6. Reinsert the SIM Card
You can check the SIM card status through the setting center or dismantle the model to check its place if necessary.
Step 1Locate yourself at Settings> Connections> SIM manager.
Step 2Check the SIM cards if your Android phone supports multiple ones. Choose the one and Turn on the Mobile Data.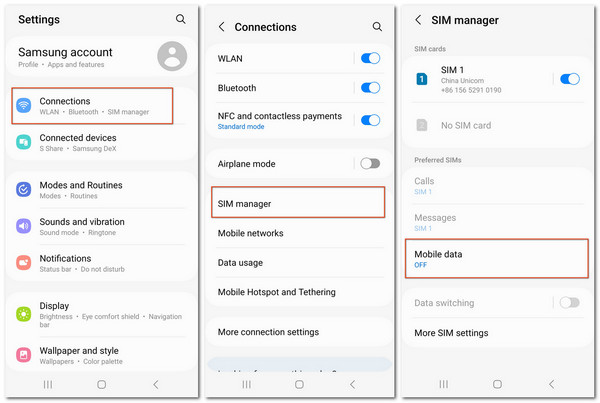 7. Check Plug-ins and Malware
You can manage the plug-ins and malware by following Solution 3 to clean up the cache and running programs. Please remember not to download programs from unknown websites or risky links.
8. Reset the Phone to Factory Settings
If all the above solutions don't go well, you can still make calls after you factory reset your Android phone as the final way out.
Step 1Open Settings> General management> Reset.
Step 2Here you can reset all settings, network settings and more based on your needs. You can back up important data as we recommend in part 2 in case of an accident.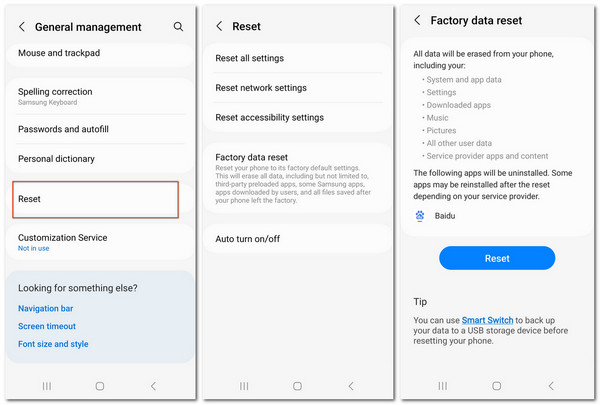 Tips :
All the solutions mentioned above would apply to familiar occasions if you find
call failed on iPhone
. However, if you still can't make or receive calls on your Android phone, please visit the repair shop or retail store nearby to turn to professional phone care services for further help.
Part 4. FAQs of Android Phone Call Failed
Does Call Failed mean blocked?
Not totally. Being blocked in the call contact is one of the reasons why you fail to call someone. But there are other occasions like the network connection error, phone cache, default phone mode, SIM card problems, malware and plug-ins that would still cause you not to make calls successfully.
How many times does a phone ring if the call is ignored?
Despite the ringtones, the phone would ring for one or two times before the recipient of the call chooses to decline the call manually. But if they ignore the call without further settings, the call maker would be diverted to the voicemail automatically.
Does the User is busy mean blocked?
Not exactly. If you hear the automatic response saying words like the number of the dial/ the user is busy in the machine tone, that means the recipient of the call is already on another call or they have switched off the phone or turned it into another mode undisturbed.
Conclusion
This post has thrown light on the causes and methods of Android calls failed in detail. After reading it, you can practice the solutions and have a better grasp of your phone call status. If you find this page helpful, please share it with whoever is in need. We are always glad to see your comments if you have any doubts.