If you have been working on Excel for a long period, you must be frustrated to find the corrupted Excel Files. What should you do to get back the corrupted files?
This problem is not new and many experienced Excel users and developers have encountered such problem.
Don't worry! In this tutorial, we are going to tell you how to repair and recover Excel file corrupted in efficient ways.

Part 1. How to repair Excel file corrupted and cannot be opened
Microsoft has released many versions of Excel and improved the design in each version, so the ways to repair Excel file are a bit different.
1. Excel file corrupted on Excel 2016, 2013, 2010
Microsoft release updates for Windows regularly to fix bugs and introduce new features. If you are wondering excel not responding how to save, it is the time to install the latest updates for your computer.
Step 1: Run Excel 2016/2013/2010 program from your desktop, open the "File" menu and choose "Open". If you use Excel 2013/2016, click on the location that saves your file and click the "Browse" option.
Step 2: After the open dialog shows up, navigate to where your file is located and select it. Next, unfold the "Downward" button instead of clicking on the "Open" button directly.
Step 3: Then select "Repair" to repair excel file corrupted with built-in repair feature. If the Repair feature is invalid, try the "Extract Data" feature instead.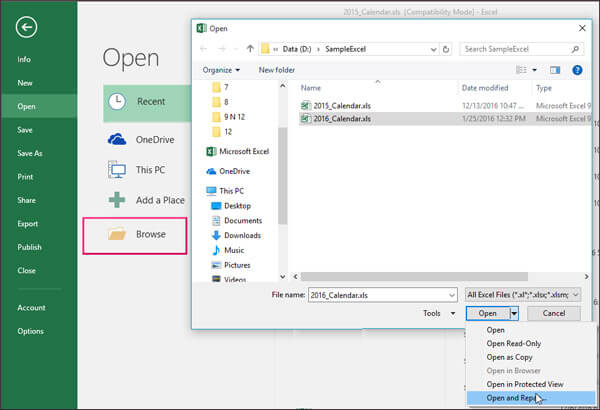 2. Excel file corrupted on Excel 2007
Step 1: Also open the Excel program on your computer, find the "Microsoft Office" button and click on it. Then choose "Open" on the list.
Step 2: Locate to the corrupted excel file that you want to recover and highlight it in "Open" dialog, then hit the downward icon next to the "Open" button, select "Open and Repair".
Step 3: Next, you will be presented two options, "Repair" and "Extract Data". The former will recover workbook data in the file, and the latter could extract data from the workbook. Make a decision based on your demands.
This way also works when your Excel file is not responding.
Part 2. Best way to recover corrupted Excel file
This way is the easiest method to recover the corrupted Excel file on your computer. Moreover, t lets you get back the Excel file that is not saved, or deleted due to system crash or format.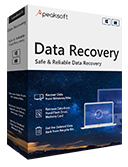 4,000,000+ Downloads
Recover corrupted Excel file in .xls, .xlsx, .xml, xlsm, csv, etc.
Retrieve Excel file corrupted, deleted, formatted, unsaved, etc.
Restoer Word, Text, PDF, PowerPoint, RTF, ZIP, etc.
Work on Excel 2003, 2007, 2010, 2013, 2016, etc.
Step 1: Scan entire disk to look for excel files
Install Data Recovery on your computer and launch it. If your excel file was saved on an external drive, connect it to your PC too. Go to the data type area and select Document. Then head to the locations area and choose where you save the corrupted excel file. Data Recovery will work as soon as you click the "Scan" button.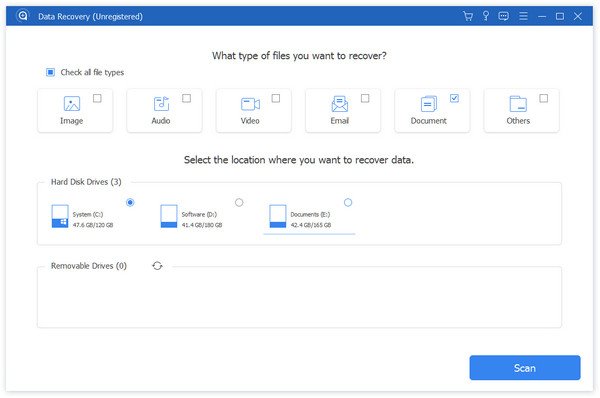 Step 2: Preview excel files before recovery
After quick scanning, click on the "Document" option on left sidebar, and then open the folders titled XLSX and XLS to preview all recoverable excel files. Moreover, the "Filter" feature at top ribbon could find the excel files quickly. If you cannot find the desired file, click on the "Deep Scan" button to execute a deep scan.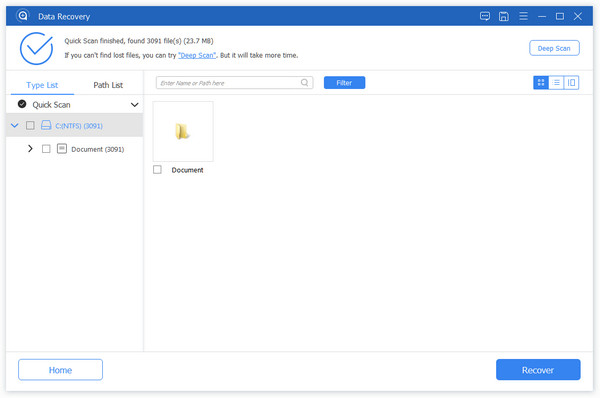 Step 3: Recover corrupted excel file in one click
Select all desired excel files and click on the "Recover" button to start recovering corrupted excel files. Then you can access the corrupted Excel files as usual.
Part 3. Attemptable solutions to recover Excel file corrupted
Apart from the best way, you can also try the following free solutions to recover Excel file corrupted.
Method 1: Fix corrupted excel file to last saved version
When you are editing the excel file and it is corrupted, it is possible to revert to fix corrupted excel file to the last saved version.
Step 1: Go to "File" > "Open" in Excel program and choose "Recent Workbooks" on right panel.
Step 2: Scroll down and click the "Recover Unsaved Workbooks" button at bottom.
The recent unsaved workbooks are from Excel temp files that are not saved before opening them.
If you have turned on the "Autosave" feature in Excel, you can recover more data. Go to "File" > "Info", click on the "Manage Versions" button, you will see all autosaved versions, select the desired on and open it.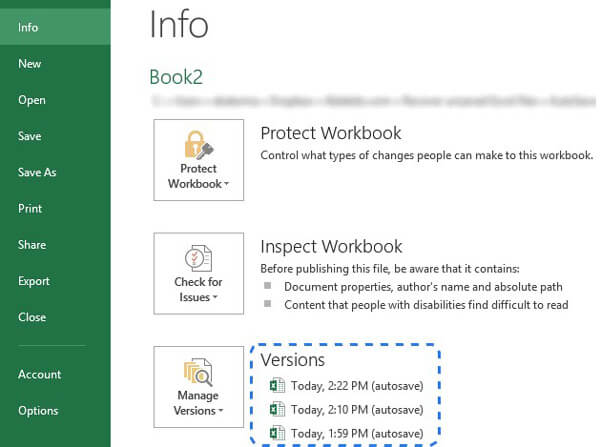 Method 2: Open corrupted excel file due to printer corruption
If your file is corrupted when printing, SYLK format is able to open corrupted excel file and recover data from it.
Step 1: When printer corruption happens, go to the "File" tab and select "Save As". On the save as dialog, open the save-as-type drop-down menu, select "SYLK" and click "Save" button.
Step 2: If prompt the selected file type does not support workbooks include multiple sheets, click "OK" to only save the active sheet. If you are notified that the workbook contains incompatible features, click "Yes" to continue.
Step 3: Next, go to the "File" tab, select "Open", choose the file ended sylk that you just saved on "Open" dialog and click "Open" to recover data from the corrupted workbook.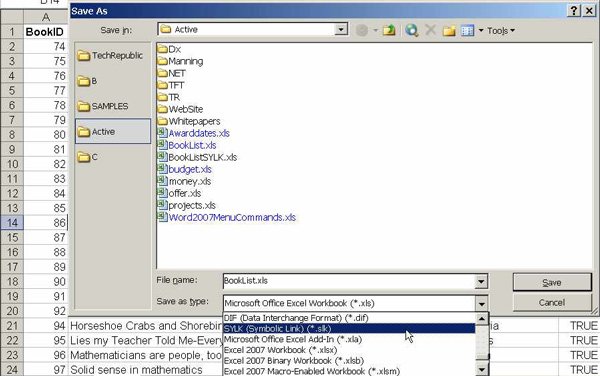 Method 3: Recover corrupted excel file by changing format
Another method to recover corrupted excel file is to change file extension. For example, the xlsx is the new version of excel file, which is not supported by the old versions of Excel programs and operating systems. The solution is to change xlsx to xls or html.
On Mac:
Step 1: Start Finder app, navigate to the corrupted excel file and select it.
Step 2: Hit the File menu at upper left corner and select "Get Info". If the file extensions not show up, click the triangle next to "Name & extension".
Step 3: Then change the file extension to xls or html. If it is ended with xls, try xlsx. Finally, hit the Return key and click "Use .xlsx" when prompted.
If you want to recover Word documents, just change the file extension to doc or docx.
On Windows:
Step 1: Open an Explorer and open the folder contains the corrupted excel file. Go to the "View" tab on top ribbon and make sure to tick the checkbox of "File name extensions".
Step 2: Right click on the file that you want to recover, select Rename, and then change the file extension.
Step 3: If prompted, click on Yes to confirm it. Now, you can open corrupted excel file as usual and recover data from it.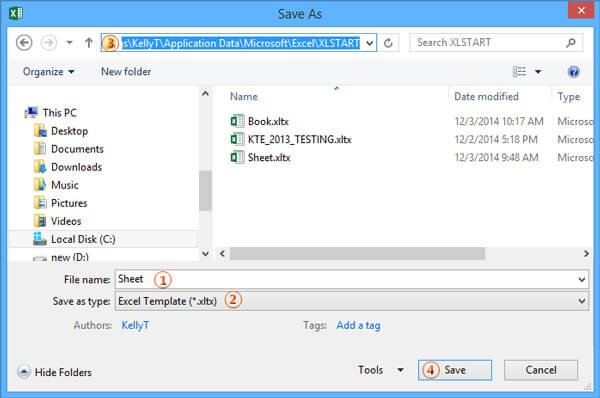 Conclusion
Sometimes, Excel tells you this file is corrupt and cannot be open directly; more often just pop up an alert. If you are suffering from the issue, the solutions in this article will do you a great favor to repair and recover Excel file corrupted. You can try the 2 common solutions to repair the problem. If your Excel file is still corrupted, just try the solutions to recover it.