Updating the software on your iPad or iPhone is essential to ensure optimal performance, security, and access to the latest features. However, at times, you may encounter the frustrating error of being unable to check for updates on iPad or iPhone. This post will explore the common causes behind this problem and provide some practical fixes to help you resolve it.

Fix Unable to Check for Update
Part 1. Why Does iPhone or iPad Say Unable to Check for Update
There are several potential causes for an iPhone or iPad to display the Unable to Check for Update error message. In this part, we will discuss some main reasons that could lead to the issue.
Weak or Unstable Internet Connection
One possible cause is that the device may not be connected to a good internet connection. To check for a software update, your iPhone or iPad requires a reliable internet connection. Suppose you are connected to a weak or unstable Wi-Fi network or have limited data on your cellular network. In that case, it can prevent the iOS device from communicating effectively with Apple's update servers.
Insufficient Storage Space
Another potential reason you may face difficulties while checking for an iPhone or iPad update is insufficient storage on your device. Before initiating an update, your iPad or iPhone needs enough free space to download and install the new software.
Software Glitches
Occasionally, glitches or bugs can prevent your iPad or iPhone from checking for a software update. These glitches may arise from various factors, including residual cache files or temporary system errors.
Old iOS Devices
The old device model could also be a factor in encountering this unable to check for update errors. Apple provides software updates for a specific period, typically three to five years, depending on the device. Once your iPhone or iPad reaches the end of its support life cycle, it will no longer receive updates from Apple. If your device has reached its end-of-life status, you cannot check for or download any new updates.
Apple Server Issues
Sometimes, the iPhone or iPad unable to check for update problem may not lie with your device, but rather with the Apple servers. Apple regularly releases software updates for their devices, and when a new update becomes available, there is often a surge in the number of users trying to download it simultaneously. This can put a strain on Apple's servers, causing temporary issues in checking for software updates. Visit the Apple System Status page to check if the update services are experiencing any disruptions.
Part 2. How to Fix the iPhone and iPad Unable to Check for Update Issues
By understanding why your iPhone or iPad shows a prompt that says Unable to Check for Update, you can easily use potential solutions to get rid of it. This part will guide you through some troubleshooting steps, explaining each concisely to help you resolve the problem.
Check Internet Connection
When you fail to update your iPhone or iPad, you should first ensure your device is connected to a stable Wi-Fi network. Also, you should disable VPN or Proxy. If you use VPN and Proxy on your iPhone/iPad, turn them off temporarily, as they can interfere with the iOS update process. You can reach and disable them by going to Settings, General, and VPN & Device Management.
Restart Your iPhone or iPad When Unable to Check for Update
A simple restart can sometimes fix temporary glitches and eliminate the Unable to Check for Update error message. Use the regular steps to power off your device, wait for a few seconds, and then press the Power button to restart it. After that, you can try updating the software again to check if the problem is solved.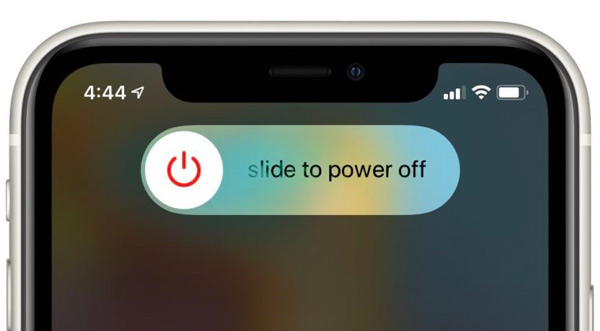 Reset Network Settings to Fix iOS Unable to Check for Update
Resetting your network settings can resolve network-related issues. It may help to solve the iPhone or iPad unable to check for update problem. Go to Settings > General > Transfer or Reset iPhone > Reset > Reset Network Settings. Note that this operation will remove all saved Wi-Fi passwords and network settings.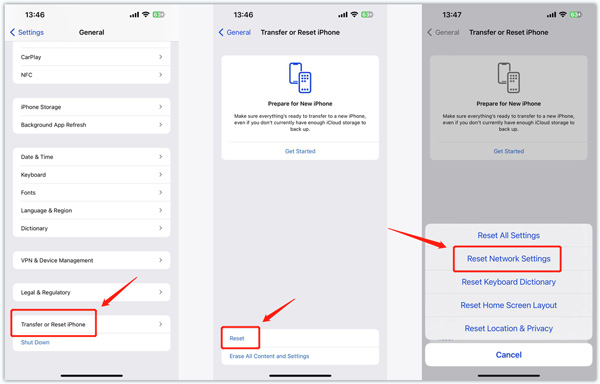 Free up Storage Space
As mentioned above, insufficient available storage can cause iPhone and iPad update issues. To see the current storage usage, go to Settings, tap General, then choose iPhone/iPad Storage. Delete unnecessary apps, photos, or videos if needed. You can enable iCloud Photos, offload unused apps, and manage specific app data based on your need.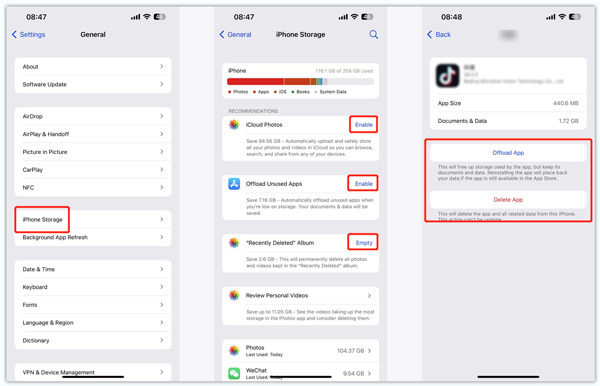 Disable Restrictions to Troubleshoot Unable to Check for Update on iPhone and iPad
The Screen Time restrictions or parental controls may prevent your iPhone/iPad from checking for updates. When an error occurs while checking for a software update, you can open Settings, select Screen Time, choose Content & Privacy Restrictions, and ensure that iTunes & App Store Purchases and Installing Apps are allowed.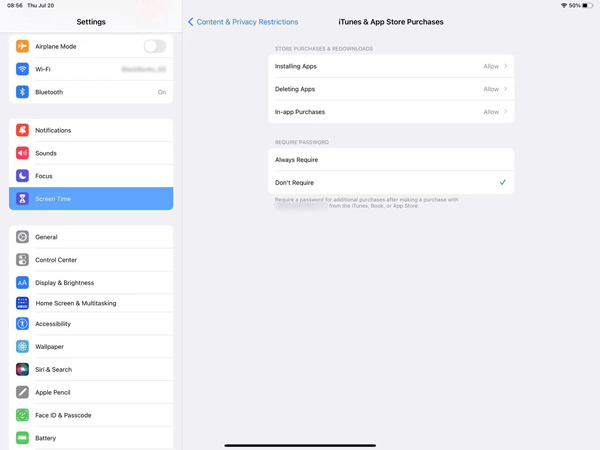 Update Software using iTunes or Finder
When you can't check for a software update on your iPhone or iPad directly, please connect it to a computer and use iTunes or Finder to update the software. Open iTunes or Finder, select your iOS device, and click Check for Update to install any available updates.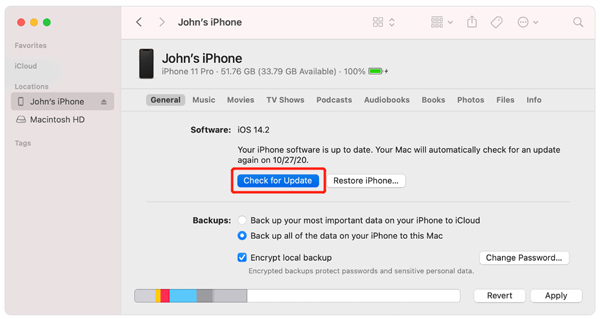 Professional Way to Fix iPhone iPad Unable to Check for Update
Suppose the troubleshooting steps above can't help you get rid of the Unable to Check for Update error. In that case, you can use the powerful Apeaksoft iOS System Recovery to solve various system-related problems. It supports all iPhone and iPad models, including iPhone 15/14/13/12/11, iPad Pro, iPad Air, and iPad mini.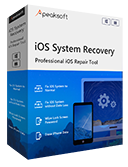 4,000,000+ Downloads
Fix the unable to check for update errors on your iPhone and iPad safely.
Troubleshoot various system-related issues and update iOS and iPadOS.
Fix crashed system to normal and rescue data from disabled iOS devices.
Offer Free Quick Fix and two repair types to solve iPhone/iPad problems.
Download and launch iOS System Recovery, click the Start button, then connect your device. You can first use its Free Quick Fix to troubleshoot the unable to check for update error.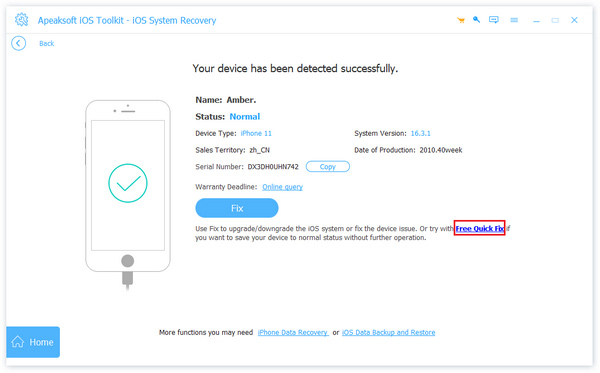 Follow the instructions to proceed. If it can't help you fix the iPhone or iPad update issue, you can select Standard Mode or Advanced Mode.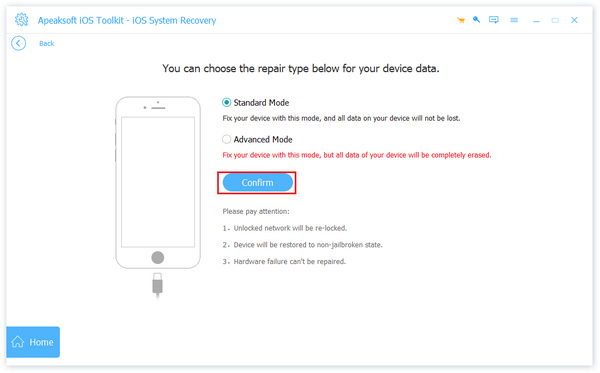 Select the latest system you want to update, then click Download and follow the on-screen instructions to complete the process.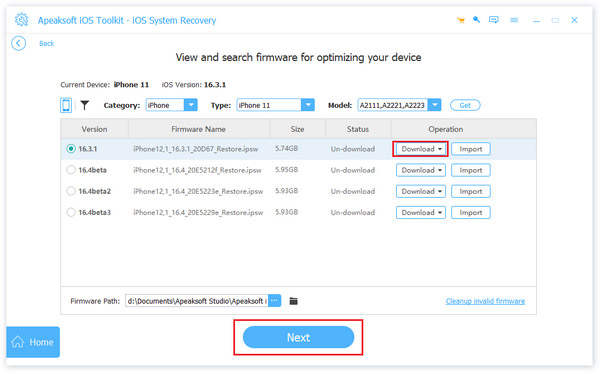 Part 3. FAQs of iPhone and iPad Software Updates
How can I enable automatic updates on my iPhone?
Go to Settings, choose General, then enter the Software Update interface. Tap Automatic Updates and turn on Automatically Download, Install iOS Updates, Install Rapid Security Responses, and Update System Files.
How do you delete old system updates on your iPad?
For installed iPadOS and related system data, you can't delete them. You can enter Settings, select General, go to iPad Storage, and scroll down to the bottom to view them. If you don't install the software update, you can go there to remove it.
How to factory reset my iPad Air?
Go to General in the Settings app of your iPad, tap the Transfer or Reset iPad option, and then select Erase All Content and Settings. Tap the Continue button in the Erase This iPad interface, then enter your iPad passcode to proceed.
Conclusion
Checking for updates should be a straightforward process that keeps your iOS device running smoothly and securely. However, it can be frustrating if are unable to check for a software update on your iPhone or iPad. This post explains the common causes behind this error message. Moreover, it shares helpful tips to easily fix iPhone and iPad software update issues. Follow the recommended fixes to keep your device up to date. You can also seek assistance from Apple Support directly. They can provide personalized guidance and examine any potential hardware issues.