iPhone camera shaking is a common issue that can be quite frustrating. It will easily result in blurry photos and videos. This iPhone camera shaking problem can be caused by several factors, including an issue with your iPhone's camera hardware, software, or how you hold it. This post will discuss why your iPhone camera is shaking and five helpful tips to fix it.

iPhone Camera Shaking
Part 1. Why Is Your iPhone Camera Shaking
There could be several reasons why your iPhone camera is shaking.
One of the main reasons for iPhone camera shaking is that you don't hold your phone stably. Your iPhone camera shakes and won't focus when you hold your phone too far away from your body. You should keep your arms as close to your body as possible to minimize movement. If you are taking photos or videos in low-light situations or shooting something that requires a steady hand, consider using a tripod.
If your iPhone camera is shaking, it might be due to a hardware issue. This could be a result of a loose lens or camera module. iPhone's hardware issue may cause the camera to vibrate or shake when you use it.
Sometimes, the iPhone camera shaking is due to software issues. For instance, an outdated iOS version or a glitch in the Camera app will make your iPhone camera shake, can't focus, or blur.
Part 2. Four Regular Ways to Fix iPhone Camera Shaking
When you face the camera shaking problem on your iPhone 15/14/13/12/11/XS, you should first keep your phone as stable as possible, clean the lens with a microfiber cloth, then take a photo to check if it is back to normal. If your iPhone camera still shakes, you can use the four tips below to troubleshoot iPhone camera shaking.
Restart to fix the iPhone camera shaking
Sometimes, a simple solution like a soft reset or a restart can fix the iPhone camera shaking issue. You can press and hold the Side button and either of the Volume buttons together until the Power off slider appears. Once the slider appears, slide it to the right to power off your iPhone. Wait for a few seconds, and then keep pressing the Side button again until you see the Apple logo.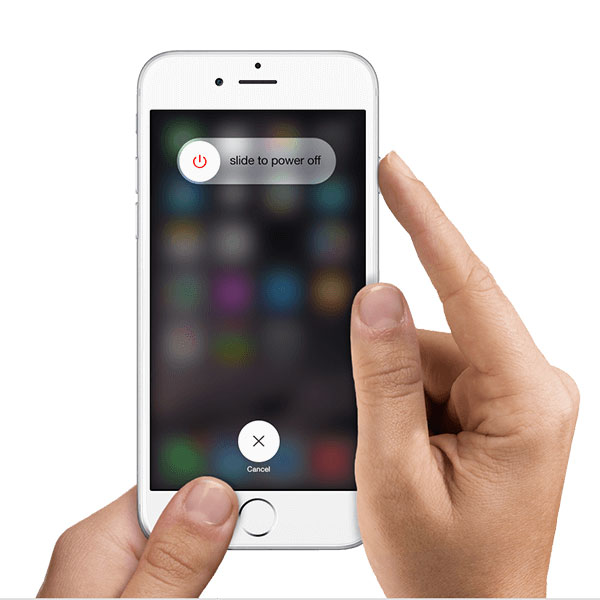 You can also go to Settings, tap the General option, and then scroll down to the bottom to choose Shut Down. You can drag the Power off slider to turn your iPhone off.
Update iOS to fix iPhone camera shaking
If restarting your iPhone did not fix the shaking camera issue, you should check and ensure that your iPhone is running the latest version of iOS.
An outdated iOS may lead to various software problems, including the iPhone camera shaking. To update iOS, go to the Settings app, tap General, and select Software Update. If there is an iOS update available, tap Download and Install and wait for your iPhone to update. When your iPhone is updated to the latest iOS version, you can open your iPhone camera and try taking some pictures.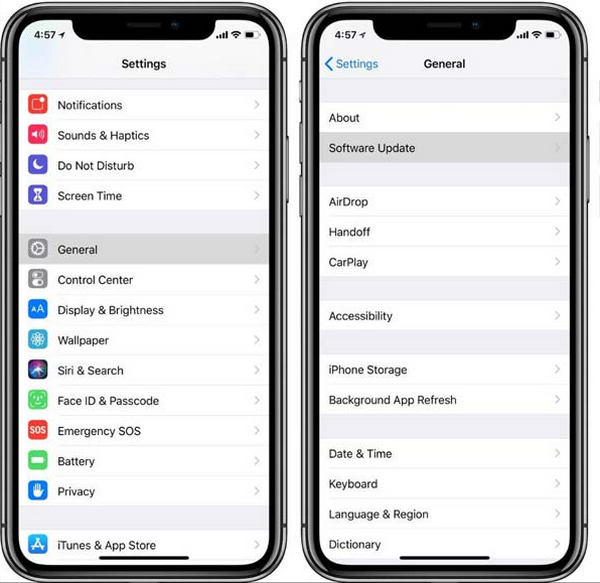 Disable Lens Correction and Macro Control to fix iPhone camera shaking
Lens Correction is a feature designed in newer iPhone models to help stabilize the camera while taking videos or photos. It is used for producing better-quality images and videos. But in some cases, it doesn't work perfectly. If your iPhone camera shakes and won't focus, you can try turning it off.
Go to Settings, tap Camera, and toggle off the Lens Correction option. You should disable the Macro Control feature when you capture macro photos and videos, but the camera is shaking. During this step, you can also turn on or off Prioritize Faster Shooting to fix the iPhone camera shaking.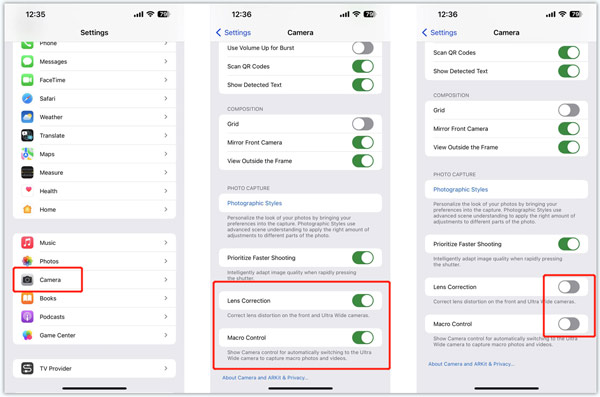 Reset all settings to solve iPhone camera shaking
You can also solve the iPhone camera shaking problem by resetting all settings. This operation will not delete any of your iOS data. It will only reset the iPhone's settings to default. You can open the Settings app, go to General, tap Reset, and then choose Reset All Settings. After you reset all your iPhone settings, you can restart the iOS device, open the Camera app, and check if the shaking problem is solved.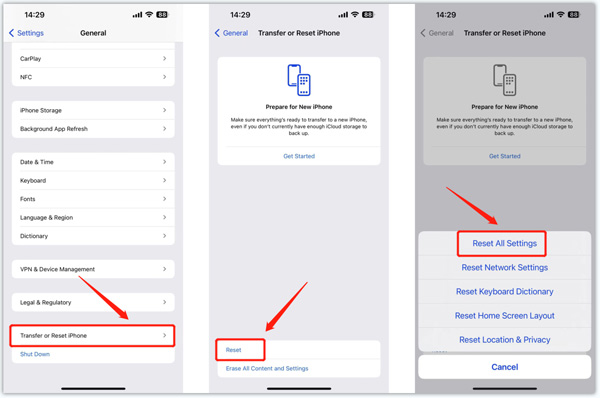 Part 3. Professional Way to Fix iPhone Camera Shaking
When your iPhone camera is shaking, blurry, or won't focus, you can turn to the professional Apeaksoft iOS System Recovery. It is mainly used to fix various system issues and bring your iPhone back to normal.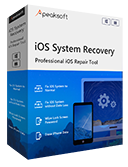 4,000,000+ Downloads
Troubleshoot iPhone camera shaking, blurry, or won't focus.
Fix the yellow dot or green dot on your iPhone camera safely.
Troubleshoot iPhone camera, screen, keyboard, and other issues.
Fix various system issues and support all commonly-used iPhone models.
Step 1 Download and run iOS System Recovery on your computer. Connect your iPhone to it, create the connection successfully, and click the Start button.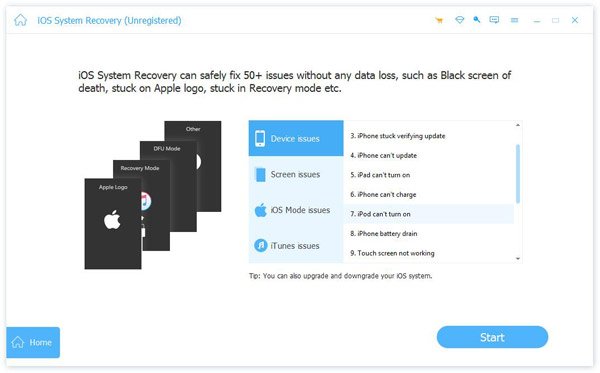 Step 2 To quickly troubleshoot the iPhone camera shaking issue, you can try using the Free Quick Fix feature.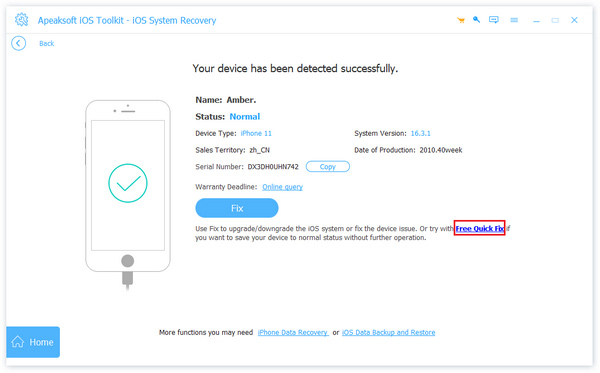 Step 3 If the camera shaking problem still exists, click the Fix button, and select Standard Mode or Advanced Mode to repair your iPhone. You can follow the onscreen instructions to download the firmware package and make the Camera app work normally.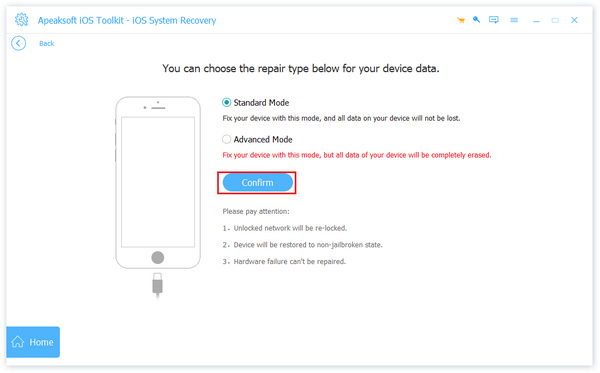 Related to:
Part 4. FAQs of iPhone Camera Shaking
How to turn off Auto-focus on an iPhone?
When your iPhone doesn't focus, you can disable the Auto-focus feature to fix it. Open the Camera app and tap where you want the camera to focus. This operation will turn off Auto-focus and help to stabilize the iPhone camera.
How to restore iPhone using iTunes?
iTunes offers a simple way to restore your iPhone. You can open iTunes on your computer, connect your iPhone to it, click the iPhone icon, and choose the Restore iPhone option. You can follow the prompts to restore your iPhone with ease.
Where to set the volume button as the camera shutter?
You can use the Volume button as the camera shutter to take photos when your iPhone camera is shaking. This operation can increase your chances of getting a sharp picture. It is a standard feature enabled by default. You can open the Camera app and use either Volume Up or Volume Down button to take photos on your iPhone.
Conclusion
In summary, the iPhone camera shaking can be caused by various reasons. The methods to fix the issue range from a simple restart to a professional solution. If none of these solutions work, you may need to take your iPhone to an authorized Apple repair center or an Apple Store for a professional fix.