Why won't my camera focus? Why is my iPhone camera blurry?
The iPhone camera is renowned for its exceptional quality and user-friendly features. However, some users encounter difficulties with the camera not focusing correctly on time. This issue can frustrate you, especially when capturing a special moment with a photo or video.
Whether encountering the camera blurry of iPhone 15/14/13/12 or before, you can know why your iPhone camera won't focus through this article. Meanwhile, you can get 9 effective solutions to fix this issue. Read and explore more!

iPhone Camera Won't Focus
Part 1. Why iPhone Camera Won't Focus
Before solving the iPhone camera focusing issues, it is essential to understand why your camera might experience focusing issues. Some common causes are listed below.
Software glitches or conflicts.
The phone case is not suitable.
The camera lens is dirty.
The camera setting is incorrect.
The shooting distance is too close.
The iOS version is outdated.
Now that you know the potential reasons for the camera not focusing, go to the next part to find solutions.
Part 2. 9 Ways to Fix iPhone Camera Not Focusing Issue
Way 1. Best Way to Fix Camera Focusing Issue
Software glitches or conflicts are one of the main reasons why the iPhone Camera app fails to focus. In this case, professional system repair software is the fastest and most effective way. Apeaksoft iOS System Recovery is a powerful program that helps you to fix your iPhone's camera to normal in minutes. It offers 2 repair modes, and you can choose one from Standard Mode and Advanced Mode to fix the camera issue.
Step 1Start iOS System Recovery
Download the camera-focusing recovery tool and run it on a desktop. Choose the iOS System Recovery panel and click Start. Then, connect your iPhone to this computer.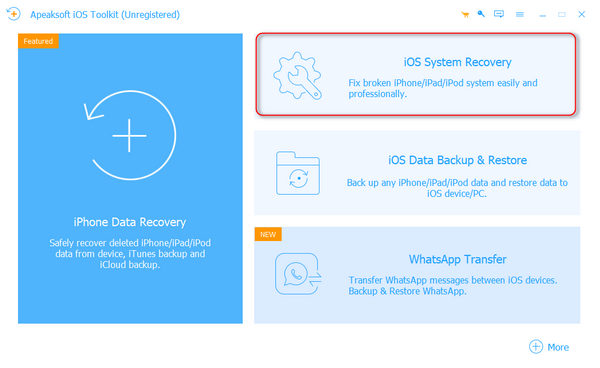 Step 2Choose Free Quick Fix
The software will detect the iPhone. After detecting, click Free Quick Fix to fix the iPhone camera to normal status. If it does not work, proceed to the next step.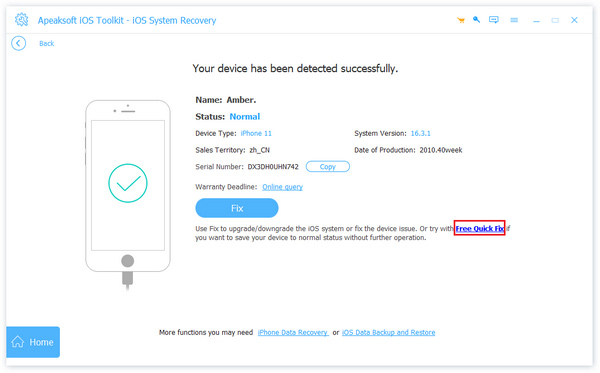 Step 3Select Repair Mode
Return to the detecting interface, and click Fix to select a repair mode, such as Standard Mode. This mode can fix most of system issues safely and keep all data on your iPhone.
If it doesn't work, you can switch to the Advanced Mode to solve more system issues. You can back up iPhone first since this mode will erase all data and settings.
After selecting, click Confirm.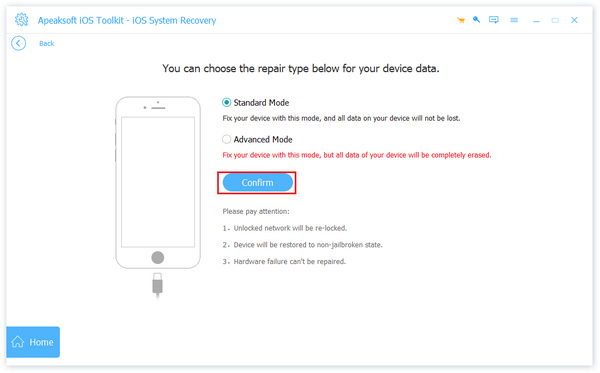 Step 4Check iPhone Information
Check the Category, Type, and Mode information for your iPhone. If they are not right, modify them by clicking the drop-down list.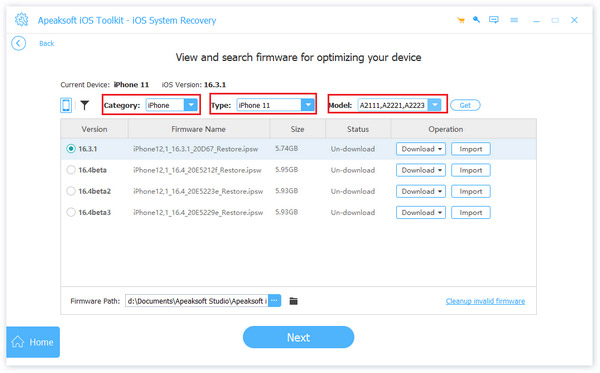 Step 5Download a Firmware
Click Download to get and install firmware from the showing list. Then click Next.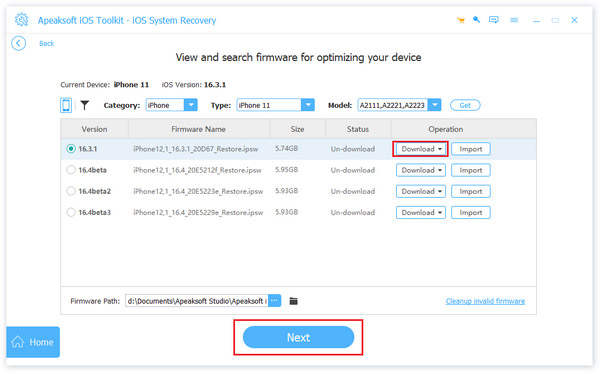 Step 6Fix iPhone Camera Not Focusing Issue
Finally, the software will automatically fix the iPhone camera issues. After that, your iPhone camera will go to normal.
Now, you can try to take a focused photo again with the Camera app. This is the most efficient way to fix the software issue. If you encounter other reasons than system issues, you can keep trying the following ways.
Way 2. Take Off the iPhone Case
Usually, some users like to cover their phone cases to protect their iPhones. However, an unsuitable case will pressure the lens and cause camera failure, especially with metal cases. In this case, removing your iPhone case might solve the camera not focusing issue.
Way 3. Clean iPhone Lens
A dirty camera lens can also cause focusing issues. You can gently wipe the camera lens with a soft microfiber cloth. Then, try to take a clear photo after wiping fingerprints, smudges, or dirt that may hinder the focusing mechanism.
Way 4. Set a Focus Point
Sometimes, if you use your iPhone to shoot objects too close to you, you will also be unable to focus. At this point, you can try shooting from a distance and don't shake your iPhone. Then tap on the specific object or area you want to focus on in the camera app. Through manual focus on iPhone, camera will adjust its focus accurately.
Way 5. Lock the Auto Focus
AE/AF (Auto Exposure/Auto Focus) Lock is a feature available on the iPhone camera. When you long press and hold on to the focus point, the iPhone will lock both the focus and the exposure to its current settings, even if you move the camera.
If your iPhone camera is not focusing, try this feature to keep refocusing again. When this feature is activated, you'll see AE/AF Lock prompt appear at the top of the screen.
Way 6. Restart Camera App
The camera app can also malfunction, such as lagging, leading to unfocused photos and videos. At this point, you can force the camera to close and reopen it. Then see if the software problem is solved.
Way 7. Force Restart iPhone
If restarting the camera app doesn't help, you can try to restart iPhone, especially force restart iPhone. Because a force restart can clear out any temporary software glitches or bugs that might be causing the camera not focusing issue.
You can read the steps below according to your iPhone model.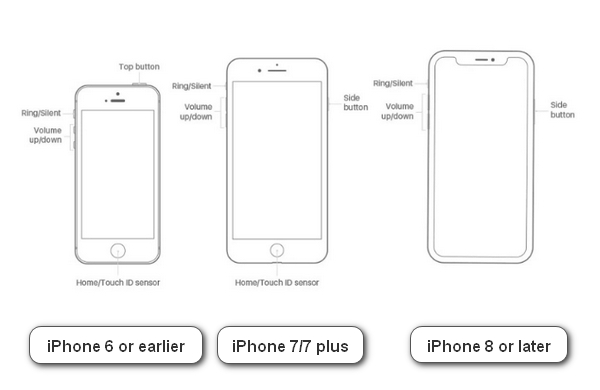 For iPhone 8 or later: Release the Volume up button quickly after pressing. Then, press and release the Volume down button quickly. Finally, long-press and hold the Side button until you see the Apple logo.
For iPhone 7 or 7 plus: Long-press and hold the Side and Volume down button at the same time. Then, the Apple logo will appear on your iPhone screen.
For iPhone 6, 6s, 6s plus, or SE (1st generation): Long-press and hold the Side and Home button simultaneously. After a few seconds, the Apple logo will appear on the iPhone screen.
Way 8. Update iOS Version
Sometimes the Camera app has a software glitch that prevents the camera from focusing and can't be fixed by restarting the app or iPhone. Then you'd better check if there is an update for the iOS version. Maybe a new iOS version can fix these camera-related bugs. Follow the steps here to update now.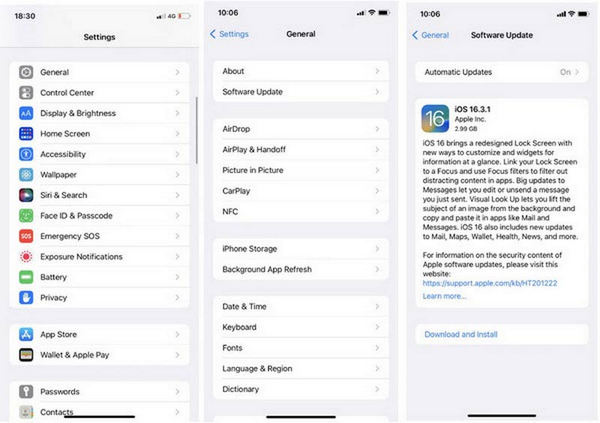 Step 1 Open the Settings app on your iPhone. Tap the General option.
Step 2 Tap the Software Update option on the top screen.
Step 3 Tap Download and Install and enter the screen passcode to confirm the upgrade. Then, tap Use Cellular Date or Don't Use Cellular Date to update the iOS version.
Way 9. Factory Settings
If no iOS version update is available, you can fix the camera issue by restoring the factory settings. But it should be your last resort to fix the camera not focusing problem. Because it means clearing all the data and settings on your iPhone, including the ones that interfere with camera focus. To prevent data loss, you had better back up your iPhone manually before proceeding with this step.
Here's how to do factory settings.
Step 1 Open the Setting app and tap General.
Step 2 Tap the Transfer or Reset iPhone option.
Step 3 Tap Erase All Content and Settings. Then, choose the Continue option. You will be asked to type the iPhone passcode to confirm if you want to reset to factory conditions.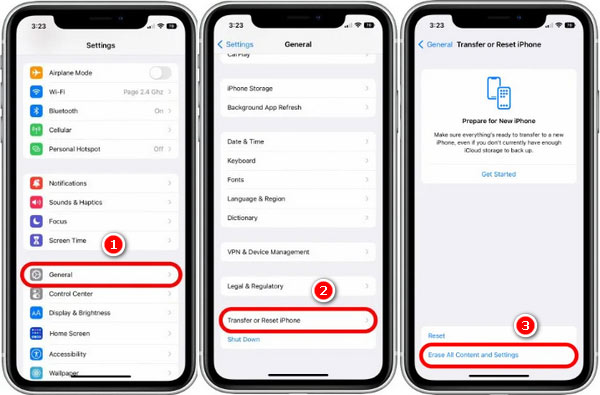 Wait for a few minutes until a Hello screen appears. Then, you can try to focus when capturing with the Camera app.
Part 3. FAQs of iPhone Camera Won't Focus
Why is my iPhone 13 front camera blurry?
It may be due to various factors. These can include a protective film or debris on the lens, focus issues, Camera app glitches, or potential hardware problems.
How do you fix blurry pictures on your iPhone?
The direct way is using the default app. You can open the Photos app and choose the blurry picture. Then, tap Edit and select SHARPNESS at the bottom. Next, move the slider to change the sharpness of the picture. Finally, tap Done to save it.
Why does the camera on my iPhone keep blinking?
In low-light settings, your iPhone camera attempts to maintain automatic exposure and works to achieve the proper balance. Thus, you may see flashing or blinking.
Conclusion
In conclusion, the iPhone camera not focusing is a big trouble for photography lovers. If you're experiencing this issue, try the 9 different ways mentioned in this article first. If none of the solutions work, it's best to contact the Apple support team or take the iPhone to an authorized repair center.
If you have other questions about iPhone camera focusing, leave your comments here.