After a period of time of using an iPhone, you may face the issue of the iPhone running slowly issue. Generally, iPhone can give you a smooth user experience. But sometimes, your iPhone may perform slower than expected. This post explains some main reasons why iPhone is running slow or lagging. Moreover, we share five useful tips to help you make an iPhone faster.

Why Is My iPhone So Slow
Part 1. Why Is My iPhone Running So Slow
Many possible reasons will lead an iPhone to the slow running issue. You may easily face the iPhone lagging using an older model from several years back. Even if you have updated its iOS to the latest version, its hardware can't be compatible with most apps.
If you have been using a relatively new iPhone model from 2020 onwards, the problem may be due to something other than the hardware. The leading causes for an iPhone running slow or lagging may be an old iOS version, wrong iPhone settings, storage, or app issues.
When you have not restarted the iPhone in a long time, your iPhone is in extreme weather conditions, it has run out of storage space, iPhone battery health is lower than 80%, or you are connecting to a slow network connection, your iOS device will run slower than normal. In some cases, with too many apps running in the background, you will also get the iPhone lagging issue.
Part 2. How to Fix iPhone Running Slow and Speed up Your iPhone
You can quickly fix the iPhone running slow issue once you know what's causing it. If you are unsure what causes your iPhone's slow performance, you can follow the five useful tips below one by one to speed up an iPhone easily.
Restart to fix the iPhone running slow
Before you restart your iPhone, you can check whether there are too many apps running in the background. First, you can close some unused apps to check if your iPhone can work faster. Also, you should ensure that you are connecting to a stable and fast network. If the problem still exists, you can restart the iPhone.
You also can use the default method to power off your iPhone and reboot it. You can keep pressing the Power button until the power off slider appears on your iPhone screen. After that, drag the slider to the right to shut it down. Wait for a few seconds, and then keep pressing the Power button to run your iPhone.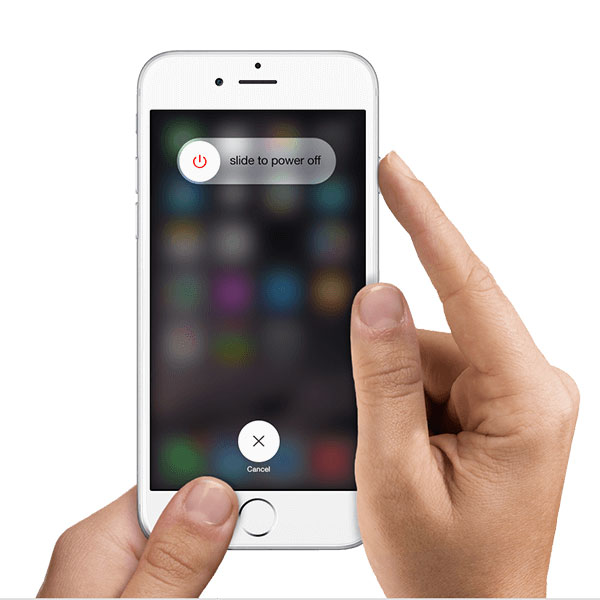 Update iOS to fix iPhone running slow
As mentioned above, an old iOS may cause your iPhone to run slowly. You can open the Settings app, go to General, and then select Software Update to check if there is an available iOS update. You can tap Download and Install and follow the instructions to update your iPhone to the latest iOS version.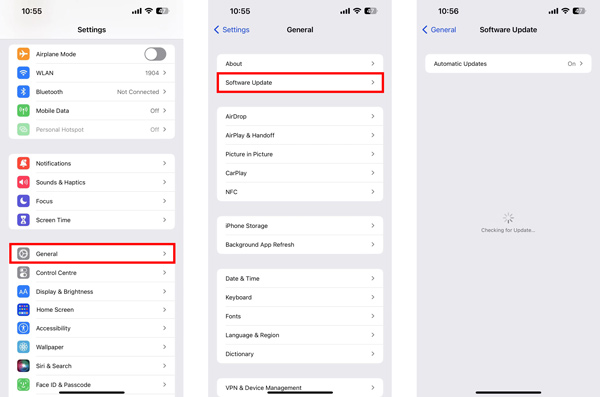 Disable Low Power Mode to fix iPhone lagging
When an iPhone is under Low Power Mode, some features may be disabled, and some tasks may slow down. So if you have turned on the Low Power Mode, you can disable it to fix the iPhone running slow issue.
Enter Settings on your iPhone, and scroll down to choose the Battery option. You can turn off the Low Battery Mode in the Battery interface to speed up your iPhone. During this step, you can also go to Battery Health & Charging to check the iPhone battery capacity, customize Peak Performance Capability, and enable Optimised Battery Charging.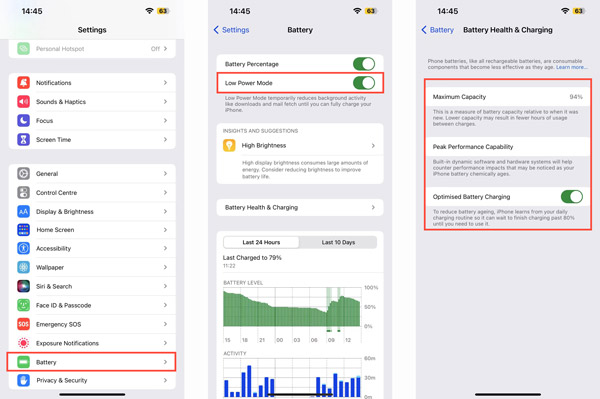 Free up storage to speed up iPhone
You should have enough storage space for your iPhone to perform typically. When an iPhone runs out of storage and works slowly, you can manage and clear iPhone storage.
Go to the Settings app, tap General, and then choose iPhone Storage to check the storage usage of this iOS device.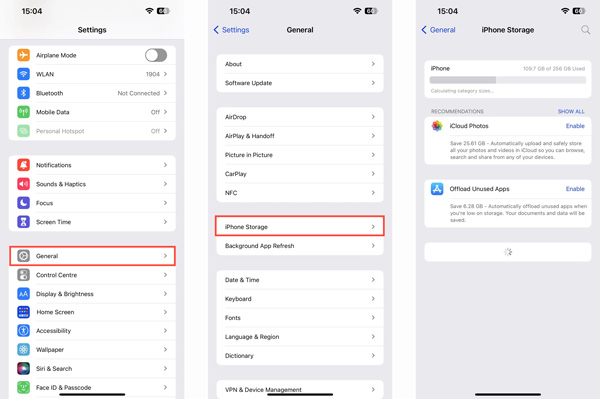 You can manually delete some large videos and photos to free up your iPhone storage. Also, you can use a third-party app like iPhone Eraser to quickly remove useless iOS data from your iPhone.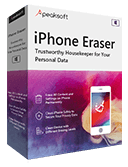 4,000,000+ Downloads
Uninstall unused apps on iPhone and remove associated files.
Offer three erasing levels to manage iPhone storage space.
Delete junk files, large files, caches, and cookies, and clean up photos.
Erase iPhone data and settings, and protect the privacy and essential data.
You can free download this iPhone storage manager on your computer. Connect your iPhone to it, and then click the Quick Scan button to analyze all types of iOS data.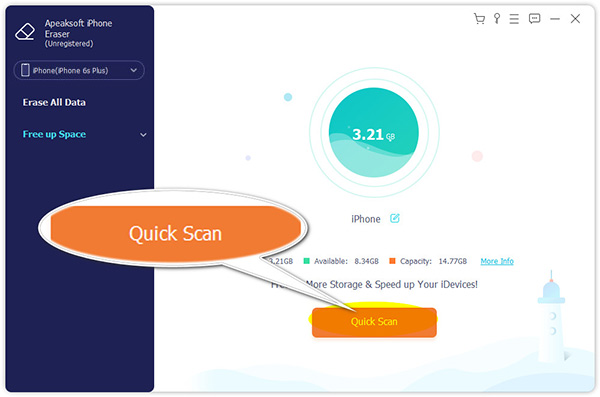 It is equipped with two key features, Erase All Data and Free up Space. You can click the Free up Space on the left panel and then use related options to free up your iPhone storage.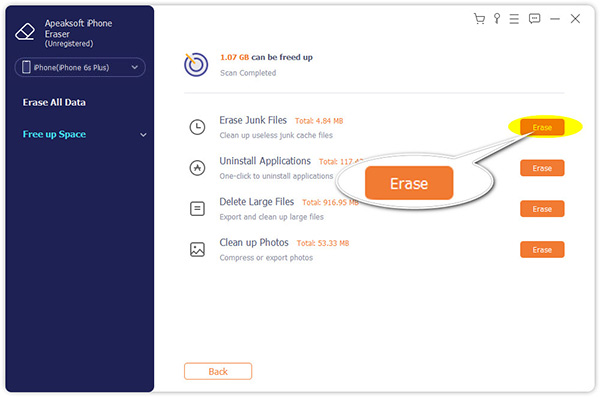 Fix app and iOS issues to make iPhone run faster
If your iPhone is lagging and can't return to normal after trying the methods above, you can turn to the professional iOS issues-fixing software, iOS System Recovery. It can fix various system issues, remove malware, delete some harmful apps you don't recognize, and more to speed up your iPhone.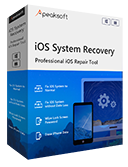 4,000,000+ Downloads
Fix various iOS issues to make an iPhone run faster.
Advanced technology to diagnose why iPhone is running slow.
Fix iPhone black/white/red/blue screen issues without data loss.
Support iPhone 14/13/12/11/X/XS/XR/SE/8/7/6 and all iOS versions.
Free download and launch this iOS System Recovery on your computer. Click the Start button, and connect your iPhone to the USB cable. You can select Standard Mode to troubleshoot the iPhone running slow problem.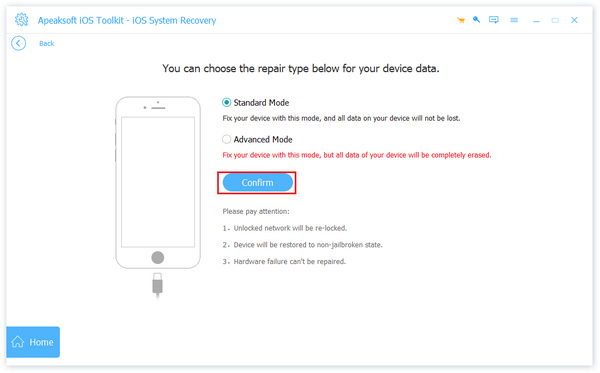 Next, put your iPhone into recovery mode or DFU mode by following the on-screen instructions. After that, you can download firmware to fix your iPhone running slow issue.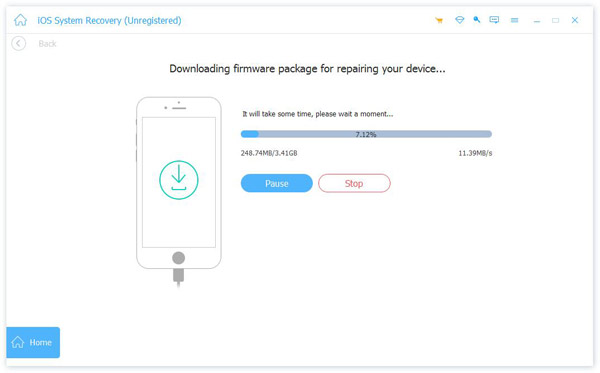 Related to:
Part 3. FAQs of iPhone Running Slow
Question 1. How to check if apps continue running in the background on an iPhone?
After closing apps, some may continue running in the background and cost your iPhone energy. You can go to the Settings app, choose General, and customize them in the Background App Refresh. Here you can check many apps that are allowed to continue running even when they are currently closed.
Question 2. Can I reset all settings to speed up an iPhone?
Yes. Resetting all settings on an iPhone can help to speed things up. This operation will restore everything to factory defaults. You can go to the Transfer Or Reset iPhone option in the Settings app and choose Reset All Settings to do that.
Question 3. How do you contact Apple for help?
When your iPhone is running slow, you can contact Apple Service Center for support. You can go to the official Apple Support website, sign in to your Apple account, choose the iPhone model, and then get related help from Apple.
Conclusion
Why is my iPhone so slow? After reading this article, you can get the main reasons that will cause an iPhone to run slowly. More importantly, you can learn five useful tips to speed up your iPhone quickly.