Summary
When iPhone won't play music, you can find the troubleshooting tips to solve the problem from the post. These solutions are proved to be helpful for users have the similar issues.
Question: "Why won't my iPhone play music after syncing them with iTunes? All my efforts to play music go to vain, what should I do to solve the problem?"
Answer: In order to solve iPhone does not play music, you should check the headphone first, and then check whether the music works for other devices. After that check out more solutions to fix iPhone won't play music solutions from the article.

Part 1

: Why won't my iPhone play music

When you choose a music that you want to play on the device, you find it is gray out. Once you hit on the song, a pop-up window will show up on the iPhone screen and says like: "Item Not Available! This item can't be played."

And there are multiple possible reasons behind the problem of iPhone won't play music. And we list the most common causes about this issue.
Music won't play on iPhone after syncing
Some music formats are not supported by iPhone Music Player app
Music cannot be played off-line in some apps
Poor connectivity leads to music won't play issue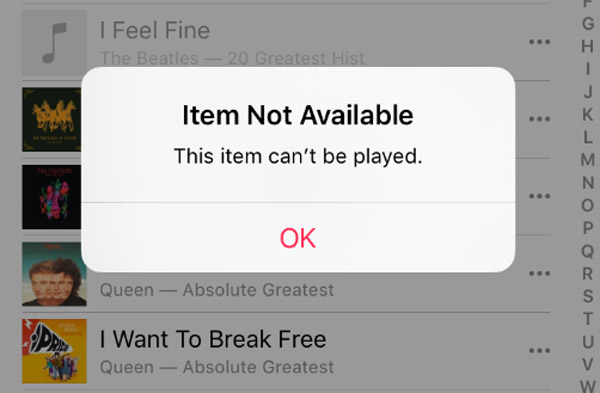 If you find your iPhone won't play music, and you have great troubles in fixing this problem, you can choose an iTunes alternative, iPhone Transfer to sync music from iTunes to your iOS device instead.
When it comes to iPhone Transfer, it is the best iOS Transfer software for you to manage all iOS files. Not just an alternative to iTunes. Now you do not have to rely on iTunes to transfer music, photos, contacts and voice memos from iPhone/ iPad/ iPod to your computer or reversely. When you change an iPhone, you won't have to worry about how to transfer the contacts, music and other data to your new iPhone. With this wonderful iTunes alternative, you will never say like "Why won't iPhone play music".
Key Features:
Transfer files directly from your iPhone/ iPad/ iPod without opening iTunes.
It has two-way transfer: iPhone to Computer, and Computer to iPhone.
You will not have to erase the iPhone data to sync music with this software.
Best iTunes alternative when your iPhone won't play music.
Transfer all iPhone data, including music, with one click.
Part 2

: How to fix iPhone won't play music

After understanding the exact cause about this issue, we are now going to focus on how to fix iPhone won't play music with the most effective and convenient methods.
Solution 1: Update iTunes to the latest vision
Sometimes updating iTunes to the newest version can help you resolve almost all syncing problems in many cases, especially when your iPhone won't play music after syncing. Usually, iTunes will check for updates when it is opening. But if you miss it, here is how to update iTunes manually:
Step 1. Open iTunes again
To fix iPhone won't play music issue, first you need to turn off iTunes on the computer, and then launch it again.
Step 2. Choose iTunes or Help option
Move the mouse to the menu bar, and hit on iTunes in the top left corner. For Windows users, click "Help" option instead.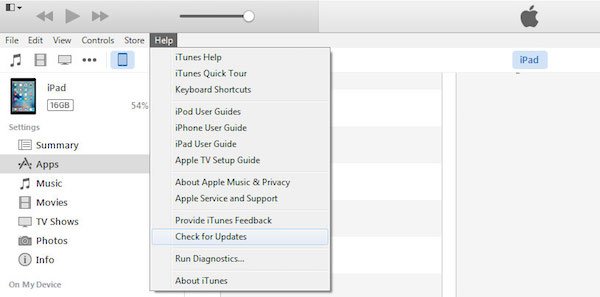 Step 3. Download the new vision
Select "Check for Updates" option. Then download and install the latest vision of iTunes according to the instructions if any are available.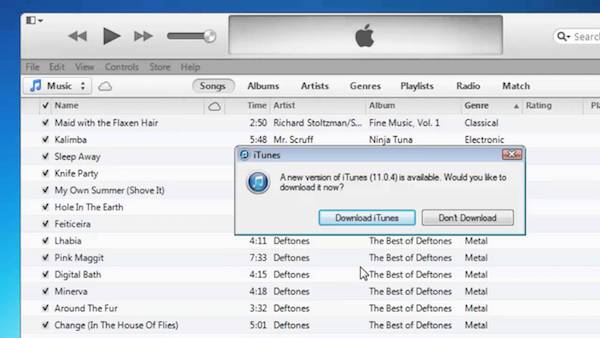 Step 4. Restart iTunes
After the installment is finished, restart iTunes again. This time the issue of iPhone won't play music can be fixed.
Solution 2: Restore your iOS device
In case the method that updates iTunes to the recent vision cannot solve the problem effectively, you can consider restoring your iPhone with iTunes to help you fix the problem of iPhone won't play music. This is an easy and safe solution, and you have to check that you have synced and backed up the important data from your iPhone to iTunes beforehand, which is the only requirement. Follow the steps below to restore your iPhone with iTunes:
Step 1. Launch iTunes on iPhone
To fix iPhone won't play music issue, make sure that you have updated the latest vision of iTunes on your iPhone, and launch it on iPhone, then plug your device to the computer via a USB cable.
Step 2. Go to Summary page
Once connecting, iTunes will detect the problem directly on your iPhone. As your device can be recognized by iTunes, select it and access to its Summary page.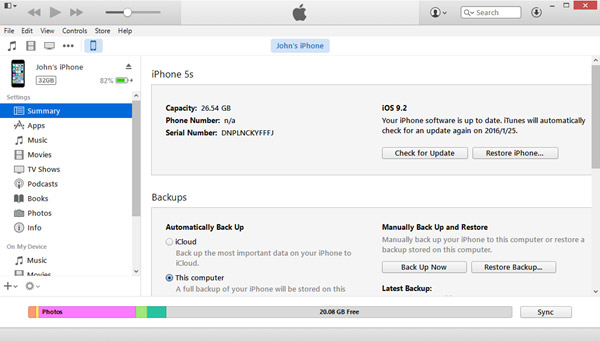 Step 3. Restore your iPhone
Hit on the "Restore Backup" button under the backup part. Then iTunes will send you a message to check the operation again, and click Restore button.

Step 4. Repair problem on iPhone
Your iPhone will be stored to factory settings. Now back up the previous data from backup file to iPhone and the problem of iPhone won't play music should be solved.
Solution 3: Clean iTunes Library and re-sync
If both of the two methods mentioned above do not work, you can go to clean the iTunes Library directly, and then sync it again to fix the iPhone won't play music issue.
Step 1. Back up all of the music
Firstly you need to export and back up all your music from iTunes Library to an external drive, such as a U Disk or anything.
Step 2. Erase all data from iTunes
After exporting all the songs for a backup, erase them from iTunes Library. Besides the music, you have to remove ringtones, iBook, and Podcasts, etc.
Step 3. Import music file
Sync the deletion operation with the iDevice. And export the music file that you backed up to iTunes Library for the second time.
Step 4. Sync iDevice with iTunes
Restart the iDevice, and import the music file from the backup data to it. Then you will find all the music are on the play list and you have fixed the iPhone won't play music problem. Here you may also want to know: how to fix iPhone alarm not working.

Conclusion
In order to solve iPhone won't play music, you should know the reasons for the problem first. And then try the solutions above to get rid of the problem. If you have any other query about how to fix iPhone does not work with music, you can provide more information in the article.