Switching from Android to iOS can be exciting, bringing many new features and functionalities. Apple has developed the Move to iOS tool to simplify data migration. However, like any software solution, you may face some Move to iOS not working issues. This article will explore some common Move to iOS transfer problems, such as transfer issues and getting stuck on calculating time remaining. We also provide 7 troubleshooting tips for each issue.

Move to iOS Not Working
Part 1. Check Move to iOS Transfer Errors
When switching from an Android device to an iOS device using the Move to iOS app, you may encounter an issue where the app gets stuck on the Calculating Time Remaining screen. A weak or unstable Wi-Fi connection, large data size, software conflicts, insufficient storage space, and other reasons can cause it.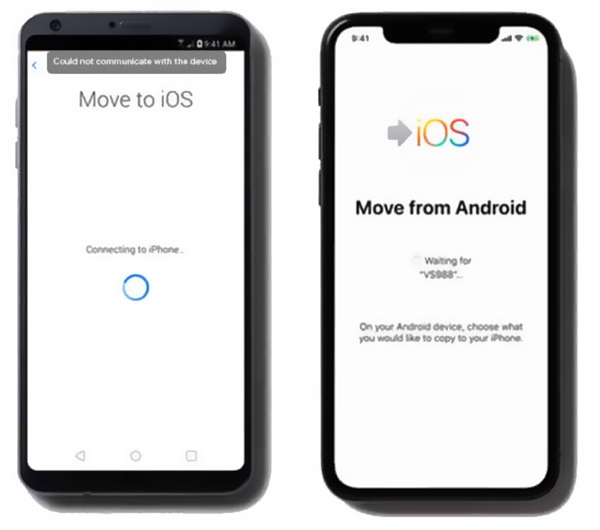 One common error encountered during the move to iOS transfer process is the Unable to Migrate error. This error typically occurs when there is a compatibility issue with the Android device or insufficient storage space on the iOS device.
The Wi-Fi Connection Lost error is a common Move to iOS not working problem. It occurs when the Wi-Fi connection between the two devices gets interrupted during the transfer process.
The Apps Not Installed error is also quite common. It usually happens when certain apps on your Android device are not available on the iOS platform. There isn't a direct solution to this problem, as the apps must be manually downloaded from the App Store on your iOS device.
Another Move to iOS transfer error you might encounter is the Data Missing error. This can happen if some data like contacts, messages, or media files fail to transfer from your Android phone to your iOS device. To address this issue, ensure you have granted all necessary permissions for data transfer on your Android device. You can also use a third-party transfer tool specializing in Android to iOS migrations like Apeaksoft MobieTrans.
Part 2. Get 7 Helpful Tips to Troubleshoot Move to iOS Not Working
While there can be various errors when moving from Android to iOS, workarounds and solutions are usually available for each specific Move to iOS not working case. If you encounter a transfer error, here are seven useful steps you can take to troubleshoot the problem.
Ensure Sufficient Battery Life and Close Background Apps
Ensure your Android and iOS devices have adequate battery life to complete the transfer. Disable battery-saving mode or any power-saving settings on your Android device that could affect the transfer. Connect them to a power source during the process to prevent any interruptions. Close other apps are running in the background on both devices.
Restart Android and iOS Devices
When you face the Move to iOS not working problem, try restarting your Android and iOS devices. This can help clear any temporary glitches affecting the transfer process.
Update Software
Ensure your Android and iOS devices are running the latest software versions. Updating can resolve compatibility issues and improve the overall transfer experience.
Check and Reset Network Settings
Ensure that your Wi-Fi connection is stable. When you encounter a move to iOS transfer error, ensure both devices are connected to the same Wi-Fi network. Disable any VPN or firewall settings that could potentially interfere with the transfer. Also, you can choose to reset network settings on your Android phone and iPhone. That helps clear any network-related issues that might interfere with the transfer process.
Manage and Free Up Storage Space
Ensure your iOS device has enough space to accommodate the transferred Android data. When the Move to iOS app is not working, remove unnecessary files or apps to free up storage. You can use a third-party data management and cleaning tool like Apeaksoft iPhone Eraser to easily get more available space. If the issue persists, factory reset your iOS device to clear any potential storage-related issues.
The Move to iOS App Troubleshooting
Force close the Move to iOS app on your device and then relaunch it. Uninstall and reinstall the Move to iOS app to ensure you have the latest version.
Use Another Transfer to Replace the Move to iOS App
If the Move to iOS app is stuck on the Calculating Time Remaining screen and can't fix the error with the methods above, it's time to turn to another Android to iOS data transfer. Apeaksoft MobieTrans is a famous and easy-to-use transfer tool that lets you copy all your Android files to an iOS device. Better than the Move to iOS app, it supports more Android data types.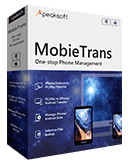 4,000,000+ Downloads
More various data from your Android device to an iPhone or iPad.
Check, edit, manage, and transfer files on Android and iOS devices.
Support all popular data types, including contacts, messages, photos, etc.
Manage and transfer iTunes data, make phone ringtones, recover data, and more.
Open MobieTrans and connect your devices. Choose your Android phone from the drop-down menu in the top center. All the Android files are listed in categories on the left panel, such as Photos, Music, Videos, Contacts, and Messages. Click the data type, select the specific files you want to transfer, then click the Phone button to transfer Android data to your iOS device.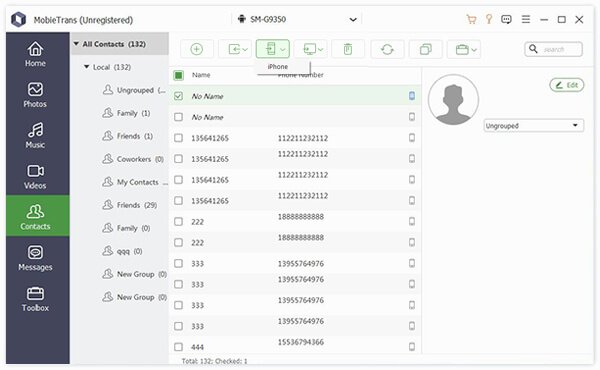 Part 3. FAQs of Move to iOS Not Working
How long does move to iOS transfer take?
The duration of a move to iOS transfer can vary depending on the size of the Android data being transferred and the speed of the devices involved. In general, the transfer process should take a few minutes to several hours. It is best to ensure that both devices are fully charged and connected to stable Wi-Fi networks for a smooth and efficient transfer.
Where to download Move to iOS when I can't use Google Play?
When you can't access the Google Play Store, you can download the Move to iOS apk file from the Apple Support page. It offers Move to iOS installers for different Android versions.
How do you transfer Android data to an iPhone after setup?
The Move to iOS app only works when a new iPhone is set up. If you've already set up your iPhone, you must factory reset the device and start moving the data. Or you can use the recommended Apeaksoft MobieTrans to manually move files from your Android phone to your iPhone.
Conclusion
The Move to iOS app provides a convenient way to transfer data from Android to iOS. However, occasional issues, such as the app getting stuck on the Calculating Time Remaining screen, can disrupt the migration process. Hope the 7 tips for Move to iOS not working will help you overcome any potential hurdles you may face during the move to iOS transfer process.